Crescendo!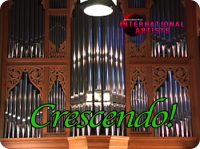 Series Description
Bringing Better Music. The program features classic music styles with Mark Andersen on Organ, Harp, Harpsichord, Flute and Piano, Lynn Andersen on Solo English Handbells and Voice, and many other guest artists as well. Many of the wonderful performances and artists of the area are featured at Daniels Recital Hall, and as we tour churches, points of interest, and concert halls to bring you the finest in music.
International Artists Records in New York City, Seattle Community Media in Seattle, WA, and Time-Warner Cable in NY proudly present a program for the performing arts. Your host, Mark Andersen, brings you a concert right in your home each week over Seattle Community Media (SCM) in Seattle, WA over Comcast Channel 77 and Broadstripe channel 23, as well as the Time-Warner Cable in NY.
1
Series Blog Postings
There are currently no blog entries for this project. If you are the producer, post to your blog now!
Welcome!
Hey viewers and producers! Be sure to register.

Don't confuse registration with membership!

Registration will allow you to vote for shows and leave comments on the website. You still need to become an SCM member to produce shows.

How to Use the New Site
Hours of Operation
Community Room
| | | | |
| --- | --- | --- | --- |
| MON | 1:00pm | 4:30pm | |
| TUE | 1:00pm | 4:30pm | |
| WED | 1:00pm | 8:00pm | |
| THU | 1:00pm | 8:00pm | |
Studio
| | | | |
| --- | --- | --- | --- |
| WED | 3:00pm | 9:00pm | |
| THU | 1:00pm | 9:00pm | |