Thw Fullness of God-Part One
About this show
Creator:
Pastor Richard D. Dover
Location:
Locally Produced
Rating:
General audiences - PG/TV-G
Scheduled airings
This show has not aired nor is scheduled to air in the future.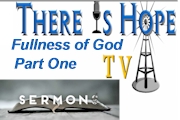 Fullness of God-Part One
Senior Pastor Richard D. Dover
Seattle Open Door Church
In the series titled Fullness of God Pastor Rich speaks on the concepts found in Ephesians 3:19-21. When a believer truly understands the love of Christ, the Bible says they will be strengthened with God's power through the Holy Spirit and God is able to do abundantly more than what they can ask or think and they will be filled with the fullness of God. This only makes sense because God is love and thus when you are filled with His love you are filled with God.
When a Christian is filled with the love of God, all things are possible.
Seattle Open Door Church
625 SW 149th St
Burien, WA 98166
www.sodc.tv
Give Pastor Rich a call at 1-866-WANTGOD
Member Login
Welcome!
Hey viewers and producers! Be sure to register.

Don't confuse registration with membership!

Registration will allow you to vote for shows and leave comments on the website. You still need to become an SCM member to produce shows.

How to Use the New Site