Spiritual Warfare-Part Three
About this show
Creator:
Pastor Richard D. Dover
Location:
Locally Produced
Rating:
General audiences - PG/TV-G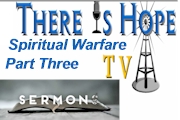 Spiritual Warfare
Your Enemy is not People
Personal Experience
Senior Pastor Richard D. Dover
Seattle Open Door Church
In Spiritual Warfare Parts One, Two, and Three Pastor Rich talks about the importance of seeking God and prayer when encountering various trials-fighting the good fight of faith. We stand and once we have stood, we continue to stand. We need to realize we are in a spiritual battle and we must fight in the spirit, not the flesh. Our enemy is not people, but spiritual wickedness.
Ephesians 6:12-13
12 For we do not wrestle against flesh and blood, but against principalities, against powers, against the rulers of the darkness of this age, against spiritual hosts of wickedness in the heavenly places.
13 Therefore take up the whole armor of God, that you may be able to withstand in the evil day, and having done all, to stand.
In Spiritual Warfare, Parts One, Two Three, Pastor Rich shares in a very vulnerable way the battle he and his wife Carmi went through in regards to ministry. People problems, financial problems, and dealing with discouragement. He also shares how God intervened in a very miraculous way in regards to their ministry situation. They were not only blessed personally, Seattle Open Door Church was blessed, and the person God used to be a vessel was also blessed. Win-Win-Win. A year later the blessing is still coming to all.
God may not answer until the midnight hour, but He will intervene on our behalf when we call out to him.
Seattle Open Door Church
625 SW 149th St
Burien, WA 98166
www.sodc.tv
Give Pastor Rich a call at 1-866-WANTGOD
Member Login
Welcome!
Hey viewers and producers! Be sure to register.

Don't confuse registration with membership!

Registration will allow you to vote for shows and leave comments on the website. You still need to become an SCM member to produce shows.

How to Use the New Site