Zoom Meetings Review 2021: Features, Pricing & More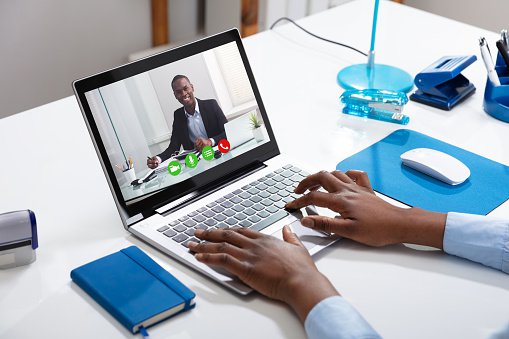 Everyone who can, is working from home right now. And they're likely using a video conferencing tool to collaborate, chat, and check in with their colleagues.
The coronavirus pandemic has cast

Zoom Meetings into the world's spotlight, with friends, family members, colleagues, classmates, customers, and even personal trainers using the tool to connect during a time of uncertainty, remote work, and social distancing.
If video conferencing wasn't a part of your communication strategy already, then it certainly is now.
As we'll discover, the beauty of Zoom Meetings is that it's accessible for any user, and also possesses robust features to enhance team communication.
Find out if Zoom Meetings lives up to its newfound fame and fortune, and whether it's right for your business.
---
Who is Zoom Meetings for?
Zoom Meetings is a web-based video conferencing tool designed for every business size and type you could imagine. It's built to cater to small businesses, individual users, enterprises, educational institutions, healthcare organizations, and more.
Anyone who needs to video conference with others, particularly those who work remotely, will find Zoom Meetings a winning solution.
And the good news: You get a tool with robust features without a hefty price tag.
---
Zoom Meetings features
The best video conference tools make remote meetings as productive as face-to-face meetings. With video conferencing at its core, Zoom Meetings offers a host of intelligent functionality that accomplishes that. Let's see how Zoom Meetings features stack up.
Video conferencing
Zoom Meetings video conferencing offers everything you could want: Video and audio are delivered in HD, all paid plans offer cloud meeting recording (the free plan includes local recording), and all meetings are password protected.
It supports up to 49 videos on screen, making its virtual hand-raising feature is a great add-on. The host can see and respond to those who raise their hand to ask a question or interject, without breaking the flow of conversation.
Zoom Meetings shines in terms of accessibility. The host can enable closed captioning for meetings, and they can automatically transcribe meeting recordings for review. Users can create single or multiple polls during meetings, with anonymized responses.
Zoom Meetings also allow users to create their own virtual backgrounds, and includes a "Touch Up My Appearance" feature, which uses a filter to subtly smooth fine lines.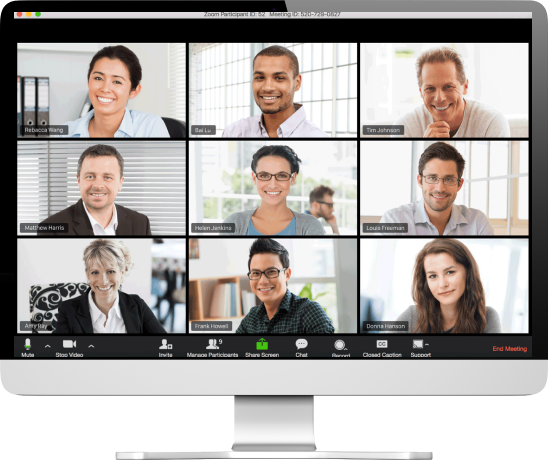 Users are automatically assigned their own personal meeting ID/room, which comes with a handy link that you can send out to participants you want to meet with.
Screen share
Users can easily share their screen before participants join a call, or at any time during a video conference group meeting. Side-by-side mode lets users view both the shared screen as well as meeting participants' screens.
Users can also share their full desktop, an individual app, or an individual file with the rest of the room. Multiple participants can share their screens simultaneously during a meeting, which is a handy feature for real-time comparison.
Zoom Webinars
Zoom Webinars lets you set up webinars, live virtual events, video conferences, meetings, and chats. This is ideal for organizations who need to organize more structured and controlled meetings, such as town halls, training sessions, all-hands meetings, etc.
This feature allows users to invite 100 interactive video participants, and up to 10,000 view view-only attendees, depending on your plan. Hosts are in control, and can mute or unmute panelists and promote attendees to a panelist status.
Webinars can be recorded, Q&As can be set up, and events can be streamed across social channels such as Facebook and YouTube Live. Zoom Webinars also allows you to charge registration fees for your webinars through an integration with PayPal.
Zoom Webinar is an add-on, and pricing plans start at $40/month, per host.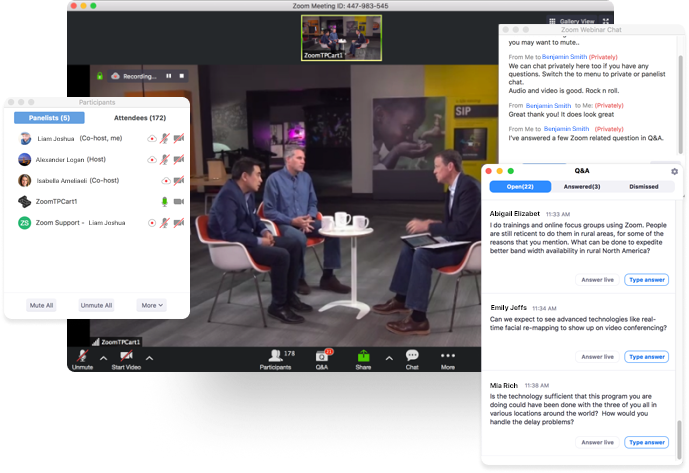 Zoom Chat
Zoom Meetings chat functionality keeps teams connected. Like an instant messenger, this feature allows you to chat one-on-one or as a group, create channels, share files, provide status and presence indicators, and includes search functionality, all available during a video conference.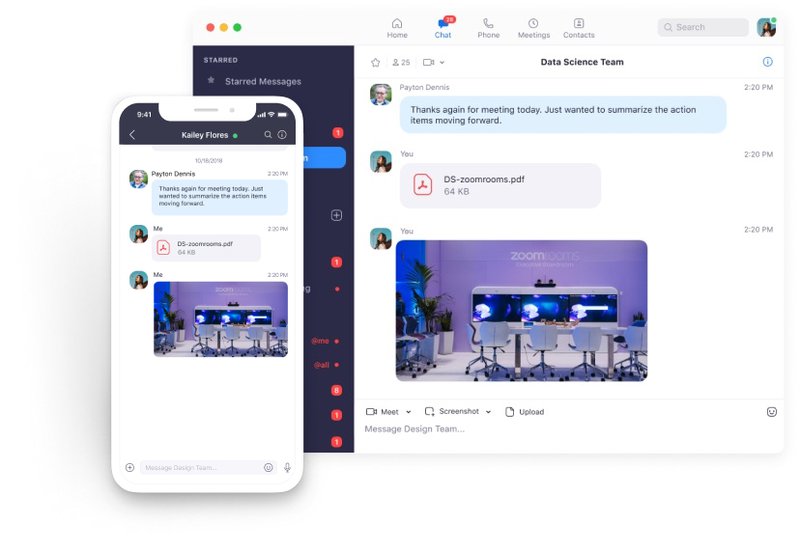 Whiteboard
This is a great feature for teams needing to brainstorm, map out ideas, or plan projects. Found under the Share Screen option, all participants can draw on the whiteboard, and the image can be saved and shared at the end of the meeting.
You can access many annotation options: text, shape drawing, stamps, freestyle drawing, and even a 'spotlight' option that can be used to highlight a particular spot on the whiteboard to catch participants' attention.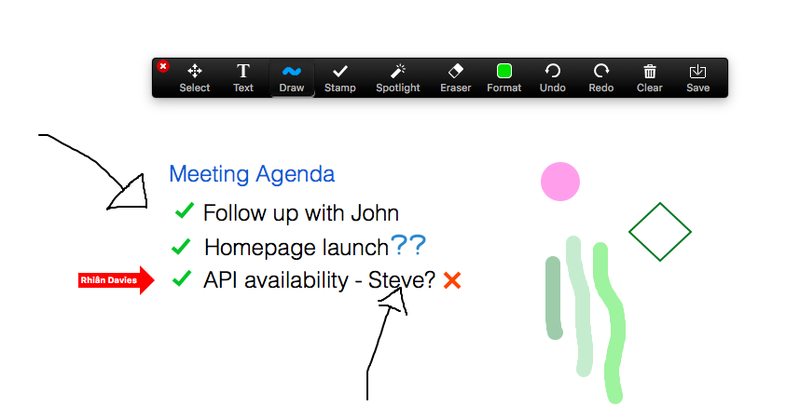 Zoom Rooms
Zoom Rooms uses physical hardware setups to let companies schedule and launch Zoom Meetings from their own meeting rooms. Users need to purchase an additional subscription to use Zoom Rooms, which is aimed at larger businesses.
---
Zoom Meetings ease of use
The Zoom Meetings user interface is lightweight and easy to use on desktops and mobile devices. Open the app, and you're presented with four choices — New Meeting, Join, Schedule, and Share Screen. You can easily access the Home button, chat functionality, a meetings tab, or your contacts.
This is the clean first look you get on opening the software, and it paves the way for the rest of the software's features: clean, lightweight, and intuitive.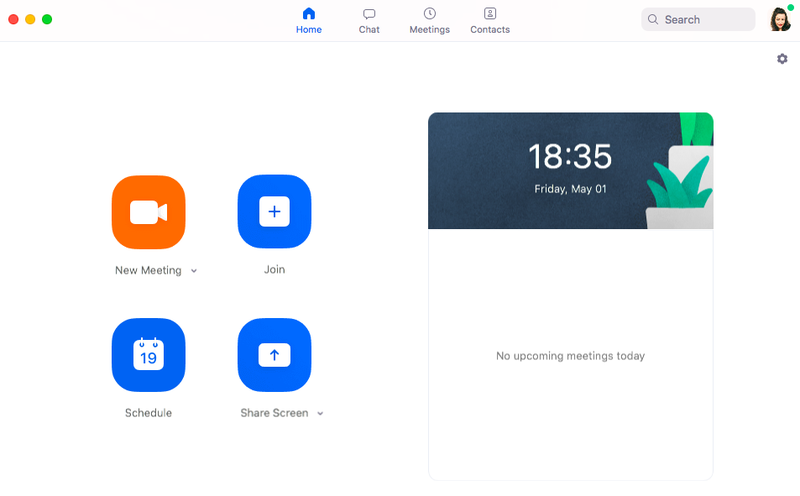 ---
Zoom Meetings pricing
Like many video conferencing programs, Zoom Meetings plans are priced per-host. Here's what you can expect to pay and the features available with each plan:
Free plan: You get unlimited one-to-one meetings, a maximum of 100 participants/meeting, and a 40-minute duration limit on each meeting.
Pro plan: $14.99/month per host. The major difference with this plan compared to the free plan is that you have a 24-hour duration limit on meetings. Again, you're limited to 100 participants for each meeting, with the option to upgrade to 1,000.
Business plan: $19.99/month per host. This plan provides automatic meeting transcripts, a maximum of 300 participants per meeting, dashboard branding, a custom Zoom URL, and managed domains.
Enterprise plan: $19.99/month per host. With a 500 participant limit, this plan offers a dedicated customer service manager, unlimited cloud storage, and executive business reviews.
At first glance, Zoom Meetings prices appear pretty affordable, but the cost soon adds up if you need additional hosts. Be sure you purchase sufficient host licenses because with only one host license, you'll be unable to access any paid features if that host isn't available.
---
Zoom Meetings support
The customer support level you get from Zoom Meetings depends on the plan you choose.
Free account: Users submit a support ticket via an online form and wait for a representative to get back to them.
Pro plan: Users can use the support ticket option or chat live with a support team member.
Business plan: Business plan customers can use the two options above or call the support team directly. However, Zoom phone support is limited to eight countries: Australia, France, India, Japan, New Zealand, Singapore, the U.K., and the U.S.
Enterprise plan: With an Enterprise plan, customers are assigned their own dedicated customer success manager.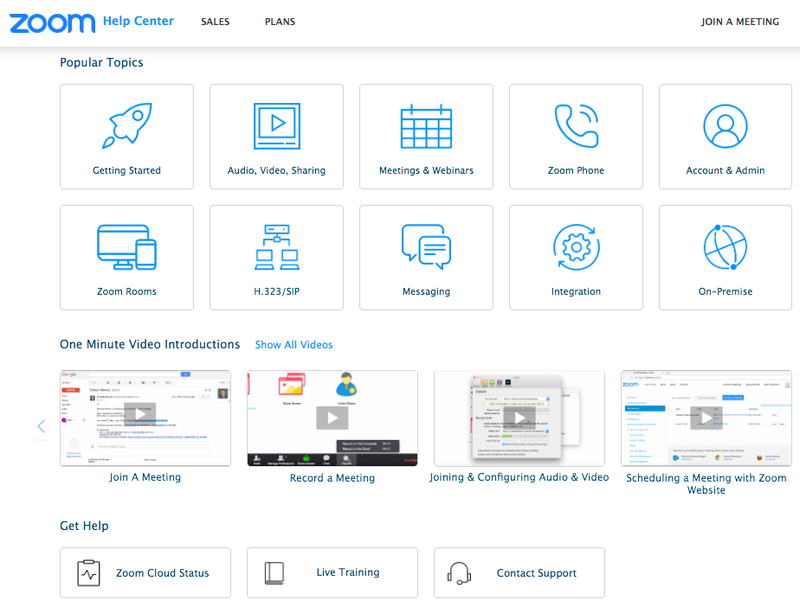 Zoom advertises their support hours as being "24/7, including public holidays, where agents or technical engineers are available for email or live support".
In addition to traditional customer support options, users also can access an extensive library of categorized and helpful guides and instructional videos.
---
Benefits of Zoom Meetings
A primary Zoom Meetings draw is that it's accessible to businesses of all sizes, and its pricing reflects the features you get with each plan. Its simplicity combined with its robust features is a huge pull for businesses looking for an all-rounder.
You can also build your collaboration needs and tech stack around the Zoom Meetings platform, thanks to its ream of communication and collaboration features, and its integration with many other packages, such as Microsoft Teams and Outlook, Slack, and many others.
---
Zoom Meetings is a well-rounded and accessible solution for every business size
Zoom Meetings is ideal for businesses of all shapes and sizes. It's a feature-rich video conferencing solution that's easy to use, set up, and scale. Most customers use it internally, but you may find uses for it in communicating with clients, advanced prospecting or perhaps to go over proposals.
Although its free version comes with a host of features, it's disappointing that meetings are limited to 40 minutes. Zoom Meetings customer support options could also use some fine tuning.
View more information: https://www.fool.com/the-blueprint/zoom-meetings-review/