Zoho Recruit Review 2021: Pricing, Features & More
[ad_1]

Zoho Recruit is another of the long list of Zoho products on the market that includes the excellent Zoho People HR solution, highly rated Zoho Books bookkeeping software, and top-ranked Zoho Campaigns email marketing tool. The company is a veritable one-stop shop when it comes to business solutions.
These tools score highly when it comes to usability, reasonable pricing, and a varied feature set. But can this applicant tracking tool repeat the success of its sister products? Find out if it will help streamline the way you source, attract, and retain the best candidates on the market.
---
Who is Zoho Recruit for?
Zoho Recruit is a recruitment applicant tracking system (ATS) aimed at third-party recruitment agencies that hire candidates for external companies and corporate HR departments that source applicants for within their own company.
It's designed for small businesses that want to quickly create job openings, companies that want to invest in recruitment marketing to improve the quality of candidates they attract, as well as data-driven recruiters who want to track the success of their hiring campaigns.
---
Zoho Recruit's features
Zoho Recruit has an impressive range of functionality covering the entire recruitment cycle, from sourcing to screening to interviewing to onboarding candidates.
Creating and managing jobs
When you want to post a new job, you can create one from scratch or use a template. While it's a standard process to create a job — you fill in the details of the role, such as title, location, salary, and job description — there are some useful fields.
The target date field helps you track your progress and success and create detailed reports on recruiting performance. You can also create openings for contract, seasonal, and even volunteer positions.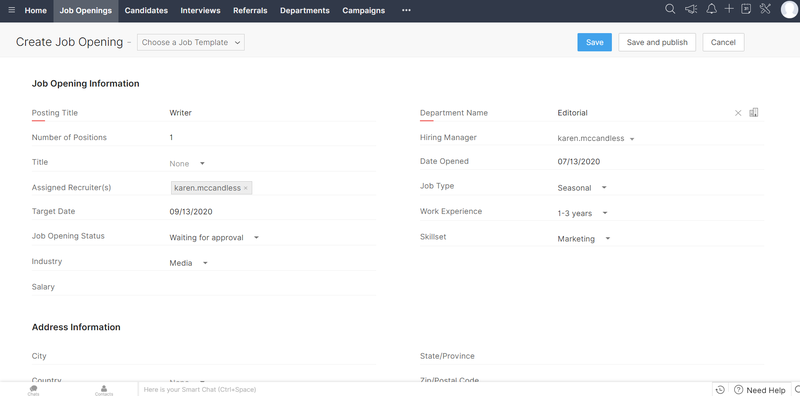 Once you've created the job, you can publish it to your customizable careers portal, to job boards, or via social media channels such as LinkedIn, Twitter, and Facebook. If you share your job on social media, you can manage all candidate communication via the Zoho Recruit platform.
Candidate sourcing
To source passive candidates and improve your talent acquisition process, you can use standard options such as searching jobs boards and social media. From there, you can drag and drop candidates into Zoho Recruit's applicant tracking database.
Zoho Recruit also includes recruitment marketing functionality to attract candidates to your company, even if they are not actively job hunting.
You can create targeted social media campaigns based on location and audience. With the Facebook Job Postings functionality, candidates can apply to a job without leaving Facebook.
The Zoho Recruit extension for Google Chrome allows you to extract resumes and add candidates directly from job boards without having to enter their information manually.
Zoho Recruit's integration with email marketing platform Zoho Campaigns means you can also create automated email marketing campaigns to nurture passive candidates and ensure smooth communication.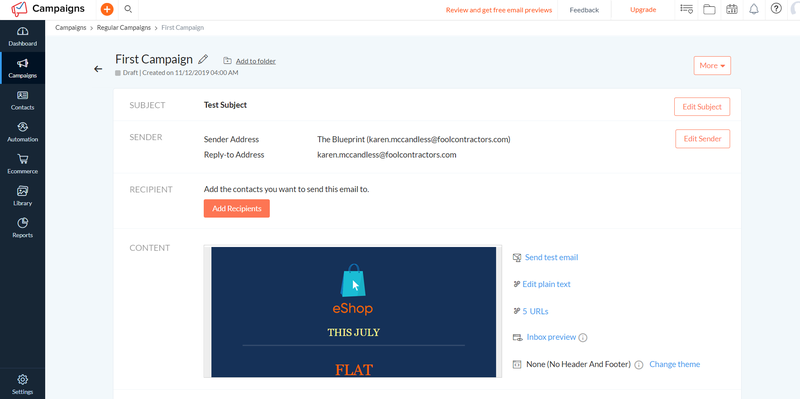 Pipeline management
With Zoho Recruit, you can customize the recruitment workflow for each position and save this as a template. You can color-code your workflow stages and track the number of candidates in each one.
Zoho Recruit centralizes all candidate data so you can quickly get a snapshot of whether or not applicants are right for the position and if you should move them onto the next stage.
Other users can leave reviews and ratings, while you can add notes, attach documents, schedule interviews, send emails and SMS, create to-dos, and send out offer letters all from one dashboard.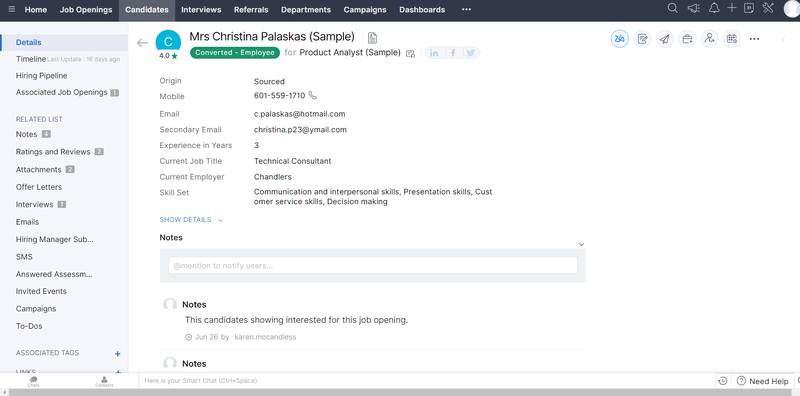 Zoho Recruit also integrates with Zoho People HR and workforce planning software so you can convert a new hire into an employee and initiate the onboarding process from within the same solution.
The software then automatically creates an account for the new employee within Zoho People, so you can manage their onboarding, training, and HR needs without having to enter any data.
Reporting
Zoho Recruit has powerful reporting capabilities and allows you to track hiring metrics at a very granular level. It provides a ton of built-in reports and analytics to track the performance of your recruiting efforts and identify areas where you can improve. These reports include:
Time to fill
Offer acceptance rate
Job openings due this month
Candidate pipeline
Candidates by status
Time in stage
You can also build your own report. These reports are available either as a graph, such as a bar or pie chart, or as a table. It only takes a couple of clicks and a few seconds to run a report.
To quickly access this information in the future, you can create a dashboard with the applicable data and graph of your choice.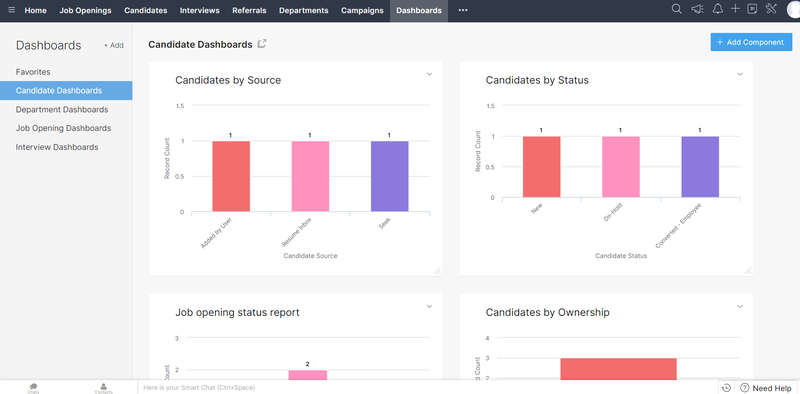 ---
Zoho Recruit's ease of use
If you're taking advantage of Zoho Recruit's free trial, you can quickly get up and running using sample data. This gives you an idea of how the system works without having to enter your own data.
If you're migrating from another ATS, Zoho Recruit imports the data for you. In both cases, when you first log on, you can take a tour of the solution.
The dashboard is completely customizable. You can add and remove tabs on the main menu or create your own tab. For example, I created a tab for recruitment marketing, which included Google Ads and campaign data.
Zoho Recruit is one of the easiest-to-use ATSes on the market. Its menu is easy to navigate and is clearly labeled. For example, there are menu options for Job Openings, Candidate, and Interviews, all of which are self explanatory and free of jargon.
You can quickly find your way around the different options and never feel overwhelmed by the functionality. This makes it ideal for inexperienced recruiters or people who have other responsibilities (for example, if you own a business and also have to recruit new employees yourself).
One drawback is the lack of buttons for common actions. For example, one of the most common and important tasks recruiters have to carry out is creating a job. But the Create Job Openings option is hidden away in a small plus sign on the menu, rather than with a big button directing you to this option.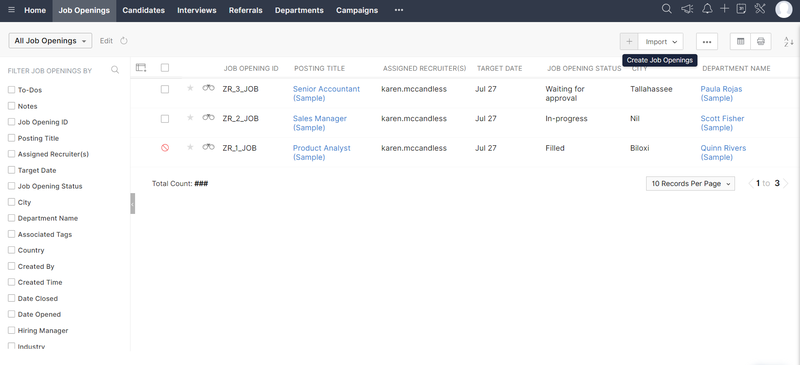 The user interface is lacking in color, which means that key functionality gets buried among the other options. We'd like to see Zoho Recruit add highly visible, colorful buttons to help recruiters quickly find common functionality.
---
Zoho Recruit's pricing
Zoho Recruit pricing is straightforward and affordable for businesses of all sizes. The Zoho Recruit free trial lasts for 15 days, after which it automatically converts you to its free plan if you don't upgrade.
Zoho Recruit's free plan has limited features. It only lets you post one job at a time to paid job boards and your own careers portal, as well as schedule interviews and perform simple searches.
There are three paid pricing plans, all of which provide excellent value:
Standard, which costs $25/month per user if paid annually, or $30/month per user if paid monthly. This plan lets you recruit for 100 jobs at a time and doesn't include custom reports and dashboards.
Professional, which costs $50/month per user if paid annually, or $60/month per user if paid monthly. This plan lets you recruit for 250 jobs at a time, limits how much data you can store, and only lets you have five pages on your careers page.
Enterprise, which costs $75/month per user if paid annually, or $90/month per user if paid monthly. This plan lets you recruit for 750 jobs at a time and includes five free client portals (see below for more information about these portals).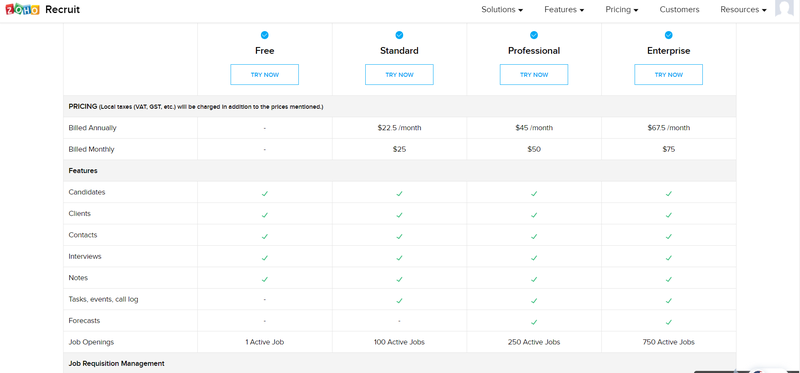 If you're a third-party recruiter or a corporate recruiter who uses a staffing agency and you need to give access to external companies, then you can create a Client Portal, which costs $6 per license. Client Portal users can:
Create new job openings
View candidates
Provide feedback on candidates
Schedule interviews
---
Zoho Recruit's support
Zoho Recruit provides four different support tiers. If you have the free pricing plan, you're automatically on the free Basic support tier.
With the Basic tier, you get access to a customer portal where you can submit new support requests by email and view all support tickets you've submitted. Zoho guarantees a response within 24 hours.
Zoho Recruit provides self-service support through its Help Center with Zoho video tutorials, webinars, and articles to help you solve your issue. You can also get peer-to-peer support by asking a question in the Zoho forums, meet the Zoho team at in-person events, or ask them a question on social media.
If you choose the Classic support tier, which is free with all paid pricing plans, you get all of the above plus toll-free phone support for eight hours a day, five days a week.
Here's where Zoho Recruit support gets complicated. If you're on the Enterprise pricing plan, you also get live chat support for eight hours a day for five days a week for free.
If you want more support, you can opt for the Premium or Enterprise support tier, which costs 20% and 25% of your license fee, respectively.
With the Premium tier, you get toll-free phone support 24/5 and live chat support, also 24/5 (but only if you are on the Enterprise pricing plan), as well as remote assistance and product onboarding. Zoho guarantees it will respond to queries within three hours.
With the Enterprise support tier, you get 24/7 live chat and toll-free phone support, plus a dedicated account manager.
It can take a while to get your head around the different support tiers, but there is plenty of support offered no matter what you pay.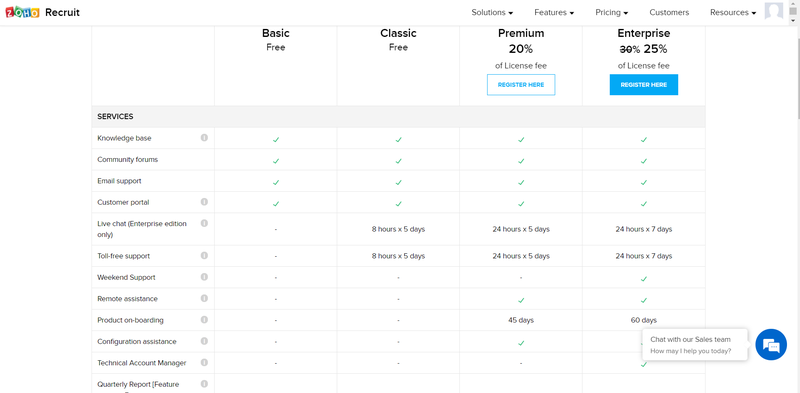 ---
Benefits of Zoho Recruit
Zoho Recruit helps you attract the best candidates through its recruitment marketing capabilities. It makes the whole hiring process easy and straightforward. The solution's data-driven approach and variety of reports help you identify ways to improve your recruitment efforts.
---
Another robust product in the Zoho family
Zoho has done it again: It has combined ease of use with a robust feature set, and it offers great value for the money. Most applicant tracking systems pitch themselves as either for corporate recruiters or staffing agencies, but Zoho's customization options mean it serves both markets.
It's quick to set up, easy to pick up, scalable, and heavy on interesting and unique features. What's not to like?
[ad_2]
View more information: https://www.fool.com/the-blueprint/zoho-recruit-review/