Zoho People Review 2021: Features, Pricing & More
Different departments have different requirements when it comes to software, but one common requirement is the ability to get up and running quickly with minimal business disruption. User adoption is also crucial if you want the software you choose to have a measurable impact on your business.
Yet many HR solutions make the procurement process lengthy and overcomplicated. It's hard to compare software because most vendors don't make pricing information publicly available. Instead, you have to call the company for a quote, which inevitably leads to you being ensnared in its sales process.
Compare that to email marketing software, where most companies provide, at the very least, a free trial and readily available pricing information, if not a free plan.
Zoho People bucks the trend. It gives you a 15-day, no-obligation free trial — you don't even have to provide your credit card details — and it lists its pricing on its website, so you can quickly rule it in or out of your software selection process. Other HR software vendors should take note of this transparency and ease of use.
---
Who is Zoho People for?
Zoho People is for everyone. As there is a free plan and five paid plans, it's useful for all business sizes. It's also very easy to use and quick to learn, especially if you've used a Zoho product before, so even inexperienced HR professionals or business owners who are doing their own HR will feel comfortable with this software.
---
Zoho People features
Zoho People offers a broad range of features, including time and attendance management, onboarding, performance management, workforce planning, and an additional recruitment module to help streamline your hiring process.
Performance management
Zoho People is built for modern performance management assessments. You can give feedback to your peers, your direct reports, and your manager (or even their managers).
There are five built-in feedback categories — positive, negative, training, observation, and rewards — but you can also customize these to fit your business type. The ability to reward your employees for good work is important when it comes to motivation and retention.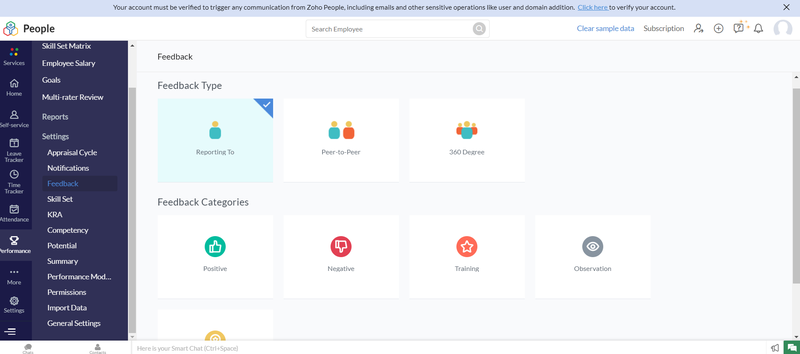 In terms of developing skills, there are tons of options to help you measure performance and HR metrics, and you can tie that to learning and development through Zoho People's learning management system (LMS).
The LMS is a paid add-on. This also helps you better meet the objects of your staffing plan by developing the necessary skills.
Other useful performance management functions include:
Setting your own appraisal cycle
Basing reviews on the ratings of multiple people
Tying employee salary to performance
Onboarding
Zoho People takes a unique approach to onboarding, as it separates the process into stages. The first is what it calls the Candidate View, which you use to complete all tasks during the talent acquisition process and prior to a candidate's first day with your company.
To start this process, you set up a login for the candidate and they enter all required data and complete the necessary steps, such as supplying proof of ID and filling out tax information. This saves a lot of time filling out documents on their first day in the office. The process is also fully customizable.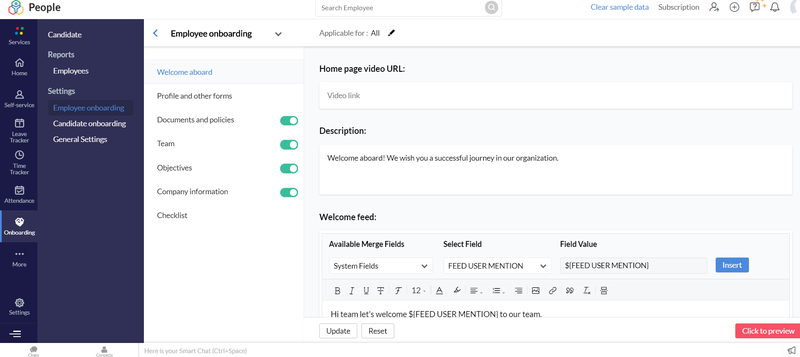 Then when a candidate's start date approaches, you can convert this into the Employee View. This portal, which is accessible both by you and the new hire, provides post-hire information, such as training, work schedule, and links to important documents such as the employee handbook.
Time and attendance
Zoho People has robust time and attendance management functionality. You can view easily track leave by company and department or see your individual calendar.
The integrated time tracker means that your employees can easily clock in and the time they checked in automatically shows on the calendar. They are then able to submit your Zoho timesheets using this data. There are timesheets per project and per client.
The workforce analytics reports help you keep track of your projects and clients, as well as get an overview of your team or an individual employee.
The scheduled versus worked hours reports allow you to improve your human resource planning by ensuring you have the optimal staff on shift at any point.
Zoho People also has shift scheduling capabilities so you can use this data to work out who should be on each shift and create templates that you can easily reuse.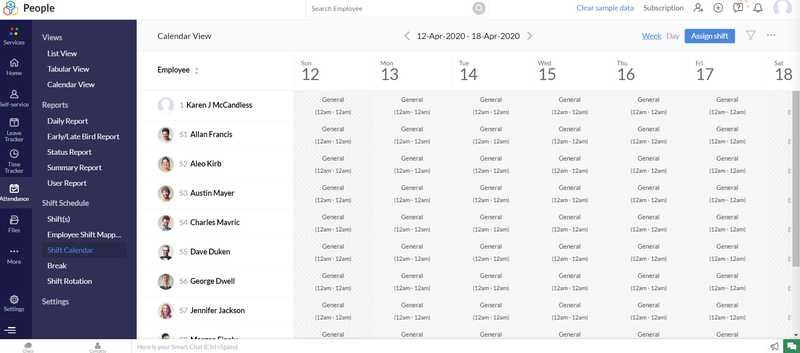 Since you can integrate Zoho People with other payroll solutions, this information feeds directly into your billing and payroll reports. However, Zoho People lacks the advanced time and attendance capabilities of other HR software such as Zenefits.
For example, you can't set different rules for the way overtime is tracked and calculated, or set rules for how you track contingent workers in terms of overtime and time off.
Workforce management
Zoho People provides additional HR functions to help you better manage your workforce.
With Zoho HR software, you can manage employee travel (which is a feature not usually included in HR software), offboard employees, view and rearrange your organizational structure, and manage your benefits administration process.
You can use all of this data to power your people analytics, and easily create your own fully customizable reports.
Its powerful data analytics functionality lets you create very detailed reports about any aspect of your company in a format of your choosing, whether that is a pie chart, bar chart, or any other type of visualization.
If you choose the People Plus plan — which is the most expensive pricing plan — you also get access to the Zoho Recruiting module.
This helps you improve your small business recruiting process through features such as talent sourcing, pipeline management, background checks, branding and recruitment marketing, and employee referral functionality.
Zoho also throws in its expense management, collaboration, and digital signage software with this pricing plan.
---
Zoho People ease of use
Zoho People has the familiar Zoho family look and feel, so if you've used any of the sister solutions — such as Zoho Campaigns or Zoho Books — you'll be able to get up and running very quickly.
If you've not used any kind of Zoho software or HR tool before, you can watch the intro video, which gives you a high-level overview of the different features.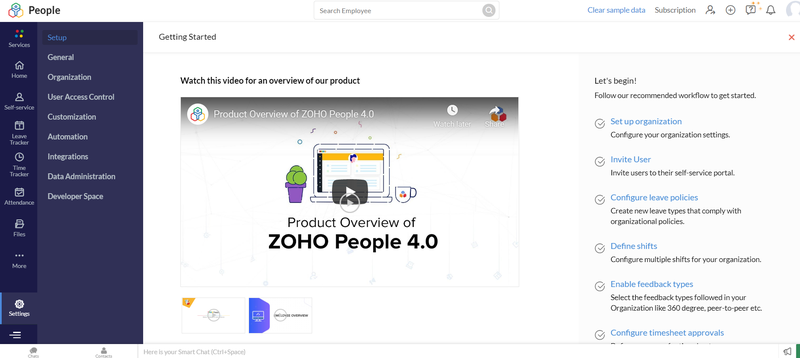 Zoho People's main dashboard provides an overview and quick links to all the different modules, whether that's new hires, company birthdays, upcoming vacations, attendance, yearly hiring and attrition, pending tasks, or business announcements.
You can customize the dashboard to show the most important information first. It provides an easy way to help you focus on your most important tasks and keep up to date with all the relevant information at a glance.
The side navigation with submenus makes it super quick and easy to switch between different tasks and find what you need to do next.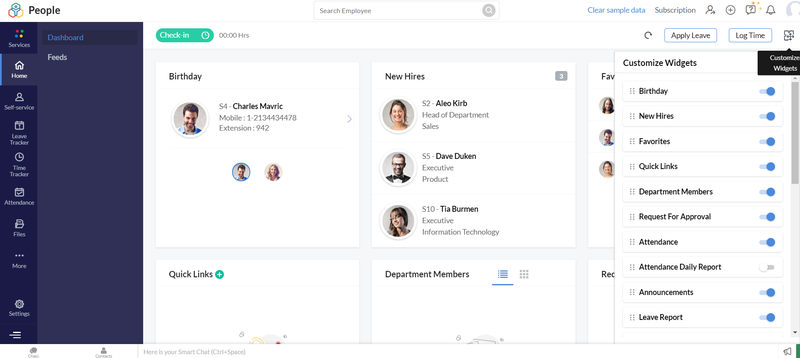 ---
Zoho People pricing
Zoho People is one of the only HR solutions that makes its pricing publicly available.
Most other HR software ask you to call their sales teams to get a quote. Zoho People has plans for all business sizes, from a free plan for up to five users that allows you to run basic HR functions, to five different levels of paid plans. You can get a 15-day free trial of each paid option.
Zoho People pricing is very affordable, as it starts at $1/month per month for the Essential HR plan, which is the least expensive paid option. The most expensive pricing plan costs $10/month per user, which is also very reasonable when compared to other human resources software.
It's worth noting that the less expensive pricing plans have limited features. For example, the Essential HR plan doesn't come with performance appraisals, shift scheduling, and time tracking.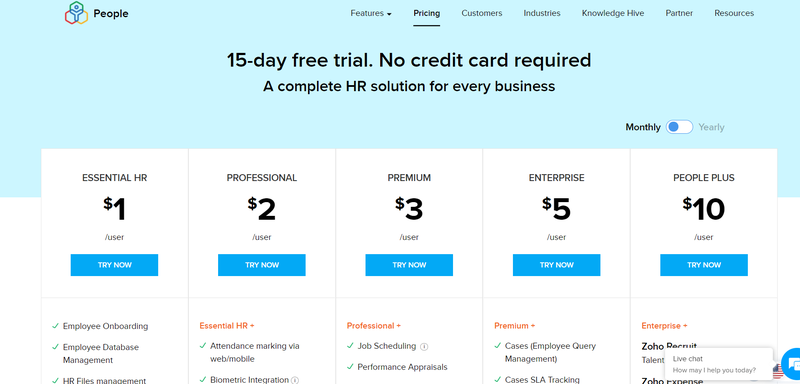 ---
Zoho People support
Zoho People has searchable in-app FAQs. To access the FAQ section, all you have to do is click the question mark button in the top right of the main navigation bar. Zoho People also provides live chat support, which you can access by clicking on the speech mark button in the bottom right corner of the screen.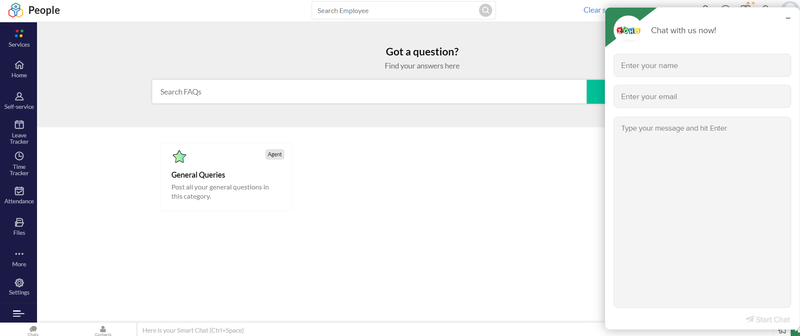 There are live and recorded webinars that both provide information about the product and help you better manage your HR processes. One recent example is on the topic of what HR should do during a pandemic.
If you have an issue that can't be resolved by searching the FAQs or by live chatting an agent, you can send Zoho a message and attach screenshots and documents from within the software.
Additionally, the Zoho Community portal lets you pose questions to fellow Zoho product users (not just users of Zoho People) and search for similar questions and answers.
---
Benefits of Zoho People
Zoho People helps you easily track time and attendance, making sure you have the right staff in place to ensure the smooth running of your business.
Its fully customizable performance management module helps you provide regular feedback and training to boost employee satisfaction and retention.
It also has a ton of other useful features to save you time and effort when onboarding new hires, managing benefits, structuring your company, and overseeing travel.
---
The ultimate all-rounder
Zoho People has an excellent set of features. It's not perfect — its time and attendance functionality is not as advanced as other HR software — but it more than makes up for that fact in ease of use, pricing, and the ability to get up and running quickly.
With one free price plan and five paid pricing plans, the software scales alongside your business, and you also get the added benefit of being able to use the other products in the Zoho family from the same interface.

View more information: https://www.fool.com/the-blueprint/zoho-people-review/