Zoho Books vs. FreshBooks: Which Is Better?
It's not easy to choose an accounting software application. There are a ton of choices out there, and they're all clamoring to get your attention. But not all accounting software applications are created equal.
Some excel in invoicing while coming up short on other key accounting features, while others include stellar reporting options but only offer basic accounting capability. So which one is right for you? Read on and find out.
---
Zoho Books vs. FreshBooks: An overview
Zoho Books and

FreshBooks are both popular accounting tools, but their utility may vary, depending on the kind of business you own.
Though both applications are designed for small business owners with limited accounting knowledge, and both offer good bookkeeping and accounting features, Zoho Books and FreshBooks present two very different options for small business owners.
We break down the differences and the similarities to make the decision-making process a little bit easier.
Who is Zoho Books for?
Zoho Books is a good entry-level accounting application that currently offers three affordably priced plans and is a good FreshBooks alternative. A good fit for sole proprietors, freelancers, and small businesses, Zoho Books can be a good fit if your business centers around selling products.
Who is FreshBooks for?
If you're self-employed, working as an independent contractor, consultant, or sole proprietor, FreshBooks was designed for you. FreshBooks recently restructured their pricing levels, now offering four plans, making it easier to scale up to a more powerful plan if necessary.
---
Zoho Books vs. FreshBooks: Features
Both Zoho Books and FreshBooks offer a great selection of features, although the features can vary significantly from product to product.
What Zoho Books offers
Though Zoho Books offers three plans, you won't have to purchase the most expensive plan in order to access a long list of features, including:
Custom invoicing
Time tracking
Expense tracking
Budgeting
Bank connectivity
Client portal
Zoho Books offers excellent sales management features such as customer estimates, custom invoicing, the option to create recurring invoices, and the ability to manage payments.
You can easily convert a sales order or an estimate to an invoice, and if you're looking for a completely customized invoice, Zoho Books will guide you step-by-step through the invoice creation process. After making a sale, you'll be able to keep track of all your customer's details.
The client portal makes it easy for your customers to pay their invoices online, and it expedites the approval process for both quotes and estimates, while also allowing your clients to easily manage their personal information themselves.
For those selling products, Zoho Books can be particularly helpful, as it offers inventory management features, such as the ability to track items using different units of measurement. You can also track a cost and a selling price for any product for easy tracking of cost of goods sold, and stock on hand is tracked in real time.
In addition, Zoho Books lets you add a product image to your inventory file, set reorder levels, and create custom markup and markdown lists for preferred customers.
Zoho Books also includes good vendor management, so go ahead and assign a payment method to each vendor. Expenses can be uploaded directly into Zoho Books by snapping a picture of a receipt, and if you pay a vendor the same amount monthly (think rent), you can create a recurring bill.
Other notable features in Zoho Books include bank connectivity, time tracking, and a mobile app for both iOS and Android devices. However, one of Zoho Books biggest downsides is the lack of a payroll module either within the application or as an integrated app.
What FreshBooks offers
FreshBooks offers a long and continually updated list of features. But among all the new features and functions, one that still stands out is invoicing. FreshBooks has made the act of creating an invoice a simple process that takes less than a minute. And these aren't plain, run-of-the mill invoices.
You can create a professional-looking FreshBooks invoice with your own logo and accent colors effortlessly using the invoice generator feature in FreshBooks. Invoice a new client immediately without having to stop and enter their personal details.
You can make the invoice recurring, set a notification option if the customer is late with their payment, and add a late fee if you wish. If you sell globally, you can create your invoice in your customer's native currency.
Payment is easy as well, since you can add a payment link that takes your customer directly to FreshBooks Payments, where they can pay by credit card or ACH transfer. You can also accept electronic payments using Stripe.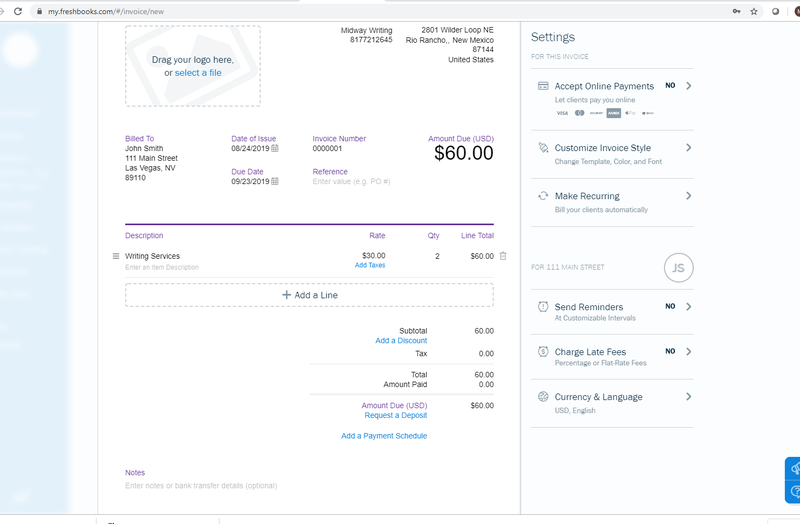 Other features in FreshBooks include:
Expense management
Bank connectivity
Time tracking
Client estimates and proposals
Payment recording
Team management
It's been a little over a year since FreshBooks added double-entry accounting capability to their application, making it a true bookkeeping and accounting application, a must for anyone who wants to add employees, accrue expenses, or grow their business.
Other useful features in FreshBooks include the Retainers option, great for attorneys, CPAs, or consultants who provide recurring services to clients, allowing you to budget and reserve blocks of time on a recurring basis.
Expenses are easily tracked in FreshBooks, and you can snap a photo of a receipt using its mobile app (available for both iOS and Android smartphones and other devices), later uploading the photo and dropping it into the expense screen.
Another great feature is the time-tracking feature, complete with a timer that can be used on your desktop or mobile device for conveniently tracking time from any location. While payroll is not included in FreshBooks, it does offer integration with Gusto.
Results
It's a tie. While Zoho Books may be the best option for businesses selling products, FreshBooks is the better choice for service businesses.
---
Zoho Books vs. FreshBooks: Support
Support availability is always important, but perhaps more so to new business owners who are learning their way around the bookkeeping process and learning a new software product at the same time.
While Zoho Books and FreshBooks are both easy-to-use applications, it's still nice to know that support is only a phone call away.
What Zoho Books offers
Zoho Books offers excellent choices when you need extra help, with both telephone and email support options available.
In addition, Zoho Books offers numerous resources designed to support new users including a migration guide, a quick navigation guide, and an extensive selection of resources designed to make new users feel comfortable using the application.
Other resources include access to a user community, FAQ page, and numerous webinars, which you can register for on the Zoho Books website.
What FreshBooks offers
FreshBooks is so easy to use that it's likely you'll never have to call support. But if you do, there's live support personnel on the other end of the phone, ready to answer your questions.
FreshBooks also offers excellent online support options like a searchable knowledge base that will likely answer most of your questions. You can also access support via email during extended business hours.
Results
Zoho Books wins this round. Although both offer live support options, Zoho Books also includes a variety of user guides and step-by-step help throughout the application.
---
Zoho Books vs. FreshBooks: Ease of use
Ideally, when you log into your accounting software, you should be able to view the home page and know instinctively how to access the features you need.
While not the case for all software applications, both Zoho Books and FreshBooks offer intuitive user-navigation screens, so you don't have to spend a lot of time training, but can jump right in and start entering data.
What Zoho Books offers
Zoho Books makes it easy to get started, though your first session can take a bit of time. During the Zoho Books setup process, you'll need to enter details about your business, add sales tax information for your area, enable the modules that you want to use, and finally connect to online payment apps.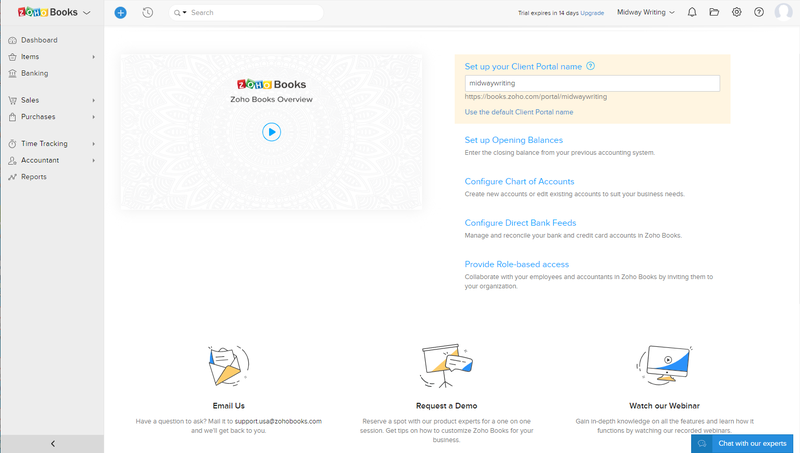 Once those steps are complete, you can return to the dashboard, which provides video overviews, helps you set up your client portal, and guides you through the rest of the setup process.
Zoho Books has a vertical navigation bar which allows you to choose the modules you want to access. Clicking on a module will display a drop-down menu that includes all the options within that module. Data-entry screens are uncluttered and offer easy access to Help and other resources should you get stuck.
What FreshBooks offers
New users can sign into FreshBooks and immediately know how to access a particular feature. Once signed in for the first time, you'll be directed to the dashboard, where you can start the entire setup process.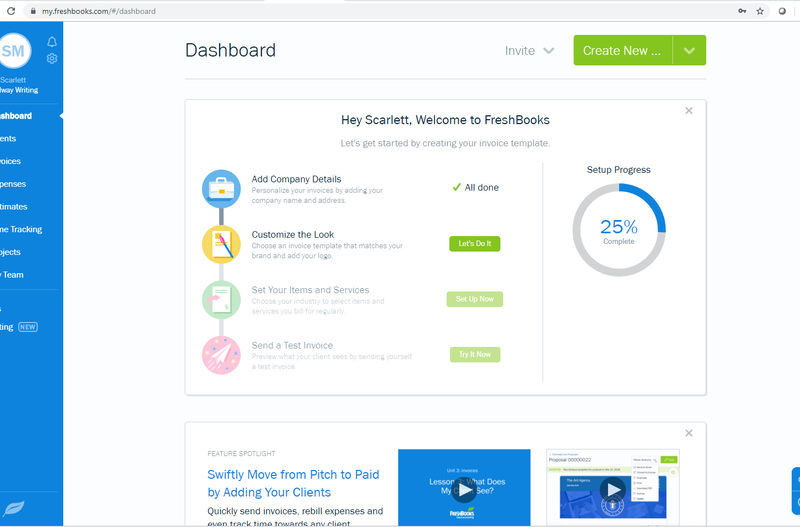 As you make your way through the setup process, you'll be able to see your progress displayed. Once setup is complete, you're ready to start entering transactions using the sidebar to the left of the dashboard.
FreshBooks entry screens are uncluttered and efficiently arranged, so you don't have to scroll through a lot of information in order to access the areas you need, and this structure remains the same throughout the application.
Each time you enter a transaction for the first time, FreshBooks will display additional help resources on-screen. You can also access help from any screen in the application.
Results
FreshBooks is the winner here. While both applications are easy to use and offer multiple resources specifically designed for new users, FreshBooks takes it one step further with an intuitive interface that new users will be comfortable with immediately.
---
Zoho Books vs. FreshBooks: Pricing
For sole proprietors and very small businesses, pricing can be an issue. Even if you don't face budgetary constraints, no one wants to overpay for something. Both Zoho Books and FreshBooks are affordably priced and within the range of just about any business, even those with a very tight budget.
What Zoho Books offers
Zoho Books offers three plans:
Basic: The Basic plan supports up to 2 users and up to 50 contacts for $9/month.
Standard: The Standard plan allows up to 3 users and up to 500 contacts for $19/month.
Professional: The Professional plan supports up to 10 users and more than 500 contacts for $29/month.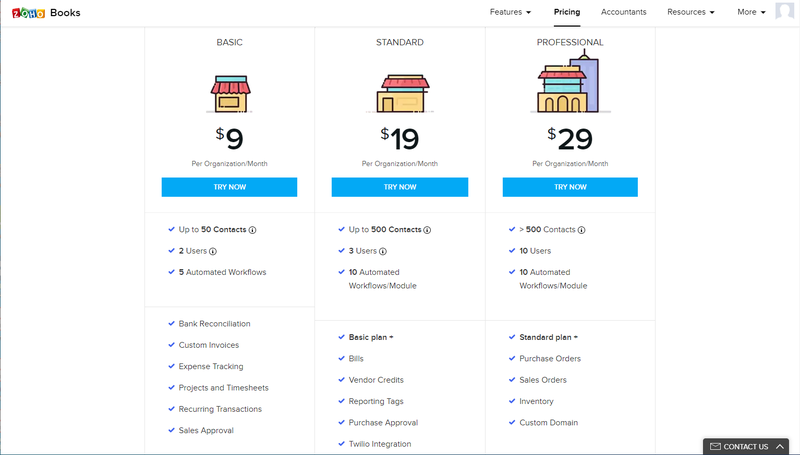 The scalability of Zoho Books is one of its most attractive features, with the Standard plan offering more than enough in the way of features for a sole proprietor or small business just starting out, while giving you the flexibility to move up to a more powerful plan when it becomes necessary.
Pricing for Zoho Books is among the lowest in the industry, and all plans include custom invoicing, expense tracking, budgeting, sales, and bank reconciliation. There are currently no payroll options available in Zoho Books.
What FreshBooks offers
FreshBooks has recently restructured its pricing. Now offering four plans, FreshBooks pricing levels are based on the number of clients you have. Plans include:
Lite: Perfect for the self-employed, the Lite plan allows 5 billable clients for $7.50/month.
Plus: The most popular plan, the Plus plan supports up to 50 billable clients for $12.50/month.
Premium: Perfect for a growing business, the Premium plan supports up to 500 clients and runs $25/month.
Select: For businesses with more than 500 clients, the Select plan also comes with a personal account manager. Pricing for the Select plan is available directly from FreshBooks.
All FreshBooks fees are reasonable, and all plans include unlimited custom invoicing, unlimited expense entries, the ability to accept online payments, unlimited time tracking, and bank connectivity. If you have employees to pay, FreshBooks also offers integration with Gusto Payroll.
Results
FreshBooks wins again. The pricing structures in Zoho Books and FreshBooks are similar, but the special pricing FreshBooks is offering makes this a deal too good to pass up.
---
Zoho Books vs. FreshBooks: Integration with other software
Integration may not matter to you right now, but that might not always be the case. If you think you might need your software solution to integrate with other applications, here's how Zoho Books and FreshBooks stack up.
What Zoho Books offers
Zoho Books offers excellent integration options, including payment gateways such as Stripe, PayPal, Worldpay, WePay, and Square.
Other integrations include Slack, Microsoft Office 365, Fundbox, and Avalara as well as complete integration with Zoho Suite applications such as Zoho CRM, Zoho Inventory, and Zoho Sign. In addition, the application offers access to more than 500 additional apps through Zapier.
What FreshBooks offers
FreshBooks offers integration with more than 100 apps as well as an additional 1,500 apps through Zapier. Popular integrations include Gusto, Stripe, Bench, Shopify, Zoom, Acuity, Avalara, Taxfyle, eBay, Slack, Salesforce, and Eventbrite.
Results
It's a tie. If you're looking for integration with more apps, FreshBooks is tops, but if you're looking for integration with numerous online payment applications, Zoho comes out on top. Either way, the integration options are considerable.
---
Zoho Books vs. FreshBooks: Reporting
Reporting requirements can vary widely from company to company. You may be perfectly content with having access to a few good reports, while the business next door desires a more comprehensive selection of reports. If reporting choices are important to your business, see how Zoho Books and FreshBooks compare.
What Zoho Books offers
Zoho Books includes more than 50 reports that cover numerous categories, including accounts payable, accounts receivable, inventory, invoicing, purchases and expenses, and taxes. A financial dashboard is also available if you're looking for a quick summary of your business activity.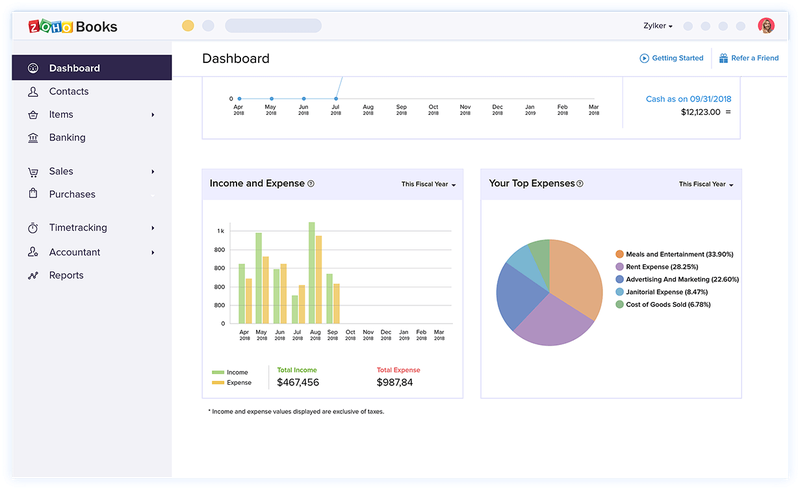 Any Zoho Books report can be customized, and you have the option to schedule reports to run when you want them to. If Zoho Books customization isn't enough, you can export any report to Microsoft Excel or as a CSV file.
What FreshBooks offers
FreshBooks reporting options are fairly basic, though they should be sufficient if you're self-employed. Currently FreshBooks includes 12 reports, including standard financial statements.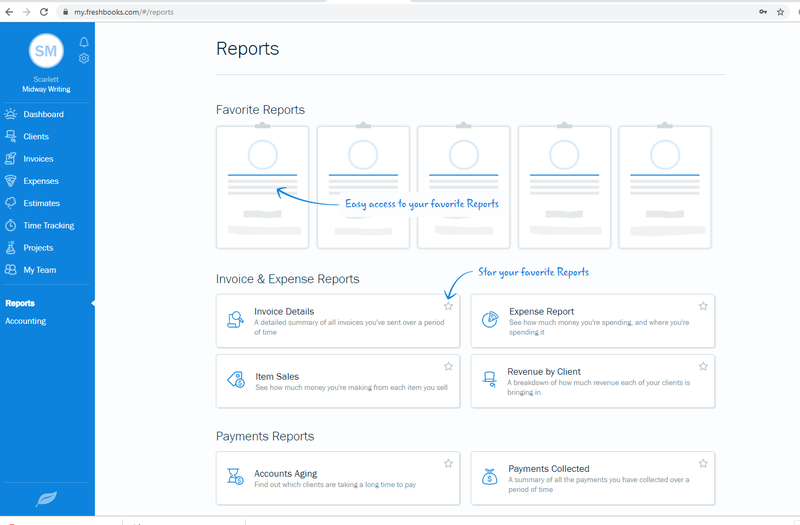 Available reports include a Retainer Summary report, an Accounts Aging Report, a Revenue by Client report, and a Time Entry Details report.
A dashboard report that highlights outstanding revenue, total profit, revenue streams, spending, and unbilled time is also available, and all reports can be exported to Excel for customization if desired.
Results
Offering more than 50 standard reports, Zoho Books wins this one. Both products offer a financial dashboard for a quick view of your business finances.

View more information: https://www.fool.com/the-blueprint/zoho-vs-freshbooks/