Your Guide to Building a Sales Team in 2021
Any business looking to create a sales team needs a solid foundation for the team to succeed. Building a sales team isn't just a matter of hiring some sales reps and letting them loose on unsuspecting clients.
For a sales team to successfully grow revenue for the company, the organization must obtain an understanding of the various elements that factor into operating a sales organization. Let's examine these elements to help you create a stellar sales team.
---
Sales team roles and responsibilities
Many different responsibilities exist under the purview of a sales team. These responsibilities are typically divided out among team members, or for smaller teams, they can be shared responsibilities.
Here are the most common roles and corresponding responsibilities within a sales team.
Sales representative: The core of every sales team is the sales rep. This is the individual who speaks with potential customers, known as prospects, and works to convince them to buy a company's products or services. This role comes in many different flavors, as discussed below.
Inside sales representative: The inside sales rep performs their sales duties over the phone or via email. They rarely see customers face to face, instead serving as the telemarketing arm of a sales team.
Field sales representative: The field sales rep, also called outside sales, is responsible for closing sales away from the company's place of business. They will usually meet prospects and customers in person.
Account executive: In many organizations, the account executive (AE) is identical to the sales rep. In other companies, the AE serves as a senior sales rep role, handling the company's largest clients. In industries such as advertising and IT, the AE acts in a more consultative capacity, helping customers map out their advertising plans or technology needs.
Account manager: This role is a support function to the sales rep. The account manager does not typically participate in closing deals with prospects. They come in after a prospect has become a customer. They are responsible for day-to-day interactions with existing customers and improving retention rates.
Sales manager: Larger sales organizations require sales team management. This is the role of a sales manager, a seasoned sales professional who is in a leadership role and knows how to manage a sales team. They oversee the activities of sales reps using tools like sales tracking software. The sales manager is also typically responsible for managing the overall sales operations and developing sales team strategies.
Sales analyst: This individual focuses on the business intelligence side of a sales organization. Their responsibility is to collect and analyze sales data to use in sales forecasting, assisting with sales strategies, and overall insight into the performance of the sales team.
Sales development representative: Sales development reps focus on the initial stages of the sales life cycle, primarily generating and qualifying leads. The goal is for sales dev reps to screen prospective customers and enter the most promising candidates into the sales pipeline for a sales rep to pitch. This frees up the sales rep to focus on closing deals.
Sales engineer: For companies selling technology-based products and services, particularly in the business-to-business (B2B) arena, the sales team may require a sales engineer. This role is part sales rep and part tech expert. The sales engineer's job is to help prospects understand how a company's technology operates and how it can help fulfill their needs. The sales engineer can go into deep technical details with a client that the traditional sales rep is not equipped to handle.
---
Strategies for building and managing a successful sales team
Now that you're familiar with typical sales roles and responsibilities, let's perform a deep dive into how to build a sales team.
1. Determine your sales needs
The first step is to understand your business development and customer needs, and how a sales organization helps meet those needs. Factors like the types of products or services offered by your organization and the growth curve of your company affect the roles, skill sets, and number of people you must hire.
For instance, inside sales teams are popular among small businesses because they are a lower cost than field sales. But if your clients require on-site handholding and guidance, or your product is best showcased with a demo that's hard to deliver over the phone, perhaps a field sales team makes more sense.
Also consider what's common in your industry. Many B2B companies use a sales team as a primary distribution channel for products and services.
However, most business-to-consumer models, like a retail store, opt for a sales clerk, who is more focused on customer service than selling.
Best practices for determining your sales needs:
Here are suggestions to help you think through your sales needs and what makes sense for your business.
Identify sales positions: Pin down which sales roles you need to hire first. Sales reps are certainly required, but should they be inside sales or field sales? Does the complexity of your offerings necessitate the hiring of a sales engineer? Are you hiring enough reps to warrant a sales manager to oversee the team? Of course, your budget constraints ultimately determine what's possible, so start by identifying the must-have positions for your sales team.
Utilize customer lifetime value: Assess your customer lifetime value, which tells you the amount of revenue you can expect from each customer. Then, by combining this with the revenue growth you're targeting over the next year as well as your customer acquisition costs, you'll know the number of customers each sales rep is required to bring in. This process allows you to define how much sales help is necessary to achieve your objectives while also managing your costs.
2. Define operational and sales strategies
Before bringing in a team, an initial sales strategy should be in place as well as key operational components that will get your new team started on the right track.
Taking these preliminary steps ensures you're maximizing your team's opportunity to hit the ground running.
In terms of sales strategy, figure out who your target customers are. Use customer segmentation to divide your universe of customers into buckets based on importance to your organization.
Doing so allows you to point your sales team toward the types of customers who will make the most impact on your business while preventing the team from pursuing customers of lower value to the organization.
Also, if your team is composed of multiple sales reps, delineate sales territories. These are typically geographical areas assigned to sales reps so that they don't pursue the same prospects. In forming these territories, you're also defining the sales team structure.
Moreover, part of your sales strategy should incorporate sales analytics to define what success looks like in measurable terms.
This requires establishing the goals your sales team must achieve, whether that's a revenue target, a productivity quota, or another business metric that makes sense for your business model.
With regards to sales operations, set up the key sales processes so your team doesn't have to wing it on their own. These processes should resolve basic operational aspects such as:
How leads are generated and delivered to sales reps
The tools used to track clients through the various stages of the sales funnel
The reports that inform you and your sales team on progress toward achieving quotas and business goals
Key procedures such as submitting a purchase order for each closed deal
Best practices for defining operational and sales strategies:
There's a lot to consider when setting up foundational sales operations and strategies. Check out these tips to help you get started.
Considerations for sales territories: When setting up sales territories, these areas should reflect where your high-priority customers reside, and account for seasonal trends as well. Also, consider defining territories beyond simple geographic lines, and instead base territories on industry, product line, customer type, or account size.
Use buyer personas: A buyer persona is a document detailing the characteristics of the ideal customer. Create this document to use as a tool to train new sales team members on the profile of customers to pursue.
Set up a CRM: CRM software is an essential customer analytics tool for every sales and marketing team. It collects and tracks customer interactions with your organization and centralizes all customer data. A CRM, such as Salesforce, tracks progress toward goals in a sales dashboard, helps you segment your customer population, and automates routine tasks to free up your sales reps from administrative work that detracts from selling.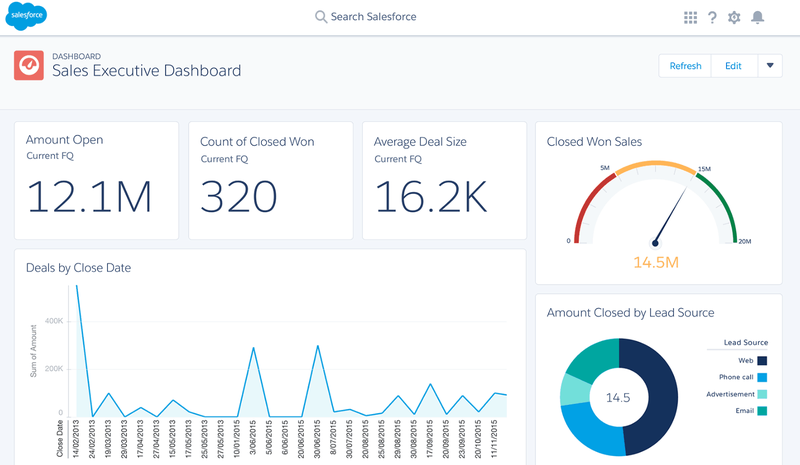 3. Create a recruitment strategy
Recruiting talent is the most important part of creating a winning sales team. To improve your odds of success, create a recruitment strategy.
This strategy helps align recruiting efforts with the business and customer needs defined earlier while also factoring in workforce planning to ensure you hire just enough to meet those needs without breaking the bank.
The process starts with the creation of a job description. The job description should not only list the qualifications you're looking for, but should convey a sense of the company culture and the expectations of the organization.
If you're starting with a small team, look for candidates who can wear many hats. In this case, even if you're hiring a sales manager, the right candidate should be comfortable spending time performing sales activities in addition to managerial tasks.
As your business grows, you can consider hiring specialized roles such as sales development. This allows team members to focus on specializations, elevating their game rather than acting as a jack-of-all-trades.
Another piece of the recruitment strategy is to establish a repeatable process. You've got to devote the time to find candidates who are the right fit for your needs.
This means reviewing a number of resumes and interviewing several candidates. To make the process run smoothly, create a workflow that allows you to get through many job applicants efficiently.
Start by crafting a set of questions to ask every candidate, then perform brief phone interviews with the most promising applicants. Those who pass the phone phase can then undergo interviews with different stakeholders in the company before a final decision is made.
Best practices for creating a recruitment strategy:
Follow these suggestions to make the process of hiring talent smooth and successful.
Apply a ratings system: Use a scoring system that rates candidates on the top skills required for success on the job. For instance, you might score candidates on how well they articulate their points, think on their feet, and set goals for themselves. This allows you to more easily compare different applicants and quickly narrow your selection based on a data-driven approach.
Use recruitment software: You can streamline the recruiting process by using HR software. Several HR platforms, such as Workable, help you source candidates, construct job descriptions, and create a structured interview process.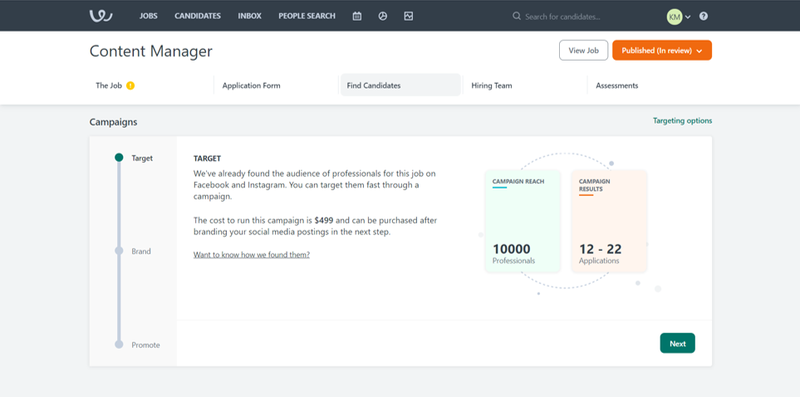 4. Incentivize through a compensation model
In order to hire and retain the necessary talent, a compelling compensation model must be in place. There are three common approaches to sales compensation: You can provide a salary only, pay commissions without salary, or do both.
I once worked at a company that paid sales reps on commission only. This model failed because we discovered that sales reps tended to use the position as a side hustle to supplement income from another job, which meant they weren't committed to helping our organization succeed.
The best and most common pay structure is to provide a salary and apply a commission to every sale with additional bonuses if sales goals are exceeded.
This is the best approach because the commissions and bonuses motivate a sales rep to achieve more, while the salary offers relief from worrying about being able to pay their bills.
Best practices for incentivizing through a compensation model:
Some considerations come into play when developing your compensation approach. Keep these tips in mind.
Clearly define the pay structure: Create a compensation structure that is easy to comprehend. Sales reps need to be clear on what it takes to succeed and how they earn commissions and bonuses. Otherwise, they won't be properly incentivized.
Avoid caps: Do not implement caps on your commissions or bonuses. This puts a ceiling on what your sales reps will deliver. Instead, allow motivated reps to maximize their earnings potential since this also translates into more revenue for the company.
5. Set the team up for success
After hiring a new sales team, provide them with a clearly defined onboarding process. The new staff must be educated on the company's products and services so that they can articulate the values and explain how your company's offerings are superior to the competition's.
In addition, the sales staff must learn the operational processes that have been defined as well as the sales strategies, like who the target customers are.
Your newly hired sales reps should also be given the tools needed for the job, such as a company cell phone, computer, and access to the CRM.
All of this information should be delivered through a training program, documentation, and other materials like an employee handbook that bring new hires up to speed quickly.
The training should also include the rules for meeting sales quota and earning bonuses, and how to overcome customer objections to close a deal.
Lastly, provide the team with marketing collateral. The reps require use of pitch decks, videos, and other material to convey the benefits of the company's offerings to prospects.
This content should be created beforehand by the marketing team so that the company's positioning and brand are consistently represented to clients.
Best practices for setting the team up for success:
After investing time and resources into bringing on new sales talent, you want them to succeed and stay with the company. Here are tips to do that.
Use role playing: An ideal means of training new sales team members is through role playing. This allows new reps to practice their pitch delivery while dealing with the challenges of the job, such as customer objections, in a safe environment.
Assign mentors: If you have veteran sales staff on your team, pair up the new hires with these veterans. This way, as the new reps get up to speed, they have a mentor who can provide assistance in learning company offerings and understanding best practices for your company and industry.
6. Achieving ongoing sales growth
To continue sales team development beyond the onboarding process, incorporate ongoing support for the team.
This support takes the form of regular coaching sessions for reps who are struggling, continuous training to keep the team updated on changes or additions to the company's offerings, and shadowing reps by joining them on sales calls to observe them in action, then providing them with real-time feedback after the client meeting.
This investment in the team's continued success will grow the performance, motivation, and loyalty of sales staff. It also helps reduce turnover on the team.
In addition, regular sales contests provide a fun means of boosting team performance while taking advantage of a sales rep's natural competitive nature. The contest should offer bigger bonuses and other prizes to the top performers, and include a leaderboard so reps can track where they stand.
Just don't engage in these contests too frequently or the team will grow weary of them. One approach is to stage the contests around major holidays or take advantage of seasonal trends in your industry.
Best practices for achieving ongoing sales growth:
You want to see your sales team continue to improve their performance and ability to grow revenue. Here are some tips to help.
Provide retention incentives: Once a new sales rep has built up a book of business, begin applying metrics that gauge success around customer retention. Sales reps are incentivized to continue bringing in new business, which means they tend to ignore existing customers. In turn, this leads to customer attrition. To prevent this, provide bonuses that reward reps based on customer tenure. Alternatively, expand your team to include account managers.
Keep improving: Continue to optimize and evolve sales processes and strategies. As your team matures, look at existing procedures to determine ways to streamline processes, and given how much sales impacts all parts of an organization, to grow cross-functional team engagement. For example, a CRM's sales automation tools can send emails to a sales rep's entire book of business rather than the rep having to send each email manually. Also, use a gap analysis to assess where you can find areas for improvement and how to close the gap to attain the level of performance and customer satisfaction you're looking for.
---
Final advice on building a sales team
Building sales teams is a rewarding challenge. Companies with a sales team rely on the sales reps to drive significant revenue for the organization. However, there's a point where adding more sales reps leads to diminishing returns rather than revenue growth.
This inflection point is hard to gauge and depends on factors such as how much competition you're facing and the size of your market. So don't assume adding more sales reps equates to more revenue.
Instead, focus on cultivating top performance among your staff, adding team members only when it makes sense to do so from a business perspective, and retaining your existing customers. A high-performing sales team is an excellent way to grow your business.

View more information: https://www.fool.com/the-blueprint/sales-team/