Workday Payroll Review 2021: Features, Pricing & More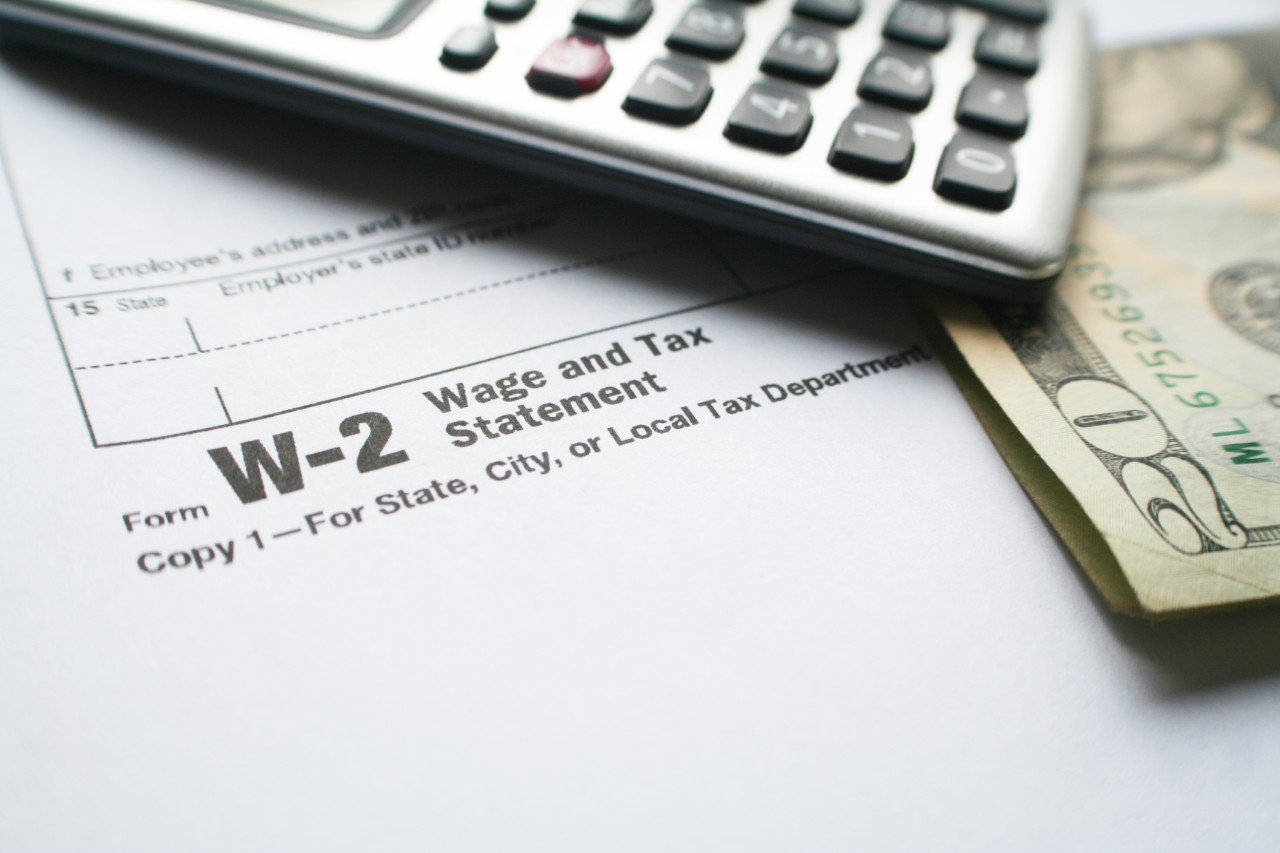 Workday Payroll is part of Workday's Human Capital Management (HCM) system designed for medium and large businesses with a global presence.
---
Who is Workday Payroll for?
Designed to work with Workday's Human Capital Management (HCM) solution, the Workday Payroll system is a fully integrated payroll solution designed to streamline the entire payroll process from the initial hiring process to complete payroll processing and tax compliance.
Designed for enterprise-level organizations with complex personnel needs, the Workday program, which consists of both Workday HCM and Payroll is not a cost-effective option for smaller businesses.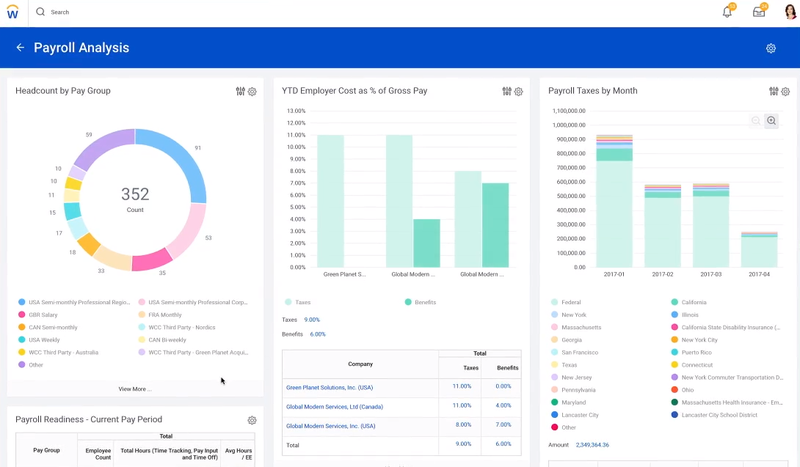 ---
Workday Payroll's features
If I were running a global organization with multiple locations and thousands of employees, I would want an application like Workday to help with those needs. Workday Payroll is a cloud-based payroll solution that also offers complete benefit, time tracking, and HR capability all in one single solution.
Here are a few of the features Workday Payroll provides that makes it a great fit for enterprise and global businesses that pay hundreds or thousands of employees on a regular basis:
Pay groups: Larger organizations have more complex payroll needs. Using the pay groups option in Workday Payroll allows you to create specific groups for specific employee types, rather than trying to pay hourly, salaried, and executive-level payroll the same way across the board.
Automatic tax updates: You'll never have to worry about having the latest tax information. Instead, Workday updates payroll and all related taxes in real-time, so employees will always have the correct amount deducted from their paychecks, and you'll have the most up-to-date tax information for reporting purposes.
Automatic payroll audits: Auditing payroll before the pay run is completed helps to eliminate common payroll errors, reducing the need for manual corrections. In order to facilitate the process, be sure to set up worker-based audit rules that will easily pinpoint trouble spots before they occur.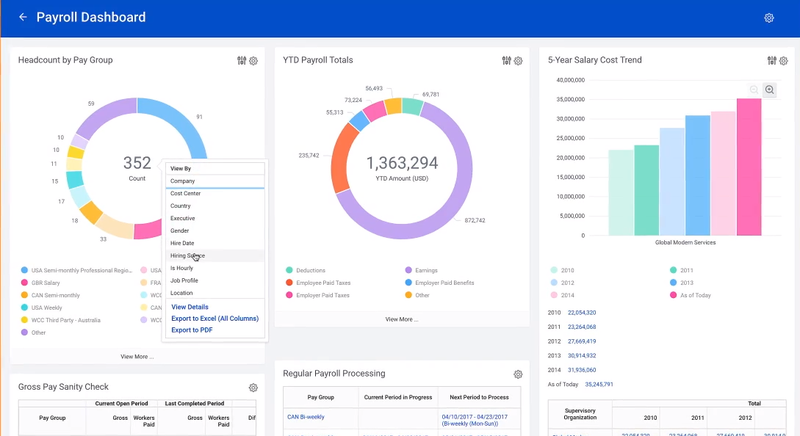 Fully customizable: Workday's Payroll application is fully customizable, so you can create the interface you want by displaying only the options applicable to your role within the business. This eliminates the need to click through various screens in order to locate the features you need.
Multiple tax filing options: You have the option to outsource taxable wages reports and tax filing tasks to the service provider of your choice, or choose to handle all tax reporting and payments in-house.
High-level payroll processing
Workday Payroll processing is similar to competing systems, with a few major differences. These differences include options to run both current and retro pay calculations, quickly add bonus and other one-time payments, and process both on-leave employees or terminated employees.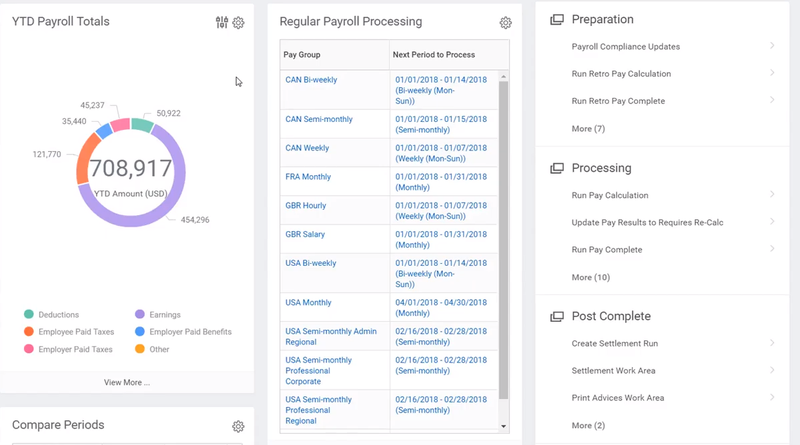 Run a quick pay calculation in the command center to view exactly how much the next payroll run will be. You can also schedule the pay calculation for any future date. Once the calculation has been completed, you can drill down to individual pay calculations for each employee to see if there are any changes that need to be made.
Workday Payroll also includes high-level calculation options for FLSA premiums, gross-to-net calculations that can vary from pay run to pay run, and the ability to calculate payroll using a batch process that is ideal for paying specific pay groups.
You can also choose multiple pay runs for multiple groups, paying your hourly employees bi-weekly, while paying salaried employees semi-monthly.
Mobile apps
Your employees are more likely to access their payroll information from their phone than from a desktop computer. Luckily, Workday Payroll offers a terrific mobile app for both iOS and Android smartphones that allows your employees to access their pay stubs, request time off, and even enter their hours.
Here are just a few of the features accessible via the mobile app: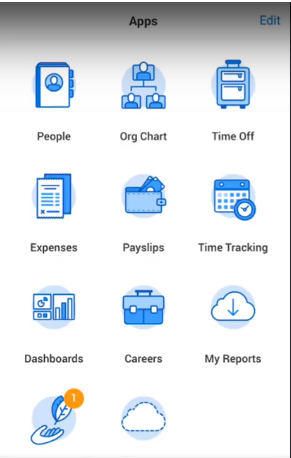 Payslips: The payslips app provides your employees with a list of all of their pay amounts. Clicking on a payment amount brings up payment details such as gross and net pay amounts, as well as banking information. Both gross and net year-to-date totals appear on the screen as well.
Time off: A frequent question employees ask is how many vacation days they currently have. This information is displayed front and center when you go into the time off screen, so your employees will know exactly how much accrued vacation time they have.
Time tracking: Your employees can easily track their hours worked using Workday's time tracking system.
Dashboards: Employees can create custom dashboards to view desired payroll information including year-to-date payroll totals.
Audit and Reporting
Workday's audit feature lets you create audit rules for your pay runs. For instance, you can set up an audit rule to notify you when a current employee is not paid.
As a result, when you begin your pay cycle, Workday will notify you of any employee that does not have a gross pay amount by displaying a red flag in the audit alert column.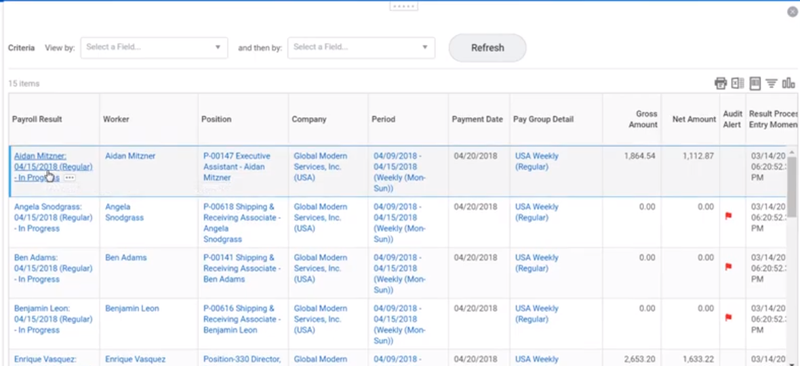 Workday Payroll includes common payroll reports such as a payroll register and pay calculation report. All reports are completely customizable, and offer drill-down, actionable capability, so you can view the related payroll information included in a report, while also having the option to access various tasks within the report if needed. All reports can be exported to Microsoft Excel or saved as a PDF.
Employee self-service
Anyone who has processed payroll knows how valuable an employee self-service option is. With all of the things that a payroll administrator has to do, they have little time to spend answering questions about available sick and vacation time.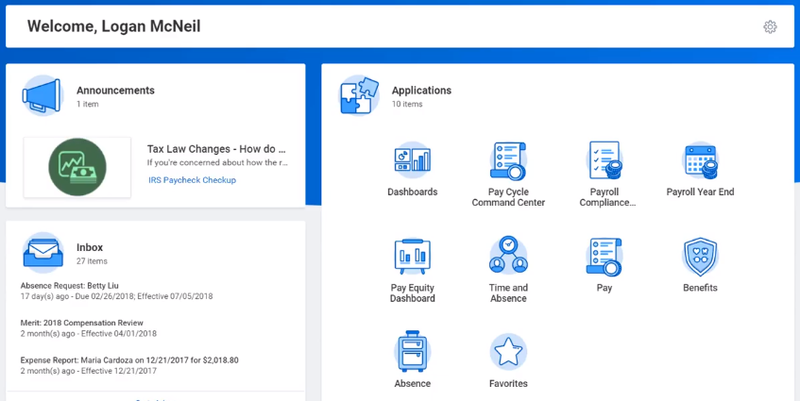 With Workday's employee self-service feature, employees can view complete payroll information online from their desktop or by using their mobile phones. In addition, employees can edit current federal and state tax forms, view any year-end tax documents, and add or edit direct deposit information.
Workday Human Capital Management
Workday Payroll is part of Workday's Human Capital Management (HCM) platform, which includes complete HR, payroll, learning, time tracking, and recruiting processes. Here the some of the features available:
Employee onboarding
Global compliance
Recruiting
Human resource management
Compensation management
Benefits management
Performance appraisals
Talent management
Succession
Absence management
---
Workday Payroll's ease of use
Workday has managed to combine enterprise-level capability with a smart, intuitive user interface that approaches all tasks in a common-sense fashion, ditching complexity in favor of simplicity. Workday uses business processes in their applications, with the processes ranging from very simple to highly complex.
However, as intuitive as the application is, Workday is a complex system that requires a high level of expertise, particularly during the system setup process. Thankfully, all new Workday subscribers are assigned a Workday HCM consultant that takes the lead in configuring the application to suit your business needs.
Those new to Workday can expect initial setup to take several months, with the product continually tested until both you and your Workday consultant are assured that the processes are working the way they are designed to.
However, once the product is set up and you're able to get into the application, you may be surprised at the ease with which you can navigate within the payroll application.
---
Workday Payroll's pricing
Workday does not provide pricing for any of its applications. If you are interested in learning more about Workday, you should contact a sales representative directly, who can offer you additional information and pricing levels that are specific to your needs.
---
Workday Payroll's support
Workday Payroll offers global support around the clock through the Customer Care Portal, where you simply log in, explain the issue, and choose if you prefer telephone or email contact to resolve the support issue.
Workday also offers a complete documentation library to help you answer any questions, while the Workday community allows you to collaborate with fellow users online in order to brainstorm issues.
---
Benefits of Workday Payroll
Workday Payroll can make life a lot easier for enterprise-level businesses and global organizations. Combining complete HCM capability with a robust payroll application allows you to manage your employees proactively, no matter where they're located.
Workday Payroll can be used in the U.S., the UK, France, and Canada, and offers integration with other third-party payroll applications for those with employees working in other countries.
If you're a small or growing business, Workday Payroll and Workday HCM are way too much of a good thing. Instead, you may want to look at a comparable solution designed for smaller businesses such as Zenefits.
---
Is Workday right for you?
If you commonly pay thousands of employees in various locations across the globe, Workday can save you a significant amount of time.
Designed with the global corporation in mind, Workday simplifies the entire payroll and HR process from the initial hire process through time tracking, benefits management, and extensive labor allocations.
Workday also handles imputed income, and is an excellent solution for accountants that want better financial management for projects, cost centers, and locations.
However, if you're a small business, or you're still in the process of figuring out how payroll works, you may want to take a look at more suitable payroll applications in The Blueprint's payroll software reviews.
View more information: https://www.fool.com/the-blueprint/payroll/software/workday-payroll-review/