Windscribe VPN Review: Features, Pricing & More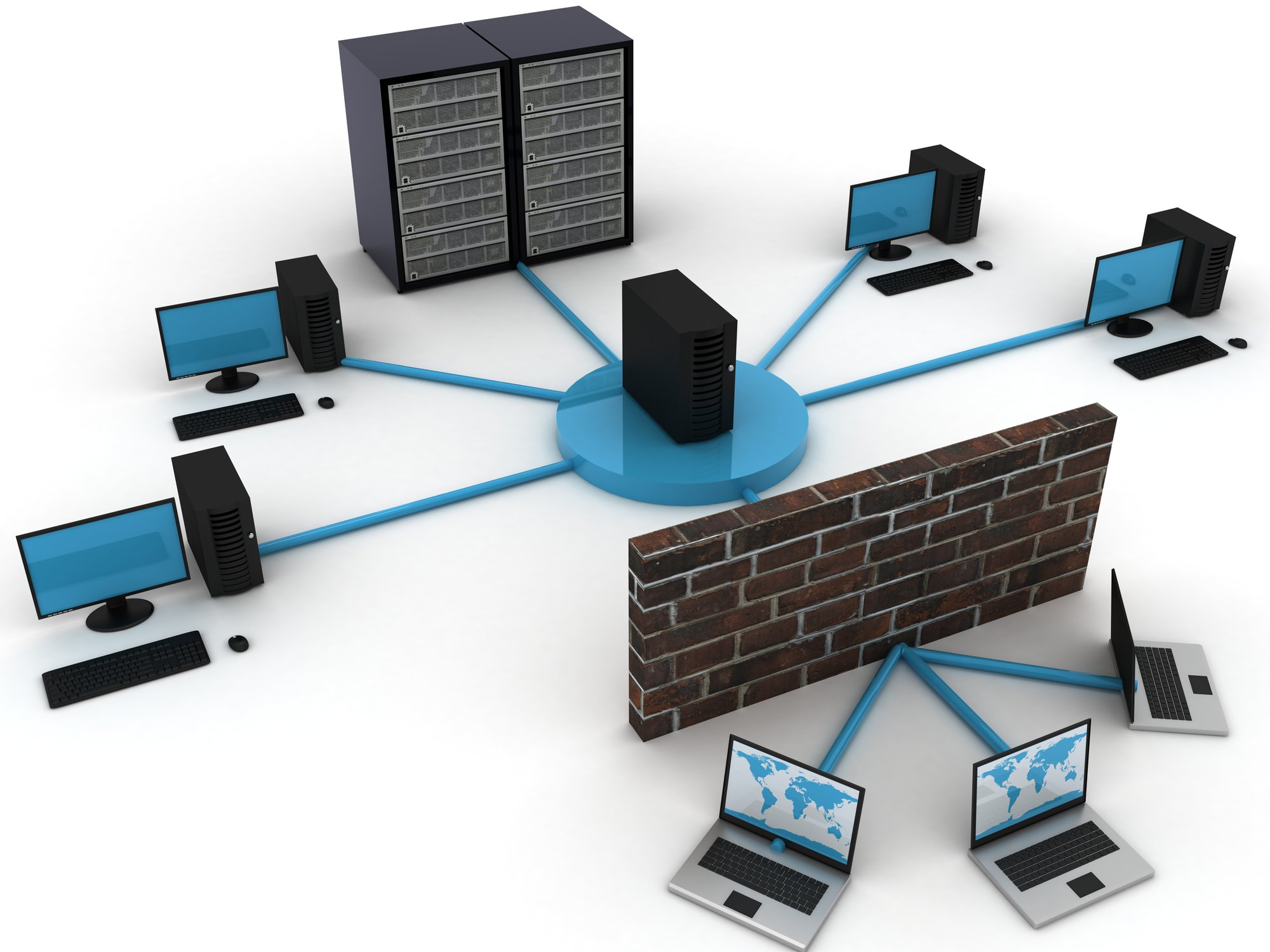 Invisibility was the 22nd-rated superpower in a recent poll, which shows that few people recognize the value of hiding in plain sight. This is especially important on the internet, where you and your data are vulnerable to hackers, government agencies, and corporate third parties.
You can't achieve complete online invisibility, but a virtual private network (VPN) is the next best option. A VPN encrypts your data — even on public networks! — and masks your physical location, which allows you to access geo-blocked content and hide from prying eyes.
Windscribe VPN is a popular option, with almost 30 million users worldwide. We'll take a deep dive into its features, ease of use, pricing, and support so you can decide if it's the best choice for your small business.
---
Who is Windscribe VPN for?
Founded in 2016, Windscribe Limited offers VPN and related applications to consumers and small businesses for endpoint security across multiple platforms and devices. These include multiple encryption protocols, unlimited simultaneous device connections, a cloud-based firewall, split tunneling, and multi-factor authentication (MFA).
Unlike consumer-only VPN providers, Windscribe's ScribeForce plan supports multiple users with a unified management dashboard and centralized billing.
Windscribe is based in Canada, which is part of the 5, 9, and 14 Eyes global surveillance alliances, and some privacy advocates say this negates any company promises regarding user privacy. However, Windscribe founder Yegor Sak insists the lack of user data collected makes this point moot.
---
Windscribe VPN's features
Windscribe VPN creates an encrypted "tunnel" that protects user data even on public networks. A VPN also masks a user's IP address, which shows their physical location.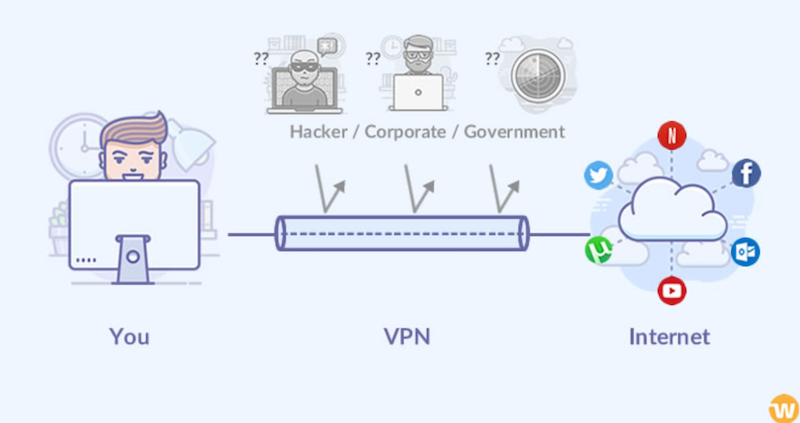 Beyond general online privacy, consumers typically use VPNs to access geo-blocked content — Netflix streaming catalogs, for example, vary by country due to licensing restrictions — or peer-to-peer (P2P) downloads. Companies use VPNs to protect their networks and data, especially for offices and employees in countries with intrusive or restrictive internet policies, such as China, Turkey, and Iran.
We'll start with a close look at Windscribe VPN's baseline features: encryption protocols, applications and browser extensions, the R.O.B.E.R.T. security suite, and split tunneling.
VPN protocols
Multiple encryption protocols, each with its own pros and cons, exist to create secure VPN connections and prevent cyberattacks. Windscribe VPN uses:
IKEv2: Fast and secure, it's good for maintaining connections when switching between Wi-Fi and cellular networks.
OpenVPN: This open-source software runs across multiple platforms.
WireGuard: This newer protocol has increased speed, thanks to a codebase that's 5% the size of OpenVPN.
Windscribe VPN's Stealth feature provides extra security by disguising VPN traffic as "regular" internet traffic to prevent a packet sniffer from discovering you're using a VPN. This advanced feature, which isn't available yet for the iOS mobile app, is handy if you want to bypass government censorship such as the Great Firewall of China (GFC).
Desktop and mobile applications
You connect to the internet using different operating systems and devices, so Windscribe's download options include multiple applications:
Desktop downloads: Windows, macOS, and Linux
Mobile apps: Android and iOS
Other devices: Smart televisions, media players, and network routers
The Windscribe VPN interface makes it easy to turn your VPN on or off, see your current public (that is, masked) IP address, and scroll through a list of available servers.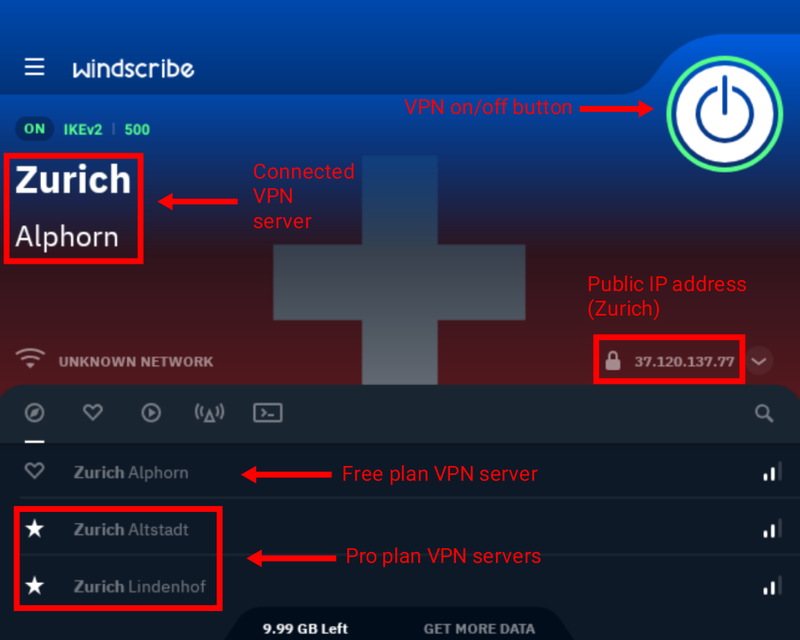 The Windows and macOS desktop applications include a cloud-based firewall that acts as a kill switch. This blocks internet access if the VPN connection drops until it's re-established. With the Windows app, you can also use your computer as a secure Wi-Fi hotspot to create a VPN connection for other devices.
Browser extensions
Access Windscribe VPN via browser extensions for Chrome, Edge, Firefox, and Opera, and enjoy features such as ad, malware, and tracker blocking. Other Windscribe extension benefits include:
Auto Pilot: Automatically connects to the best server based on your location.
Location Warp: Masks your actual location with that of your VPN server.
Cookie Monster: Deletes website cookies when tabs are closed.
Double Hop: Routes your traffic through two VPN servers instead of one.
I tested Location Warp by connecting to a VPN server in Zurich, Switzerland, and checked my IP address and related location via a third-party site.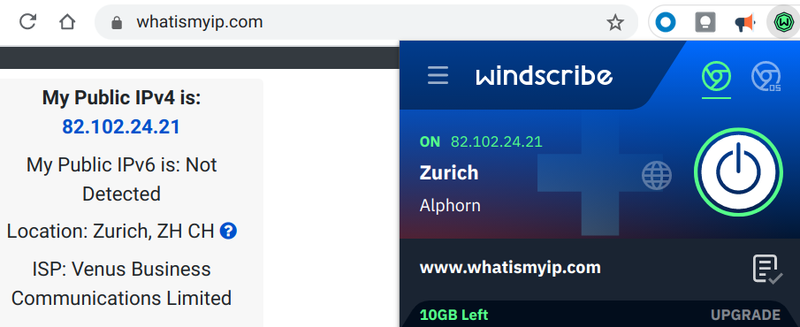 Location Warp also helps you access geo-blocked content.
R.O.B.E.R.T.
When you're not using a browser extension, Windscribe VPN's Remote Omnidirectional Badware Eliminating Robotic Tool (aka, R.O.B.E.R.T.) blocks adware, malware, and trackers. More blocking options with paid plans include:
Social networks
Porn
Gambling
Fake news
Other VPNs
Cryptominers
Block social networks to increase employee productivity, and blocking porn and gambling sites is self-explanatory. It's unclear, however, how Windscribe defines "fake" news sites. Covert cryptocurrency miners in your browser can reduce performance.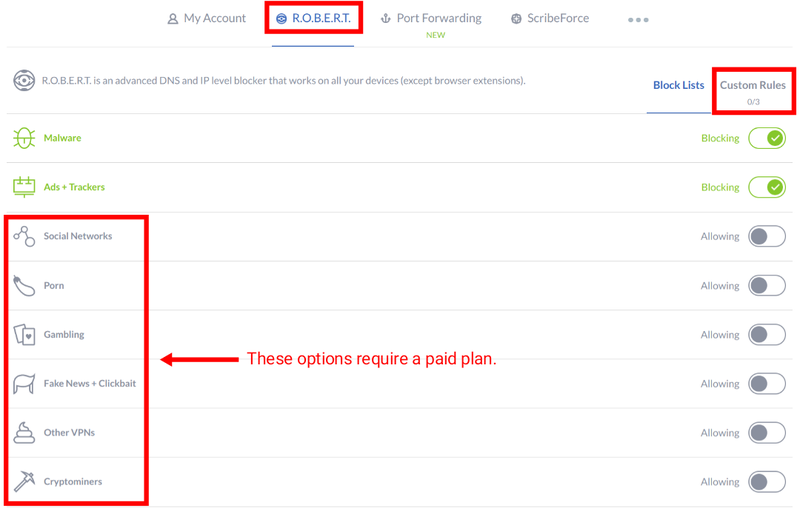 Choose the Custom Rules option to block or whitelist specific websites or IP addresses. The Free plan lets you define three rules, but the Pro plan allows up to a thousand.
Split tunneling
Windscribe's split tunneling feature lets you choose which apps do and don't use your VPN. Everything should go through a VPN, but sometimes that's impossible because, for example, many banking apps don't allow VPNs.
Split tunneling also reduces the odds of bandwidth bottlenecks by excluding non-business apps. I listen to music on Pandora in my office every day, but it doesn't need to go through a company VPN.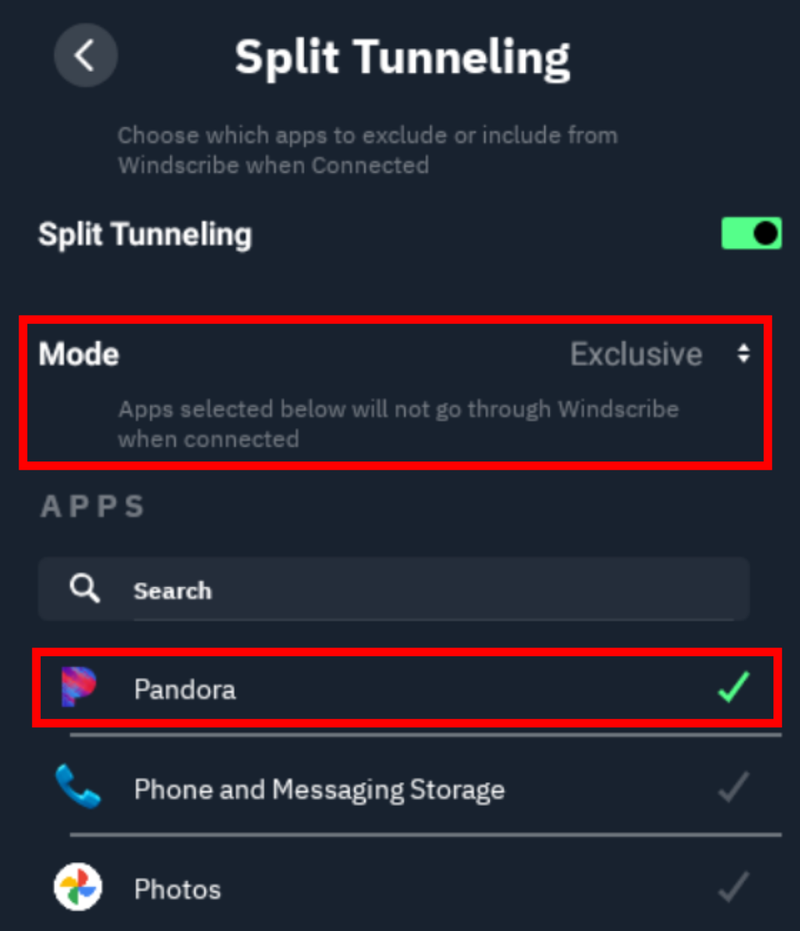 Windscribe VPN's inclusive mode lets you select business-critical apps such as Slack that use your VPN by default.
---
Windscribe VPN's ease of use
The day-to-day operations of a VPN should be unnoticeable: You want to set it and forget it. Windscribe VPN lets you do this even if you're a VPN newbie because its default settings provide robust protection. For experienced users, easy access to advanced options lets them tailor their VPN connections with different network settings, split tunneling, and packet size.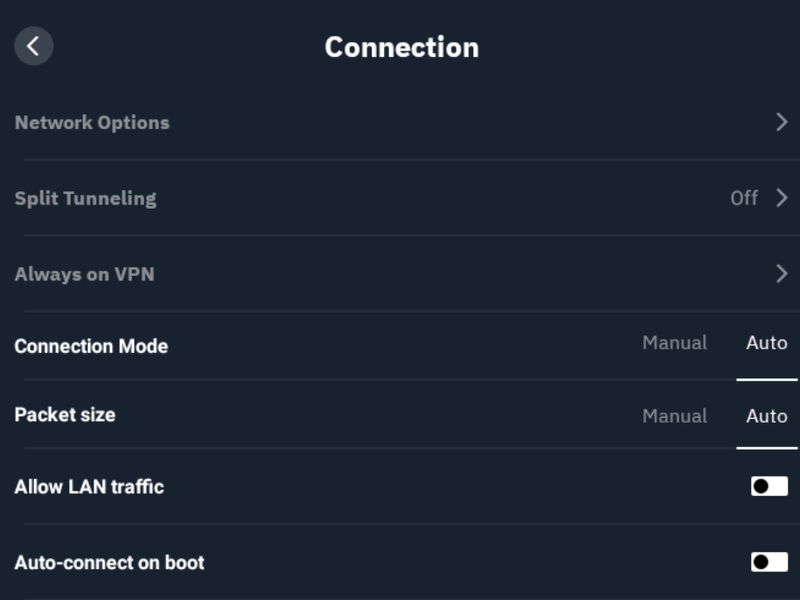 Some VPN providers have a stripped-down features set in their browser extensions, but Windscribe's extensions do almost everything the desktop applications can — and sometimes more. If all you need is VPN protection for web browsing, using its extension will take care of you.
The Windscribe VPN free plan also lets you experiment with most features without a financial commitment. It would be helpful if multi-user management included more advanced system-wide configuration options, but I suspect those features will eventually show up.
---
Windscribe VPN's pricing
Windscribe VPN's three single-user plans and multi-user plan include:
Free: Access to designated free servers in nine countries, unlimited connected devices, 10 GB bandwidth per month, split tunneling, cloud-based firewall, MFA, chatbot and email support, and ad, malware, and tracker blocking, plus three access rules via R.O.B.E.R.T.
Build a Plan: $1/month, per Pro server location (minimum two locations) — Choose from all Pro server locations with 10 GB bandwidth per location. Get unlimited bandwidth and all R.O.B.E.R.T. features with 10 access rules for another $1/month.
Pro: $49/year — Adds access to Pro servers, unlimited bandwidth, and all R.O.B.E.R.T. features, plus 1,000 access rules.
ScribeForce: $3/month, per user (minimum five users) — Has all Pro features, centralized billing, multi-user management dashboard, and it shares static IP addresses among team members.
The Free plan isn't available on the pricing page; instead, the features page has a link to it or sign up for it after installing a Windscribe VPN application or browser extension. Ask Garry the chatbot to get a 24-hour Pro plan free trial. Add a static IP address for $12/year (data center) or $96/year (residential).
Enter the annual Windscribe Transnational Film (WTF) Fest to win free subscriptions and money. The 2020 first-place winner received $5,000 and a lifetime Windscribe Pro subscription for a 30-second video on the randomly generated topic "Pumped Banana Actor." (Watch this video and other entries such as "Volatile Toilet Surgeon" and "Weak Lobster Sniffer" on Windscribe's YouTube channel.)
---
Windscribe VPN's support
Windscribe VPN support includes Garry, a 24/7 chatbot. If Garry can't answer your question, escalate your conversation to a live rep — if one is available — or submit an email help request from the dialog box. No telephone support is available.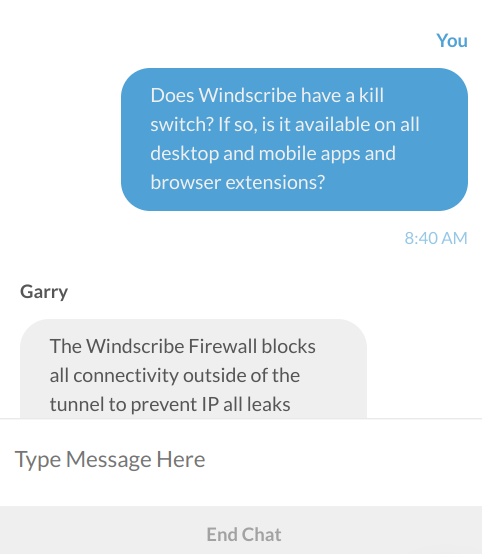 Self-service resources include a knowledge base, setup guides, and FAQs. Windscribe also maintains an active subreddit community forum. The Windscribe blog is rarely updated — it had one post in 2020 — and most video tutorials on its YouTube channel are at least two years old.
---
Benefits of Windscribe VPN
Windscribe boasts it has a "large network" with servers in 110 cities across 63 countries. It's unclear, though, what the total number of servers is and how many — if any — are owned and operated by Windscribe instead of third parties or offer extra security via RAM-only setup.
More problematic is that, unlike other VPN providers, Windscribe hasn't commissioned third-party audits of its technical infrastructure or codebase. This would provide external security validation and show how Windscribe addressed the inevitable small or large issues an audit identified.
WindScribe VPN has a no-logs policy, which means it doesn't keep connection logs, IP timestamps, session logs, or monitor your activity. (It does track monthly bandwidth used by free plans to enforce data limits.) Canada belongs to global security alliances that freely share collected data, but Windscribe stores so little data that, in theory, not much exists to share even in a worst-case scenario.
The lack of granular infrastructure info, security audits, and potential privacy concerns are worrisome for some people. ("Oh no, it won't 100% hide my Mr. Robot hacks for social justice!") Your business's cybersecurity, however, is based on two fundamental facts: A VPN only mitigates threats instead of eliminating them, and online security is a process, not a product. If you're still asking, "Is Windscribe safe?," the qualified answer is yes.
---
Be invisible-ish with Windscribe VPN
No VPN creates complete online anonymity, but Windscribe comes close by protecting your data and personal information from hackers, adware, malware, and censorship threats. Take a no-risk test drive with the free plan to check out its capabilities.
View more information: https://www.fool.com/the-blueprint/windscribe-vpn-review/