Where to put money during a recession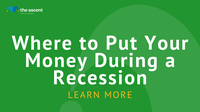 It's normal to worry about where to put your money during a recession. A recession is a period of economic decline, and it can wreak havoc on investments. With so much uncertainty, people may not be sure whether it's a good idea to keep their money in the stock market, a savings or money market account, or a certificate of deposit (CD).
All of these options can be solid choices. The best place to put your money during a recession depends on your specific circumstances. If you're wondering where to put money during a recession, keep reading. We'll take a look at the pros and cons of each option.
Where to put money during a recession
Savings accounts, money market accounts, and CDs are all ways to keep your money at your local bank. Alternatively, you could invest in the stock market with a broker. Let's go over each over these options.
Save it in a savings account
Savings accounts are safe places to store your money if you believe you'll need to access it quickly. That's important in a recession: You may need support from your savings to help pay bills. Compared to other options, savings accounts have few restrictions on withdrawals. Keep in mind you're normally limited to six free withdrawals per month under federal law (according to Regulation D). The Federal Reserve Board waived this during the COVID-19 pandemic, however. So right now, if you have money in a savings account, you can take it out as often as needed.
All savings accounts earn interest. The amount of interest depends on which account you choose — so make sure to shop around before settling on one. The best savings accounts offer high APYs. You'll find the traditional savings accounts offered by brick-and-mortar banks usually have much lower APYs than online savings accounts.
However, any savings account's APY won't be as high as the returns of longer-term CDs or the stock market. If you're looking for a high rate of return, a savings account isn't what you're looking for. But if you're wondering where to put your money during a recession for easy access, a savings account is your best option.
Pros
Cons
Low APYs at brick-and-mortar banks
Withdrawing funds usually requires transfers
APY can drop at any time
Invest in a money market account
Money market accounts are similar to savings accounts. They also share some checking account features. Because of this, it's easier to access money kept in a money market account. These features can include debit cards or check-writing capabilities. Money market accounts, like savings accounts, are limited to six free withdrawals per month in normal circumstances. (That's been waived during the pandemic.)
The best money market accounts offer a winning combination of high APYs and easy access to your money.
The downside to money market accounts is their minimum balance requirements. You may need a minimum amount to open the account and/or avoid monthly maintenance fees. That could be problematic during a recession, particularly if you have to drain your savings to cover an emergency expense.
Pros
Direct access to funds
High APYs
Open at any bank
FDIC-insured
Cons
High minimum balance requirements
APY can drop at any time
Invest in CDs
A certificate of deposit (CD) is a special type of bank account that offers a high APY. However, to get that APY, you must agree not to withdraw your funds for a set period of time. The amount of time during which you don't withdraw your funds is called the CD term. These terms can be a few months or a few years. If you withdraw funds early, you'd normally pay a penalty. Some banks are enabling customers penalty-free access to CD funds if they're experiencing hardship due to COVID-19. Check with your bank to see if it allows this.
The best CD rates are higher than the best savings account APYs. Additionally, most CDs lock in your APY for the whole term. That's useful when APYs are falling (as they sometimes do during recessions). If you're wondering where to put your money during a recession to earn consistent interest, a CD is a stable option. When you invest in a CD before or near the start of a recession, you'll keep your higher rate regardless of nationally-falling rates. However, if rates start to rise, you could get stuck earning a lower rate than you'd get with a newer CD.
Pros
Lock in your APY while rates are falling
High APYs on longer CD terms
Open at any bank
FDIC-insured
Cons
Limited access to funds
APY locked in even when rates rise
Invest in the stock market
You could make a lot more money by investing in the stock market than using any of the bank accounts listed above — but there's no guarantee. The stock market can be volatile, especially during recessions. Those who are new to investing may not know what to invest in during a recession.
You're technically free to cash out your investments whenever you want. However, it's best to only put money in the stock market if you don't plan to use it anytime soon. You don't want to invest cash you might need at a moment's notice. If you're in a tight spot, you might have to sell it at a loss. You also need to keep an eye on your investment fees as these can eat into your profits.
Pros
Large returns possible
Variety of investment options
Cash out whenever you want
Cons
Risk of loss
Can be intimidating for beginners
Where should I put my money during the 2020 recession?
Where you keep your money during a recession is ultimately your call. You could use one or a combination of the suggestions above. Just remember to weigh the pros and the cons of each one. You should also keep your emergency fund somewhere that's accessible and shielded from loss.
View more information: https://www.fool.com/the-ascent/banks/where-put-money-recession/