What Is a Subprime Mortgage?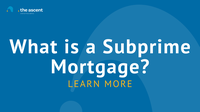 What is a subprime mortgage? If you're asking this question, chances are good you're either trying to borrow for a home with poor credit or you've been offered a loan you're concerned is a subprime loan. We'll explain the answer to the question "what is a subprime mortgage?" and discuss some of the risks and alternatives.
What is a subprime mortgage?
Prime loans usually offer competitive interest rates to well-qualified borrowers. A subprime mortgage is similar to a conventional mortgage, except it has a higher interest rate. Subprime loans are geared toward borrowers with bad credit who can't qualify for a prime mortgage at the best rates. Lenders take a bigger risk with subprime loans, so they charge substantially higher rates due to the borrower's poor credit history.
If you have a credit score below 620, you may not be able to qualify for a prime mortgage, but you might get a subprime mortgage.
Types of subprime mortgages
There are multiple types of subprime mortgage loans. However, one particular type of loan — an adjustable-rate mortgage — is especially common for subprime mortgages.
Adjustable-rate mortgages
Many subprime mortgages are adjustable-rate mortgages, or ARMs. The introductory rate on an ARM is fixed for a limited time. For example, a 5/1 ARM provides a fixed rate for five years. After that, the rate adjusts based on a financial index.
That means your interest rate may go down — but it could go up, too. ARMs carry more risk than fixed rate loans. If interest rates rise, monthly payments could increase. If you take out an adjustable loan, find out how high your payment could go. Don't assume you'll always be able to refinance or sell your home before it adjusts.
Fixed-rate mortgages
With fixed-rate subprime mortgages, the interest rate remains the same for the entire repayment period. Since the rate doesn't change, payments don't change.
The important question is, what is a subprime mortgage interest rate you'd qualify for? You need to make sure the rate is reasonable and that monthly payments are affordable.
Shop and compare rates from multiple mortgage lenders for poor credit to find the best subprime loan rates. And use a mortgage calculator to see how much your monthly payment would be for any loan you're considering.
Interest-only mortgages
Interest-only mortgages allow you to pay only interest for a limited time, such as the first five years. This makes monthly payments more affordable, but you don't make progress in reducing your loan principal.
At the end of the initial period, you'll begin paying both principal and interest. Your payments may rise substantially because you'll have a shorter timeline to pay your loan off. If you took a 30-year mortgage and only paid interest for the first 10 years, you'd have just 20 years to pay off your entire principal balance.
Most interest-only loans are also structured as ARMs, so you take the added risk of rates going up and payments rising.
Dignity mortgages
Dignity mortgages are a specific type of subprime loan offered by some lenders. With this type of mortgage, you'll initially have a high interest rate. But if you make on-time payments for a period of time, your interest rate will eventually be reduced to the prime rate.
Subprime mortgage risks
It's important to also consider if you're willing to take on the risk of this type of loan. Some of the biggest risks include:
Interest costs will be high: You will pay significantly more mortgage interest over time than if you took out a conventional mortgage.
Finding a lender may be difficult: Not all mortgage lenders offer loans to subprime borrowers. You could be limiting your potential loan options.
Payments could increase: If you choose an ARM, you face the risk of interest rates going up and payments rising.
Foreclosure is possible: If you don't pay your subprime mortgage loan, your lender will foreclose. Your credit could be severely damaged.
Lenders are required under Dodd-Frank financial reform laws to conduct an "ability-to-repay" assessment. This ensures borrowers are capable of paying back their loans. These mandates can reduce the risk for borrowers. But the bottom line is buying a house with bad credit can create a host of complications.
Alternatives to subprime mortgages
You may be wondering if there are other options. The good news is that there are multiple solutions for borrowers with bad credit. Some of the best options include these government-back loans:
FHA loan: FHA lenders often work with borrowers with lower credit. FHA loans are available to borrowers with credit as low as 500 as long as they make a 10% down payment. Borrowers with scores of 580 or higher can get approved with a 3.5% down payment.
VA loan: A VA mortgage loan is available to eligible service members and veterans regardless of their poor credit history. The VA doesn't set a minimum score, but some lenders do.
USDA loan: These allow you to purchase eligible homes in rural areas. More stringent underwriting is required to qualify borrowers with credit scores below 640. But it may still be possible to qualify.
View more information: https://www.fool.com/the-ascent/mortgages/what-is-subprime-mortgage/