Weebly vs. WordPress: Which is Better in 2021?

When pitting CMS platforms against each other, it is only a matter of time before you face some tough decisions.
Two of the biggest systems,

WordPress and

Weebly, are top choices because of their years in the market, large footprint, and well-designed capabilities.
Choosing the right CMS to build your website will likely come down to a few key components.
---
Weebly vs. WordPress CMS: An overview
WordPress has been around for years, and it's very popular with freelancers, bloggers, and small business owners. Weebly, a WordPress alternative, also has a devoted following.
Though similar in the big picture, depending on your skill levels and business needs, you will likely find one of these content management website builders to be a better fit.
Who is Weebly for?
Weebly is for people who want to build a website quickly, easily, and without having to worry about coding or a complicated back end.
It gives you a pre-built website that you only need to tweak to make it your own. It's easy to see why small businesses, restaurants, and creatives love using this platform.
While you lack total control, you have a decent amount of freedom within an uncomplicated build.
Who is WordPress CMS for?
What started as the go-to platform for bloggers, WordPress has evolved into a one-stop-shop for building almost any site.
With over 50,000 optional integrations and multiple levels of technical customization, WordPress can be a good fit for any industry, from small businesses to large ones, given its scalability.
---
Weebly vs. WordPress CMS: Features
Both platforms have several robust features, but some key differences set them apart in overall breadth and focus.
What Weebly offers
Designing a site is easy with Weebly templates. You can upload your logo or brand marks into the theme and design around it, too.
Plus, the drag-and-drop functionality makes site building a lot less complicated, thanks to predetermined spacing. What you build is exactly what your site will look like.
Weebly also hosts its sites on its own servers, assuring a highly secure and high performance experience.
What WordPress CMS offers
WordPress is full of features and offerings for every need, from collaborations to launching an online shop.
You can have multiple users can manage a site, with each team member given access to only what they need, so they can get their job done without changing things they shouldn't.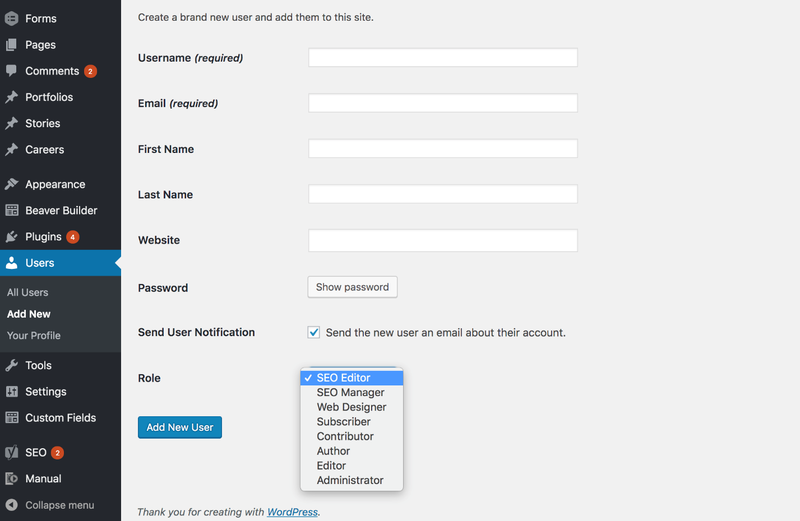 You can also easily upload and store multimedia to be used again with recurring content. WordPress also has SEO tools: It automatically populates HTML pages preferred by search engines, plus permalinks and headings. You can build your site with access to an extensive variety of themes.
What WordPress doesn't offer, you will likely find in its library of 50,000 plug-in. You can customize features as needed, such as digital marketing analytics, form builders, social media crossover, marketing automation apps, and much more.
Results
Winner: WordPress
WordPress is just too hard to beat, thanks to its sheer number of plug-ins. It covers the basic features, and plug-ins can fill any gaps for your site.
---
Weebly vs. WordPress CMS: Support
Support is essential, especially if website building isn't your expertise. If you get stuck, you need somewhere to turn or someone to ask questions.
What Weebly offers
Weebly offers a lot of resources, from site building steps to more expansive knowledge and marketing tips. If you can't find an answer on your own, they also have a stellar customer support team.
Paid accounts also have access to live chat and phone support. And even free accounts can contact email support. Representatives are quick to respond and incredibly helpful.
What WordPress CMS offers
Since WordPress is open source and free, you won't find paid associates to help you. While traditional support is not available, you can find help in the community forums, and WordPress has plenty of articles and video tutorials to troubleshoot or find answers to your questions.
These resources are helpful, but the lack of direct support is hard to overcome, especially if you are building and managing the site yourself.
Results
Winner: Weebly
Weebly wins by the sheer nature of its user support. The bonus, though, is how good their support is.
---
Weebly vs. WordPress CMS: Ease of use
To get maximum capacity out of your site builder, it has to be easy to navigate.
What Weebly offers
Weebly is an easy-to-use system with a minimal learning curve. Right from the setup stage, you are guided step by step as you build your site.
Once your site is live, site management continues to be straightforward. The navigation bar is easy to understand, every button is clearly defined, and every action is intuitive. You don't have to code or build on the back end, so you're never overwhelmed.

What WordPress CMS offers
WordPress CMS is designed to be user friendly, though not quite to the degree of Weebly. WordPress' back end is easy to navigate, but it has a learning curve.
You get a higher degree of control with this system, but you'll have to invest the time to learn how it all works.
You'll need some infrastructure knowledge to build a WordPress site. It doesn't have to be super complicated, but it will take more time.
Luckily, WordPress is user friendly, with an easy to understand dashboard, update notifications, and straightforward toolbars.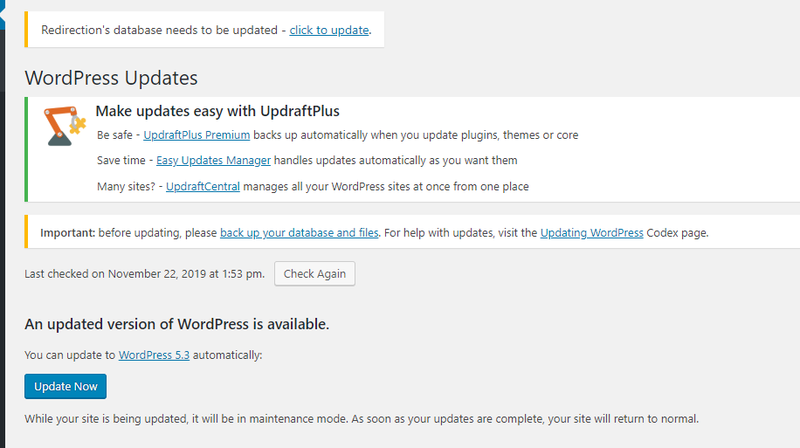 Results
Winner: Weebly
Weebly is designed to be intuitive and helpful at every stage of creating your site. You don't need to build anything; the whole process is simple.
---
Weebly vs. WordPress CMS: Pricing
Pricing is always an important consideration: If you can't afford it, you can't use it.
What Weebly offers
Is Weebly free? Yes, to a certain extent. It offers a free plan for basic websites and personal blogs, but it embeds Weebly logos and advertising.
If you don't want Weebly ads on your site, upgrade to the professional plan. For only $12/monthly (on an annual plan) you can eliminate them.
The highest tier is the performance plan, which for $26/month (billed annually) allows you an e-commerce option to start an online shop.
What WordPress CMS offers
Is WordPress free? Yes, and it's one of the reasons WordPress is so popular. It's an open-source system, so you'll never pay a fee to use it.
Other cost factors, such as hosting, maintenance, and apps, can incur additional charges. But a $0 base price is hard to beat.
Results
Winner: WordPress
Free is an attractive price, and even at that price, WordPress doesn't sacrifice on quality.
---
Weebly vs. WordPress CMS: Integration with other software
To increase functionality, your CMS platform should integrate with other software. Both Weebly and Wordpress deliver on that score with apps and tools to scale and improve capabilities.
What Weebly offers
Available Weebly apps cover a lot of ground, increasing its functionality in a myriad of places, including marketing, e-commerce, social media, site design, and much more. Weebly lets you pick and choose what you need, so your library is more tailored and less overwhelming.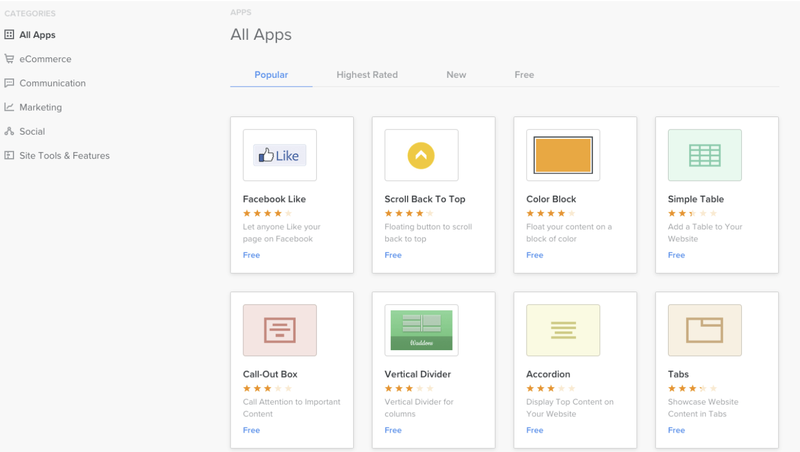 What WordPress CMS offers
With 50,000 plug-ins and growing, WordPress is the king of integrations. Since it creates sites for almost any industry, plug-ins can be tailored to just about every need.
Whether you're looking to build a landing page, integrate with social media, capture leads as part of website marketing, or more, there's an app for all of that.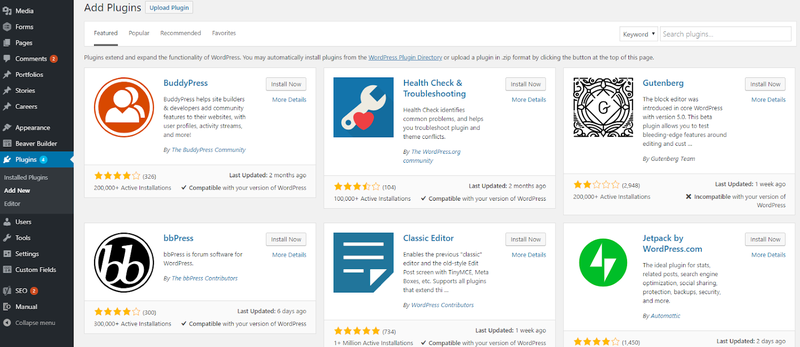 Results
Winner: WordPress
You can't argue with over 50,000 plug-ins. WordPress integrates with just about any app, so it easily wins this round.
---
Weebly vs. WordPress CMS: Page loading speed
Fast loading speed is not only a bonus for your audience, it's a critical SEO factor. Search algorithms rank your site higher if its pages load quicker.
What Weebly offers
Weebly offers heightened speed and security because it hosts sites on its own servers. Being optimized for the server helps pages load faster, which, in turn, makes it an SEO asset.
What WordPress CMS offers
Because WordPress is so vast and you can opt to host directly with WordPress or elsewhere, it doesn't have the same dedicated server ability.
Depending on the hosting company, you'll experience varying loading speeds with WordPress. Overall, it just can't compete with Weebly's dedicated server speed..
Results
Winner: Weebly
Weebly wins the speed race since its dedicated servers work exclusively to load Weebly pages.
---
How They Compare: Weebly vs. WordPress CMS
View more information: https://www.fool.com/the-blueprint/weebly-vs-wordpress/