Webex Meetings Review 2021: Features, Pricing & More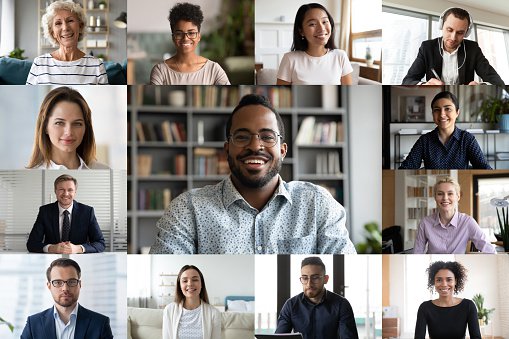 Cisco's

Webex Meetings is a video conferencing solution that supports a variety of video meeting types, from one-to-one video calls, to team meetings and online learning sessions.
It offers all of the standard video conferencing features, but also offers several features that set it apart from other video conferencing tools.
Webex Meetings is one of the more robust video conferencing solutions on the market, and is a straightforward yet powerful tool for those looking for a reliable tool to manage remote meetings, to remotely manage teams, or to improve team communication.
---
Who is Webex Meetings for?
Webex Meetings has three pricing tiers, ranging from $14.95/month per host to $29.95/month per host. It also offers a free version, and larger organizations can get in touch directly for a quote.
This means the solution is suitable for the whole range of business sizes, and its features scale up well with the different pricing points.
The solution works with a web browser, mobile, or video device, making it very accessible to a wide range of business types looking for a remote tool.
---
Webex Meetings' features
Webex Meetings has a variety of features that help your business run successful remote meetings and conference calls. All paid plans include video conferencing with a display of up to 25 participant video screens, screen sharing, meeting recording, and the ability to share the presenter role.
Let's take a closer look at some of their most notable features.
"Call me" feature
Webex Meetings' "Call Me" feature allows meeting participants to join the audio section of a
meeting by having WebEx call their phone. This is a great option for people on the go who don't have time to enter passcodes or dial-in themselves.
Although this is a great feature, Webex does charge a fee on top of the original subscription price, which is disappointing when other video conferencing solutions offer it for free.
The feature for domestic calls costs another $4.00/month per host, while the feature for international calls costs $35.75/month per host.
Meeting recording
This is a handy feature for those who can't attend meetings, who want to refer back to the meeting's content, or who want to use the video's content as training.
Depending on your plan, your recordings can either be saved to the cloud or to your computer. You can even choose the recording view layout that suits your needs.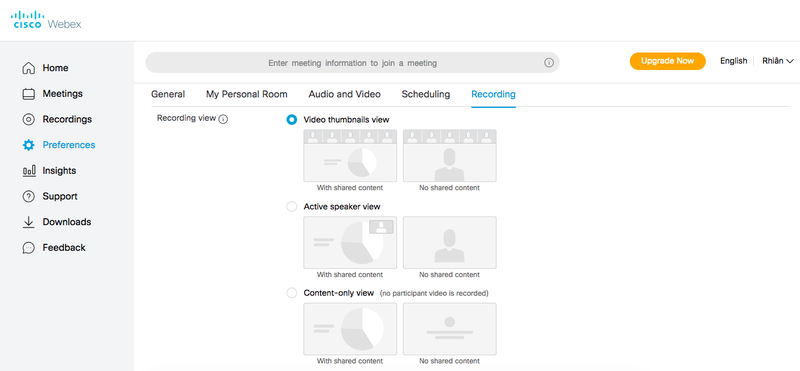 Polling
This tool allows users to create questions or polls for meeting participants during the meeting. Users can select several types of questions:
Multiple choice with single answer
Multiple choice with multiple answers
Short answers
Once you've opened a poll, the panel switches to "reporting mode", and displays the polling status, including how long the poll's been open and how long is left, how many participants have answered, how many are in progress, and how many have not started.
The function also gives you the choice of saving each participants' answers and sharing the results with the meeting participants.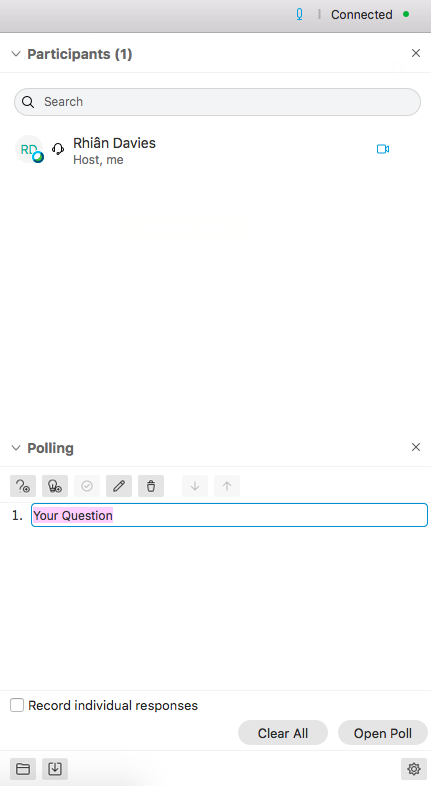 Whiteboard
The whiteboard function lets you collaborate with other meeting participants by drawing and annotating on a blank sheet, documents, and images. This is convenient for teams who are accustomed to a more visual communication strategy. The feature offers text, shapes, arrows, and pointers.
The feature is quite simple, though it could be a little more intuitive. It's not immediately clear that you need to double click each feature symbol on the left-hand side to be able to access more functionality, such as clearing the pointer and accessing different shapes.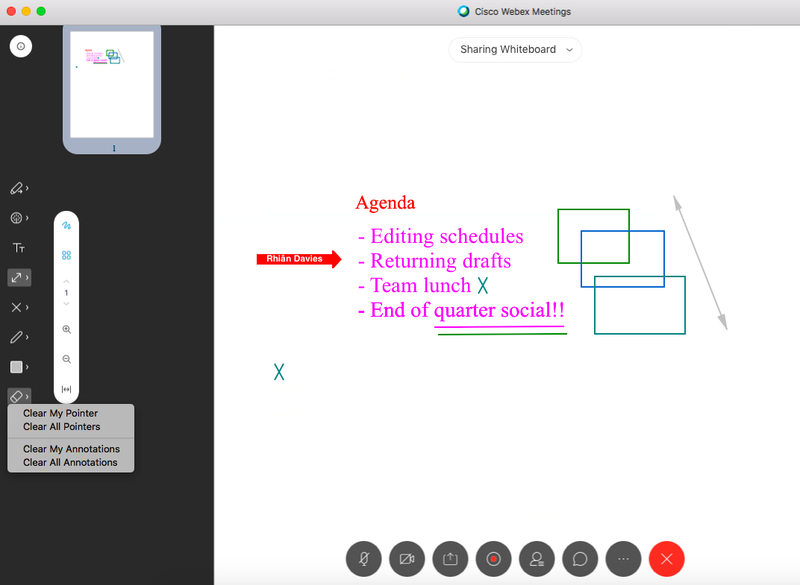 Transcription
The audio of recorded MP4 meetings can be transcribed so that the text of the meeting is displayed alongside the meeting video. You can also search through the text to find a specific keyword.
This feature is only available in English.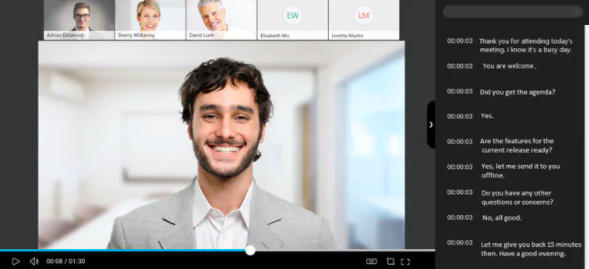 ---
Webex Meetings' ease of use
The desktop app is very straightforward: from the start screen, you can join and schedule a meeting, see your upcoming meetings, and easily copy your personal meeting room link.
Though the desktop app is functional and intuitive, the grey, green, and white background is a little bland, and could use some modernizing.
All users, even those on the free plan, receive their own personal meeting room URL, making it easier for participants to join. When you sign up, you're assigned a generated room link, which you can easily change to a customized link with your name or business name.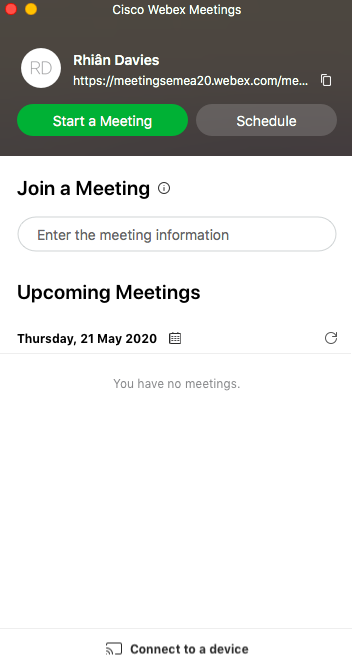 ---
Webex Meetings' pricing
Webex Meetings offers three different pricing tiers and a free version.
Starter plan: This plan is designed for small teams, allows up to 50 participants per meeting, and costs $13.50/month per host.
Plus plan: Designed for mid-size teams, this plan allows up to 100 participants per meeting, and costs $17.95/month per host.
Business plan: For large teams and businesses, this plan allows for up to 200 participants per meeting, and costs $26.95/month per host.
The solution also offers enterprise plans for larger meetings with up to 1000 participants. For more information on enterprise plans, contact Webex directly for a quote.
In response to the coronavirus pandemic, Webex Meetings expanded its free version to include unlimited meeting usage with no duration restrictions, support for up to 100 participants per meeting, and desktop, application, file, and whiteboarding screen sharing.
According to Webex, these features will be available for a "limited" time, but have given no definitive date for the rollback of these extra features.
---
Webex Meetings' support
Webex Meetings offers a great standard of customer support, but the support level depends on the plan you choose.
Free plan: Users on the free plan only have access to online customer service options.
Starter plan: With this plan, users are limited to calling support representatives during regular business hours (though Webex doesn't mention what these support hours are).
Plus plan: Phone support is available 24/7.
Business plan: Phone support is available 24/7.
Webex Meetings' online support includes a community forum, video tutorials, a wealth of how-to-guides, and multiple FAQ pages. Users can also fill in a web form or "open a case" for remote email assistance, or live chat with the Webex Chat Assistant.
---
Benefits of Webex Meetings
Webex Meetings has a very intuitive user interface and provides a smooth user experience. Its notable "one green button" to join a meeting is a standout feature for users, and users have the choice of calling in from a web browser, mobile, or video device.
Its "call me" feature, also makes it easier to join a meeting. When using this feature, users don't need to enter any meeting IDs or dial in to the meeting. They simply answer the phone to be let into the meeting.
The solution provides quality video and audio with all the extras you'd expect from a solution with Webex's long history.
---
Webex Meetings is an all-around solid video conferencing tool
Webex Meetings is a little pricey compared with its competitors, but it does provide a great video conferencing service. If you rely on a lot of video or audio conferences to run your business, Webex is worth the price tag.
Though it's not as customizable or as sleek as other solutions, the features it provides makes up for this. The solution is suitable for all business sizes, unlike some other video conferencing tools that are designed with either small businesses or large enterprises in mind.
View more information: https://www.fool.com/the-blueprint/webex-review/