Volusion vs. Shopify: Which is the Best E-commerce Platform?

E-commerce solutions such as

Volusion and

Shopify are empowering entrepreneurial individuals to start their business with no computer programming skills, and with only marginal help from specialists.
Setting up an e-commerce business is now feasible in a matter of weeks, allowing you to concentrate on marketing plans and e-commerce strategies instead of programming.
---
Volusion vs. Shopify: An overview
Once the business plan is ready, you need to find the right e-commerce platform to launch your business. Volusion may be ideal for some and Shopify for others. Read on to learn more about the strengths and weaknesses of each.
Who is Volusion for?
Volusion has been around for a long time and is a proven e-commerce platform for mid-size businesses. It's well adapted to physical products, with well-developed inventory management capabilities. It also has integrated product keys management for digital products such as software sales.
Who is Shopify for?
Shopify has a platform approach which will appeal to a wide range of merchants, from small to very large. Shopify's wide range of apps and plug-ins will likely solve any challenges you face. This core philosophy of building an open infrastructure for e-commerce is something not all alternatives to Shopify provide.
---
Volusion vs. Shopify: Features
Both Volusion and Shopify provide all the basic features for an e-commerce operation: product catalog, payment solution, store builder, order management, and client handling. They also provide hosting for your e-commerce platform as part of their service.
Let's look at features of each, both built-in and add-on.
What Volusion offers
The Volusion platform focuses on core e-commerce functionalities as well as a set of common additional features, for example the built-in CRM system that handles emailing.
In our review of Volusion, we noted that the tool has a specific SEO focus, making sure all URLs are indexable and allowing for customized meta tag optimization. The entire platform, including all the store templates are responsive.
This ensures your e-commerce site will be mobile friendly. Inventory management is well structured and the tool natively manages product keys. It directly integrates with Facebook and Twitter for social media posting. Reviews can be added manually. Volusion boasts more than 900 features to cover your functionality needs.
What Shopify offers
One thing that stood out in our Shopify review was the exchange marketplace where existing e-commerce sites built on Shopify may be bought and sold. You can acquire a running e-commerce operation.
Shopify also includes Burst, its own free stock photo platform, and their recent app, Shop, which is a rudimentary marketplace which could evolve toward a marketplace similar to Amazon or Walmart.
The basic Shopify offering includes all the components of an e-commerce store and is easy to set up. It doesn't have as many integrated features as Volusion, but it more than makes up for this via the extensive range of tools and third party apps it provides through its platform.
As an add-on service, Shopify offers POS (point of sale) integration for several store locations to allow offline payments.
Results
Beyond the basic e-commerce features provided by both tools, Volusion offers a number of built-in functionalities where Shopify provides an open infrastructure and leverages a strong market presence.
Although it doesn't feel like an apples-to-apples comparison, Volusion natively provides more features than Shopify if no third party apps are installed. Volusion wins for native features.
---
Volusion vs. Shopify: Ease of use
The e-commerce platform you select for your business will be the platform you work on every day. It's essential that it be easy to create your store, and manage it once it's running.
What Volusion offers
It's easy to get started with Volusion. When you first log in, it generates a store which you then configure by going through a well-structured process. The process is set up as stages you move through to end up with your final store design.
When something is not straightforward, the software can be a little confusing. In our case, we set up the first product, and as the default currency was USD while we wanted EUR, we had to go through the help center to figure out how to configure the right currency.
When you go deeper into the process of configuring your account, you will need to access a part of the solution called My Volusion. This is a different user interface altogether and appears like an old and outdated part of the tool with a non-intuitive user interface.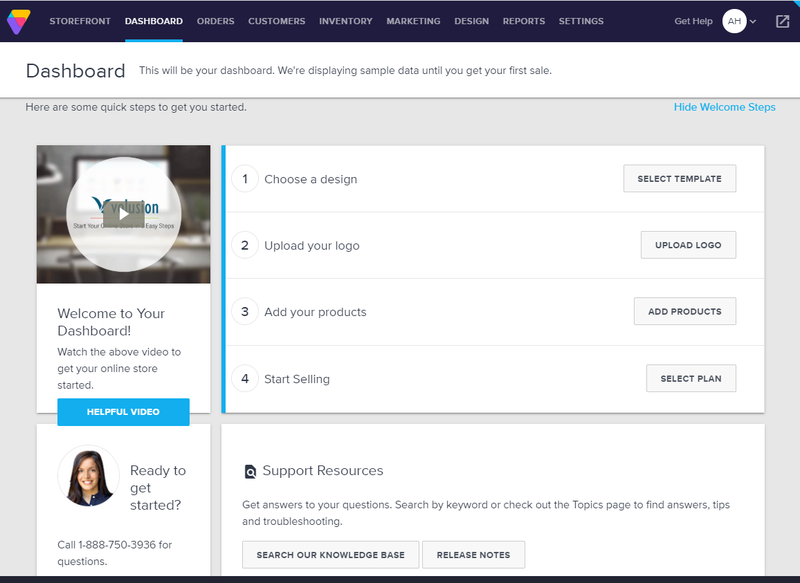 What Shopify offers
Shopify is easily accessible. When you first set up your store, the dashboard contextually adapts to where you are in the process. In the setup phase, it will offer reminders and suggestions to move you forward in the process. This approach makes setting up a store with Shopify easy.
Shopify provides a great user experience that goes beyond expectations. In our case, it actually detected an existing WooCommerce shop on our URL and suggested importing it into Shopify.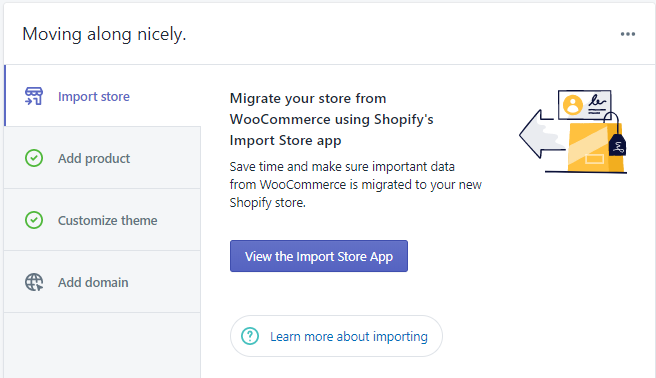 Results
Volusion has a clear and well-structured onboarding approach, but Shopify wins for ease of use. Its design is easier to use, and the user interface is more intuitive and based on WYSIWYG (what you see is what you get) principles.
---
Volusion vs. Shopify: Support
While e-commerce platforms have removed programming from the equation, setting up an e-commerce store still requires a number of complex steps. Support and onboarding are essential to setting up and managing an e-commerce platform.
What Volusion offers
The Volusion platform approaches setup as a process which you cycle through to build your store. It is well structured and documented. Volusion offers four options for further support: an 800 number, a help center, email support, and schedule a call.
The help center contains articles and videos which take you through all the common setup challenges, and those you'll encounter while running your store.
But the worst experience during our review was when we tried to book a meeting and the calendar integration showed us a faulty integration making it impossible to book. It appears easier to call the 800 number for support.
What Shopify offers
Shopify has a help center similar to Volusion's and goes further with a video series to teach users how to set up their store. In addition, the Shopify Academy, a fully-fledged training program, makes extensive use of video to guide you through all the aspects of running an e-commerce operation.
Shopify also leverages its user community for support. In the community forum, users can ask questions of others who have encountered and overcome the problems they're facing. It's also possible to hire a third party expert for complex problems from the Shopify Experts section, but this is a paid option.
With this wide variety of support options, Shopify can provide support to all users for any problem that arises 24×7 in any time zone.
Results
Volusion has a one-to-one customer support relationship. Its interface has shortcomings, but is outstanding for its dedicated telephone support. Shopify has taken a mass approach for support and does a great job of providing solutions for any type of problem and at any time. Shopify wins on support.
---
Volusion vs. Shopify: Pricing
E-commerce platforms provide a real and valuable service which is an integral part of your business foundation. As a result, they must be reliable and serve your business purpose optimally.
But that doesn't mean you should be paying too much for them, especially in a build-up phase of your business. Let's see how Volusion and Shopify stack up against each other on pricing.
What Volusion offers
Volusion offers a 14-day free trial, just enough to set up an e-commerce store on its platform. It offers three monthly pricing plans:
$29/month for one user and up to 100 products, with online support only
$79/month for a professional account allowing two users and up to 5000 products, with phone support
$299 USD/month allowing 15 users, unlimited products, priority support functions and advanced features like Amazon integration
What Shopify offers
The Shopify pricing plan is identical to Volusion at first glance. It offers a 14-day free trial and three monthly plans:
$29/month for two users and unlimited products and support
$79/month for a professional account allowing 5 users, unlimited products and support
$299/month allowing 15 users, unlimited products and support
The plans are a little more generous than its competitor, with the base plan allowing two users and unlimited products. We also saw the 14-day trial automatically prolonged to several months once a store was being actively built.
Shopify also has a less expensive plan at $9/month called Shopify Lite. This is for users who already have a website and simply want to add e-commerce functionality using Shopify's back end. This offer doesn't include the store builder and hosting.
At the other end of the range, Shopify can also provide a running e-commerce website through its Exchange Marketplace.
Results
The basic plans are identical. The mid-levels are Volusion's sweet spot where Shopify aims high and low with Shopify Lite and can address any level of complexity with the App store and the community of partners and experts. It's a draw.
---
Volusion vs. Shopify: Store builder
One of the core functionalities of an e-commerce platform is its ability to create an attractive e-commerce storefront. These tools have adopted the WordPress approach of providing themes for their online store builders.
What Volusion offers
Volusion online store builder themes are all mobile responsive but remain very focused on providing the functionality of an e-commerce CMS. It manages e-commerce content well, but Volusion templates don't include a blog functionality, which is essential for most online stores.
Building a storefront for e-commerce with Volusion is easy and straightforward, and it offers free and paid themes.
What Shopify offers
Shopify also includes free and paid third party themes. We found the Shopify store builder very easy to use and its navigation intuitive. As you build the store, you can see the final layout, including images. This approach makes the process easy and fast. Unlike Volusion, Shopify stores have the option to include a blog.
Results
Both Volusion and Shopify provide a broad range of themes and a great interface for building a store. But while Volusion is focused on only e-commerce, Shopify integrates a blog functionality in its sites, something most merchants will need in order to succeed with online marketing today. This makes Shopify the winner here.
---
Volusion vs. Shopify: Integration with other software
An e-commerce platform needs to connect with various tools in order to function: payment gateways, delivery, sourcing, and marketing as examples. Your e-commerce platform's integration ability is therefore an important criterion in your selection.
What Volusion offers
Volusion offers a number of integrations with external software and also invites developers to create custom integrations for the tool. Volusion can connect into an Amazon, eBay, and Google Merchant account via API integration.
It can also integrate with PayPal and Amazon Pay for payment solutions. It also has a marketplace with a limited number of additional tools which can be integrated with the platform for payment solutions, security, accounting, channel management, and more.
What Shopify offers
Shopify has gone a step further and built a platform that allows software vendors to propose their apps for specific functionalities. This is similar to what has made WordPress such a compelling tool with plug-ins for any need a publisher may have.
Whereas the basic Shopify offering is sufficient to launch an e-commerce store, specific apps will add functionality and integration opportunities for media integrations or marketing functionality. The apps are available in the Shopify App store. Some are free, others advertising-driven or subscription based.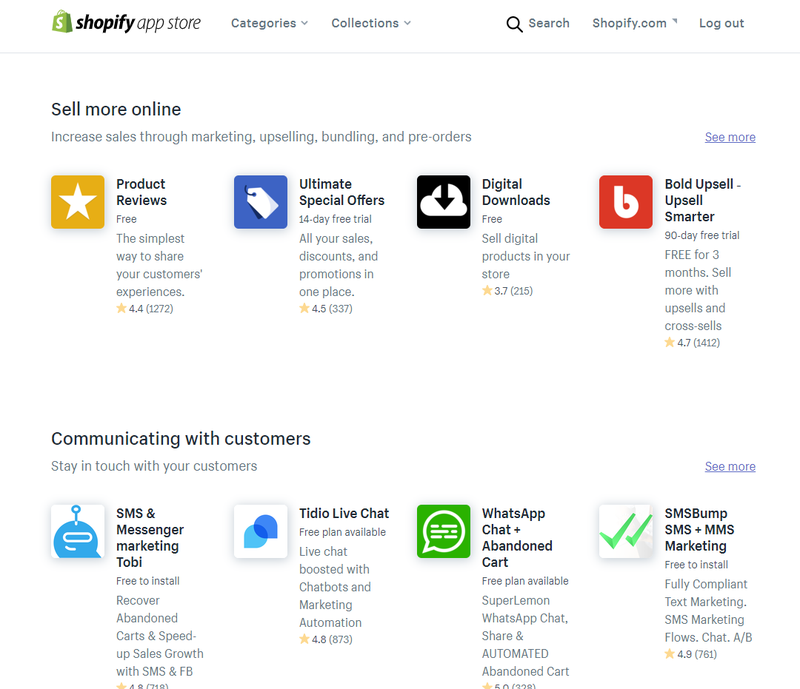 Results
Volusion provides a range of integrations with tools for tracking and marketing which will suffice for many online stores.
Shopify, on the other hand, is future-proofing any need a business owner will have with its platform approach and broad range of third party apps and integrations. This makes Shopify the winner on integrations.
View more information: https://www.fool.com/the-blueprint/volusion-vs-shopify/