The Ultimate Guide to Project Quality Management in 2021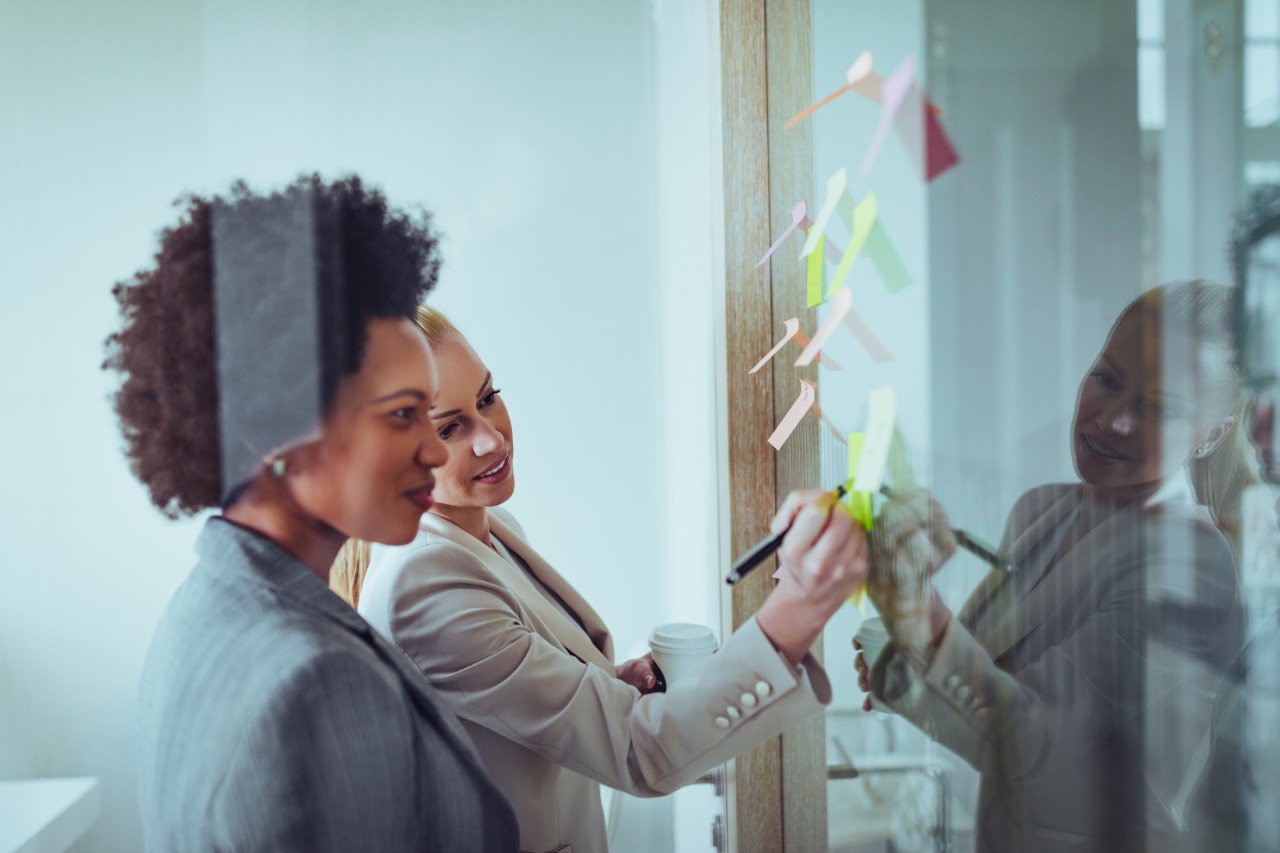 A lot goes into running a successful project: a project risk management system, reliable task management software, an understandable work breakdown structure, a clear project communication plan — the list goes on.
While these components are undoubtedly important, project managers should also put a premium on quality management in their project management steps. It's an absolute must.
To successfully produce a work result that meets the customer's needs, project managers use project quality management processes as a guiding compass. Furthermore, these processes can also help streamline and improve the entire project management workflow.
---
Overview: What is project quality management?
The word "quality" has many meanings. In our context, for the most part, quality is about satisfying an implied or a stated need.
That is why project quality management, when stated in simple terms, covers the processes and tasks needed to ensure that a project satisfies its intended purpose. This ultimately points back to addressing the needs and expectations of key stakeholders.
The project team, after all, could stay within the specified project schedule, budget, and scope, yet still fail miserably in their undertakings: all because the quality of the project's output fails to satisfy the needs and expectations of key stakeholders.
This is why it's important for project teams to be sensitive to both the stated and implied needs of the key stakeholders.
---
What to consider when developing a project quality management plan
Consider these three crucial points when developing a project quality management plan.
1. Quality planning
Establishing quality metrics play a major role in quality planning. Since projects are pursued to improve aspects of a business and meet the needs of key stakeholders, project managers need to develop metrics that will show these improvements.
Project managers need to be clear about what processes their project is impacting. In that way, they can develop measures to determine how much improvement their project created.
Some of the project management tools they use during this process are flow charts, benefits/costs analysis, design of experiments, etc.
2. Quality assurance
Quality assurance needs to be performed throughout the project since it ensures that the project's deliverables address the customer's or stakeholder's needs. It ensures that the project product is defect-free and that it conforms to the stated and unstated requirements of the key stakeholders.
3. Quality control
In this phase, the key people involved will monitor specific project results to see if they conform to the quality metrics established in the quality management planning stage.
The results reviewed during project quality control don't just include the product results, management results such as the schedule and cost performance are also crucial. Pareto diagrams, control charts, trend analysis, etc., are among the many tools you can use in this process.
---
How to implement a project quality management plan
Follow these four steps to come up with a project quality management plan.
Step 1: Input data gathering
Putting together a project quality management plan requires data. Some of the information needed includes the product and project scope, the risk register, and the implementation schedule. You should also take into account which project management technique your team is using, as the various methods have different benefits and restrictions.
Data gathered during this process are the raw materials the project team needs for successful project planning and implementation.
Maximizing input data gathering:
Use surveys and questionnaires. Gathering data can be quite challenging, especially when working with multiple stakeholders. The differences in schedules, for example, could keep the project managers and the stakeholders from meeting at a single place and time. Online surveys or questionnaires can be used to address this issue. Project managers can obtain the information they need without having to meet the various stakeholders involved in the project.
Use an online meeting platform. In situations where the key stakeholders need to discuss certain technicalities or aspects of the data gathering process, you can conduct an online meeting using platforms such as ClickMeeting.
The platform has a screen-sharing feature that allows users to show what's on their screen, making it easier for them to convey their message and share their materials.
ClickMeeting also has a virtual whiteboard that's perfect for brainstorming.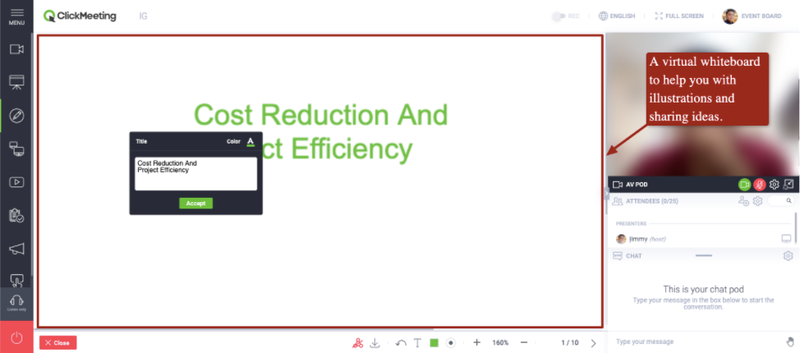 Among other things, you can also add videos, questionnaires, and surveys during the meeting.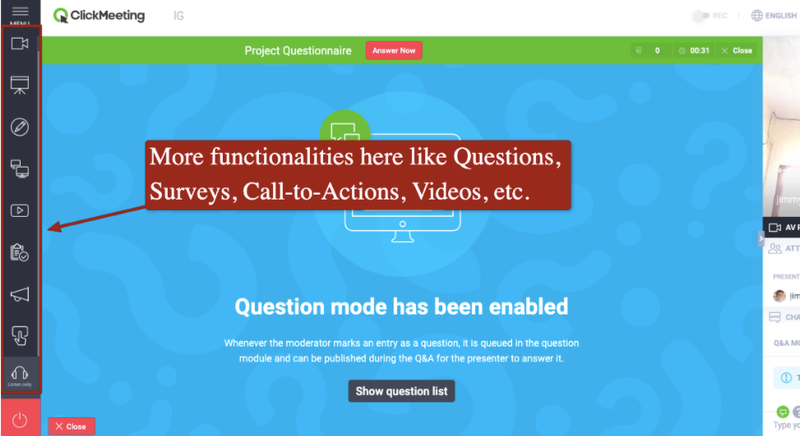 With these features, the key people can interact in real-time, as opposed to sending back-and-forth emails or instant messages which are often tedious and time-consuming.
Step 2: Data analysis
Analyzing data is crucial for project managers to gain a better perspective on the project and make better decisions in the implementation stage.
You may use various data analysis techniques, one is to conduct a cost-benefit analysis (CBA) in the setup phase to compare the cost of running the project and the expected benefits that the team will obtain. With this, the project manager can then start putting together quality planning activities to ensure that the tasks are well within the budget while meeting the quality requirements.
The other techniques that can be used in this stage are alternatives analysis, cost of quality (CoQ), decision tree analysis, etc. Project managers can choose the techniques based on the dynamics of the project, the quality of data they obtained, and the resources the company can afford.
Maximizing data analysis:
Use data analytics tools. Working with the right data analytics tools will streamline the data analysis process. This will give project management teams faster and practical valuable information and insights.
Leverage data visualization software. Translating analyzed data into visualizations makes it easier to present to the project team, which can help improve the team's collaboration and understanding of the project.
Step 3: Establish quality metrics
After developing the project quality planning activities and obtaining the project manager's approval, the next step is to establish quality metrics.
The project quality management team will need to choose specific product attributes and define the control measures during the project implementation process. Your team will have to establish the quality metrics that will be used for your quality assurance and control activities. For instance, you can include quality metrics such as on-time performance, defect frequency, cost control, and failure rate.
From a big picture perspective, your quality metrics serve as a guide for project managers to make the right decisions about the project as a whole.
Maximizing quality metrics:
Uncover unstated needs. In some cases, the key stakeholders will find it difficult to convey what's really important to them. Sometimes, they're just unaware of what they really need. While in some cases, they're just poor at articulating their ideas. Whatever the situation might be, the project manager needs to probe strategically and be sensitive to the key stakeholders' predicament. Only by identifying what is important to the stakeholders can the project team produce quality results.
Use templates. Streamline the process of defining your metrics by using templates to help your project management team work more efficiently and produce faster results.
Step 4: Perform quality assurance and control
When it comes to the actual implementation of quality assurance and control, having a checklist is crucial. It helps ensure the consistency in quality metrics and allows the project managers more control over the expected performance of the project.
It's worth pointing out that there is a difference between quality assurance and quality control. While quality assurance helps you examine processes and make changes that will lead to the end product, quality control makes you assess your product or service to check for the result. Both are necessary for project quality management.
Quality assurance includes steps such as defining your process, identifying and selecting tools, conducting quality audits, and training of quality processes and standards. On the other hand, your quality control tasks involve inspection, testing, checkpoint review, and walkthrough.
Quality assurance is a proactive process, while quality control is reactive.
Maximizing quality assurance and quality control:
Use all-in-one tools when performing both QA and QC. This allows your project management team to focus on the process instead of wasting their time and energy shifting from one tool to another.
Work with automation software. Automating your processes can save you time and money, improving productivity and efficiency.
Step 5: Develop an improvement plan
The final step in implementing your project quality management process is to come up with an improvement plan.
An improvement plan establishes detailed steps to analyze quality performance and identify activities that will enhance the project and product value. Your project management team can include/propose reasons and steps to apply changes to the project boundaries, product objectives, process metrics, product configuration, and more.
The improvement plan must be approved by the project manager, and it's crucial to ensure proper document management so your team doesn't miss out on critical issues and improvement activities.
Maximizing improvement plan development:
Work with document management platforms. This takes the complexity out of retrieving and organizing project-related documents which in turn will help increase the project team's productivity.
Use tools with e-signature capabilities. These tools document the approval process more efficiently with the e-signature feature. It saves a lot of valuable time and implements your improvement plans faster.
---
The best project management tools for project quality management
Having the right process, team, and metrics are crucial for a project to succeed. Furthermore, one of the project management best practices that managers live and die by is to invest in the right tools.
Below, we're going to check out three of the best project management software options for project quality management.
1. Asana
Asana is a team collaboration software with powerful task management features that can help project leaders empower their team members in completing their tasks.
It offers functionalities suited to the team's assignments, such as sales and marketing tools, web engineering, human resources, and more. It even allows its users to store important documents such as the executive summary, contracts, client onboarding templates, etc.
In terms of workflow, Asana lets the team schedule tasks through timeline charts, kanban boards, and more, accommodating their tracking preferences.
Asana also has the Workload feature that provides live visual presentations of each project member's current assignments.
If a team member's work volume reaches the threshold, Asana warns the team manager so he can delegate the tasks appropriately.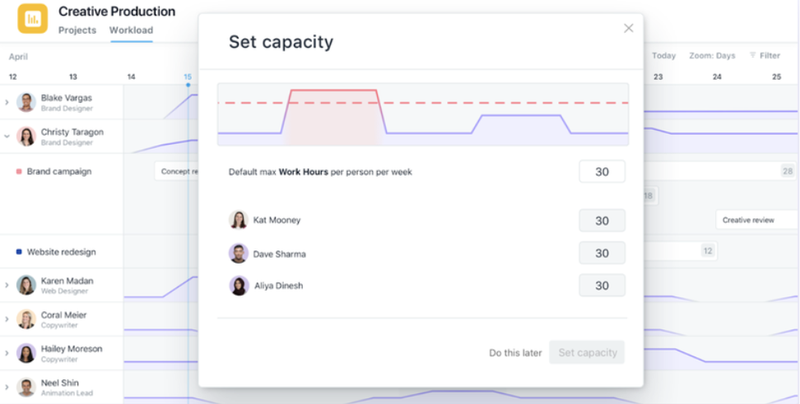 Finally, to enhance collaboration, Asana has comment sections for every task where the team can discuss and share resource materials.
Asana displays all these capabilities with a user-friendly interface, making the project management dashboard easy and appealing to the eyes.
2. Time Doctor
Time Doctor is time tracking software. It can monitor the total amount of time team members worked and show a breakdown of the hours spent on every task, client, or project.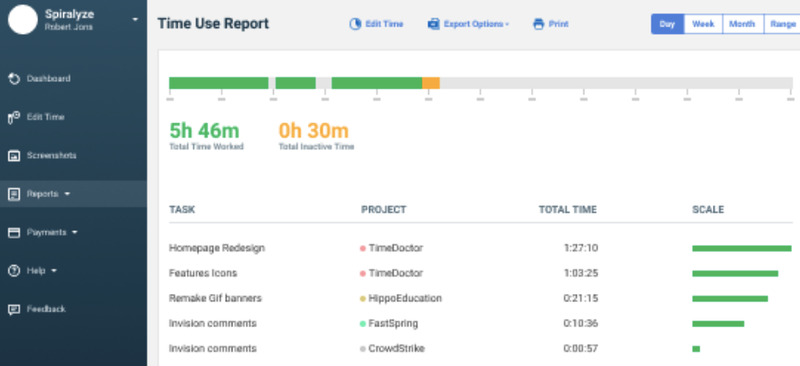 With Time Doctor, project managers can track members' internet and application usage within the defined work hours, and it allows you to generate weekly reports for these.
From the reports, project managers gain insights on the duration of task completion, revealing possible weaknesses and areas for improvement.
Project managers can even opt to enable screen capturing every few minutes, a feature that can be particularly helpful for managing remote team members.
Time Doctor also helps managers determine the staff's pay accurately, based on their productivity. It can also customize payroll systems to suit various payroll periods, preferred currencies, and other factors.
3. Workable
Workable is a reliable software package that project managers use when putting together their project team. The platform is all about helping its users speed up and simplify their recruitment process. Workable has job application customization forms and ad creation features, and it even has editable templates, etc.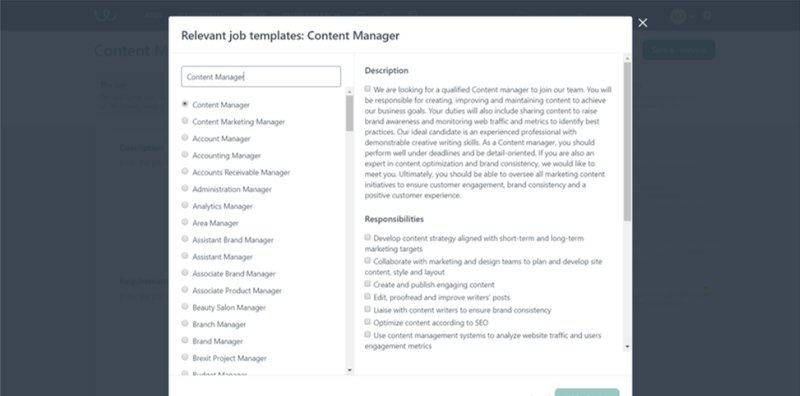 ---
Final thoughts on project quality management
Project quality management may have a lot of moving parts, but with the benefits it brings, it's certainly worth investing in. Through project quality management, the project becomes more streamlined, more accurate, and more effective. There is a good level of certainty that the work results will meet the needs of key stakeholders.
View more information: https://www.fool.com/the-blueprint/project-quality-management/