The Seven Best Places To Buy Temple Jewellery In Chennai! * Bookmark Them Right Away!
What's a wedding without some temple jewellery? Especially a South Indian wedding where that dash of gold can elevate your look to a goddess . Given how many brides are wearing exquisite temple jewellery pieces with their lehengas – decided to go to the mecca of Temple Jewellery…Chennai! And we got you the best places to look for great bargains and designs from our fellow blogger The Marigold Tales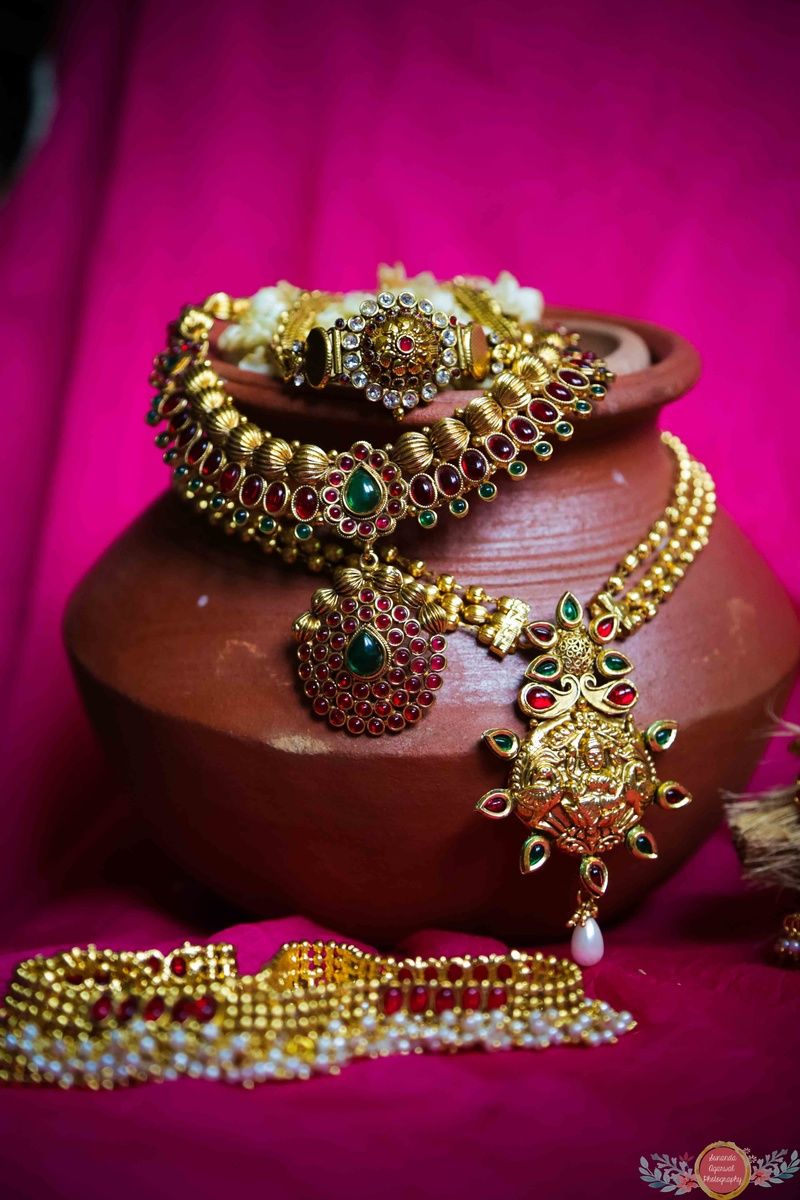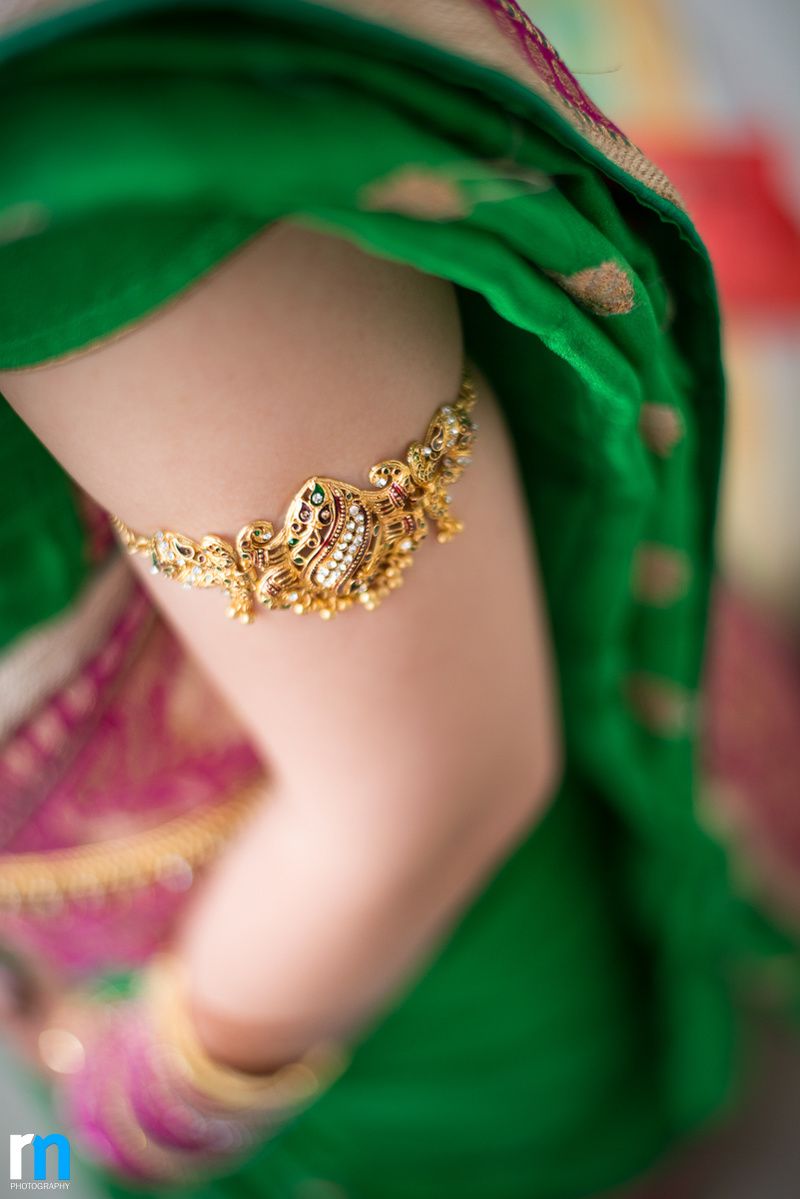 Pic via Sunanda Agarwal Photography★ 3.2 ; Rohan Mishra Photography★ 5
Temple Jewellery is beautiful, versatile, and is every silk saree's best friend. And Chennai is the best place to buy these beauties. Here's my favourite list for temple jewellery stores in the city I call home. P.S I prefer buying silver temple jewellery over imitation because the setting of the kemp stone is perfect only when you buy the silver version. Yes, it's far more expensive, but keep in the mind that they'll last you for life when you take good care of them.
While you are at it dont forget to check out 20+ amazing temple jewellery designs that we spotted.
Sukra Jewellery
72, North Mada Street, Mylapore, Chennai – 4
Sukra Jewellery is probably one of the most well known places to buy temple jewellery in Chennai, and with good reason! They've easily the most extensive collection in the city of both artificial and silver temple jewellery.
Chola Jewellery
32, North Mada Street, Mylapore, Chennai – 4
Close on the heels of Sukra is Chola Jewellery, which isn't really talked about much in the context of where to buy temple jewellery in Chennai – I have walked into this place randomly and found a fair number of pretty pieces, so do give this place a try, and you might be pleasantly surprised too!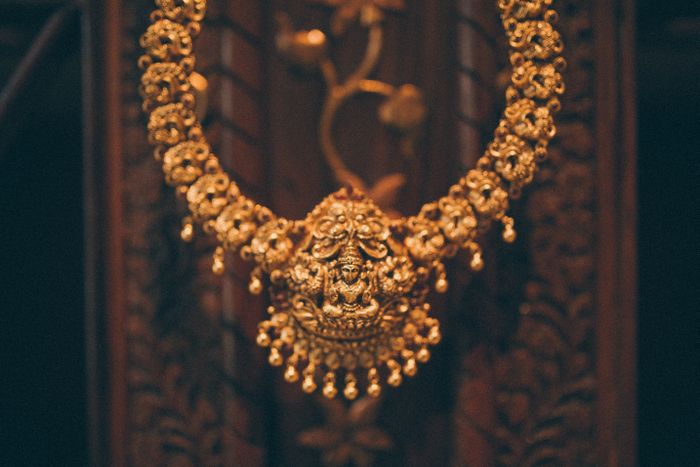 Pic via George Seemon Photography★ 5 , from the wedding: Nilma
NAC Jewellers
58, North Mada Street, Mylapore, Chennai – 4
NAC jewellers closes the holy temple jewellery trinity of North Mada Street for me. Another shop that's been around for a very long time, and bears iconic status with respect to its temple collections in both gold and silver. If you're a bride to be, they even have personalized trousseau shopping sessions!
Utharika Jewellers
Express Avenue Mall/Phoenix Market City/Spencer Plaza
I've been a regular at Utharika for a while now because they have these really unique pieces at great prices. I usually end up buying Kundan jewellery there (their finish is impeccable), but they've a very nice temple collection too. Be aware that the temple jewellery that they stock is of the contemporary kind, so the kemp placement is a little different (but pretty nevertheless).
GRT Silver Smith
102, Rangan Street, T. Nagar Chennai – 17
A stone's throw from the original GRT in South Usman Road, GRT Silver Smith is a shop dedicated to all things silver, which includes temple jewellery. Especially good for small buys, like earrings.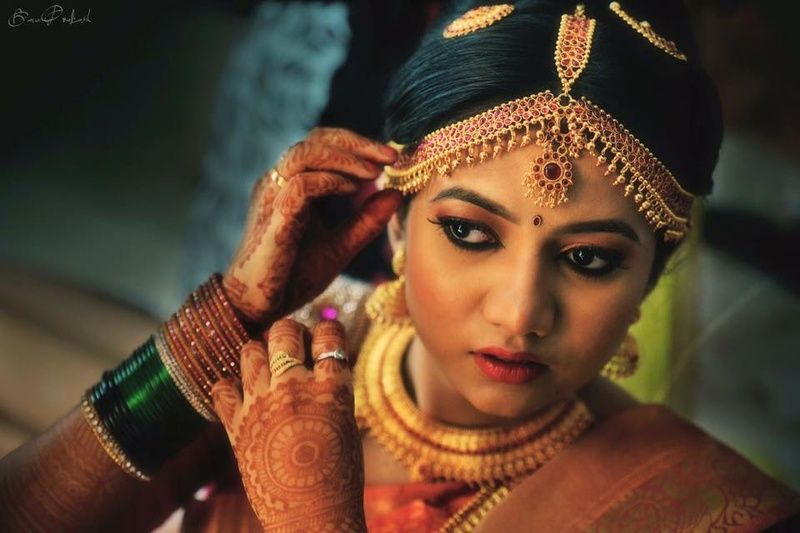 Makeup by Lekha Neelakantappa★ 4.9
Sridevi Gold Covering
140/142 South Usman Road, T. Nagar, Chennai – 17
From the outside, Sridevi looks like just another place with loud imitation jewellery, but ask the salesman for 'silver dance jewellery', and trust me, you won't be disappointed. Their collection is small, but that only makes decision making less confusing. I've found many a hidden treasure in this place.
Vummidi Bangaru Jewellers
603, Anna Salai (Rani Seethai Hall), Chennai – 6
Another 'legendary' place to round off the list! VBJ is a shop that usually comes first to mind when you talk about buying temple jewellery in Chennai. They've a very exhaustive collection of jewellery for both dance and wedding.
Lavanya Mohan is the co-founder of Marigold Tales, a blog dedicated to South Indian Weddings and Wedding Inspiration for The South Indian Bride. 

View more information: https://www.wedmegood.com/blog/the-seven-best-places-to-buy-temple-jewellery-in-chennai-bookmark-them-right-away/
Xem thêm bài viết thuộc chuyên mục:
The best