The Rules of Termination: Why and How to Terminate an Employee
Terminating an employee isn't easy, and it isn't cheap. Losing an employee costs as much as $15,000 per employee, according to The Work Institute.
But keeping an employee who isn't a good fit can cost even more, taking an invisible toll on productivity and teamwork.
Knowing when and how to terminate employees who aren't working out is a critical leadership skill. Here's how to do it in a way that follows the law and minimizes the trauma for the employee and your team.
---
What does it mean to be terminated?
Termination refers to any separation from employment, but the term usually signifies involuntary termination of an employee from a job.
Terminations include being laid off for lack of work. Specific laws apply to employee layoffs.
---
Legal considerations when terminating employees
More than half of complaints filed with the EEOC (Equal Employment Opportunity Commission) each year include retaliation charges, many of which involve wrongful termination. Firing an employee at the wrong time, or in the wrong way, or for the wrong reasons, can land you in court.
This article outlines the potential pitfalls and provides tips for avoiding them.
---
Valid reasons for termination
In every state except Montana, employment is at will, meaning you can fire someone for any reason, so long as it isn't illegal, or for no reason. An example of an illegal reason is one that violates equal employment opportunity (EEO) laws.
Because it costs so much to hire, onboard, and train new employees, firing an employee is usually a last resort.
Here are some examples of legal and illegal reasons for terminating an employee:
Examples of legal reasons to terminate an employee
Here are some legal reasons you may decide to terminate an employee:
Failure to meet goals: One of the most common reasons for termination is failing to meet quality or productivity standards or other key performance indicators (KPIs).
Poor performance reviews: A series of bad performance reviews with no improvement in sight is a legitimate reason for dismissal. Performance appraisals can bring a measure of objectivity to abstract qualities such as teamwork or competence.
Attendance: Chronic tardiness or excessive absenteeism are common, legal grounds for firing.
Misconduct: Violating company policy or values is a clear reason for termination. This might include misusing company resources, being dishonest, violating written policies, or even theft.
Insubordination: Defying or ignoring a manager's legitimate authority is grounds for dismissal.
Drug use: Evidence of substance abuse on the job is a common, legitimate cause for firing if it isn't protected under the Americans With Disabilities Act (ADA).
Threatening behavior: Harassing or threatening employees is generally grounds for immediate dismissal.
Examples of illegal reasons to terminate an employee
Avoid terminating an employee for any of the following illegal reasons:
Discrimination: Employees may not be fired because of their race, color, national origin, sex, religion, or age under Title VII of the Civil Rights Act of 1964 (Title VII), the Age Discrimination in Employment Act (ADEA), and other EEO laws. If any of those factors play a role in the decision, the termination is illegal. Whenever you are preparing to fire an employee, you need to consider possible grounds for a discrimination complaint.
Exercise of employee rights: Employees may not be fired for engaging in protected activities such as union organizing or taking leave under the Family and Medical Leave Act (FMLA), Uniformed Services Employment and Reemployment Rights Act (USERRA), and similar laws.
Whistleblowing: Twenty-two federal laws safeguard the rights of certain employees to blow the whistle on unsafe or illegal activities in their workplaces. Terminating an employee in retaliation for

whistleblower complaints

is illegal.
Retaliation: Employees who file discrimination charges and other complaints are generally protected from being fired for those activities.
Termination in special circumstances
Several reasons for termination are only legal in certain circumstances. Review state and federal laws and proceed with caution before firing employees for these reasons:
Off-duty conduct: At least 29 states have enacted laws protecting employees from firing or other adverse employment actions based on off-duty behavior.
Social media content: Your employees' social media content may be protected under Title VII, the National Labor Relations Act (NLRA), and other laws.
Employee speech: Employees do not have a First Amendment right to free speech in private workplaces. But employee comments made at work or in public may be protected under state or federal laws.
---
11 best practices for professional termination
Once you've determined you need to terminate an employee for a legitimate reason, follow these steps to make the experience as painless and drama-free as possible.
1. Build the case
By the time you're ready to fire someone, you should have a record of appraisals, improvement plans, conflict resolutions, or disciplinary actions that document the employee's performance deficiencies in reference to written human resources (HR) policies.
HR software such as Zoho People or Namely HR can make it easier to manage and assemble these critical records.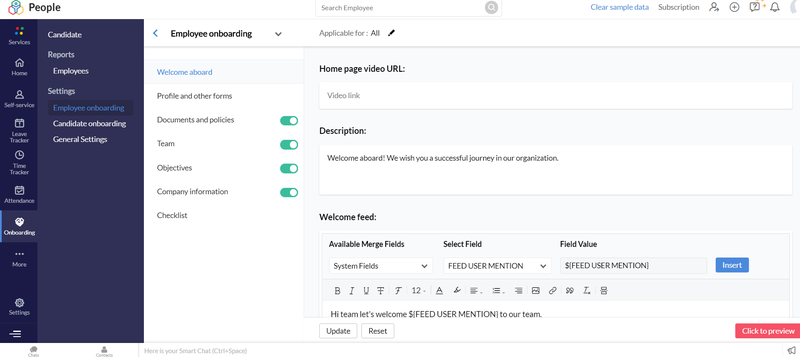 2. Prepare talking points
Based on the employee's record, write a summary of the points you need to convey during the termination.
3. Use objective language
Use neutral language focused on events and goals rather than on the person.
For example, instead of saying "We've talked repeatedly about calling in and being late, and yet you continue to abuse the policy," you can say, "Following three unexcused absences this month, per our attendance policy, this will be your last day with us."
4. Put it in writing
Write a professional termination letter to share with the employee during your termination meeting. Attach required employee notices under federal laws such as the Consolidated Omnibus Budget Reconciliation Act (COBRA) and any employee forms required in your state.
5. Include HR
Having an HR representative in the room provides an independent account of the conversation to back your own. HR can also provide additional support or details and answer the employee's questions.
6. Don't apologize
Resist the urge to apologize, backpedal, or offer encouragement such as "You've been great to work with" or I really wish I could keep you on." Instead, convey your regret for the way things worked out and extend your best wishes for the employee.
7. Be direct
Don't try to soften the blow by delaying it. Open the meeting with a clear statement of what is happening and why.
8. Be humane
Give employees time in the meeting to process the decision and ask questions, but keep the discussion focused on the future. You can express empathy through statements such as "I appreciate that this is difficult" or "I regret that this wasn't a good fit" without being drawn into bargaining or defending your decision.
9. Complete offboarding
Get items such as keys and laptops from the employee during or immediately after the meeting.
You'll also need to get employee signatures on documents such as termination letters, severance agreements, or nondisclosure agreements. Check state and federal retention requirements to determine how long to keep employee files with these documents.
10. Be discreet
If you need to escort an employee from the building, be discreet.
11. Inform your team
Once the employee is gone, gather the team to explain what happened. You can specify the cause in broad strokes if you feel it will allay employees' fears or shore up the team, but avoid sharing personal details to protect the employee's privacy.
---
Ramifications for your business
The way you deal with poor performance has a ripple effect throughout your organization.
A poor performer can drag down a team's productivity and morale, forcing other employees to pick up the slack. Terminating them makes it clear you are willing to hold employees accountable for contributing to their teams.
Poorly handled terminations, however, can have the opposite effect, and damage employee trust and motivation. That's why it's important to make sure your reasons are legal, build a solid case, and handle every termination the way you would want to be let go from a job that wasn't a good fit for you.
---
Making the best of a tough situation
No matter how careful you are, letting someone go will never be an easy or pleasant task. Yet terminating nonperformers is a critical leadership skill that drives small business success. With clear guidelines and support, you can make the best of employee terminations to promote happy, high-performing teams.

View more information: https://www.fool.com/the-blueprint/termination/