The Best Electronic Signature Software for Small Businesses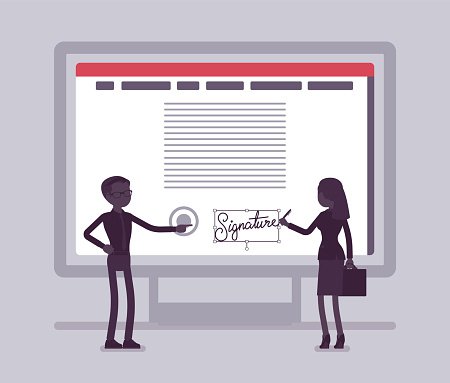 ---
What The Blueprint looks for in a great electronic signature software
Every e-signature vendor provides a secure technology infrastructure to protect your documents, data, and personal information. The software must also comply with electronic signature laws around the world.
These are the minimum requirements to operate in the e-signature space. Beyond that, here are key attributes inherent in all good e-signature software, including those on this list.
Is it easy to use?
No one wants to spend time tinkering in an e-signature interface. The software should streamline the end-to-end signature collection process.
The solutions on this list do just that, incorporating features to make e-signature execution quick and simple. Easily prepare a document by flagging the fields requiring signatures and other info such as the signer's title. Define the recipients, email it, and you're done.
Each uses templates to save time and ensure efficiency. Set up your e-signature document once, then save it as a template for reuse by you and others in your organization. Templates not only save time, they ensure consistency in the collected information.
The same easy-to-use experience is presented to document recipients. A request for signature arrives via email. From there, recipients click a link to go directly to the form. The software guides them through the document and where to sign.
Every solution provides tools to manage and track e-signature execution. You can conveniently see which documents are still pending, and send reminders with the click of a button or have the system automatically send them on a predefined schedule.
Each provides a clean, easy-to-use interface, making it simple to immediately jump into the product. But if you get stuck, an online self-service help portal aids you in finding answers.
Can you use it across devices?
Work is increasingly performed on mobile devices, but the ability to execute e-signature tasks on the go is particularly important. Many signatures are still performed in person. For example, a notary needs to verify an individual's identity before collecting signatures.
For these instances, electronic signature software must work across the devices you use whether that's smartphones or tablets. The options on this list support cross-device use through your mobile device's web browser, and most come with a free stand-alone mobile app.
Does it offer third-party integrations?
Third-party integrations extend the functionality of the e-signature software by connecting it to external apps. The solutions on this list offer integrations with third parties such as Box and Salesforce.
These integrations make it convenient to bring in documents stored elsewhere or to use your CRM software to import contacts. If you require a custom integration, all offer access to an API, allowing you to build your own e-signature solution.
---
How your business can benefit from using electronic signature software
Electronic signature software's benefits are many, and they amplify for larger companies or if multiple people are involved in signature collection, such as when a document needs to undergo an approval process. Here are some of electronic signature software's top benefits.
Complete business faster
Whether you're signing up a new client or performing HR paperwork for a recent hire, e-signature services speed the process along. Agreements are easier to complete. A recipient simply needs to perform a few mouse clicks and the signing is done. This leads to faster document completion rates.
According to DocuSign, up to 82% of agreements are typically completed within a day, allowing new customers or employees to start with your company sooner. Thanks to in-person e-signing capabilities, you can collect digital signatures when meeting with clients.
Save time
Collecting signatures electronically is a time saver. Frequently-used documents saved as templates allow staff to repeatedly use them with minimal preparation time.
After defining recipients, the software takes care of sending documents out for signatures. Follow-up reminders are easily sent with the click of a button, or automated based on your preferences.
Need to present documents for signatures in person? Save time there, too. Use a mobile device to immediately capture and file signed documents on the go.
Boost productivity
E-signing eliminates the onerous manual steps involved in collecting signatures, improving productivity. Your team no longer needs to prepare documents. They just grab a template and send.
Need to know if a document has been signed? Simply check the status in the software. Use the built-in tracking tools to view who signed and who needs a reminder. This affords greater accountability without burdensome processes.
Leverage third-party integrations to further boost productivity. Many of these vendors provide integrations although more advanced options, such as a CRM, require an enterprise account.
View more information: https://www.fool.com/the-blueprint/electronic-signature-software/