SysAid Review 2021: Features, Pricing & More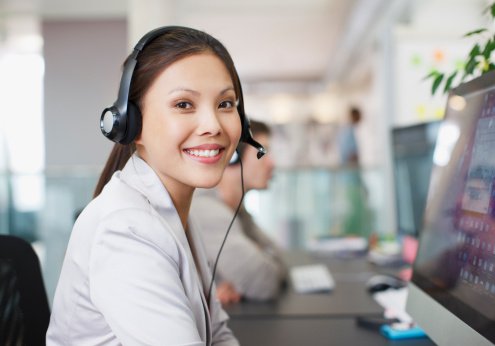 "It just works."
– Steve Jobs, Apple Worldwide Developers Conference (WWDC) 2011 (and he said it multiple times)
Some software vendors preach about a fantastic user experience and some actually deliver on those promises. The way I see it, simplicity and intuitiveness are two of the most important qualities a vendor can build into their software.
It doesn't matter how many features you have, how attractive your user interface is, or how inexpensive your software is, if your users can't understand how to use it. Customers just want the products they buy to work.
This is where

SysAid excels.
---
Who is SysAid for?
Unfortunately, SysAid suffers from the same problem other platforms do that refuse to publicly display their pricing. SysAid offers an easy-to-use platform for users of all experience levels and needs, no doubt about it.
But their pricing concealment makes it difficult for me to pinpoint the size of business they're looking to target. Small businesses? Enterprises? Who knows until one decides to jump into the exciting world of the SysAid sales funnel.
Time is money for businesses, and if you're looking for an IT help desk application, you might not have the time to run through multiple pricing quotes with a software sales team.
It's far easier to gather up the software options in your price range based on advertised rates, try each one out separately, and then make a decision once all of your concerns have been answered by the vendor.
---
SysAid's features
Issue tracking
Issue management: SysAid lets you view, search, update, and interact with issue task cards.
Email to ticket: SysAid will convert issue and request email submissions into support tickets.
Request management: Like issue management, you can create, view, search, update, and interact with IT request task cards.
Asset management
Asset tracking and management: Assets from computers to components can be tracked, managed, and serviced through SysAid.
Asset system web: Visualize your assets and their systems using visual webs that display show their connections to printers, servers, and smartphones.
Service desk
Self-service portal: Lets end users access their own support tickets to track solution progress and check for outages and other updates.
Live chat: Manage all live chats with end users so you can provide quick solutions without relying on the formal ticket submission system.
Content management
Knowledge base management: Manage all support articles and release notes through SysAid.
Monitoring
Reporting and analytics: Track and measure support success through the many reporting and analytics tools offered by SysAid.
Inventory reports: You can build reports on the status of all assets.
Survey reports: Develop reports based on end-user surveys.
Dashboards: Track help desk activity in real time using SysAid's detailed dashboards.
Additional features
Custom request templates: Use standard request templates or create your own custom form to deal with any need or issue in your information technology infrastructure library (ITIL) processes.
Permission controls: Limit who can create, view, update, and delete the information within your systems and asset lists.
---
SysAid's ease of use
Earlier this week when I reviewed ServiceDesk Plus, I remarked how easy it was to learn and use.
Considering the vast number of functions that an IT service management platform performs, I couldn't imagine how much more streamlined the user interface and experience could actually get to provide nearly the same functionality, but SysAid proved me wrong.
Don't mistake me, ServiceDesk Plus is still a very simple platform to use but SysAid takes it a step further with an even more streamlined user experience.
Starting with the main help features, issues and requests, SysAid puts both of these functions under the Service Desk dropdown menu.
Everything a user needs is available in this dropdown menu, from incidents, requests, changes, problems, and activity records to knowledge base articles, and live chat. SysAid employs this easy navigation throughout the platform's functions.
It's this kind of simplicity that separates one software solution from the competition despite similar features, functions, and services. No one wants to spend more time learning their software than actually using it.
I love the way SysAid handles asset management. The asset dashboard gives a detailed asset rundown, including how they are all connected, a list of all incidents and requests, and monitoring alerts so you can stay up to date with any issues in real time.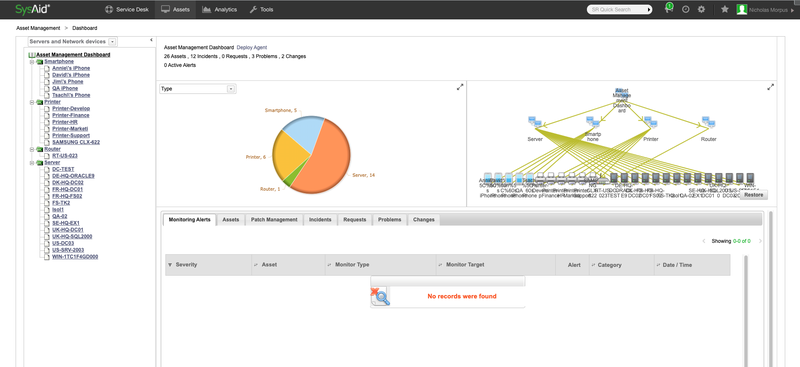 The connection web is fully interactive, so you can visualize how your entire network is connected through computers, servers, printers, WiFi routers, and phones. You can rearrange this web any way you like through a drag-and-drop system. Such personalization allows you to make SysAid your own.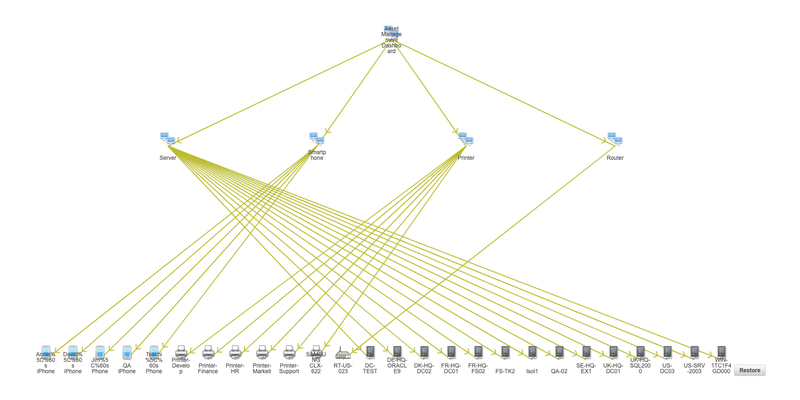 When you need to measure the your IT team's success, SysAid keeps it as simple as the rest of the platform through visually engaging dashboards and pre-built report templates. You choose a report type, set the parameters, and choose your report type (PDF or Excel spreadsheet). SysAid will automatically download the report to your computer.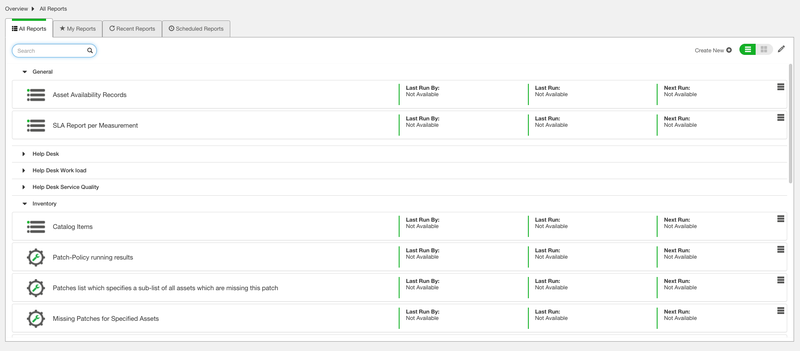 SysAid is one of the simplest platforms I've ever used, considering the substantial features list, across all software types. Anyone could learn to use this platform, and I can't see many users needing additional help with the main functions.
---
SysAid's pricing
This is the second help desk software I've reviewed where the vendor keeps their pricing under wraps, behind a "tailored quote" form.
Once you submit your information, you are already sucked directly into SysAid's marketing funnel, allowing them to contact you and send you marketing materials meant to close a sale. This makes sense from a sales perspective, but gives the consumer no context as to how much other users are charged.
In my experience, software vendors only hide their pricing behind information capture forms because they are worried their expensive pricing structure will scare away potential customers.
While this is not true in every situation, I am skeptical when vendors aren't transparent about their pricing. Other vendors like Zendesk have no issues with showing their rates. I believe SysAid ought to do the same.
---
SysAid's support
SysAid offers a variety of support options that'll cover every need you could possibly have. These support avenues include:
Live chat support
Issue submission forms
Forums
Video knowledge base
Phone support
While the list isn't as long as some other vendors, they do cover the most important bases. I love the effort put into the video knowledge base. It's one thing to tell someone how to fix their problem or learn a system, and it's another to show them how to do it.
---
Benefits of SysAid
SysAid's greatest benefit is its emphasis on a user-friendly experience. When your tool is used to help others solve their problems, it's important your users aren't just as lost as the people they're trying to help.
SysAid succeeds on all counts in this area, providing one of the simplest and most intuitive help desk platforms I've ever used. You won't have to spend hours onboarding new users into this system. After minimal instruction, your IT help desk will be up and running.
The second major benefit is the 30-day free trial period. SysAid spurns the standard two week trial period in favor of a month long window to let you really understand their platform. And I'm sure if you asked, they'd be willing to extend that period if need be.
---
SysAid's developers really raised my expectations for help desk software
SysAid is an example of a well-thought-out solution made for all experience levels. I feel it ranks about average in terms of design appeal, but the developers of SysAid must've gone to great lengths to ensure a quality user experience and that's what really matters. If they can do this, why not other vendors?
View more information: https://www.fool.com/the-blueprint/sysaid-review/