Stripe Payments Review 2021: Features, Pricing & More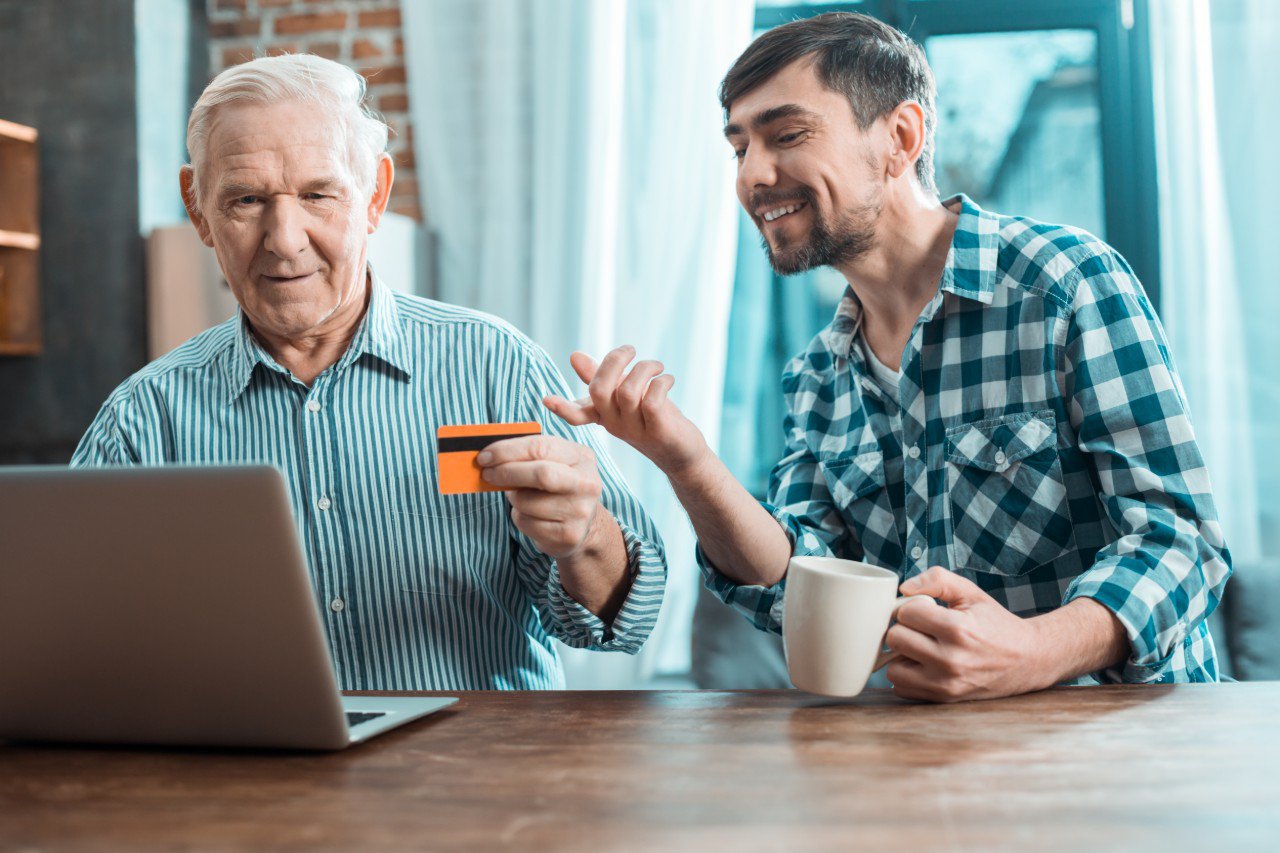 Stripe is a web-based point of sale solution deployed via API within existing sites and apps.

Stripe Payments is the flagship product as well as a catchall for the many subproducts within the Stripe solutions portfolio.
This solution portfolio covers everything from accepting, processing, settling and reconciling, and managing payments and other business needs in the online sales process.
Stripe supports millions of businesses across the world in over 100 countries and most all industries. They're headquartered in San Francisco and have 14 additional offices across the globe.
Continue reading for a full Stripe Payments review. This review will help you determine if Stripe payment processing and its other products are a fit for your business.
---
Who is Stripe Payments for?
Stripe Payments is really designed for developers. It's an incredibly developer-friendly tool, and it requires experienced coders to set up the integrated, and especially customized APIs.
From a developer standpoint, Stripe's APIs are easy to operate and praised for the seamless website and payment integration they provide. That's why leading brands that are good at sales and have a ton to process, such as Target and Lyft, use Stripe Payments.
Of course, these leading brands have loads of developer resources to invest in their seamless integrations.
---
Stripe Payments features
The full feature set of Stripe Payments includes tools for accepting multiple payment options for online and physical sales, tweaking pricing strategies, managing payment gateways, processing payments to optimize revenue and avoid fraud, reporting sales and reconciling payouts, and managing and analyzing business operations.
Here are deep dives on the core solutions within the Stripe Payments feature set.
Online payments
Stripe Payments provides an abundant feature set for online payments through two primary API solutions, Stripe Checkout and Stripe Elements. These APIs integrate into your existing website or app so you can provide customers a seamless checkout experience, which is an essential sales tactic for online businesses.
Stripe Checkout is essentially a microsite hosted by Stripe that you can drop into your site with just a few lines of code. It's optimized dynamically to work across browsers and devices.
Elements provides the same functionality in a more customizable setting so that you can build a checkout page suited to your exact sales management needs.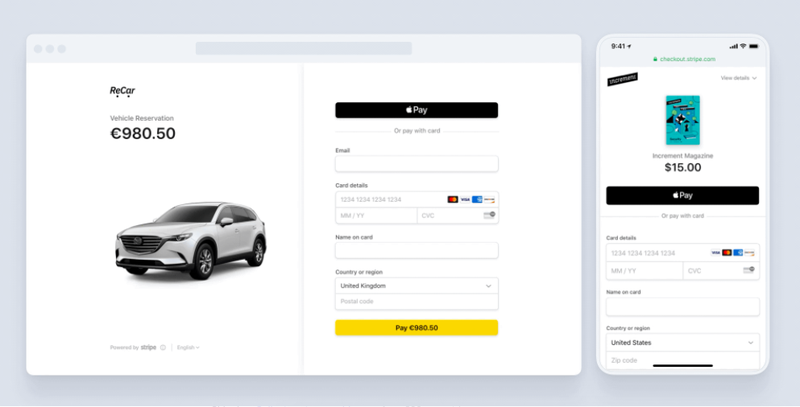 In-person payment processing
While Stripe Payments really excels with their online payment APIs, Stripe Terminal provides in-person payment processing. Stripe Terminal unifies your online and offline sales into one integrated channel.
Terminal is highly customizable, so with the right development resources, you can essentially build your own point-of-sale (POS) system. Common customizations include receipts and splash screens that help close sales with optimized aesthetics.
Stripe Terminal only works with pre-certified card and chip readers that Stripe also provides. This is to ensure evolving encryption protocols are met for Stripe credit card processing, as these readers are updatable via Stripe's remote management tools.
Terminal also provides what are essentially fleet management tools so you can remotely track and manage card readers.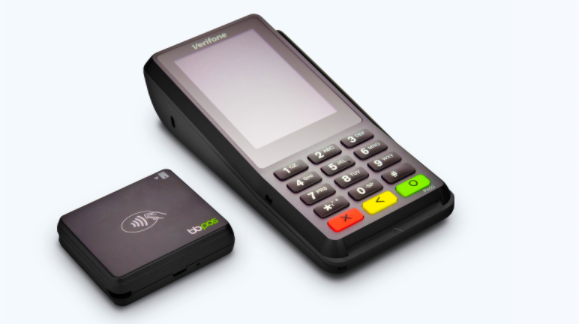 Fraud protection
Stripe offers fraud protection services powered by machine learning. The offering is called Stripe Radar and is included in the standard Stripe Payment transaction fee pricing (2.9% + $.30 pricing).
Stripe Radar uses machine learning developed from transactions of millions of global companies to detect and block fraud. The solution determines fraudulent payments by automatically scoring every transaction based on multiple signals and data points.
While this is all automated and happening in milliseconds, Stripe Radar also provides more manual tools to help you set a risk tolerance that aligns your business with an optimized fraud strategy. You can block known fraudulent IPs as well as payments from known bad actors.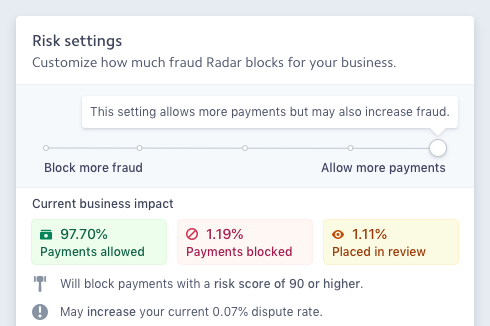 Billing, invoicing, and subscription management
Stripe offers a number of billing and invoicing capabilities. These tools are especially powerful and beneficial for subscription-based businesses, enabling recurring invoices for monthly payments along with invoicing for one-off payments.
Stripe provides alerting capabilities so you can automatically email customers leading up to their next payment as well as notify them if they're late in paying. And with all the payment power of Stripe, you can allow customers to pay invoices with any of the many options Stripe supports.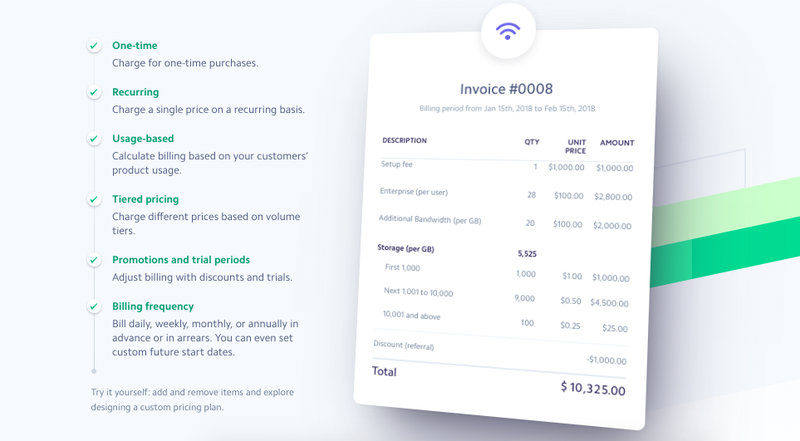 Reporting and analytics
Stripe provides numerous reporting capabilities supporting everything from basic business summaries to fully customized dashboards.
Whether you're simply selling online or on location, managing subscription services, processing purchase orders, or dealing with multiple accounts, Stripe's reporting is designed to support all types of business.
Stripe Dashboard is included in your payment plan. It enables you to view and manage essential business information, such as Stripe transaction data, customer data, and more.
Stripe also offers Stripe Sigma for users in need of more powerful and customizable reporting. Stripe Sigma incurs an additional charge that starts at $0.02/transaction. This solution provides SQL capabilities for quick, customizable reporting.
Stripe Sigma helps users unlock key insights including top-selling items, customer acquisition, and churn rates, and open invoices.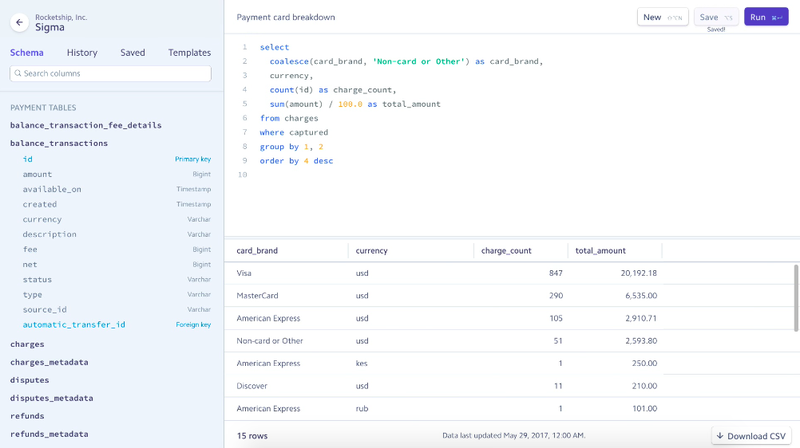 ---
Stripe Payments' ease of use
Stripe Payments requires a certain amount of coding experience or developer resources that other online payment options don't. However, the APIs are easy to integrate and even customize with at least a baseline level of development expertise.
Stripe's many sales and marketing solutions can most definitely help you manage and grow your business. But you need to be very realistic about your coding capabilities and developer resources before embarking on this solution.
---
Stripe Payments' pricing
Stripe Payments works on the same per transaction fee as others in the space, such as PayPal and Square. Stripe fees are the standard processing fee of 2.9% + $0.30 per online credit card transaction. This amount is for standard use of Stripe's pre-built API tools.
Stripe pricing also provides a customizable payment option for developers looking to integrate and customize Stripe's APIs into their business' sites and apps. Stripe offers negotiable rates based on volume amount, multiple products in use, interchange pricing, and country-specific rates.
There's a standard volume fee discount for businesses that have monthly sales of at least $80,000. And Stripe also offers a reduced rate discount of 2.2% + $0.30 to 501c3 nonprofits as well as removing fees on the first $15,000 of sales volume.
---
Stripe Payments' support
Stripe support offers users tons of help. Along with email, phone, and live chat support, Stripe provides a robust catalog of support articles and how-to guides to help with troubleshooting. They also offer resources on API references and client and server libraries.
Users can actually clone sample projects and build from there rather than starting from scratch.
Stripe developers are available for live chats in freenode, a peer-driven project center for members to discuss and share ideas about open source solutions. Stripe also provides developer tutorials on YouTube for all types of issues.
---
Benefits of Stripe Payments
Stripe Payments provides many benefits to users who are equipped with the coding and development requirements.
Benefits of Stripe Payments include:
Reliable and flexible online and in-person payment support
Fully customizable online checkout experience
Online and in-person payment integration
Multiple billing options to support one-off invoices and regular payments for business or consumer subscription services
Card reader encryption, monitoring, and tracking
---
Stripe empowers business growth
Stripe Payments and supporting solutions provide powerful APIs for seamless checkouts and complete business management. Businesses equipped with the necessary development experience should have Stripe Payments at the top of their lists for an online payment solution with in-person capabilities.
Businesses without adequate coding experience and development resources should probably look elsewhere until those skills can be built up in-house.
View more information: https://www.fool.com/the-blueprint/stripe-payments-review/