Stakeholder vs. Shareholder: How Do They Differ?
"Shareholders" and "stakeholders" are two terms within project management that sound similar but have very different meanings. Many people even think they are interchangeable — they're not.
In this guide, we'll uncover those differences and then discuss what can be done to counter negative stakeholder influence on your projects.
---
What is a stakeholder?
A stakeholder is any individual or entity with an interest in how well a company — or project — is doing, as its performance has a direct or indirect effect on them. A company's stakeholders include:
Employees who lose their jobs if the company goes bankrupt
Customers who can no longer avail of products or services if the company stops operating
Suppliers who lose a consistent revenue stream
Lenders who lose money if the company defaults on its financial obligations
Shareholders who lose the money they invested if the company shuts down
Stakeholders also include the community and society in general. So if you're in the manufacturing business, for example, you have to consider the needs of neighboring communities — specifically, how your operations affect their livelihood and quality of life.
Stakeholders can be internal or external:
Internal stakeholder: Any individual or entity with a direct relationship with the company. Examples are owners, employees, investors, managers, the board of directors, etc.
External stakeholder: A person or organization not directly related to the company but is nevertheless affected by its decisions and actions. Examples are customers, end users, creditors, suppliers, the local community, society at large, and government regulators.
In project management, people or entities that can be considered stakeholders include:
Executive committee
Project sponsor
Project leaders (e.g., project manager or scrum master)
Team members
Functional managers
Project consultants
Contractors
Customers
End users
---
What is a shareholder?
A shareholder is an individual or organization that owns shares in a publicly-traded or privately held company and, therefore, has an interest in its profitability. Depending on the types of shares they own, they can receive dividends, vote on corporate policy or amendments, or elect a board of directors.
Although shareholders' decisions can influence the direction a company takes, such as in the case of mergers and acquisitions, shareholders are not responsible for the company's debts.
Shareholders are also known as stockholders, and they're typically categorized as:
Preferred shareholder: Owners of preferred stock usually get no voting rights, so they have no say in the company's future. But they receive a guaranteed annual dividend payment (except under certain circumstances).
Common shareholder: Common stock dividends are variable, not guaranteed, and determined by the board of directors. If a company's assets have to be liquidated, common stockholders are the last to get paid, after creditors and preferred stockholders have gotten their share. But unlike preferred shareholders, they have voting rights, which grants them some level of control over management decisions and corporate policy. More people invest in common stocks than preferred stocks.
---
Stakeholder vs. shareholder: What's the difference?
To further underscore the differences between the two, let's compare and contrast them more closely.
1. Company ownership
Shareholders own part of the business, determined by the number of shares they own. A majority shareholder is an individual or entity owning at least 50% of the company's outstanding shares. Often, these are the company's founders or the founders' descendants.
Stakeholders don't necessarily have shares in the business but have an interest — a stake — in it. Stakeholders sometimes also have shares in the company, as in the case of employee shareholders.
2. Priorities
Shareholders focus mainly on the financial return on their investments, whether in the form of dividends or stock appreciation. Stakeholders focus on the company's overall performance, how it treats customers, partners, and employees, and how it impacts the community, among other things.
3. Long-term vs. short-term need
Shareholders are free to do whatever they please with their shares of stock — they can sell them and buy stocks from another company, even if it's a competitor company. In other words, they may be financially invested in the company, but its overall success isn't always a priority.
Stakeholders are usually in the game for the long haul and have the most desire for a company to succeed, not just in terms of stock performance.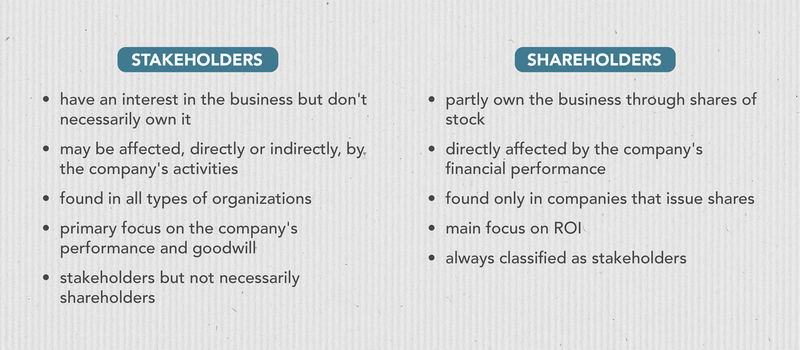 4. Categorization
The stakeholder group is a significantly broader category than shareholders. Shareholders are always stakeholders, but stakeholders aren't necessarily shareholders.
Another important distinction — only companies that issue shares have shareholders, while every organization, big or small, no matter the industry they operate in, have stakeholders.
---
Shareholder theory vs. stakeholder theory
There's an age-old debate among business analysts — some believe that corporations must focus on making more profits, while others think they're bound by duty not only to their shareholders but also to their customers, suppliers, employees, and the community.
These two divergent paths are known as the shareholder and stakeholder theories.
Shareholder theory
Introduced by the economist Milton Friedman in the 1960s, the shareholder theory of capitalism claims that corporations' primary focus is to create wealth for its shareholders. This, however, doesn't mean that companies can do as they please because their practices are still subject to applicable laws.
The shareholder or stockholder theory is also known as the "Friedman doctrine."
Stakeholder theory
The stakeholder theory was first introduced by Dr. R. Edward Freeman, a University of Virginia professor in business administration, via his 1984 book, Strategic Management: A Stakeholder Approach.
It's a business ethics and organizational management theory that maintains that businesses, to be successful, must create value for all of its stakeholders, not just shareholders.
The reasons are clear:
When customers have less or zero need for a company's products or services, earnings take a hit.
When employees are no longer motivated to come to work, companies get less than 100% of their energy, focus, and creativity.
If a business violates the law of the land or puts people's lives in danger in pursuit of bigger profits, the company finds itself fighting off lawsuits and its permits revoked by the regulating agencies.
If a business fails to help financiers, partners, and shareholders make a profit, it loses investors and opportunities for growth.
As far as the stakeholder theory is concerned, for organizations to truly create shareholder value, companies must embrace social responsibility and very carefully consider the needs of all of its stakeholders.
---
How stakeholders and shareholders influence project management
Stakeholders can negatively or positively influence the outcome of a project. Thus, stakeholder management, which involves stakeholder analysis early in the project's life cycle, is necessary to:
Understand various stakeholder needs and expectations
Identify all possible challenges associated with each stakeholder group
Manage stakeholder influence so it doesn't impede project progress
Identifying stakeholder expectations early on, ideally, right before you sit down with your team to write the project proposal, enables you to better assess how much influence each stakeholder group wields over the project.
You can then create a plan and project roadmap that specifically address various stakeholder requirements. Instead of backlash or opposition, you have a better chance of obtaining support for your projects this way.
In the end, you don't want to spend time and resources on a project that's likely to be shut down because of, say, environmentalists lobbying against it because of its potentially negative impact on the environment.
On the shareholder side of the equation, shareholders normally are not involved in the day-to-day operations of a company. But one thing's certain: If there is a financial upside to it, they will want to see a project — or any business activity — succeed.
Project management software for managing stakeholders
Stakeholder management is a process that happens throughout the duration of the project, not just in the beginning stages.
One basic project management principle that today's project managers go by is the use of project management software to keep all relevant documents in one place, such as:
With project management software, you also have a central workspace for updates. Plus, built-in visual timeline tools such as Gantt charts make it easy to get everyone on the same page.
---
Final word on stakeholders and shareholders
Both shareholders and stakeholders are vital to a company's growth. Shareholders provide the funds that allow companies to invest and innovate, while stakeholders have a stake in the company's long-term performance.
Although their primary motivations aren't exactly aligned, the company's success or failure affects both groups one way or the other.
Knowing the differences between the two helps you better understand their needs and expectations, which, ultimately, lets you devise ways to limit negative stakeholder influence on your projects and your company's activities in general.

View more information: https://www.fool.com/the-blueprint/stakeholder-vs-shareholder/