Square POS Review (2021): Features, Pricing & More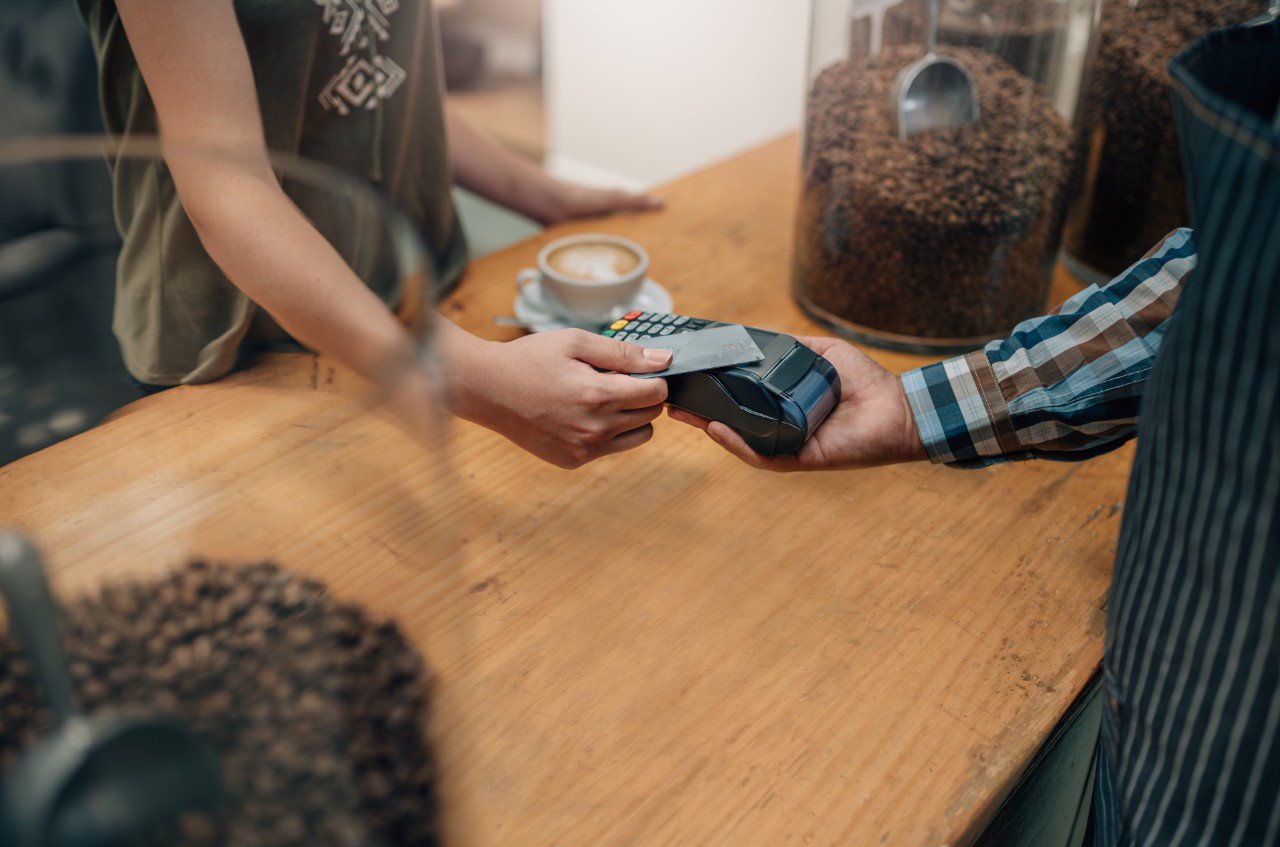 At its core,

Square is a free mobile point-of-sale app designed to process card payments. In reality, Square offers a huge deal more to small and medium sized businesses looking for a payment processing solution.
Square's popularity is in part due to its refusal to charge monthly fees, instead opting to charge a simple processing fee per transaction. This, coupled with a wide range of rich features, and the fact that it operates as a payment service provider, meaning that small business owners don't need to open a separate merchant account, contributes to Square's positive reputation as one of the best-value POS systems in the retail world.
The Square point-of-sale app includes features such as real-time analytics, sales reporting, inventory management, customer relationship tracking, and much more.
---
Who is Square for?
Square is a great option for businesses that are just starting out. The app is free, and doesn't require any investment in hardware. In fact, they provide the first card reader for free. The solution is easily able to help businesses scale up as and when it becomes necessary.
The solution is recommended for businesses who are looking for an inexpensive way to sell anywhere and accept all types of payments. It's a great option for sellers looking to manage everything through one centralized point-of-sale system.
Square's point-of-sale solution supports many types of businesses, from restaurants to coffee shops, and boutiques to farmer's market vendors. It's also a great solution for sellers who don't own a physical storefront — think market stalls and craft fairs — due to its mobile processing functionality.
However, it's worth noting Square does offer its own Square for Retail and Square for Restaurants solutions which offer more specialized and robust features, depending on individual business needs.
---
Square's features
Square is a feature-rich solution with a handful of free and powerful features and reporting options, including some features that aren't typically offered with free POS systems, such as accepting payments in offline mode.
However, larger businesses or those with large amounts of inventory might find that Square's most basic package doesn't deliver everything that they need.
Square's customizable dashboard
Square's dashboard is undoubtedly the POS system's best feature. The dashboard acts as the central hub where users can control everything related to their sales, customers, and teams. It's also fully personalizable, allowing users to see exactly the data they need by easily adding and removing specific widgets via drag and drop.
This is a great feature that allows all types of businesses to customize the solution to their specific needs.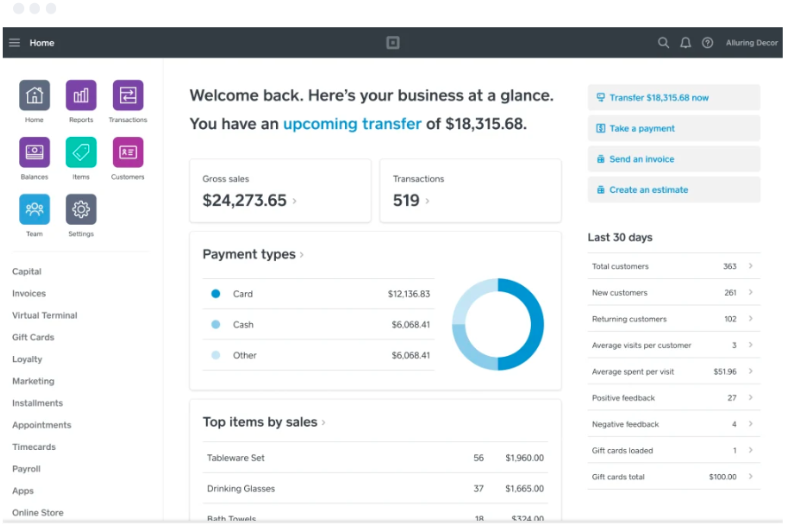 You can use and access the dashboard on any device, and you can track your inventory, real-time analytics, giftcards, marketing efforts, and everything else you need to run a smooth business.
Sales analytics
You don't need to know how to be the best salesman to close a sale, but you do need to know how well your sales and marketing strategies are working, or whether your sales process is up to scratch.
Square's sales analytics feature helps you figure out the what, the where, the when, and the how: who's buying your products, what products customers are buying, and when and where they're buying them. This kind of granular detail can help you adjust your sales tactics and gain real-time insight into how business is going.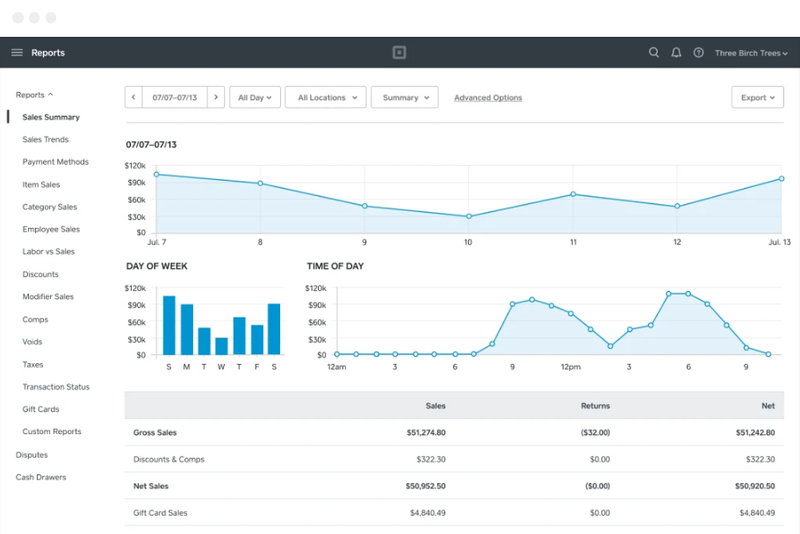 In short, Square can help you figure out what sales management strategies to pursue, whether your pricing strategy is up to scratch, and those areas where you might need to fine-tune your sales techniques.
Inventory management
As one of the most important parts of running a business, you'll need a POS system that can accurately manage your inventory.
Square's basic inventory management features allow you to import existing stock using a CSV spreadsheet, adjust stock levels, and provide reasons, sync your online and in-store inventory, set up low stock alerts, and a whole lot more for a free app.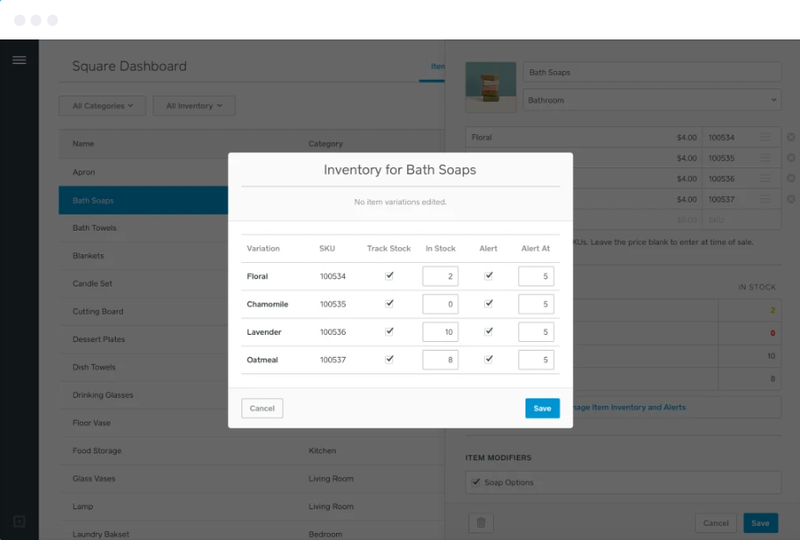 However, if you're running a larger business with a much larger inventory, you'll need to consider upgrading. The basic inventory management feature doesn't offer a search bar, so you'd need to scroll through hundreds of products to find the one you're looking for.
Offline mode
This feature offers a huge advantage to businesses that don't operate out of brick-and-mortar stores 100% of the time. Whether you're at a farmers market or a craft fair, Square's offline mode allows secure swiped card payments when you're not connected to the internet.
Transactions are simply processed automatically once you're reconnected. Even better, there's no extra charge for this feature.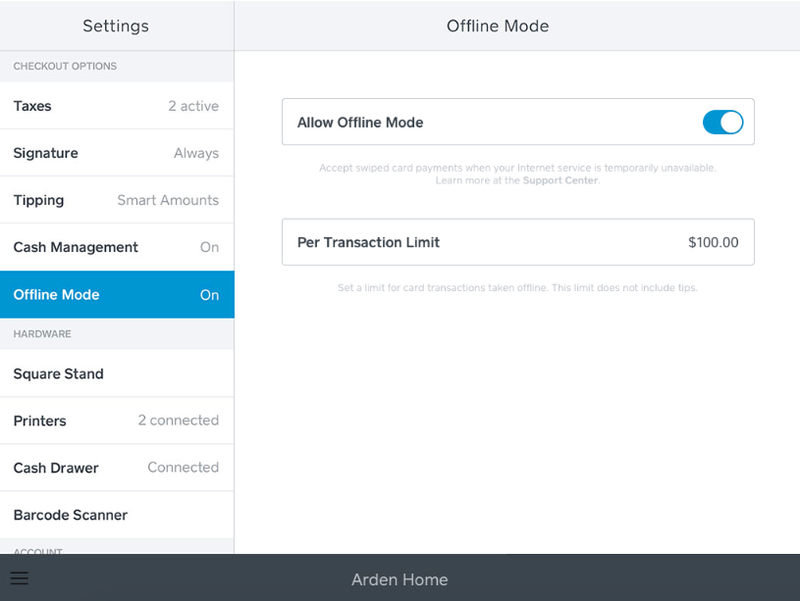 Keep in mind that offline mode only works with magstripe cards that are swiped, and businesses are responsible for the costs of the transaction if the payment doesn't register upon reconnection to the internet.
Customer loyalty
While customer loyalty isn't a feature in the basic package, it does warrant exploring here. While customer acquisition is important, many studies have shown that customer retention is even more important.
Square claims that businesses whose customers have enrolled in their loyalty plans spend 37% more than they did before joining.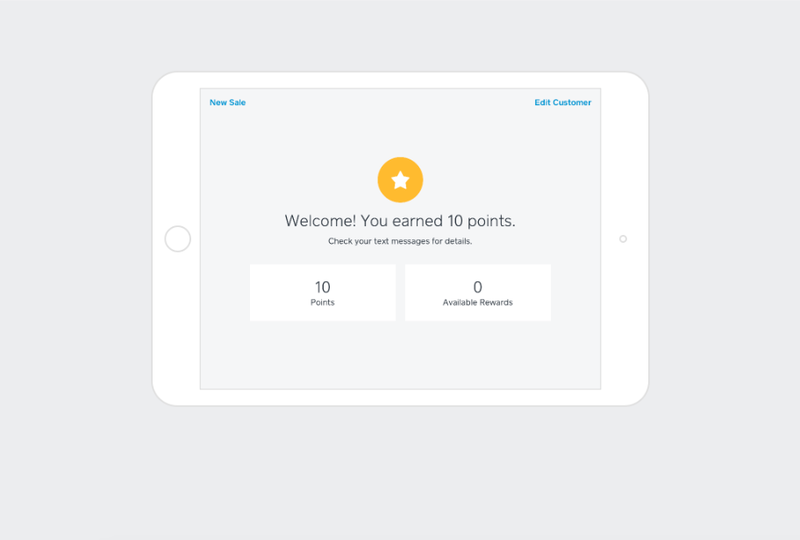 Square's loyalty plans start out at $45 per month, and large customer lists can be imported via a CSV file, and visit levels/spending can be easily adjusted for customer rewards.
The feature also allows you to drill down into what certain customers are buying so that you can target them more directly with offers, and customers can sign up to receive text messages when they've reached their loyalty points rewards, drawing them back to your store.
---
Square's ease of use
Square's dashboard is the pinnacle of the app's simplicity. Everything you need to manage your payments are held and displayed in one sleek, centralized system. Even if you don't have prior experience with a POS system, you'll soon learn to navigate Square's platform with ease.
The dashboard is uncrowded, offers a very user friendly interface, and is fully customizable. Users can switch features around according to their preferences and remove features they don't need to avoid clutter.
---
Square's pricing
Square's pricing model is simple. The app is free, there are no monthly fees, and no monthly minimum processing required.
Each card transaction will cost you a flat rate of 2.6% + $0.10, keyed transactions are charged at 3.5% + $0.15, and online transactions will cost you 2.9% + $0.30. They even throw in your first card reader for free.
The free app includes robust features like inventory management and sales reporting, while also making sure you're covered with payment dispute assistance, chargeback protection, and PCI-compliant software.
However, businesses that typically run with lower ticket values and a higher transaction volume can expect to be more impacted by the 2.6% + $0.10 per transaction charge.
---
Square's support
Square offers multiple customer support options, from an online knowledgebase that houses a vast selection of troubleshooting articles, a community forum, email, and of course phone support. However, it does not offer a live chat option, unlike many of its competitors.
Square's live customer service is only offered from 6a.m. to 6p.m. Pacific Time, from Monday to Friday, which puts businesses at a significant disadvantage if they run into problems at the weekend or after 6p.m.
This is especially true if the issue has the potential to halt sales, and it can't be resolved via Square's other support options.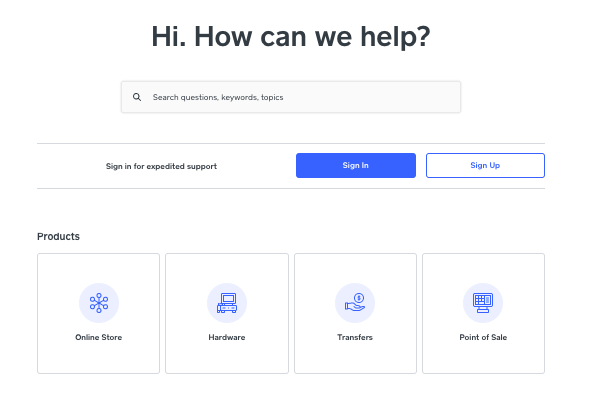 Without live chat or 24/7 phone support, Square's customer support is lacking in comparison to most of its competitors.
---
Benefits of Square
Square's free POS system is an advanced solution without any monthly fees. It's an incredibly intuitive system to use, and is a fantastic option for those who have little to no prior experience with payment processing.
---
Square is a great choice for small businesses looking for a feature-rich POS system on a budget
There's really not a whole lot to complain about when it comes to

Square's POS solution. It's an all rounder in terms of its features robustness and great value, and its incredibly user-friendly design.
Add in its affordable hardware options, and the fact that they don't charge monthly fees or tie you into a contract, Square is a great choice for small to mid-size businesses who are looking for an inexpensive yet reliable POS system.
View more information: https://www.fool.com/the-blueprint/square-review/