Spyfu Review 2021: Features, Pricing & More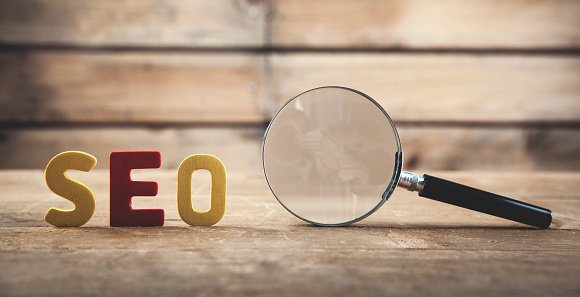 As its name strongly hints,

SpyFu is built for competitive intelligence. Its core features will help you understand what drives your competitors' performance, which will directly feed into your own strategy. SpyFu still performs well in this regard, but do its newer features offer enough to recommend it as an all-in-one SEO solution?
---
Who is SpyFu for?
SpyFu pitches itself as an in-depth tool for domain and keyword analysis, without the overwhelming dashboards full of data. It is a great option for smaller businesses that want to focus on those core metrics that will get them onto page one of Google.
SpyFu is also excellent for bigger brands that want a snapshot of competitor activity. The availability of historical data is a real bonus in this regard. For these larger businesses, it is likely that SpyFu will serve as a complement to a more complete suite of SEO tools.
---
SpyFu's features
SpyFu contains a variety of strategic tools for both SEO and PPC. It does contain some effective backlink tools, but does not cover technical SEO or content marketing.

Domain overview
The domain overview screen is the jumping-off point for further analysis in SpyFu. From this interface, you can identify the trends that you want to analyze in further detail.
Once you enter a domain name in the search bar at the top of the screen, SpyFu will report back on dozens of metrics. These include:
The number of keywords this domain currently ranks for on Google, through SEO and PPC
Keywords that have recently dropped off page one of Google for this domain
The biggest competitors for this brand in SEO and PPC
The number of inbound links for your selected domain
Click on any of these metrics and you can delve into the minutiae on the next screen.
The domain overview feature on SpyFu reflects both the strengths and weaknesses of this platform.
There is no shortage of data on display here and it can be highly illuminating, but users must manipulate and assess the numbers to gain this insight. Other platforms are easier to use, although they often lack this variety of data.
SpyFu also focuses on external performance metrics. It does not crawl websites to measure their technical SEO health, for example. SpyFu begins with the symptoms (ranking positions) and invites the user to piece together the causes. This may mean you'll want to pair this tool with a specialist technical SEO crawler to view the full picture.
Keyword analysis
The keyword research tool in SpyFu is powerful enough to compete with rival SEO tools, and it has a few proprietary features that make it stand out from the field.
The inclusion of historical data for all subscription plans is a huge bonus. Bearing in mind the volatility of SEO ranking positions, it is very welcome to see this longer-term perspective. There are also handy filters to view only those keywords that have recently increased or decreased in ranking position, so you can take immediate action.

SpyFu's keyword finder makes great use of competitor data to locate new, valuable keywords to target.
The metrics available for competitors include a calculation of the traffic these sites receive from their current keyword rankings.
For example, if a competitor ranks for a total of 100,000 keywords, SpyFu estimates the number of clicks those rankings receive each month. It also applies a monetary value to these SEO visits by estimating how much the site would have paid for the same clicks through paid search.
This can be great from an SEO point of view, as it helps senior leaders understand the significant benefits of organic search marketing. When asking for an increased SEO budget, figures like these are endlessly useful.
Users should also keep in mind that these calculations are inevitably rough, however.
On its help center, SpyFu does state, "Realistically, these days, you can expect our roll-up estimates like Ad Budget and SEO clicks to be accurate about 90% of the time." Personal experience would put this figure lower, so users should keep that caveat in mind when using this data.
There are other strategic aids in the SpyFu keyword tool, including the Kombat feature. This will allow you to pit three domains against each other to pinpoint areas where your brand is missing out. You can then track these keywords to monitor your improvement over time.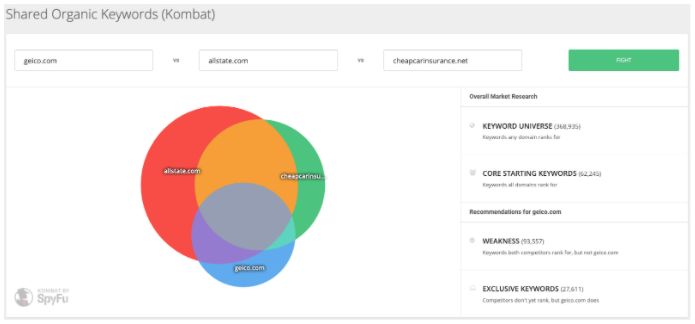 Backlinks analysis
SpyFu has historically focused on keyword and competitor analysis, but it does contain highly effective backlinks analysis tools too.
The process is simple and intuitive, leading from initial backlink import through to blogger outreach. You can enter a target keyword for your domain, compare backlinks with competitors, and identify the reasons your site is falling behind.
From here, you can start to build those same links. SpyFu has a neat feature that extracts contact details for targeted sites, so you can save time on pulling these details manually. You can also leave notes and a score for the importance of each potential link. Think of it as the classic spreadsheet for blogger outreach with a much-needed facelift.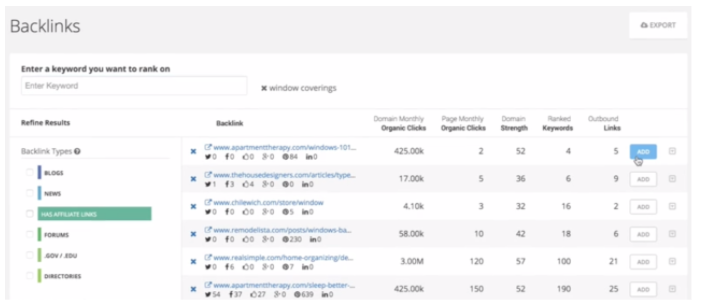 There are over 103 million domains in the SpyFu link index and over seven billion results, which is sufficient for a snapshot of the overall picture. It is worth noting that these figures are significantly lower than those quoted by SEMrush and Ahrefs.
Yet, SpyFu does provide the tools most marketers will need for backlinks analysis, at a lower price.
---
SpyFu's ease of use
The SpyFu interface is easy to use, typically requiring no more than a domain name to spring into action. The layout is digestible at a glance and users can zero in on any metric by clicking on it.
That said, the design lacks the polish of larger rivals and the setup process offers limited assistance. SpyFu is a straightforward tactical tool, but does not offer the same comprehensive SEO management as other software suites.
---
SpyFu's pricing
The cheapest SpyFu package compares well with the lowest-tier options available from similar SEO software solutions. The Basic plan is $39/month and, as the SpyFu site makes clear throughout, this offers unlimited access to search data.
That is a major selling point when set against the likes of SEMrush, and SpyFu knows it.
At the Professional level, which is $79/month, users gain access to more reporting options and the SpyFu API.
The most expensive package, the Team plan at $299/month, provides up to five user logins and a significant increase in the number of keywords users can track.
There are also sizable discounts available at the moment for users that sign up for an annual plan.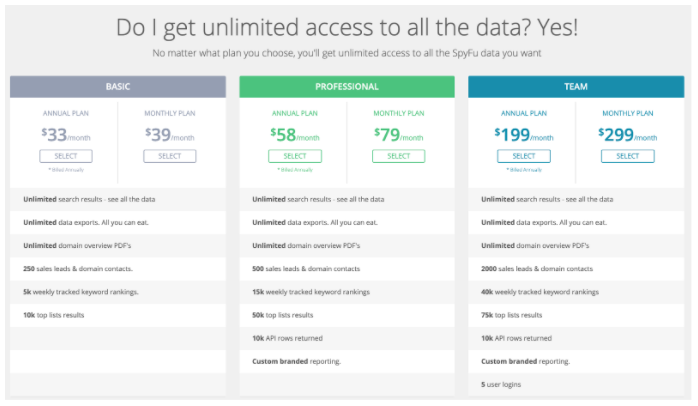 There is also a modified free version of SpyFu. Its features are limited, but it is ideal for a no-cost, no-risk trial, should you wish to try before you buy.
---
SpyFu's support
The essential features are all here, from phone support (6 a.m. to 5 p.m. Monday through Friday) to live chat and email. Response times are typically within 24 hours, too.
SpyFu's training is limited when compared to SEMrush or Ahrefs. There are handy tutorials on the site and the blog has in-depth guides for key features, but you will find much more varied resources on other SEO tools.
---
Benefits of SpyFu
The benefits of SpyFu are clear. It is a fantastic tool for competitor analysis and it provides a unique perspective on the SEO marketing landscape. The insights you take from this tool can influence everything from search marketing spend to your broader brand strategy.
---
A superb tool for spying on competitors
SpyFu has evolved from a competitor analysis platform to a more comprehensive set of SEO tools. Its core strength still lies in domain analysis, however, and its link analysis capabilities lag behind those of Ahrefs or SEMrush. SpyFu also lacks the content marketing and technical SEO tools to recommend it as an all-in-one solution.
Nonetheless, SpyFu does offer enough data and proprietary metrics to make it a worthy addition to any SEO's tool kit.
View more information: https://www.fool.com/the-blueprint/spyfu-review/