Sprout Social vs. Hootsuite: Which is Better in 2021?
I was glad when we decided to finally do an official comparison between

Hootsuite and

Sprout Social. While I have plenty of experience with many social media management tools from Buffer to Tweepi, Social Sprout and Hootsuite are my two most frequented platforms in my line of work.
While I have more official experience with Hootsuite, over the past year, in the workplace, I've opted for Social Sprout whenever I can and for managing personal social media projects.
Both platforms will help you schedule Facebook posts, reply to messages, and analyze your social audiences, but one is superior to the other. So here it is, the Sprout Social vs. Hootsuite showdown we've all been waiting for.
---
Sprout Social vs. Hootsuite: An overview
Who is Sprout Social for?
Sprout Social is a fantastic option for medium to large businesses with several social accounts per platform and multiple users within a social media management team. With social network management, posting, and reporting features, Sprout Social is one of the best options you can choose.
Sprout Social appeals to many businesses and users, but its pricing shuts some out. This platform starts at an astounding $99/month per user, with each subsequent tier becoming even more expensive.
While its functionality, user-friendliness, and intuitive design are exceptional, this prohibitive pricing places it into a near-enterprise level of expensive.
Who is Hootsuite for?
Hootsuite's variety of features, integrations, publishing tools, and even its pricing makes it a good all-around social media management software for businesses and users of all types. And the strongest of those points is Hootsuite's pricing.
Not only are all tiers relatively affordable considering everything that comes with the platform, but they even offer a free option with limited functionality for those starting in social media management.
---
Sprout Social vs. Hootsuite: Features
Features are arguably one of the most important topics in any platform comparison. Which social media management tool has the best features to execute your marketing campaigns?
What Sprout Social offers
Social Sprout is a comprehensive social media management platform that can do nearly everything you need it to do. Whether you need posting campaign scheduling weeks in advance or you're looking to perform a deep social media audit providing in-depth analytics, Social Sprout has you covered.
The Sprout Social dashboard gives you a rundown of all of the major components of your social media campaigns, from a posting to-do list and channel messages to daily engagement rates and today's posts.
It's the perfect first step to get you up to speed with everything you'll be working on throughout the day.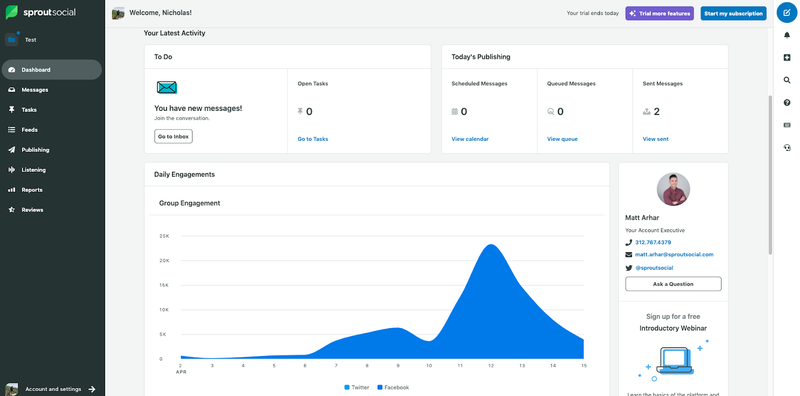 Moving beyond the dashboard, you'll find a host of other tools from simple publishing mechanisms to a detailed Sprout Social calendar to schedule and monitor your social feeds far in advance.
I particularly love the clarity of Sprout Social's implementation of the social media content calendar, especially when compared to Hootsuite's more cluttered social dashboards for tracking posts.
While Sprout Social provides post automation, team workflows for organizing your social media efforts, and even an internal inbox for coordinating your marketing plan from, social listening is where it shines.
Not only can you monitor your own analytics to plan out a successful campaign, but you also get in-depth insight into everything your audience is talking about.
These social listening tools will gather information from social posts relevant to your topics and industry and develop reports on new trends you should tailor your messaging around.
What Hootsuite offers
Hootsuite offers the usual features you'd expect from a social media management tool: post sharing, feed monitoring, team management, post scheduling, and social analytics.
I've used Hootsuite with some of my marketing contract jobs and found I'm able to do everything I need to execute a comprehensive social media marketing strategy.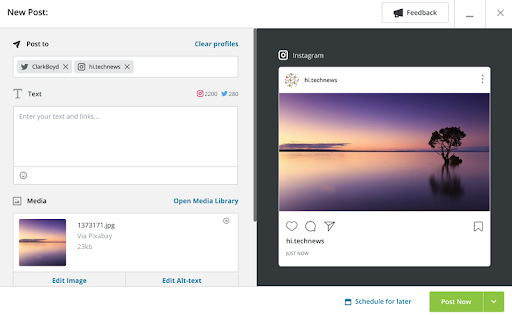 The one area where I feel Hootsuite could see some improvement is in the social media analytics department. I've had trouble locating the metrics I need in Hootsuite reporting, especially when connected to platforms like YouTube, if the data is populated into the analytics reports at all.
I've had to turn to the native social analytics dashboards sometimes, which is a little frustrating when you're paying money for a platform to manage all of your social accounts in one place.
Results
While there are similarities in the features lists between these two platforms, Sprout Social edges out Hootsuite with additional social listening capabilities and higher quality analytics reports.
---
Sprout Social vs. Hootsuite: Support
When the going gets rough, which platform will offer you the support you need to solve your problems and answer your questions?
What Sprout Social offers
Sprout Social offers the support options you'd expect from a software developer, including a phone support number, email queries, webinars, Q&A sessions, and a platform knowledge base.
With this level of support, you can either submit issues or find answers to your questions no matter the level of urgency. Sprout Social support even answers their customer's questions through their social channels if necessary which is convenient.
What Hootsuite offers
Hootsuite offers three distinct types of customer support. Unfortunately, none of these support routes come in a traditional phone option, but that doesn't mean you can't find answers to your questions.
The first and most basic form of support is the built-in feedback button in the application itself. This button allows you to send your feedback into Hootsuite, with a 500 character limit, detailing your thoughts about the platform.
The second form is the knowledge base complete with support articles for many platform questions. The final form of support is the support ticket form found in the help section of the Hootsuite website. Using this ticket system you can create and track your issues with the support team all in one place.
Results
Sprout Social takes the win for customer support. While Hootsuite offers a satisfactory level of support for its customers, it's hard to beat the numerous options offered by Sprout Social.
---
Sprout Social vs. Hootsuite: Ease of use
Features and integrations don't count for much if the tool you're using is complicated, impractical, and difficult to use. Which social marketing tool is easier to use?
What Sprout Social offers
Sprout Social is one of the most intuitive and user-friendly social media management tools I've ever used. Nothing is hard to find, bugs are practically nonexistent, and the reporting capabilities are easy to use and understand.

Enterprise-level software is often burdened with a preconceived stigma for being complicated. Not so Sprout Social. It upends this notion through easy to locate features, pre-built social analytics reports, and pre-populated, automated social responses for your account inboxes.
This is a social media management tool meant for bigger businesses with the simple functionality of a tool meant for everyone.
What Hootsuite offers
You'd think Hootsuite was a simple tool just by reading through the features lists and clean website, but there's more to this platform than meets the eye. That's not to say Hootsuite is difficult to use, but it's not as intuitive as Sprout Social.
On top of that, in my experience, Hootsuite is buggy and slow at times which is frustrating when I have other tasks on my plate to deal with outside of disconnecting and reconnecting social profiles when they won't load into the tool.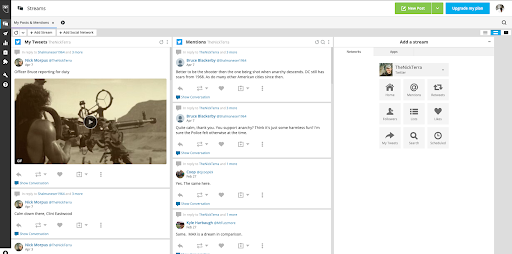 Navigating Hootsuite is simple with all of your functions and tools on the left-hand sidebar. This platform only suffers from clutter issues in the dashboard and those occasional bugs that might frustrate the user at times.
And who knows, it's possible some of these bugs originate from the social networks themselves (I'm clearly not a software developer). And that I've never had these issues with Sprout Social speaks to some issues that need to be ironed out to improve the Hootsuite experience.
Results
While Hootsuite provides a decent experience for most users, ease of use is one area where Sprout Social excels, making it the superior tool in this category.
---
Sprout Social vs. Hootsuite: Pricing
Unless your software choice fits within your budget, it doesn't matter how functional it is. How do Sprout Social and Hootsuite stack up for pricing?
What Sprout Social offers
This is the one area where Sprout Social falls short of being the perfect social media management tool. While it's true that you get what you pay for, I'm not 100% sure the price of Sprout Social is justified. At least not to this degree:
Standard – $99/month per user: Five social profiles, all-in-one social inbox, publishing tools, content calendar, profile monitoring, keyword monitoring, social CRM tools, comprehensive reporting, paid promotion tools, mobile apps
Professional – $149/month per user: Above features, plus 10 social profiles, competition reports, content tagging, custom workflows, optimal post scheduling, response rate reports, time analysis reports, trend analysis reports, paid social reporting, Helpdesk integration
Advanced – $249/ month per user: Above features, plus 10 social profiles, message spike alerts, digital asset library, chatbot automation, suggested replies, automated inbox rule builder, custom URL tracking, Twitter surveys
Don't get me wrong, I am very impressed with what Sprout Social offers. But I'm not entirely sure that an asset library, custom URL tracking, and Twitter surveys are worth the additional $150/month per user over the already expensive Standard option.
It's not very often I label software pricing as "excessive", but in this case, I think that term fits the bill.
What Hootsuite offers
On the other hand, Hootsuite is more reasonable with its pricing when compared to Sprout Social. Starting off, Hootsuite actually offers a free option that allows you to connect three social profiles and grants you the ability to schedule out thirty posts per month.
Once you've grown out of that free option, the paid tiers start off at the low price of $29/month which gives you more features, although it still limits you to one user just like the free option.
That being said, the price does go up substantially once you move into the higher-featured options Hootsuite offers:
Free – 3 social profiles, 1 user, 30 scheduled posts per month
Professional – $29 per month: 10 social profiles, 1 user, unlimited scheduling, social analytics, bulk scheduling, unlimited RSS integrations, $500 per month ad spend limit
Team – $129/month: 20 social profiles, unlimited scheduling, 3 users, custom analytics reports, team assignments, 1 custom branded URL, 1 Hootsuite platform certification, $2,000/month ad spend limit
Business – $599/month: 35 social profiles, unlimited scheduling, up to 10 users, analytics exporting, publishing approvals, app integrations, custom branded URLs, 1 social media certification, extended training, $5,000/month ad spend limit
Enterprise – Negotiated with user: Custom built solution
While the price does go up substantially once you graduate beyond the Professional tier, it is still much cheaper when juxtaposed with Sprout Social on a per-user basis.
Results
Hootsuite pricing wins on practically every level. There are just too many things going for Hootsuite that make Sprout Social's pricing seem excessive by comparison, such as Hootsuite's free option or the per-user cost of each platform.
---
Sprout Social vs. Hootsuite: Integration with other software
It's a fact, all social management tools require integrations to succeed in posting, scheduling, and analyzing your marketing efforts. So, the question becomes, which platform gives you a longer list of options?
What Sprout Social offers
Sprout Social integrates with plenty of big-name tools and all of the major social networks, including:
Social
Facebook
Twitter
Instagram
LinkedIn
Pinterest
YouTube
Google My Business
Trip Advisor
Tools
Zendesk
Bitly
Google Analytics
UserVoice
Feedly
Hubspot
Dropbox
Google Drive
What Hootsuite offers
Hootsuite shines with its long list of social network integrations, apps, and software partnerships, including:
Social
Facebook
Twitter
Instagram
YouTube
LinkedIn
Pinterest
Google My Business
Tools
Hootsuite has so many integrations to offer for marketing, collaboration, and analytics needs.
Results
It's a tie! Both tools integrated with a lot of social networks and their list of outside integrations is extensive.
---
Sprout Social vs. Hootsuite: Getting started
What's the onboarding process for both contenders, and which platform will have you up and running with the fewest headaches and delays?
What Sprout Social offers
The startup process for Sprout Social was a breeze. I had only to enter my email and other pertinent information and I was granted access to the tool in less than five minutes. The setup process for integrating my social networks was especially easy, and I loaded all of my social posts and data within minutes.
It's refreshing to have a startup process that doesn't require a whole tutorial just to understand basic functions.
What Hootsuite offers
While the startup process for Hootsuite was similar to Sprout Social in terms of entering information and starting a new account, the social network integration process was less than ideal in my experience.
This is not the first time I've set up a Hootsuite account and every time, I've had only problems trying to connect my social networks, particularly Facebook. If I could connect everything up to Hootsuite without errors or slow loading times, this process would be simple in theory.
Results
Sprout Social has a smoother onboarding process that runs without error or delay. The difference is more driven by user experience than by the steps of the process itself.
---
How They Compare: Sprout Social vs. Hootsuite

View more information: https://www.fool.com/the-blueprint/sprout-social-vs-hootsuite/