Sprout Social vs. Buffer: Which is Better in 2021?
Sprout Social and

Buffer are both recognized as leading social media management tools, with the client lists to prove it. They are both impressive in their own right and will figure in any company's review of social media marketing platforms.
It is difficult to pick an all-out "winner" that will be best for a business of any size. Instead, we will aim to highlight the different strengths of each platform, plus a couple of areas where they fall short.
These strengths and weaknesses will matter more to some businesses than others, so it is worth considering your requirements before making a decision.
---
Sprout Social vs. Buffer: An overview
We begin our comparison with an overview of the target market for each social media management tool.
Who is Sprout Social for?
Sprout Social is great for medium and large businesses that want a comprehensive suite of features in their social media management tool.
It contains all the basic capabilities you would expect from an enterprise marketing technology, including some very effective workflow tools. Sprout Social truly excels at the more advanced end of the market, however.
It offers chatbot creation, social listening, and trend monitoring tools to help businesses gain that extra competitive advantage.
This all comes at a cost, of course. Businesses with a limited set of requirements for social media management may find better value in an alternative such as Buffer.
Who is Buffer for?
As we noted in our Buffer review, Buffer is fantastic for smaller social media teams that want a feature-packed tool that is easy to use.
Growing businesses will find a lot to like here, especially if they are looking for a free tool to get started. The entry-level package offers everything you need to start building a social media following, including automated post scheduling.
---
Sprout Social vs. Buffer: Features
Social media management entails dozens of daily tasks, spread out across a number of team members. You want to make sure your chosen technology makes those tasks easier, not more difficult.
What Sprout Social offers
The focal point of the Sprout Social interface is the Smart Inbox, which brings together incoming messages from all social networks into one feed.
This is certainly not the flashiest feature in this tool, but it is helpful for community management and reflects Sprout Social's ability to simplify the complexity of social media.
Beyond these core features, you will find a host of advanced tools in Sprout Social. It boasts reporting templates, chatbot development, and fantastic tools for identifying new content trends. The latter is truly helpful when trying to generate content ideas that can be turned around quickly and launched with impact.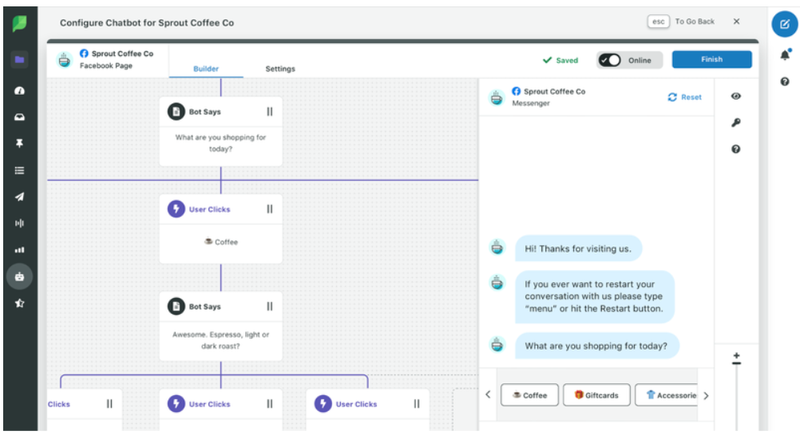 What Buffer offers
Buffer now contains three different products, which can be purchased separately. This is a novel approach, but it does add a layer of complexity.
Let's break the features down into those three core products.
Buffer Publish: For publishing content, scheduling posts in advance, and managing your social media content calendar. Buffer Publish also contains the excellent Pablo tool, which helps create new content for social media posts.
Buffer Reply: For social listening, assigning tasks to team members, and community management. Buffer Reply is great for Twitter analysis, but features are limited for Instagram.
Buffer Analyze: For performance reporting, marketing insights, and data analysis. This part of the Buffer product suite has lots of potential, but is less developed than the other two as it stands.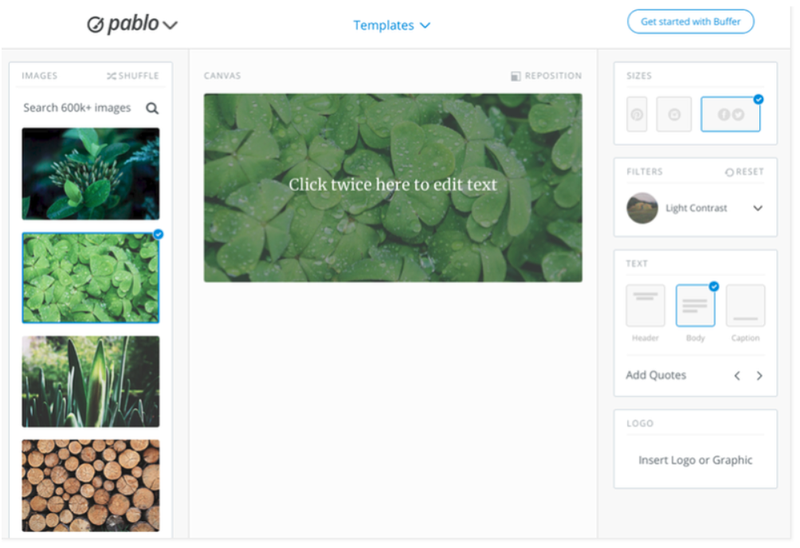 We can also shed light on Buffer's features by stating those it lacks, since the full list of available features is so extensive.
Buffer's reporting capabilities are limited, in comparison to Sprout Social. Buffer analytics is fine for assessing your own posts, but it will not provide broader analysis of what works for each social network.
Buffer also lacks the social listening, trend analysis, and influencer identification tools you will find in Sprout Social. This is a functional and highly intuitive platform, rather than a high-level strategic tool.
Results
Sprout Social wins this one, both on sheer quantity of features and on quality. For enterprise social media strategy, it has everything you need.
Buffer is improving all the time and is no slouch in this department, but it cannot match up to Sprout Social yet.
---
Sprout Social vs. Buffer: Support
With complex technologies like these, you are likely to need support at some stage. Which option fares best in this all-important category?
What Sprout Social offers
Sprout Social offers training for all users, while larger customers will be allocated a representative to help tailor their training program.
The self-serve help center is excellent, offering recorded webinars and Q&A boards. The Sprout Social blog is popular with customers and non-customers, too.
Sprout Social has phone number you can call with any pressing questions, although contacting the company's Twitter account is usually a reliable way to get a quick reply. Technical issue forms are available too, should you need to raise a ticket with the development team.
What Buffer offers
Buffer business customers will find their support options rather restricted. Phone support is not available and there are only a few training resources on the platform.
It is possible to contact Buffer for support via email or on their social media channels, Facebook and Twitter. Both of these options are reliable, from past experience.
Results
Sprout Social wins this one, for sure. It provides a variety of support channels, all of which are accessible at short notice.
Buffer's email and social media support are good, but it does not offer the same level of support as Sprout Social for training or phone contact.
---
Sprout Social vs. Buffer: Ease of use
There is little point paying for all those fancy features if you can't get the most out of them. So, does Sprout Social or Buffer offer the greatest ease of use?
What Sprout Social offers
Sprout Social offers handy pieces of advice to get new users up to speed. It has a slick interface and it walks you through the core features you will need to set up a social media campaign.
Beyond these basic features, Sprout Social is of course more complex to handle. The layouts are always approachable, but the analytics tools naturally need more attention if you hope to take full advantage of their potential.
Overall, Sprout Social is impressively welcoming for such an advanced technology.
What Buffer offers
Buffer is our overall winner in this category across all social media management tools, so it should be no surprise that it fares well again here.
The interface is straightforward, without being spartan.The product names (Publish, Reply, and Analyze) also make clear that this platform helps users get things done. It is no exaggeration to say you can get started with Buffer in a matter of seconds.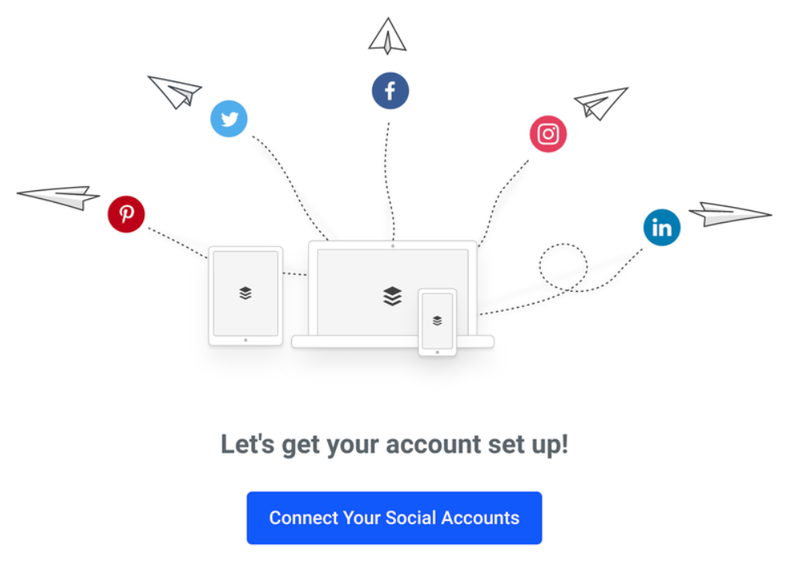 Results
Buffer wins this one. Sprout Social is a strong performer, but Buffer is the standout in this field.
---
Sprout Social vs. Buffer: Pricing
Marketing technologies have a reputation for complex and opaque pricing. Below, we'll break down what you get for your money with Sprout Social and Buffer.
What Sprout Social offers
Sprout Social pricing follows the industry convention of displaying three package options: Standard, Professional, and Advanced. There is also a free 30-day trial available for each of these packages.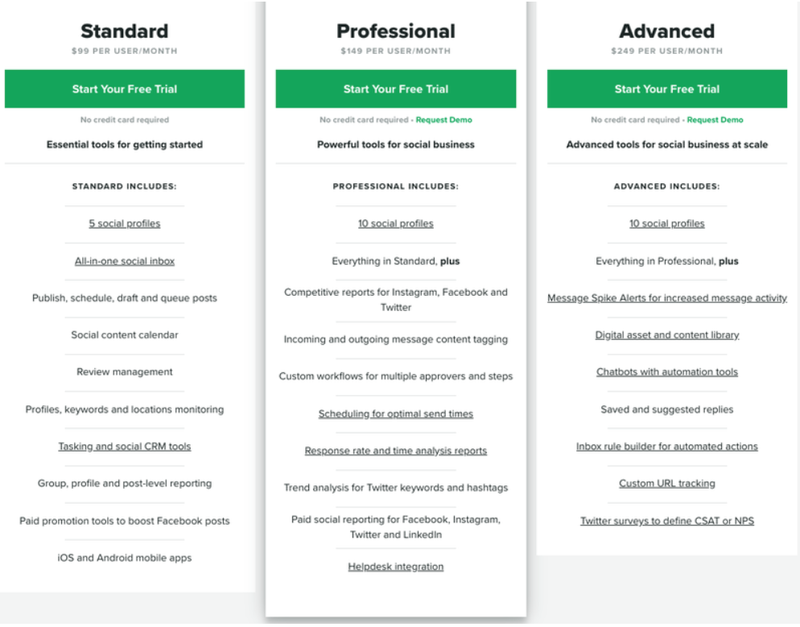 The Standard option, at $99/month per user, offers all the basics, including a social media posting schedule and content calendar.
The next package level, the Professional option at $149/month per user, is not as immediately clear as it could be in the layout displayed above. For the extra $50/month per user, you gain access to paid social reporting, additional social profiles, custom workflows, and a number of other handy upgrades.
The Advanced package, at a hefty $249/month per user, adds automation tools, customer surveys, and chatbots to the subscription. It would be great to see these features grouped together in a format that helps the user understand the distinctions more readily.
At the higher end of the scale, it is easy to see how a Sprout Social subscription could add up very quickly for larger social media teams.
What Buffer offers
Buffer pricing takes a slightly different approach. Unfortunately, it is also a more complex approach. There are three pricing options (Pro, Premium, and Business), within the first Buffer product, Publish.
Within the Reply and Analyze products, there are two pricing options: Pro and Business. So, you will need to decide which of these price points you want to go for, within each individual product.
This has no doubt been conceived to make it easier for the user to pick and choose, but it tends to add confusion instead.
The lack of consistency is another hindrance to understanding. For example, some packages require you to pay for each individual user you add to the account, while others do not. This makes it more difficult to understand just exactly what you are paying for, and how much you will need to pay to add more users later.
On the positive side, Buffer does a better job than Sprout Social of simplifying the additional features each upgrade provides. The entry-level price points are also very approachable, beginning at just $12/month for one user on the Publish product.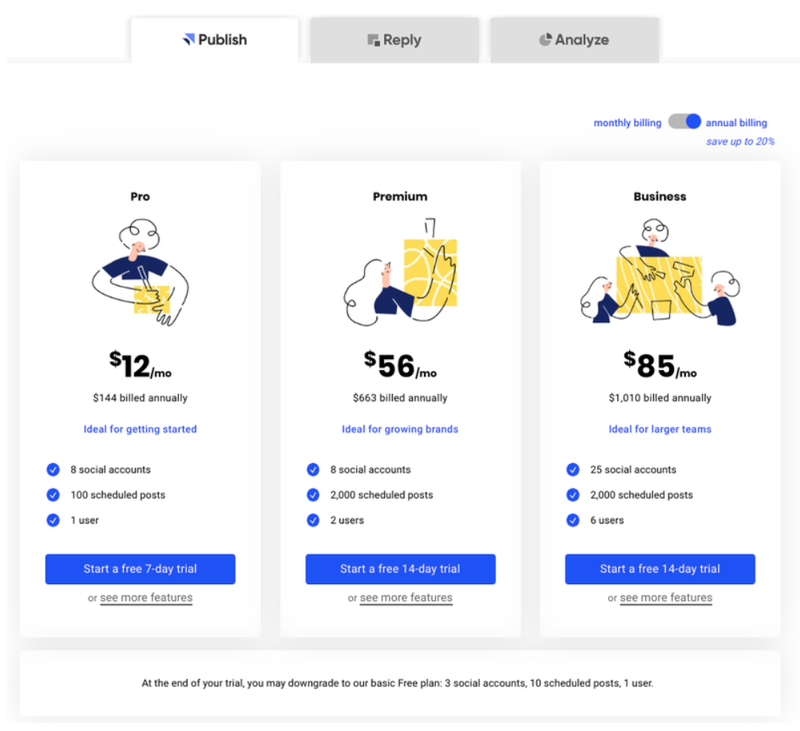 We should call out the Buffer free plan, available for one user. Impressively, it provides enough basic features to get a consultant up and running.
Results
Neither truly excels but we will give this category to Sprout Social — by a whisker. While Buffer offers benefits to smaller businesses, the pricing gets unwieldy for those with more complex needs.
---
Sprout Social vs. Buffer: Integration with other software
Social media management is important, but it is not the only technology your marketing team will use. You will want to ensure that your new technology can work seamlessly with your existing set of tools.
What Sprout Social offers
Sprout Social offers integration with Zendesk and HubSpot Service Hub, within the Professional and Advanced subscription packages. You can also access the Sprout Social API, for an additional fee.
What Buffer offers
Buffer is superb in this field. It offers a wide variety of integrations, including WordPress, IFTTT, and Zapier.
If you are looking for a dependable social media management platform that will connect to your other marketing software, Buffer is a great option.
Results
Buffer, without a doubt. Sprout Social has a small number of relevant integrations, but Buffer can boast a much wider range of possibilities.

View more information: https://www.fool.com/the-blueprint/sprout-social-vs-buffer/