Spiceworks Review 2021: Features, Pricing & More
Are you tired of having emails requesting support sent to your IT department and falling through the cracks? At the same time, you're probably leery of potentially paying hundreds or thousands of dollars every month for a comprehensive service desk solution.
If so,

Spiceworks help desk software could be the answer. It's totally free, and what you get is stripped-down IT service management. We'll go over its features and limitations below to help you determine if it's a fit for your needs.
---
Who is Spiceworks for?
Spiceworks is not a software developer per se; instead, its primary focus is an online community of approximately six million IT professionals and 3,000 vendors who trade information, collaborate, and seek advice from one another.
Spiceworks generates revenue from its marketplace for IT products and related services and through ads embedded in its software.
Spiceworks IT help desk is one of several free software products available from Spiceworks. Other free tools include inventory management, a contract tracker, and remote support. Spiceworks software employs a no-frills approach suitable for companies that want basic functionality in lieu of advanced features.
You get what you pay for in life and software, and given that Spiceworks products are free, it's important to know the limitations of Spiceworks IT help desk.
On a practical level, the self-hosted version only runs on Microsoft Windows servers, and you will get no document storage, multi-channel communication options, or remote support abilities without installing extra tools and apps.
On a conceptual level, Spiceworks IT help desk does not have the functionality to align with Information Technology Infrastructure Library (ITIL) principles, a collection of IT best practices for IT service management (ITSM).
ITIL processes include change management, service-level management (SLM), and continual service improvement (CSI).
---
Spiceworks' features
The left-hand navigation menu in the main dashboard provides access to your help desk and other tools you may choose to use like the Spiceworks network monitor or inventory management.
Content modules such as a Spiceworks inventory summary and a purchase list can be added, rearranged, or deleted to meet your needs.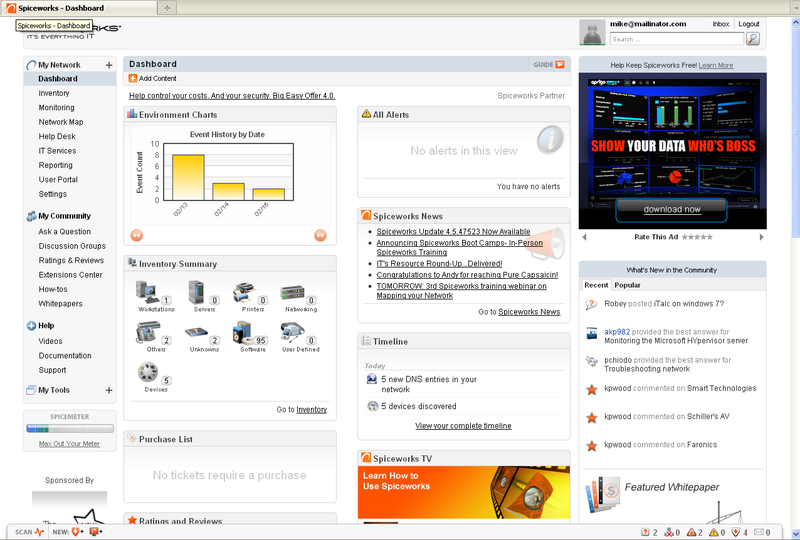 Spiceworks advertisements can be intrusive for a dashboard that's already crowded with menu options and widgets. Spiceworks does offer an option to remove the ads that we'll go over in the pricing section below.
Help desk dashboard
The agent help desk dashboard displays an overview of the Spiceworks ticketing system: new tickets, open tickets, your own tickets, and unassigned tickets.
Basic performance metrics such as average first response time, average time to resolve tickets, and ticket churn can also be displayed in graphs, bar charts, and pie charts.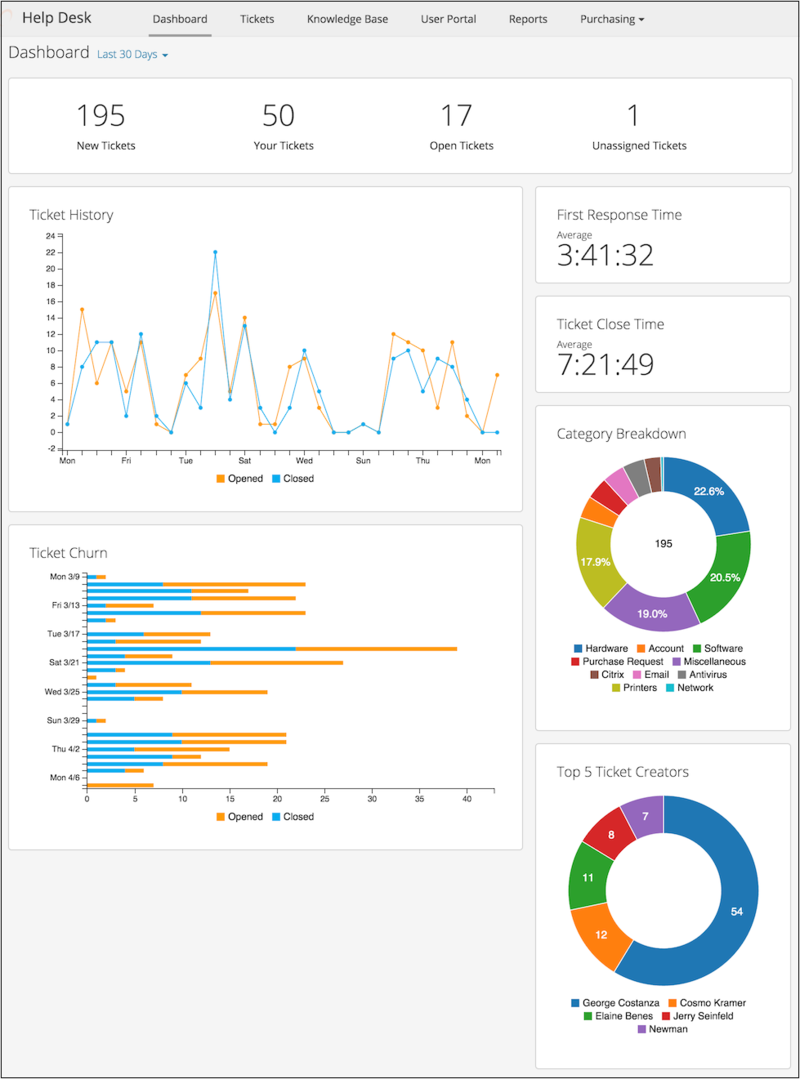 The ticket dashboard is similar to an email inbox but contains extra fields for an ID number, priority level, ticket creator, ticket assignation, and due date. Individual tickets can be selected to pull up all submitted information.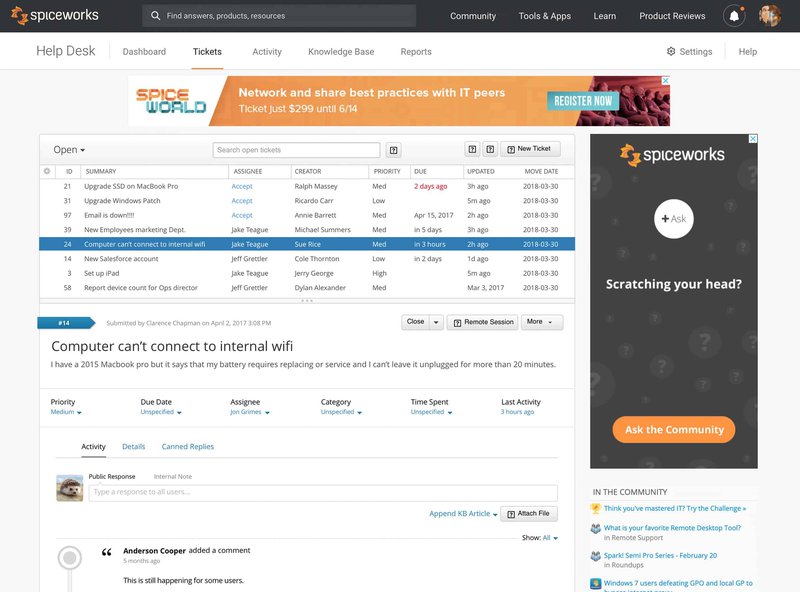 A help desk agent can add notes inside a ticket to create a running narrative, send an individual or company-wide response with a knowledge-base article attached, or provide a canned reply.
Help portal
The help portal to submit help desk tickets is cleanly designed and easy to use. Users provide their email address, a quick summary of their issue, and any additional details and attachments as needed.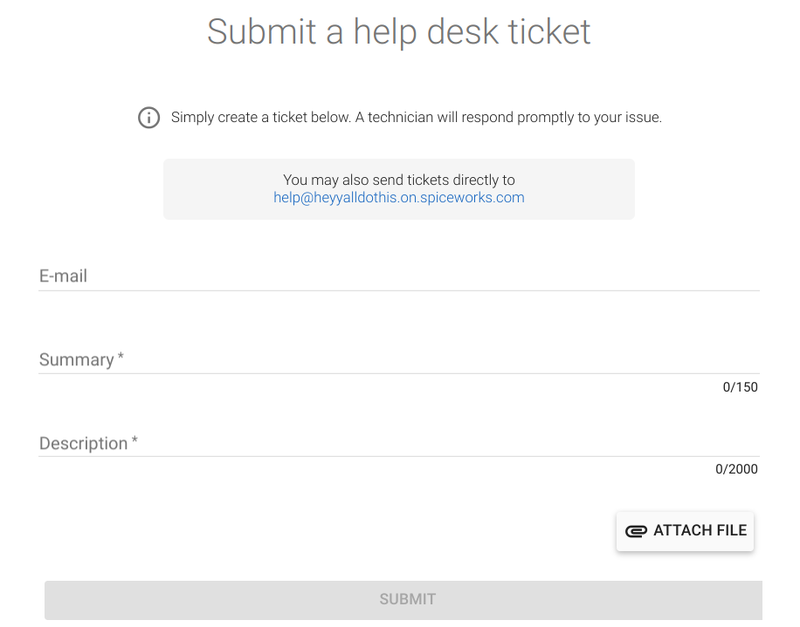 The help desk email is also provided, so users can add it to their address books to directly email support tickets.
Reporting
The reporting features in Spiceworks are very limited. Users have three categories of options to define reports:
Type of report: Select either tickets or labor.
Timeframe of report: Set reports to include information from today, yesterday, this week, last week, this month, last month, or all time.
Report file format: Generate reports as comma-separated values (CSV), Javascript Object Notation (JSON), or Microsoft Excel Open XML Spreadsheet (XLSX) files.

You'll have to choose from the available Spiceworks apps and plug-ins to build out additional reporting capabilities.
---
Spiceworks' ease of use
Spiceworks' web-based free help desk can be set up in a matter of minutes, and you'll immediately have a custom help portal for users to submit support tickets. The server-based version is reportedly easy to download and install, too.
The lack of built-in advanced functionality also contributes to its ease of use. The graphical user interface (GUI) is easy to navigate and customize. The number of actions help desk agents can take within individual help tickets also contributes to their timely resolution.
---
Spiceworks' pricing
Spiceworks pricing is simple: It's totally free. Want to use the web-based version? Free. Download and install it on your own Windows server? Also free. Want unlimited tickets, users, devices, agents, and technicians? All free.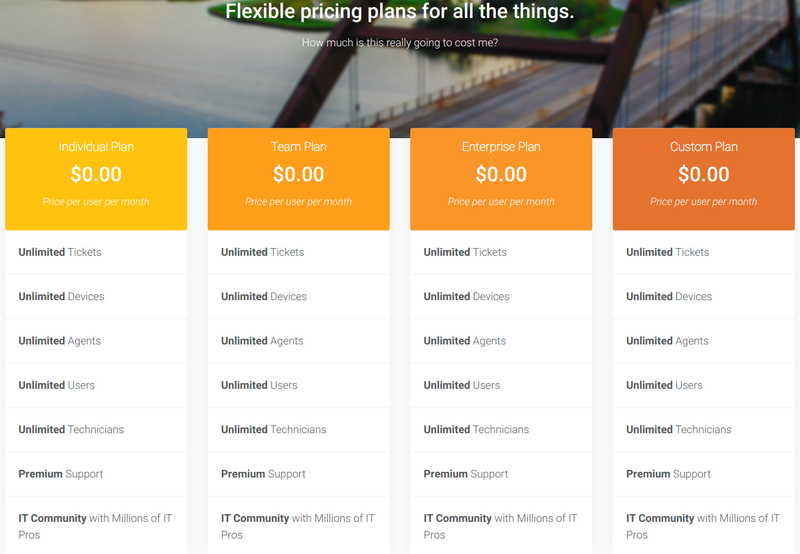 Spiceworks software is free because it's ad supported, and those ads can become annoying. Remove all ads with the Spiceworks My Way plan, which is $45 per month or $495 per year. You can then upload your logo to display in the ad space, and it will also appear in your report PDFs.
---
Spiceworks' support
The only direct customer support option Spiceworks offers is via email. Spiceworks University, which consists of free video tutorials and webinars, and Spiceworks' community forums will be your primary sources of information.
The Spiceworks knowledge base is available within the dashboard. Its articles are broken out into three categories: all articles across the Spiceworks user base, your team's articles, and your own.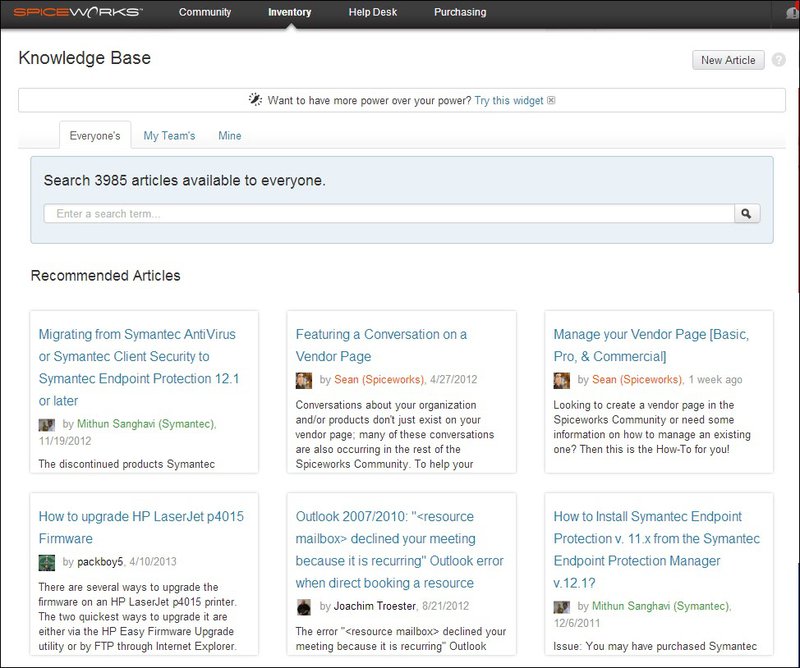 You can also connect with local Spiceworks users, either virtually or face to face at local SpiceCorps meetups, which are coordinated by "Spiceheads," to talk shop and trade ideas. Whether you're in Waco, Texas, or Reykjavik, Iceland, there's likely a group near you.
---
Benefits of Spiceworks
Spiceworks IT help desk provides a very basic level of functionality, but you're not limited to that. Its additional software tools and third-party apps will help you customize it to meet your needs.
Smartphone app
IT techs are frequently on the go, so they will find the help desk mobile app, available for iOS and Android, very useful. It provides access to the help desk, additional installed Spiceworks tools, and the knowledge base.
Some users report the smartphone app is a bit text-heavy in its design, and the push notifications can be spotty, but it will still get the job done when your techs are out in the field.
Spiceworks apps center
You can increase your help desk's capabilities with apps and plug-ins from the Spiceworks app center. This is the beauty of having a large user community consisting of IT professionals: They know the features they need and can create the apps for them.
The thousands of available apps are grouped into four categories:
Help desk: Customize your help desk and support portal, delete open tickets, and remove or edit ticket comments.
Inventory: Track service contracts and inventory your devices, software, and servers.
Reports: Identify the last user login on each networked device, list all network users, and track change requests.
Language packs: Add support for languages, including Spanish, Icelandic, German, and Turkish.
All apps are free and require just a single click to install. The Spiceworks community is responsible for quality control, so you'll need to look closely at the documentation and ratings for each app before installation.
Additional Spiceworks IT tools
Spiceworks offers more free software tools you can add to increase your IT capabilities:
IT management: Includes inventory and contract management, remote support, and a network status visualizer.
Networking and security: Includes an internet protocol (IP) lookup, subnet calculator, and a Secure Sockets Layer (SSL) certificate checker.
The lack of direct support from Spiceworks beyond email will likely be a bit daunting for IT novices, but for experienced professionals, Spiceworks offers a wide degree of flexibility in managing all aspects of your hardware, software, and network.
---
Your one-trick pony IT help desk solution
Spiceworks IT help desk intentionally sticks to the basics: allowing users to submit support tickets that are subsequently managed by your IT department. There are a lot of things it doesn't do, however, unless you get add-ons and plug-ins.
Some of the missing features include remote support, advanced reporting, and process management. But Spiceworks is completely free, so it could be worth your while to give it a shot, depending on your specific needs.

View more information: https://www.fool.com/the-blueprint/spiceworks-review/