SolarWinds Service Desk Review 2021: Features, Pricing and More
Remember when you first set up your information technology (IT) department? You probably handled service requests via email and tracked them on spreadsheets. Once you outgrew that, you moved on to dedicated help desk software.
And in time, you will eventually be ready for a multi-function service desk solution, one that can be integrated with departments beyond IT and provide change management capabilities.
One of the most popular options in that arena is

SolarWinds Service Desk, used by over 300,000 companies, government agencies, and educational institutions around the world. We'll go over its features and pricing below, so you can determine if it's a good fit for your company.
---
Who is SolarWinds Service Desk for?
SolarWinds Service Desk is cloud-based software as a service (SaaS) that provides help desk capabilities, including "smart" ticket routing, workflow automations, and asset management.
It aligns with the Information Technology Infrastructure Library (ITIL) framework of best practices and processes to provide continual IT systems improvement. It is most commonly used by medium-to-large businesses that have at least 50 employees up to 1,000 or more.
SolarWinds creates other products, including software for networking performance monitoring, database performance, IT security, and DevOps.
Its client list is impressive: more than 400 companies in the US Fortune 500 such as AT&T and Procter & Gamble, all five branches of the US military, NASA, and institutions of higher education such as Harvard University.
---
SolarWinds Service Desk's features
SolarWinds Service Desk provides the functionality you'd expect from help desk software: a self-service portal for employees to submit help tickets, a user-friendly interface for incident management, and performance analytics for your IT agents.
But its capabilities go far beyond these features. Most importantly, it can be integrated with other departments beyond IT, such as human resources (HR), and its ITIL alignment means it can be used to manage change across your organization.
Incident management
SolarWinds Service Desk's baseline incident management keeps incoming tickets organized and your help desk agents productive.
The incidents dashboard is divided into easy-to-read columns with color-coded information that includes ticket number, current status, subject, type of asset, the agent responsible for the ticket, who submitted the request, and a due date.
And with a solid database pedigree, it lets you filter and sort all this data for a more granular view.
You can also pull up the communications narrative for each ticket for review. Automated responses for common problems save agent time and get users a faster response.
Asset management
SolarWinds Service Desk provides comprehensive support for asset management. That includes automated device discovery, software license management, and an overview of asset configurations. SolarWinds network monitoring automates asset risk detection notifications.
You can track your assets via a comprehensive inventory dashboard, which breaks out hardware and software by category along with related information. With mobile devices, for example, you'll be able to see each asset's owner, device model, manufacturer, service provider, and the date of its last report.
SolarWinds Service Desk's application programming interface (API) integrates your asset inventory with the ticketing process. This allows you to identify connections between assets and user issues, which can aid in problem resolution.
Analytics and reporting
SolarWinds Service Desk automatically captures data from your service desk process to give you a detailed picture of your organization's performance.
Metrics include average response speed, customer and agent satisfaction, and other indicators of a successful service desk experience. You can set your own internal benchmarks and track performance data against industry standards.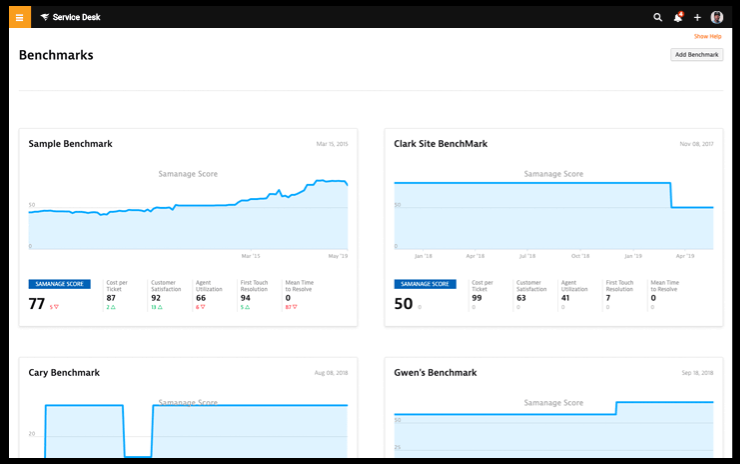 But weaknesses exist in the reporting features. Some users find customized reports cumbersome to generate. It would also be helpful if reports could be exported to Excel.
In addition, the total time to resolve submitted tickets must be entered manually as opposed to being tracked automatically, a common feature in other service desk software.
---
SolarWinds Service Desk's ease of use
Service desk software has three core constituencies: employees who submit incident tickets, help desk agents who resolve tickets, and upper-level managers who monitor individual and department-wide performance as well as continuous improvement processes.
SolarWinds Service Desk serves all of these groups well, with easy navigation and access to its powerful features.
Sysadmins will appreciate its streamlined implementation that typically takes days instead of weeks. End users will like that it can be synced with Google's G Suite, eliminating the need for yet another login name and password to remember.
Plus, its API is easy to integrate and can be set up to automate tasks like account creation.
Your IT techs will find the SolarWinds mobile app especially useful when they're out of the office. They can receive alerts on the go, update and resolve tickets, and access historical data. The mobile app can even access SolarWinds performance monitor data to solve network problems.
---
SolarWinds Service Desk's pricing
SolarWinds Service Desk offers four pricing tiers:
Team: $19/month per agent plus $0.10/month per managed device — Supports unlimited tickets/requests, incident management, knowledge base, and a service portal.
Business: $39/month per agent plus $0.30/month per managed device — Adds a service catalog, change management, and service level agreement (SLA).
Professional: $69/month per agent plus $0.50/month per managed device — Adds network discovery, contract management, license compliance, scheduled reports, and API access.
Enterprise: $89/month per agent plus $0.70/month per managed device — Adds a Visual Configuration Management Database (CMDB), multi-factor authentication (MFA), custom dashboards, a dedicated customer success manager (CSM), and free onboarding services.
A word of caution: While the monthly cost per agent in each tier is straightforward, you'll want to keep a close eye on the increased cost per month for each managed device.
Unlike Freshservice, which has a flat rate of $0.10 per managed device no matter which plan you choose, your total monthly costs can escalate quickly with the SolarWinds Service Desk upper-level tiers' managed device fees.
---
SolarWinds Service Desk's support
When you're first setting up SolarWinds Service Desk, you have two onboarding options: Explorer and Pathfinder. Explorer lets you set up the program at your own pace using detailed guides, with SolarWinds experts available, if needed, by phone.
Pathfinder is more personalized and begins with a welcome call to assess your needs and goals, which is followed by scheduled configuration sessions to set up your service desk and periodic check-ins after that.
Customer support is available 24/7 by phone, chat, and email. Help tickets submitted by email are guaranteed a response by the next business day. In addition, you'll also have access to a detailed knowledge base.
Beyond the SolarWinds Service Desk resources, SolarWinds Academy offers additional training for its entire suite of products: e-learning, classes, and certifications. Topics include network management, applications and systems, and architecture and design.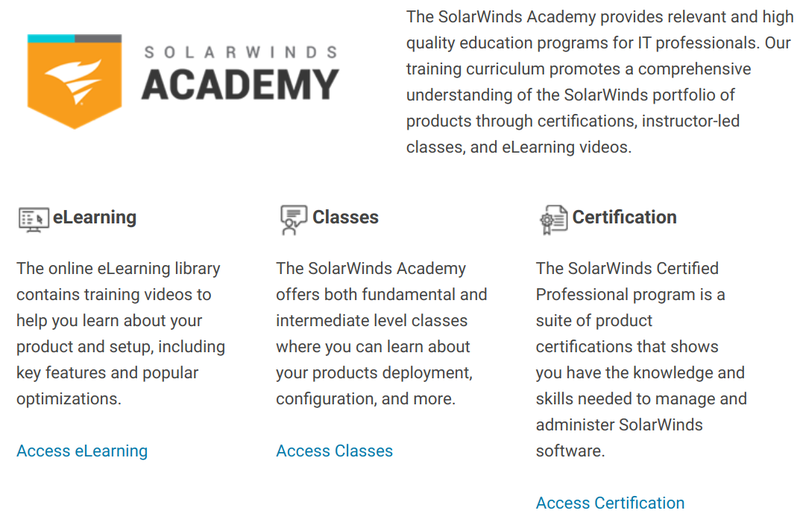 SolarWinds also has a community of experts and users called THWACK. You can access over 30 different product forums, watch archived webinars, register for online and in-person events, find free tools, and test new features.
---
Benefits of SolarWinds Service Desk
As noted above, one of the differences between SolarWinds Service Desk and standard help desk software is its application of ITIL principles for change management and continuous improvement. They achieve this through the six activities that make up the IT service management (ITSM) value chain:
Planning
Improving
Engaging
Designing and transitioning
Obtaining and/or building
Delivering and supporting
Help desk software is typically reactive because its primary function is to facilitate support requests. ITIL-aligned service desk software, however, is more proactive because it also supports the planning and implementation of solutions.
The screen below is a good example and shows the change management interface to install a software hotfix. Planning is evident in the steps for the change plan, rollback plan, and test plan.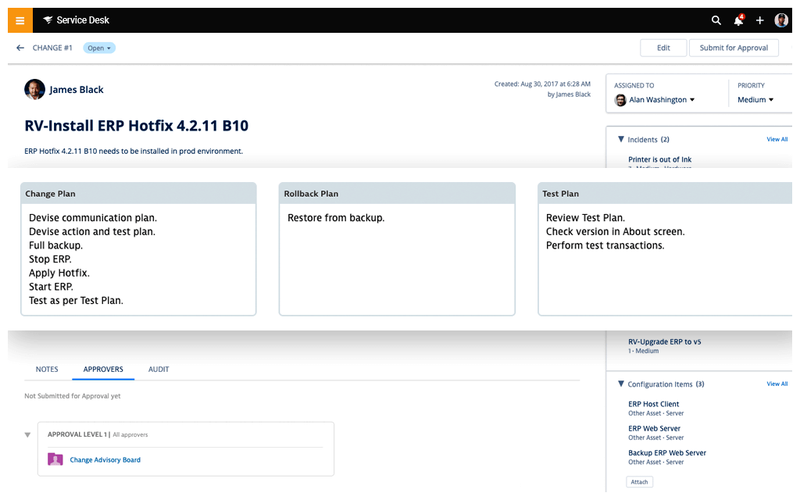 Application of ITIL concepts has expanded to departments beyond IT, and they are now being integrated with company-wide business processes and facilities management services to achieve continual improvement by:
Managing risk, disruption, and failure
Enhancing customer relationships with services that better meet their needs
Identifying cost-effective procedures
Creating a stable environment that promotes productive growth
SolarWinds Service Desk workflow process mapping incorporates departments outside of IT. In the diagram below, you can see how HR and senior-level management must sign off on new hire onboarding. This is far outside the scope of traditional help desk software.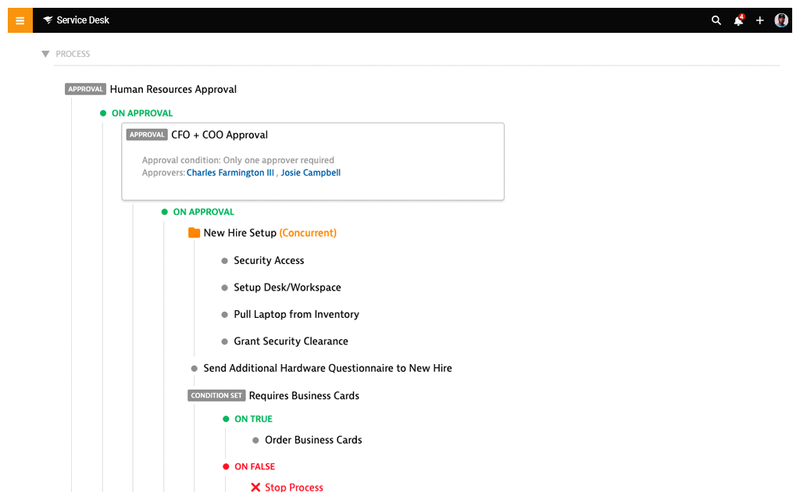 To further enhance the software's proactive instead of reactive approach, you might consider integrating SolarWinds Network Performance Monitor (NPM) with its service desk software. This monitoring tool improves operational efficiency, reduces downtime, and increases service levels.
---
Make the move from help desk to service desk
SolarWinds Service Desk offers capabilities far beyond standard IT help desk software. Its smart ticketing features and performance analytics will keep your service request pipeline running smoothly. For the mid- to large-size companies it's designed for, however, its ITIL alignment will integrate overall business goals with day-to-day operations.

View more information: https://www.fool.com/the-blueprint/solarwinds-service-desk-review/