ShopKeep Review (2021): Features, Pricing & More
Not all point-of-sale systems are created equally — a point which

ShopKeep demonstrates very well. ShopKeep was founded in 2008 by a small business owner who was tired of the cost of legacy software, meaning that this point-of-sale tool was created by someone with first-hand experience of the challenges facing small and mid-size merchants.
In that vein, ShopKeep is a retail-based, point-of-sale software tool that aims to make doing business simple for small merchants, making it easy for them to keep on top of sales management and sales processes, whether they're brick-and-mortar or online.
Overall, we were impressed with ShopKeep's features, while its pricing strategy and integrations availability are areas where the tool could be improved.
---
Who is ShopKeep for?
ShopKeep is designed for small to medium size retail and food and beverage based businesses, with a focus on specialty vendors and quick-service business types.
On their Business Types page, ShopKeep has gone to great lengths to detail exactly how the ShopKeep POS can be tailored to each type of business, from pet stores, to bakeries, to gift shops and ice cream shops, and more.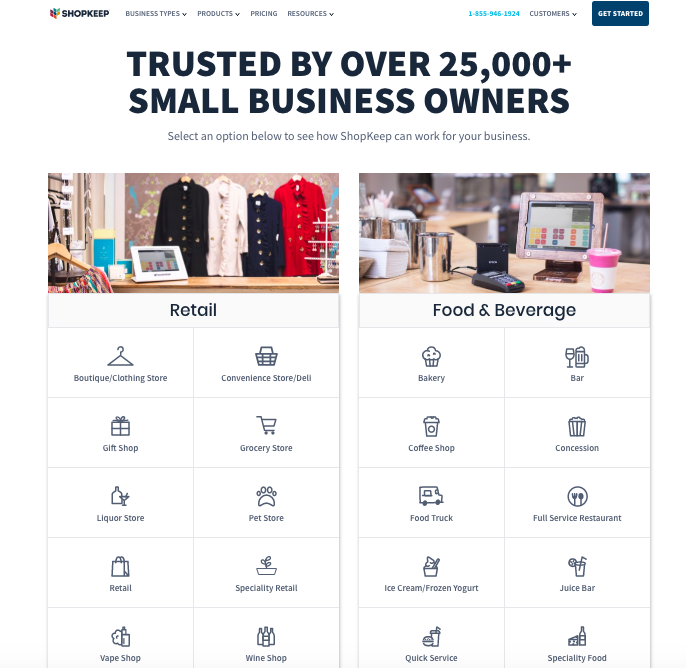 ShopKeep software was built with small to medium businesses in mind. While it does support multi-location businesses, there is a limit of 3,000 item buttons with its iPad register, meaning that the solution isn't geared toward larger-size businesses.
---
ShopKeep's features
ShopKeep's easy-to-use, out-of-the-box platform coupled with some solid features makes it easier for small businesses to manage their payments while retaining the customers they've acquired.
Here are a few of the most integral features ShopKeep offers users.
Back Office
ShopKeep's Back Office is an online portal where users manage all the moving parts of their business. The Back Office organizes all of your business information into an easy-to-navigate dashboard, coupled with real-time reporting.
From this dashboard, you can gain insight into your sales figures, customers, and inventory levels. It also offers a variety of reports that can give you insight and help you manage your sales. You can check out your peak sales time, best selling items, and how many hours your employees have logged.
Inventory management
ShopKeep's inventory management feature stands out for being more thoughtful of small businesses than some of its competitors. Of course, at the most basic level, the feature helps users work out which items and how much they'll need to include in their purchase order to their suppliers.
But this feature really shines with regards to its matrix inventory feature. This functionality allows users to create a parent item, and add in its variants, so that users can see all of the variants in one place.
For example, if you're selling a bag that comes in three different colors, you can view one item with three variants, instead of four separate items.
For food-based businesses, ShopKeep is able to track inventory items as raw goods and create assemblies of these items. For example, when a merchant sells a sandwich, the amount of bread, ham, cheese etc., will be deducted from their inventory stock. ShopKeep will also notify you when it's time to reorder low stock items.

ShopKeep register
ShopKeep's register takes and splits payments, adds modifiers, applies discounts, and enables returns and refunds. The register is designed with simplicity in mind, which serves to reduce the amount of training that staff will need to use it.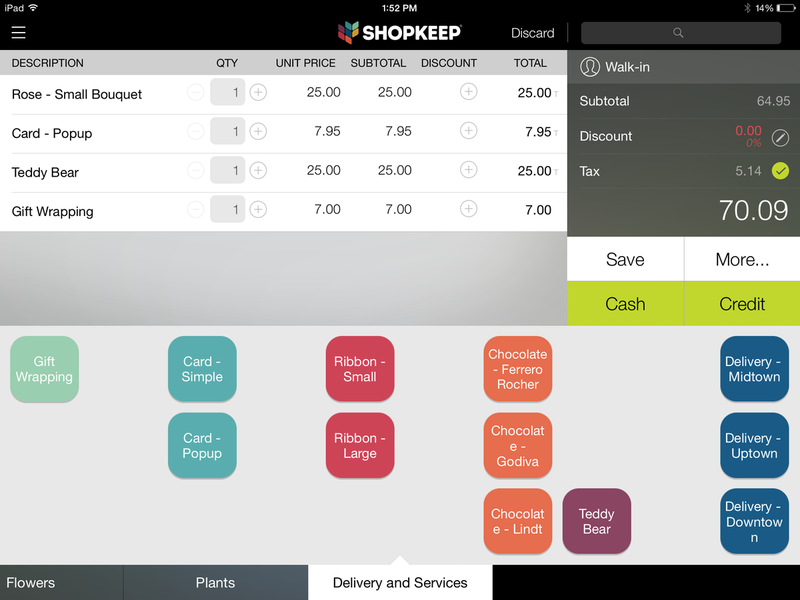 Customer marketing
This feature helps you build out a customer email list that can be used to drive sales via communicating special offers, store events, or upcoming sales.
You can also create customer profiles, where you can track each customer's purchase history, visits, and average spend, to inform your sales strategy.
Employee management
Your employees can easily clock in and out with this feature. You can also use this to schedule your employees, by gaining insight into your business' peak periods, and also set individual register permissions to individual employees.
Offline payments
ShopKeep does have the ability to take offline credit payments, but only via Clover Mini, Clover Flex, and Clover Station devices. The device must also be connected to a network, even if the device cannot be connected to the internet.
---
ShopKeep's ease of use
ShopKeep's Back Office, the centralized hub from where merchants can manage their whole business, is straightforward and simple to use. New users are guided through a setup where they're taught how to use the system and its features as a whole, eliminating the need to contact customer support in the future.
On the whole, its features are self-explanatory, and its different pages are all easily navigable. The one area where ShopKeep could improve its ease of use is with regards to its integrations, which help users manage all aspects of their business.
ShopKeep allows for integration with accounting solution QuickBooks, email marketing tool MailChimp, and e-commerce solution BigCommerce. But according to ShopKeep's own FAQ page, that's sadly where the list of third-party integrations ends.
ShopKeep does offer a number of its own integration add-ons, such as ShopKeep eCommerce and ShopKeep Gift Cards.
---
ShopKeep's pricing
ShopKeep operates on a pay-as-you-go monthly subscription basis, with no contract. However, they don't offer fixed-rate pricing, and pricing varies from business to business.

To find out how much you will pay, you need to either call them for a quote or answer several questions online. This type of pricing strategy lacks transparency, and can be off-putting to small businesses who want a general idea of how much they can expect to pay before speaking to a salesman who is trying to close a sale.
ShopKeep does, however, offer a free plan to small businesses with a single location, single register, and single staff member, if they process less than $5,000 per month. The free plan includes unlimited inventory and sales reporting.
---
ShopKeep's support
This is where ShopKeep shines. The solution offers a myriad of customer support options, such as email, text, 24/7 live chat, and a full and detailed online knowledgebase. This is a fantastic service for small businesses who rely on their systems to turn a profit.
In addition to the traditional methods of customer support, ShopKeep also maintains a Small Business Hub blog, packed full of advice for small businesses.
Small business owners can find information here on small business tax reductions, sales and marketing, zoning, pop-up shops, sales techniques and tactics, and much, much more.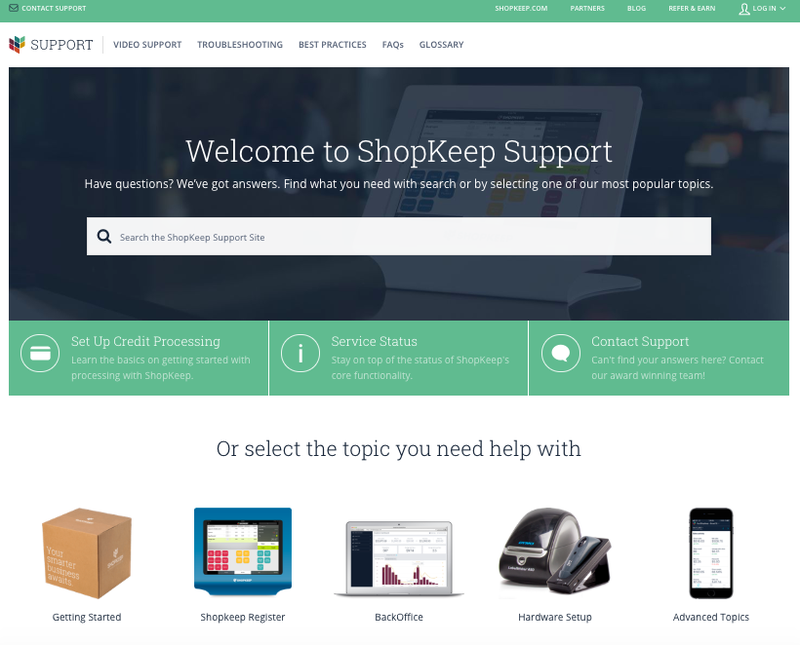 ---
Benefits of ShopKeep
ShopKeep's POS system is a great option for small businesses whose employees aren't particularly tech-savvy, or simply want an easy and intuitive operating system. It's also a great choice for businesses that need to rely heavily on a mobile POS service.
ShopKeep's POS software is user friendly, well-designed, and boasts a wide range of great features.
Because ShopKeep has been designed by a retailer, for retailers, the system is well-thought-out and constantly being updated to help businesses scale up without a steep learning curve.
---
ShopKeep is a solid POS system, with well-designed, robust features
ShopKeep is a great choice for merchants who are looking for an inventory management function with a few more bells and whistles than other POS systems. For food and drinks based businesses, this is a stand-out tool that has done well to cater to so many niche retail types.
While their interface isn't as attractive as some of their competitors, it's very user friendly and navigable even for those with no experience using a POS tool.
However, users can expect to pay more for ShopKeep add-ons such as Pocket, their sales tracking app, and Loyalty, their customer loyalty feature. Many of their competitors offer these features as standard.

View more information: https://www.fool.com/the-blueprint/shopkeep-review/