Shopify vs. Squarespace Commerce: Which is Better?
Both of these platforms are heavy hitters, no denying that. When researching new e-commerce systems, the questions often boil down to: should I use Shopify or Squarespace? While each has plenty to offer, they are usually neck and neck when it comes to customer support and features.
For example, they both score solidly in the features category. Still, our Shopify review has it pulling ahead of our Squarespace review in the support category by just a small margin.
The comparisons of Squarespace e-commerce vs. Shopify are close, but one software keeps winning the comparison.
---
Shopify vs. Squarespace Commerce: An overview
Both Squarespace Commerce and Shopify are poised as top choices for online store platforms, with thousands of users making up large communities for each. Squarespace Commerce, for one, is a natural extension of Squarespace, and the attention to detail in building and presenting themes is a big draw.
Shopify, on the other hand, was developed solely as an e-commerce software and had its non-sales specific features built into it.
Who is Shopify for?
Shopify, a common Squarespace alternative, was built to be dynamic, letting you grow your e-commerce platform alongside your business. As you expand, you can upgrade your Shopify plan to increased capacity and offerings, though its base level is so well-fortified, you may not even need to upgrade for quite some time, if at all.
Building a basic site is pretty straightforward, as is maintaining it, so you won't have to have a developer on board to keep things rolling along. That's because Shopify was built for businesses, not coders. As an e-commerce platform, it's made specifically for new brands and expanding businesses of varying sizes and ranges who have other things to worry about than building a site from scratch.
Who is Squarespace Commerce for?
Squarespace Commerce is a widely used Shopify alternative across various industries, in use in over 100,000 sites. It is built to be ubiquitous, adapting itself quickly to any number of business types and sizes, from small endeavors to flourishing brands.
It's especially attractive as a platform for businesses that want their products to shine. Thanks to its portfolio-nature, Squarespace Commerce allows you to highlight your wares through a library of curated, professional themes, making it the design king of Shopify competitors.
---
Shopify vs. Squarespace Commerce: Features
One of the most critical factors of any software: the features. What can each platform do and what capabilities do they offer?
What Shopify offers
Shopify has a litany of great basics, including professional and dynamic themes, easy customization, analytics, inventory management, and offline sales syncing, and much more. Shopify also offers e-commerce marketing integrations such as OptinMonster, Social Photos, and Instafeed.
With these integrations, you can promote your business and keep a close watch on customer trends, sell over your social media networks, track your customer journeys, and even track orders.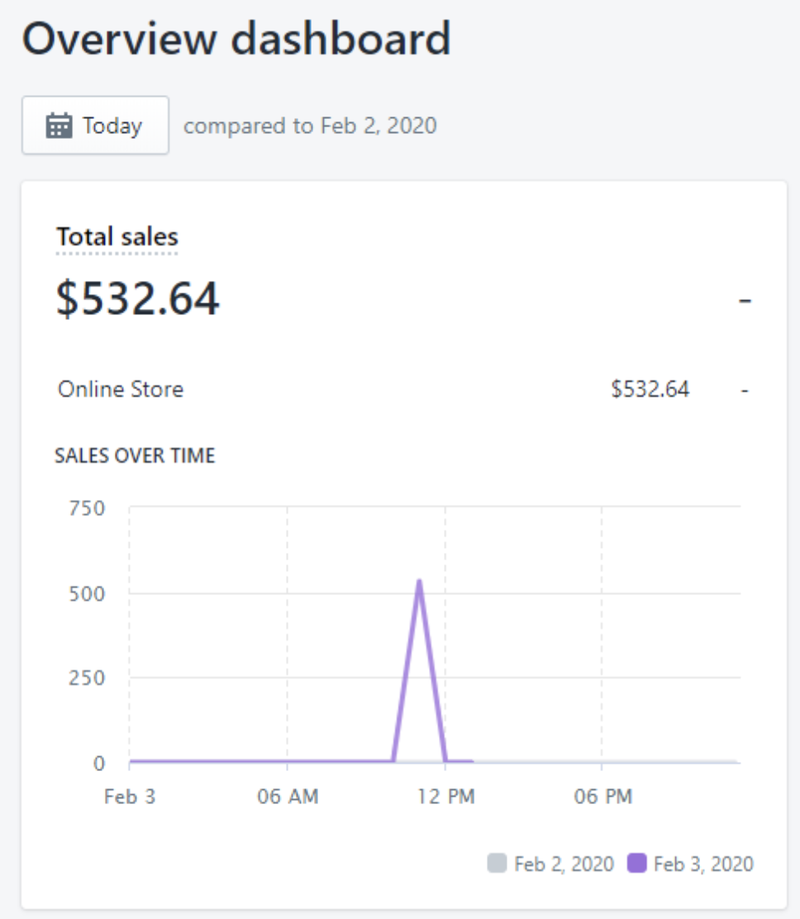 Shopify's Exchange marketplace is a unique feature, which lets you skip building a store (and starting a new business) altogether. Just like a physical store coming under new management, you can buy an operational and profitable Shopify store, meaning there's less risk in starting up something new.
What Squarespace Commerce offers
For starters, Squarespace Commerce offers the best in template designs, allowing you to create a beautiful Squarespace store. You can showcase your products and truly build a professional-looking brand.

Squarespace also includes inventory management, allowing for offline selling and syncing, scheduling automated ordering, and even automating sales tax costs for customers across the globe.
Results
It's a tie. It's really a matter of which specific features matter most to you. They both have the basics and what you would expect and need to run your business, so it's up to you to figure out which extras have more value, marketing, or design?
---
Shopify vs. Squarespace Commerce: Support
Any software is only as good as the help it provides when you're stuck. A good support offering means a lot when you have questions or run into problems with your e-commerce store.
What Shopify offers
Shopify crushes it with support. Aside from their online resources, instructions, and video tutorials, they have a fleet of customer service reps available 24/7 via online ticketing or a toll-free phone number. The response time is fast, and the reps are super knowledgeable, so you are always in good hands, any time of the day or night.
What Squarespace Commerce offers
Squarespace offers pretty solid support. Though there is no phone support, they assist via online ticketing and chat Monday through Friday from 4a.m. to 8p.m. EST, or via Twitter or email 24/7. However, you most likely won't get an immediate response.
They also offer a large library of how-to videos, guides, and checklists, armed with a lot of knowledge.
Results
Though Squarespace ranks pretty highly, Shopify's support just can't be beaten. From 24/7 availability by phone and email to the fact that their reps are some of the fastest to respond in the business. There's too much to compete against Shopify.
---
Shopify vs. Squarespace Commerce: Ease of use
What good is great looking software if you can't use it? Systems for e-commerce stores should be designed with business owners in mind, but also tech novices, not just advanced web developers.
What Shopify offers
What is automatically great about Shopify is that it uses a drag-and-drop builder, making the actual building and editing super simple. Not only is the interface simplified, but necessary buttons such as the 'undo' button are also clearly displayed, which is especially helpful if you are inclined to get ahead of yourself. Plus, the most important thing of all to manage, your inventory, is presented in a way that is understandable and actionable.

Once you've mastered clicking on-screen tools, Shopify makes it even easier for you to use with its keyboard shortcuts. Further, Shopify's technical factors are already built, so you buy into the framework of an already-working online store. You then customize it rather than create a shop from scratch.
What Squarespace Commerce offers
Squarespace Commerce may not be a drag-and-drop solution, but it's still pretty easy to use. Navigation is clear, and the toolbars are helpful. What's especially useful is your ability to define your business industry from the start, so you are building strategically.
Your toolbar is broken down into sections so that you can build on a more micro level. And one of the best features is the ability to duplicate pages, so you don't have to start fresh for every similar page.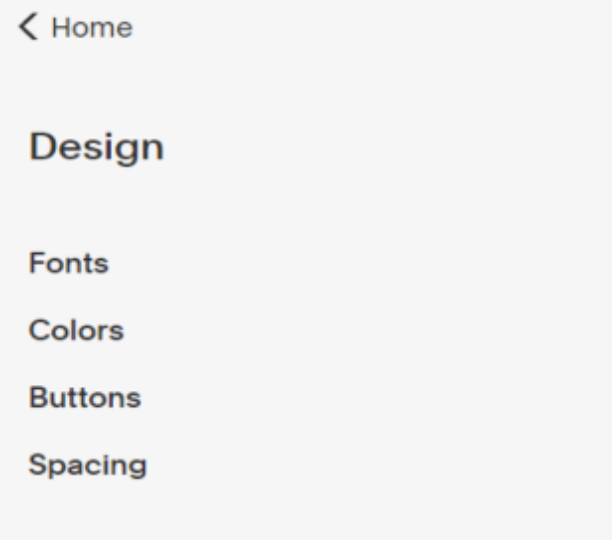 Results
Another close call, but Shopify edges out on top. Building a store is so simple; you can set it up without a developer, and the maintenance of a Shopify site is entirely tech novice-friendly.
---
Shopify vs. Squarespace Commerce: Pricing
Business owners have budgets, and so making sure a software fits into them is important. What's also important is what value you get for the price.
What Shopify offers
When you consider all you get, Shopify's pricing is not only affordable but more than reasonable. Shopify offers discounts for billing annually rather than monthly, with plans starting at $29 per month at the lower end and $299 monthly for the more expensive option.
The basic plan is very comprehensive, so you might not need to upgrade to the other pricing tiers. Shopify comes with free theme options, a POS system for collecting payments and syncing sales, social media integrations, an SSL certificate, and much more.
What Squarespace Commerce offers
Squarespace is also very affordable. It's cheaper than Shopify, with its four tiers clocking in at $12, $18, $26, and $40/month. And in fairness, you get a lot for $12. With hosting, SSL, beautiful free themes, and a clean dashboard, Squarespace does allow you to go pretty far for only $12/month.
What that $12 to $40 doesn't cover, though, is a lot more valuable than the $28 difference in price: namely, apps and integrations, e-commerce tools, sales help, and the best possible support.
Results
Though Shopify technically costs more than Squarespace, it still wins the pricing round thanks to the bang you get for your buck. To have access to all the tools you really need with Squarespace, you either will need to pay a lot more or simply go without. These reasons make Shopify a better value for the money.
---
Shopify vs. Squarespace Commerce: Integration with other software
The sum of something's parts is often greater than the whole, and so the more parts your software integrates with, the better setup for success you will have.
What Shopify offers
Shopify is ready to integrate, thanks to several apps and tools available as options. Ready for accounting to be easier? Great, it integrates with QuickBooks. Want to offer your customers a bunch of payment options? You can integrate with PayPal, ApplePay, Square, Amazon, and over 100 more options. The marketing integrations cannot be understated, either, as they allow you to drive sales directly to your store and build brand awareness from one hub.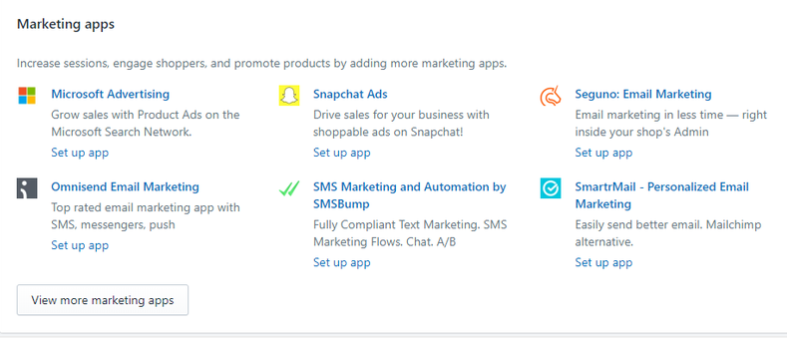 It also integrates with social media to sell via "click to buy" buttons, as well as allowing for seamless integration with e-commerce email marketing platforms.
What Squarespace Commerce offers
Squarespace is a little more self-insulated. It does, of course, integrate well with some apps, but the number of e-commerce tools it supports is far fewer than Shopify. And there's no app store like there is with Shopify, so you are vastly limited with add-ons and other integrations you may need, especially when it comes to payment options.
Results
Shopify entirely wins this category, thanks to the fact that other tools and systems are made available as extensions, which is something Squarespace Commerce is lacking.
---
Shopify vs. Squarespace Commerce: Shipping options
After you sell your product, you still have to get it to your customer, so having convenient shipping integrations is vital.
What Shopify offers
Shopify is a bit of an all-in-one shipping hub, with the ability to calculate taxes and shipping prices, print shipping labels from your dashboard, etc. It has even partnered with DHL and UPS for more straightforward shipping set up right from your back end.
What Squarespace Commerce offers
Squarespace Commerce is playing catch up since its shipping options can't compete with Shopify. You can calculate UPS rates within Squarespace as well as edit shipping costs, but it lacks anything more dynamic or more extensive options.
Results
You can't beat options and ease. Shopify lets you do all your shipping work from one place, as well as offers a variety of shipping options along the way.
---
How They Compare: Shopify vs. Squarespace Commerce
View more information: https://www.fool.com/the-blueprint/shopify-vs-squarespace/