Service Fusion Review 2021: Features, Pricing & More

Service Fusion is a field service management software program designed with features that enable common field service business tasks, such as scheduling, dispatching, billing, invoicing, customer management, and others.
Service Fusion also syncs automatically with QuickBooks, which removes one of the most time-consuming data-entry jobs in managing a service company.
---
Who is Service Fusion for?
Service Fusion is for field service businesses. If your company issues work order tickets and sends technicians into the field, Service Fusion is designed for a business like yours.
Service Fusion, like many field service programs, was designed for HVAC repair, plumbers, electricians, landscapers, housekeepers, appliance maintenance, and the like.
However, while Service Fusion is designed with those businesses in mind, any company with workers in the field can benefit from the program. That's because Service Fusion, like other field service management programs, automates field service business bottlenecks such as invoicing, billing, and even finding a customer's location.
---
Service Fusion's features
Service Fusion offers the standard gamut of field service management features such as scheduling, billing and invoicing, and work order management. These features are designed to facilitate the day-to-day duties of running a field service business.
Billing and invoicing
Billing and invoicing with Service Fusion is straightforward. From the Job screen, you can automatically generate an invoice by clicking the button at the top of the screen.
Once an invoice is created, it's easy to send it by clicking on the email button in the taskbar at the top. You can also set up the program to automatically send invoices once created.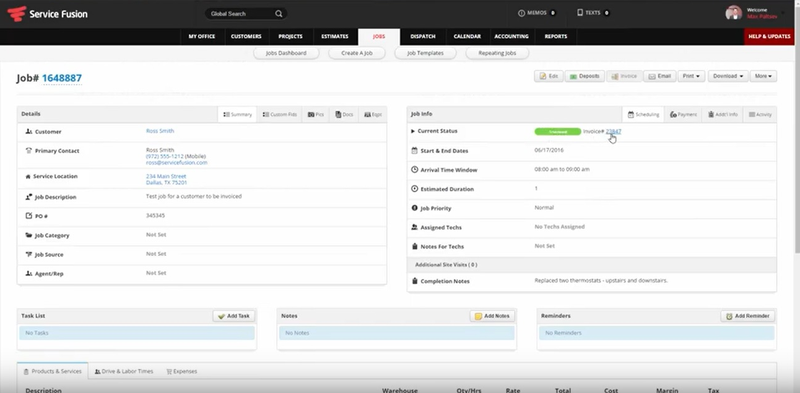 You can also see whether your customer has opened the invoice email, which can help explain why they may be taking a month to pay you — or (awkward!) see if they're fibbing when they say they haven't received an invoice.
One nice part of this feature is the option to add other jobs to the invoice: When you click on Invoice, Service Fusion asks you if you want to create an invoice after more jobs have been done, or if you want to create an invoice for this single job.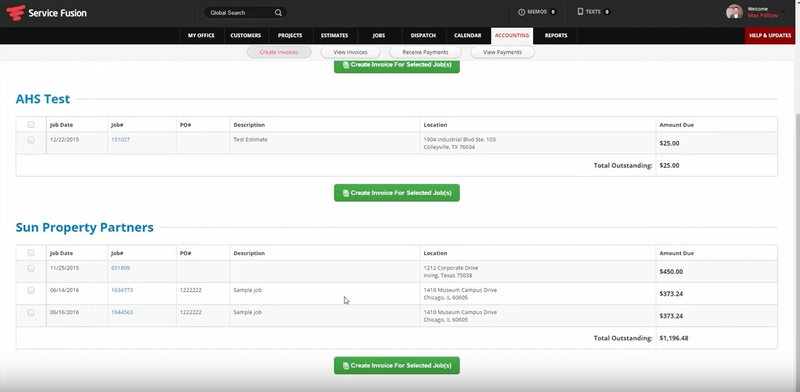 Invoicing is available in both the desktop version and on the mobile app.
Customer database
Service Fusion's customer database offers the same simple look and feel as its other functions. When you click on an individual customer, you'll get access to a range of information.
Along with the basics (name, address, points of contact), you also get the option to enter information such as a referral source, default currency (for QuickBooks integration), and even what sort of taxes are required for that customer.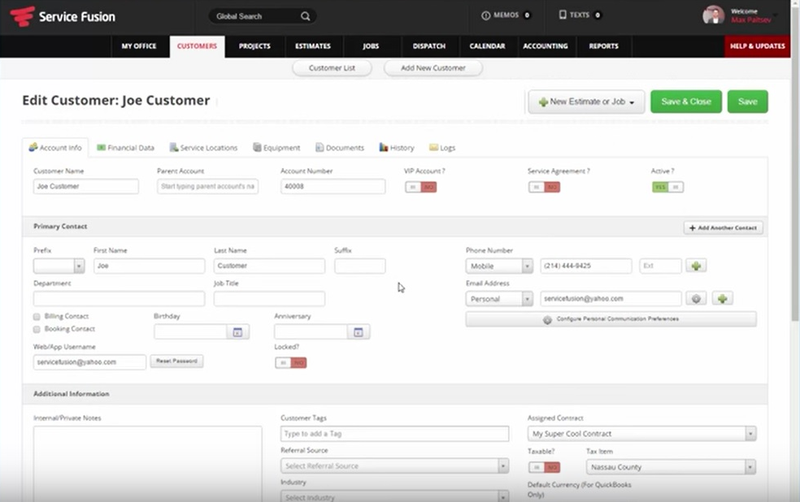 Mobile app
Service Fusion's mobile app has a cleaner, more contemporary user interface than the desktop version, ditching the desktop's look in favor of a visually-driven design.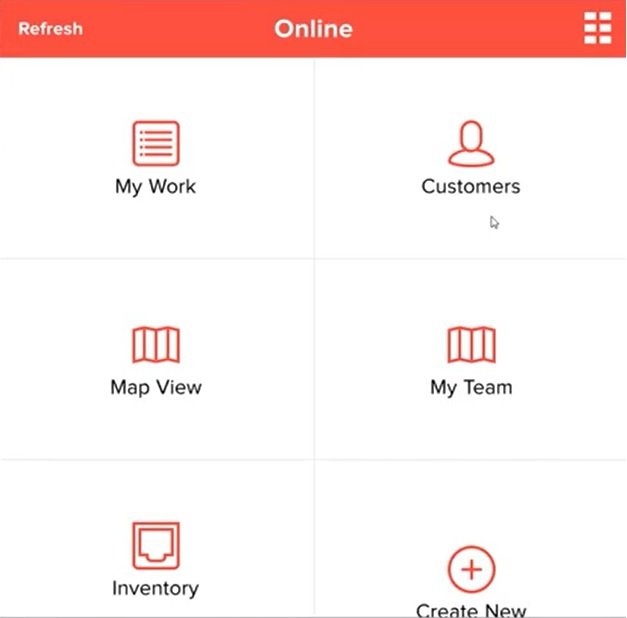 If the desktop version's features often look like a paper day planner simply put on a screen, Service Fusion's app looks like it was designed with technology in mind.
The simple visual menu makes it easy for technicians to learn the program. It's simple enough that it may even encourage technicians who are resistant to learning new technologies.
The app keeps the same emphasis on visual design throughout, making it easy for technicians to manage a workflow.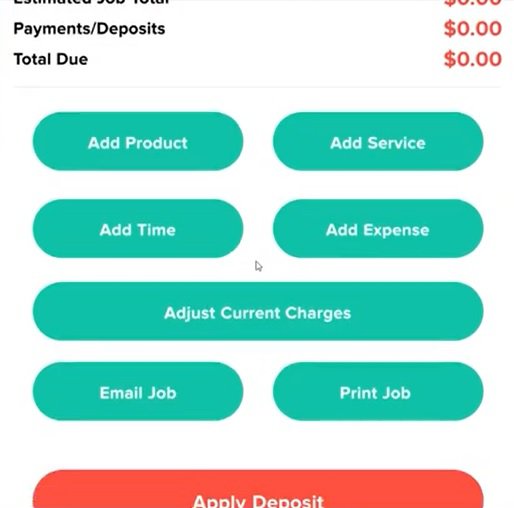 This screen, which shows the bottom of the work order screen at the technician sees it, shows how easy it is to add products or services to a job.
If your technician finds that a simple repair job actually requires a complicated replacement, it's easy to tap Add Product or Add Service and change what's on the invoice.
Work order management
Creating work orders in Service Fusion is easy. Clicking Create Job takes you to a screen that shows you various facts about a job, from basics like time and place to features such as estimated duration and time window.
Also nice (although par for the course among most similar software solutions) is a feature that allows you to make notes and record other information about a job.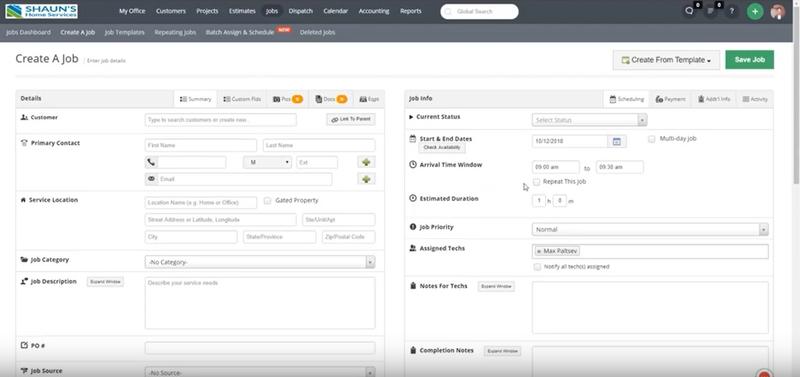 In Service Fusion, there's a nice autofill feature for the customer name box. If a customer is already in the system, all you have to do is start typing the name, and a menu of matching customers pops up so you can select the correct one.
Routing
Service Fusion's basic package offers GPS tracking of your technicians, like many field service management software programs. This allows you to keep tabs on where your technicians are and updates their location every few minutes.
For an extra charge, you can get Service Fusion's advanced version of GPS tracking. For $49 per GPS unit and a one-time fee of $20 for tracking, you can pay Service Fusion to monitor a driver's performance.
This souped-up version of GPS tracking updates driver location and status more frequently than the basic package (every few seconds, as opposed to every few minutes), and it also provides information beyond location (for instance, it reports on sudden braking incidents).
Scheduling and dispatching
Service Fusion's scheduling function features a drag-and-drop calendar, with appointments color-coded so you can easily distinguish between them.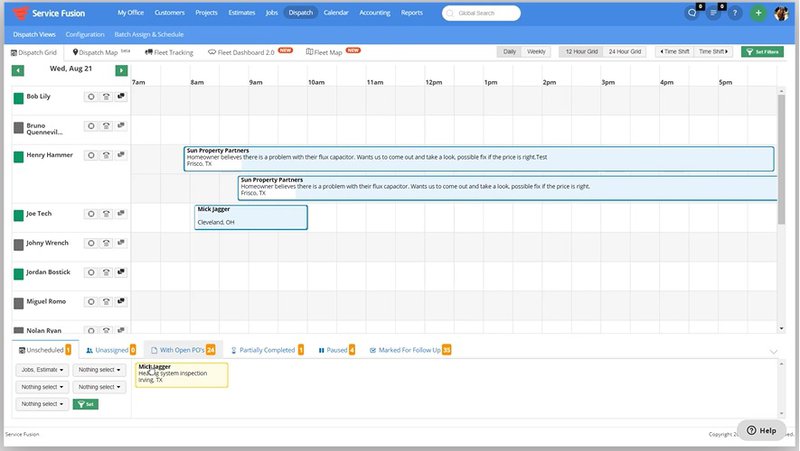 The list at the left side of the screen (the y-axis) shows your field technicians, and the x-axis shows the daily schedule in hourly increments. This scheduling screen is straightforward and should satisfy users who prefer a basic design.
The dispatch screen also has an uncomplicated appearance. On it, you'll be able to see which jobs are in progress and sort by job number, date, location, and other options.
There's also an at-a-glance bar on the left side of the screen that acts as a bird's-eye view of your business (it lists things like jobs assigned, dispatched, and invoiced for as well as which appointments were a no-show).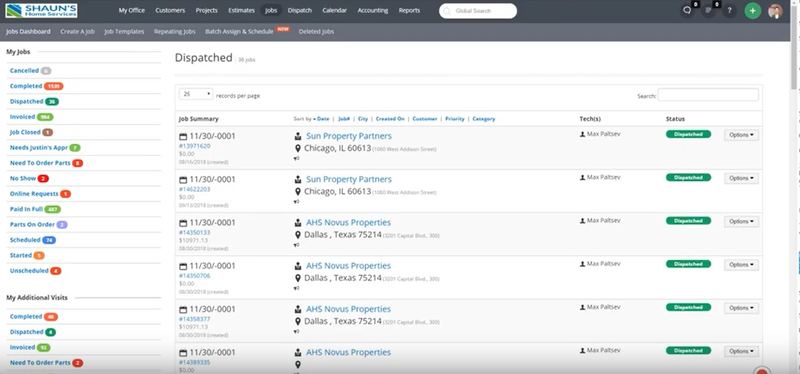 ---
Service Fusion's ease of use
Service Fusion isn't complicated, but nothing about the user experience stands out as particularly easy.
For one, the layout of most screens on the desktop version isn't exactly easy on the eyes. All of the information you need is displayed, but there's little difference between what you get on the screen and what you could see in a paper address book or planner.
In other words, this program doesn't take advantage of the options available on a virtual interface. This isn't necessarily a bad thing: If you're used to a paper-based system, a simpler look like Service Fusion's could actually be a plus.
A better user interface and user experience would improve the experience with Service Fusion. It's not difficult to learn, but the bland visual design will slow down users in a way that a more attractive design might not.
---
Service Fusion's pricing
Service Fusion offers three pricing tiers:
Starter: $99 a month
Plus: $199 a month
Pro: $349 a month
Pricing for all three plans includes unlimited users, a departure from many field service programs, which charge per user. Instead, Service Fusion's pricing is based on which features you want.
The Starter package, for instance, will give you basic features, but you won't get the more advanced options such as inventory management or the ability to upload pictures of a job site.
Service Fusion's pricing structure is especially useful if you have a lot of employees.
For instance, if you have, say, 32 users, you might wind up with better pricing from Service Fusion than from Jobber (its $200 option goes up after 30 users). The thing to keep in mind is how many features you want, as this is how Service Fusion divides its pricing tiers.
---
Working with Service Fusion support
It's relatively easy to find

Service Fusion's customer support number. The Contact page not only offers the standard online form to fill out, it also lists the customer service phone number. Better yet? It also tells you which key to hit (2) to get to customer service.
This may not seem major, but if you've ever dealt with a company that guards their phone number like Sheldon Cooper guards his comic books, you'll be grateful for easy access to this information.
The call took less than six minutes, wait time included (5:47, to be exact). I asked the customer service rep about Service Fusion's dashboard and whether I could find an up-to-date image of it online. He took the time to search for it and recommended a YouTube video within about a minute.
I also asked him about what was included on the dashboard. He had a ready response and was also able to say what the dashboard didn't include.
It bodes well that my wait for customer service was short and that the representative on the line was knowledgeable and prompt.
---
Benefits of Service Fusion
Service Fusion, and other field service management programs like it, can be tremendously helpful for keeping up with your business's details.
Many people who get into field service don't do so because they enjoy accounting or are apt to remember which invoices have been sent. They likely get into the work because they like the work itself. A field service management software program such as Service Fusion allows you to focus on that work.
If you've ever passed the work truck of a field service technician, you may have seen a messy pile of papers in the front seat. Those are the invoices and other paperwork that come with field service, and keeping up with it is a separate job.
However, if all of that information is collected in a software program, you can avoid the hassle of keeping track of all of that paper.
---
Automate your business with Service Fusion
Service Fusion is a solid choice if you want to automate the busy-work that often bogs down a field service business. Service Fusion is a particularly good choice if you have a lot of employees but only need a few basic features, since pricing is not determined by number of users.
While it will cost extra, it's also a good choice if you want field service features that include in-depth GPS tracking of your employees in the field.
View more information: https://www.fool.com/the-blueprint/service-fusion-review/