Sendinblue vs. Mailchimp: Which is Right for You?
Sendinblue vs. Mailchimp is a battle of two solutions that prioritize user-friendly design and a straightforward, logical user experience.
They make sense when you use them. There's no steep learning curve where you're scared to push a button for fear of sending out blank emails to every single one of your subscribers, with full visibility of all email addresses.
But is one better than the other? Let's find out.
---
Sendinblue vs. Mailchimp: An overview
To find out which solution could be best for your needs, let's take a look at who these tools were created for.
Who is Sendinblue for?
Sendinblue is a relatively recent entrant to the email marketing software industry, having been founded in 2012.
Yet what it lacks in experience, it makes up for in its feature set. It's a marketing automation platform that differentiates itself with interesting features, such as the ability to A/B test automations.
With a free plan and several different price points, it's a scalable solution that can grow with your business.
Who is Mailchimp for?
Everybody knows Mailchimp. If you're a small business owner or solopreneur, it's probably the first solution that comes to mind when you think about email marketing software — and for good reason.
It's a pleasure to use. It's quirky, it's funny, but — most importantly — it's user friendly and comes with a whole load of features that help you tailor your campaigns to your target audiences.
As it has a free version, it's great for small businesses, although it does get a bit pricey when you start building up a sizeable email list.
---
Sendinblue vs. Mailchimp: Features
Mailchimp usually wins when comparing its features to those of other email marketing solutions, but Sendinblue provides enough useful, unique options to make it a tough opponent.
What Sendinblue offers
Intuitive and user-friendly email editor? Tick. Advanced segmentation options? Tick. Real-time reporting? Tick. Autoresponders? Tick.
Sendinblue's email editor is a highlight of this solution. Its graphical editing options are superb.
You can:
Change what color to make a link
Add captions to images
Change image alignment
Edit borders, background colors, and fonts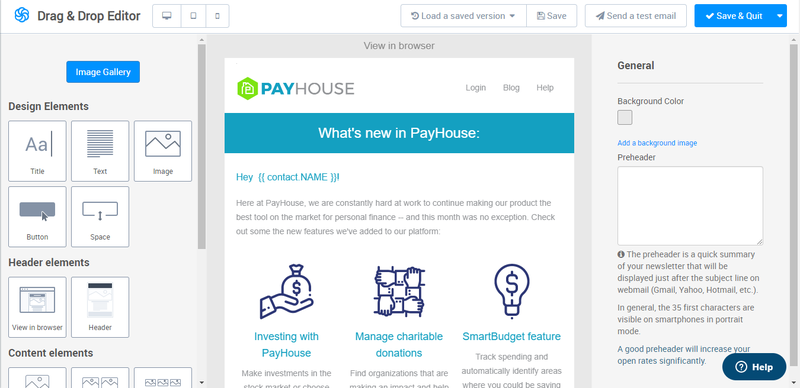 Once you've finished creating the email, Sendinblue can send it at an optimal time according to past opens by individual customers. You can also choose to send your email to a group of test recipients to check for any typos, broken links, or image malfunctions.
Sendinblue harnesses customer data in other areas to power your marketing campaigns. Take dynamic content as an example. Dynamic content allows you to personalize different parts of an email according to past customer behavior and preferences.
For example, you can show different product recommendations to a customer who lives in Alaska than you show to someone who lives in California.
In terms of segmentation, you can use attributes you've given to individual contacts to personalize content down to the finest detail, such as location.
If you create a segment with the attributes of "lives in California, made a purchase within the past six months, has visited sneaker product pages three times or more," you can end your email with a reference to their specific city, which is impressive.
Sendinblue has invested heavily in almost all of its features, but like most email marketing software, it has an Achilles' heel: its analytics functionality.
Sendinblue only tracks sends, bounces, opens, and clicks according to location. Other email marketing software also lets you track revenue generated, open rates by location, unsubscribes, and list growth, so Sendinblue is lacking a bit in this department.
What Mailchimp offers
Mailchimp has a great email editor with lots of options to customize your email graphics and content. However, if you're on the free plan, you only get access to basic templates, so you'll need to put more work into jazzing up your emails.
Mailchimp's machine-learning approach to autoresponders and segmentation take the heavy lifting out of personalizing and tailoring content.
By analyzing past customer behavior, Mailchimp builds segments automatically based on its predictions of how likely it is that a customer will make a purchase in the future. You can send emails to these autogenerated segments in one click.
To save you time, Mailchimp automates other time-consuming processes, such as maintaining segments and creating workflows.
With dynamic segmentation, Mailchimp adds and removes customers from segments automatically based on whether they meet the required conditions. This allows you to easily customize your next email newsletter campaign without manually sorting contacts.
You can also use built-in workflow templates to nurture customers down the sales pipeline.
Mailchimp's reports let you track metrics based on the goals of your campaigns. For example, if you run an email campaign to increase website visits, you can track the number of people who visit product pages.
Or if your goal is to increase social media followers, you can track the increase from the reporting dashboard. These metrics can also be tied to revenue.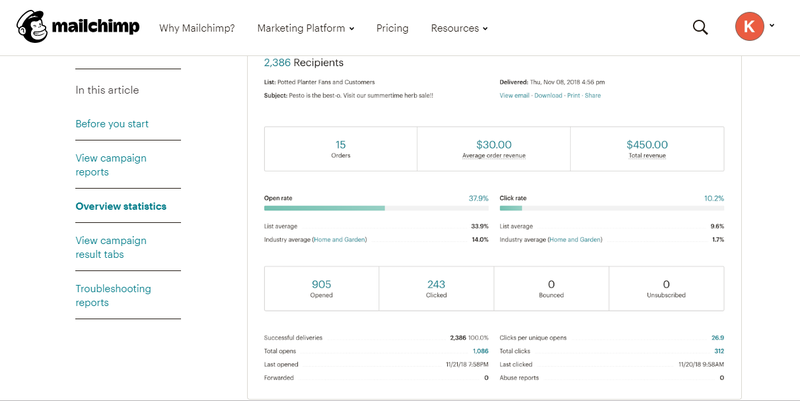 Results
Mailchimp narrowly takes this round thanks to its super-scientific approach to analytics and reporting.
---
Sendinblue vs. Mailchimp: Support
Both Sendinblue and Mailchimp take a very similar approach to support: If you're on the free plan, you're on your own. You have to help yourself.
What Sendinblue offers
Sendinblue has a fantastic searchable help center. It provides tutorials in a popup so you don't have to navigate away from the page to read the article, or switch back and forth to complete the action.
The tutorials are comprehensive and include screenshots and videos.
However, there's no way to talk to a real person if you're using the free version. There's no live chat option, and you only have access phone support for the first 60 days.
Beyond that, your only option is to create a ticket (it takes a while to find this function) and wait patiently for a reply.
What Mailchimp offers
Mailchimp takes the same attitude as Sendinblue toward customers on its free plan.
It provides a comprehensive knowledge base but neglects to provide access to a human when it comes to support, and it makes it as hard as possible to find any way of contacting them.
Good luck contacting Mailchimp customer service if you have an urgent issue.
Results
Making it difficult for people on a free plan to contact support is a poor attitude. It's important to try out software before you buy it and have easy access to support while you're doing that. Neither Mailchimp nor Sendinblue deserves to win this round.
---
Sendinblue vs. Mailchimp: Ease of use
One of the best approaches to email marketing is to assume that all of your users need some help getting up and running and using your feature set. It's best to provide too much help rather than not enough.
What Sendinblue offers
Sendinblue and Mailchimp both provide in-app tips to help guide you through the different tasks and campaign elements. Sendinblue displays question marks beside most features, and when you hover over them, it offers a couple-sentence explanation of what you're about to do.
Sendinblue lets you customize the main dashboard and pick which features and apps you'd like to display there.
You can change the way the dashboard is organized, adding or removing elements by turning them "off" at any time. This simplifies the user experience, removes clutter, and helps speed up the time it takes to actually start your email.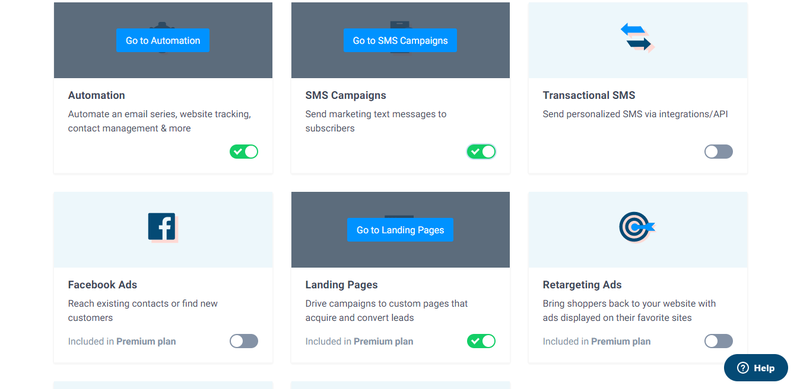 What Mailchimp offers
Mailchimp provides help for every feature and every step, not only explaining how the feature works, but also suggesting reasons you should use that feature.
For example, it explains that personalizing subject lines increases open rates.
It also adds clickable "What's this?" text next to certain features — for example, beside the option to personalize the subject line. This opens a popup with more details on the feature and its use.
This approach helps you understand what you need to do to improve your campaigns.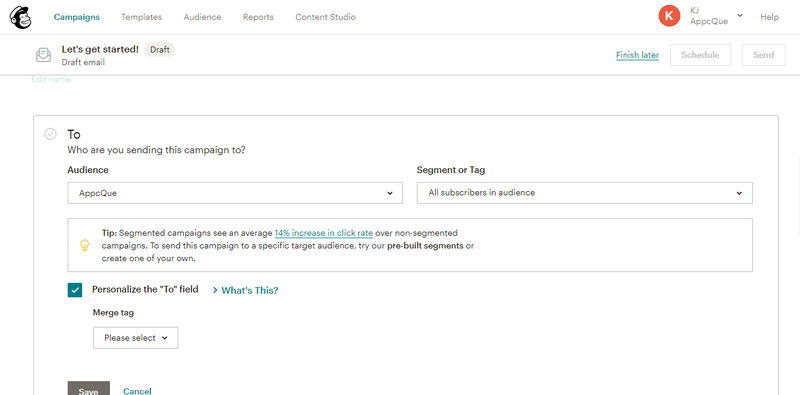 Mailchimp's explanations are always jargon-free and don't assume you have any knowledge of email marketing concepts or software.
Results
This was close, but Sendinblue's customizable dashboard put it a nose ahead.
---
Sendinblue vs. Mailchimp: Pricing
Some email marketing software programs offer the same features in all plans, but you pay more for more contacts. With other solutions, you unlock more features as you upgrade your plan.
Both Sendinblue and Mailchimp combine these two approaches.
What Sendinblue offers
When it comes to plans, Sendinblue offers users one free and four paid options.
Free plan: Yes, but with a limit of 300 emails per day
Free trial: No
Discount: 20% discount on all pricing plans if you pay annually
Starting price: Free, but the least expensive paid plan starts at $25 per month for up to 2,000 contacts and 300 emails per day
Sendinblue's free plan is a great value. It includes most of the main features an email marketer needs, with the exception of:
Send time optimization
Landing page builder
Dedicated IP
Advanced reporting, including location and device statistics
Phone support
Yet, confusingly, according to Sendinblue's website, the only additional feature you get with this plan is 40,000 emails a month, compared to about 9,000 a month (30 a day) for the free plan, and you have no daily sending limit. This doesn't seem like such good value.
Sendinblue can scale with your business with its three main paid plans and additional enterprise option.
What Mailchimp offers
Mailchimp also has a similar structure with one free and three paid plans.
Free plan: Yes, but with a limit of 10,000 emails a month
Free trial: No
Discount: Not for private sector organizations, but nonprofits and charities receive a 15% discount
Starting price: Free, but the least expensive paid plan starts at $9.99 for 500 contacts
Mailchimp's pricing structure provides good options for all business sizes. Its free plan is a very good value for the money, allowing you to send 10,000 emails to up to 2,000 contacts per month. It includes a host of advanced features, such as:
Segmentation
Behavioral targeting
Landing pages
Pop-up forms
Single-step automations
However, it lacks A/B testing and advanced analytics, and it doesn't include phone, email, or live chat support.
Results
Both Mailchimp and Sendinblue offer stellar free plans, but Mailchimp's paid plans provide better value for your money.
---
Sendinblue vs. Mailchimp: Integration with other software
While the number of integrations isn't necessarily the most important characteristic, the ability to integrate with the majority of popular business software is important, as we can see below.
What Sendinblue offers
Sendinblue offers a laundry list of native integrations (or plugins, as the company calls them) across different software categories, including:
While Sendinblue integrates with a lot of popular business software, it lists just over 50 plugins, which compares to Mailchimp's 230 (and counting) integrations.
While quantity doesn't always equal quality, Sendinblue is missing integrations with popular software solutions such as Clickfunnels, Big Commerce, and Zero.
On the plus side, it provides extensive documentation on using its API for third-party integrations, and you can contact the help desk if you have any problems or need help connecting Sendinblue with other software.
What Mailchimp offers
Mailchimp's integration directory lists 230 connected apps. These include:
Zapier
WordPress
Xero
Canva
Chargify
Google Analytics
ClickFunnels
PayPal
SurveyMonkey
It also provides a lot of help desk articles on specific integrations and how to ensure they work well together. This includes integrations for Facebook, Instagram, Square, Salesforce, and PayPal.
Results
Mailchimp offers a lot more integrations than Sendinblue. It's as simple as that.

View more information: https://www.fool.com/the-blueprint/sendinblue-vs-mailchimp/