SEMrush Review 2021: Features, Pricing & More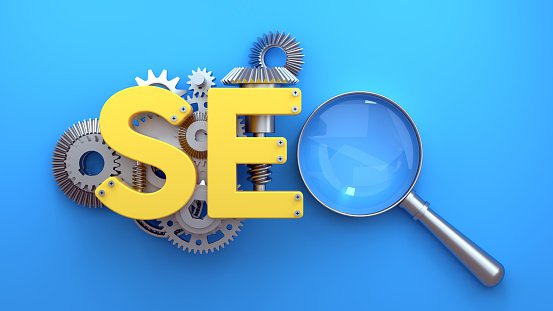 SEMrush is one of the most popular SEO software suites available today, and it's easy to see why. This is an impressive suite of SEO and content marketing tools, all for a very reasonable subscription price.
---
Who is SEMrush for?
There is something for everyone here. Freelancers and small businesses can use SEMrush to cover all of their SEO needs, from technical SEO through to rank tracking.
Large businesses will welcome the wide range of sophisticated tools available, too. At the enterprise level, businesses may wish to partner SEMrush with other, specialized technologies to ensure they have best-in-class coverage for all requirements.
This is always the challenge with such an extensive list of features. It is impossible to be the market leader in so many different areas of SEO. SEMrush is a challenger in most of them and the leader in a number of others, as we will discuss below.
---
SEMrush's features
SEMrush's features are categorized on its website based on areas of interest for potential customers, as in the screenshot below.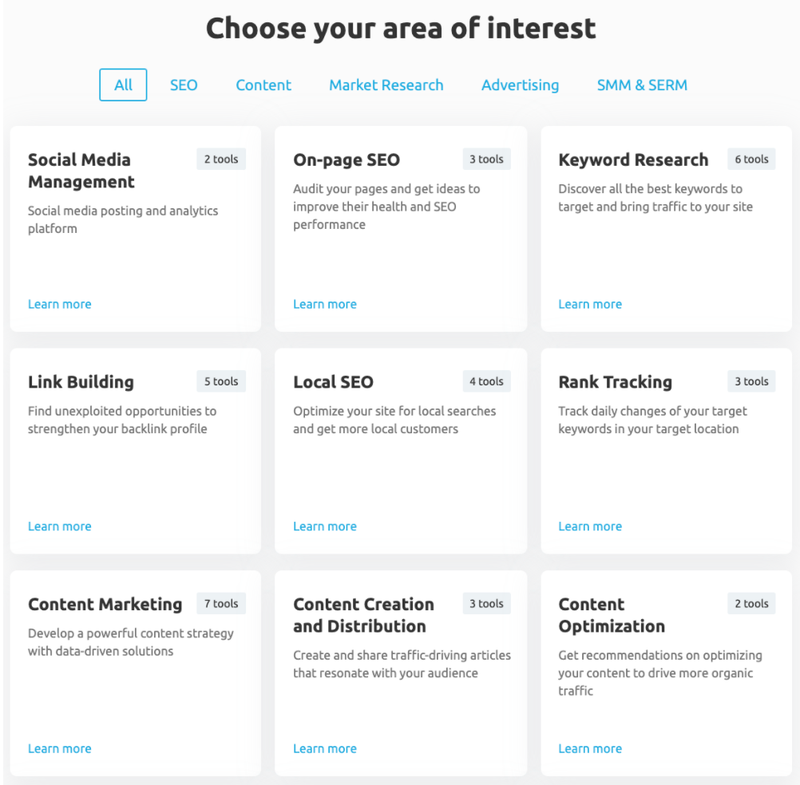 Every aspect of search marketing is covered here, including local SEO and link building.
The skill for SEMrush users lies in knowing which features to prioritize for their business, and ensuring that the data they see in the platform is used to make real changes to their online presence.
In our review below, we look at the standout features from this extensive selection.
Keyword Magic
As its name suggests, Keyword Magic is meant to provide supernatural capabilities for marketers. All you have to do is enter a target keyword or URL, then the tool does all the work to find new keyword opportunities.
It opens with a screen like this:

Once you select a target market and click the Search button, a huge table of metrics is conjured up immediately.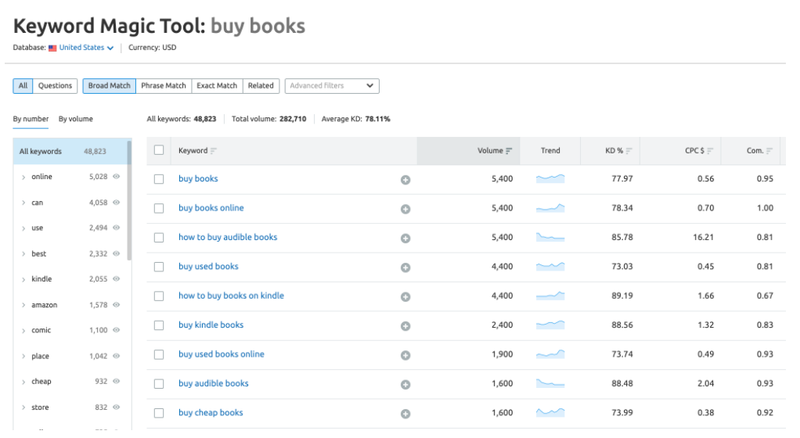 This is a core feature of the platform, and it's likely that all users will visit the SEMrush keyword tool on a regular basis.
One area for improvement is the traffic estimate SEMrush provides. It takes the search volume for a query and then estimates the traffic a site receives, based on its current ranking position. From experience, no keyword tracking tool is completely accurate in this regard, but SEMrush is less reliable than Ahrefs.
Link analysis
Yes, links still matter for SEO. If relevant, authoritative sites link to your domain, it is a signal that your site must also offer value.
It sounds simple when phrased in such a way, but link-building is a highly complex field.
SEMrush has over one billion referring domains in its index and over 31 trillion links overall. That is evidently a significant amount of data, but it does not exactly match the index of links that Google sees.
The SEMrush data can be combined with links from other tools, including Google Search Console and Majestic, to create a more complete picture of your backlink profile within the SEMrush dashboard. This is highly beneficial when businesses want to conduct a full backlink audit.
Of course, these links are only as useful as the impact they have for SEMrush users. The link analysis dashboard creates charts to demonstrate the quantity and quality of links pointing to the selected domain, as in the screenshot below.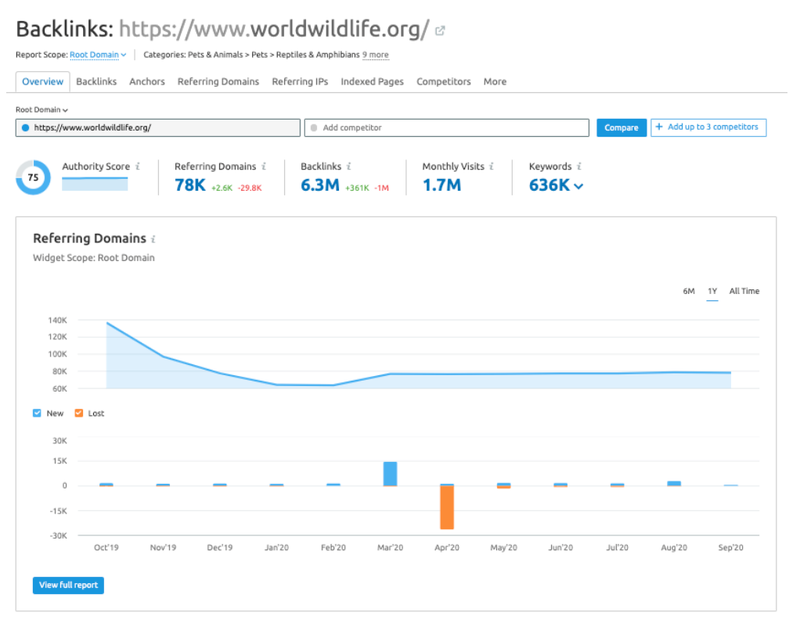 This will help you understand the strengths and weaknesses in your current strategy before deciding on your next actions. SEMrush has started to build features that can identify new link targets, but you can also do this by analyzing the links that drive performance for competitors.
You can compare domain link profiles side by side, and the advanced filters are superb for drilling down into the data.
You can now export all of this data to Google Data Studio too, albeit only with a Business subscription. This is fantastic for monitoring the impact of links on traffic and sales.
Overall, link analysis remains a standout feature in the SEMrush toolkit.
SEO Writing Assistant
Content analysis does not lend itself to the same kind of analysis as link building, at first glance. To calculate the quality of a piece of content requires data, of course, but there is more to this decision.
While data is objective, people make subjective, individual choices. If 100 people search for the exact same thing, they may have 100 different ideas of what a "good" search result will look like.
Google has struggled with this task, despite its enviable resources. To simplify the process, Google has typically relied on keywords to identify the relevance of an article to a search query. Content quality is then decided based on hundreds of factors, but inbound links have always been used as an indicator. That approach opened itself to spam, with businesses stuffing keywords in content and buying links to trick the system.
Through a host of artificial intelligence improvements and headline-grabbing algorithms, Google has improved its understanding of language significantly.
Businesses knew the keyword-led approach was a fudge, but it was at least somewhat predictable. SEMrush has built a writing assistant to inject some of this reliability back into SEO content creation.
You can add your content into the tool, or use the plugins available for Google Docs and WordPress. As you write, SEMrush will provide pointers to help you optimize your content for the target search query.
To put it mildly, it is unlikely that you'll win a Pulitzer Prize if you follow these recommendations to the letter. They are simplistic and general, so you should use them as broad guidelines rather than strict rules.
SEMRush Sensor
SEO is notoriously volatile. As soon as you think you have important ranking positions nailed down, Google makes an update that shakes up your entire industry.
While it's certainly true that following best practices and serving your users will lead to reward in the end, there are still unexpected changes along the way.
Businesses have typically been slow to notice these updates, never mind react to them. SEMrush monitors the SEO landscape for significant deviations and displays a daily report.
This feature also offers analysis of "SERP feature occurrence," meaning that it tracks the different types of content that show up for each query. If you run a business insurance company, for example, it would be useful to know if Google suddenly starts showing more images for your target queries.
You could then create new assets to match this user intent and attract more traffic. This is another area where SEMrush can create a competitive advantage for you.
---
SEMrush's ease of use
SEMrush has always understood that its tools will be used by more than just the SEO experts. The data it houses has value for social media, paid search, and market research.
Often, users just want a quick snapshot of performance rather than an in-depth analysis. Most of the tools require the user to input no more than a keyword or a URL to open a host of digestible charts.
There is still a learning curve for more committed users, however. SEMrush contains a number of proprietary metrics, with their own naming conventions, that may take a little time to get used to. It also requires some SEO knowledge to prioritize the different features and make sense of the numbers. There is some advice on the platform, but this should be more of a focus as SEMrush adds more complexity.
---
SEMrush's pricing
SEMrush pricing offers three options for monthly subscription on the website. The
Pro: $99.95/month for one user, providing access to all of the core features. This package will be sufficient for freelancers and small startups, as it contains three projects and 250 keyword metric updates per month. You can add one user to this package for an additional $70/month.
Guru: $199.95/month for one user. This increases the number of keyword metric updates to 1000 per month and adds historical data, which goes back to 2012. This addition alone will make the Guru subscription a worthy upgrade for slightly larger businesses. You can purchase up to two additional users for $140/month each.
Business: $399.95/month for one user. At this level, SEMrush is moving into the same pricing territory as enterprise SEO suites such as BrightEdge or Conductor. SEMrush Business offers crawling of up to 100,000 pages per project, Google Data Studio integration, and a variety of advanced content marketing features. You can purchase up to nine additional users for $140/month each.
There are two additional options. The Enterprise package is available on request, while the SEMrush free license provides up to 10 requests per day.
The latter is fantastic for businesses that do not need to track or monitor their SEO performance using this tool. The SEMrush free trial is also a great option for businesses that want to try before they buy.
These SEMrush pricing plans cater best to small teams and freelancers. There is exceptional value on offer for these customer types, but larger businesses will rack up additional costs quickly and may want to compare SEMrush with the other enterprise options available.
---
SEMrush's support
The SEMrush blog and supporting resources are among the best on the market today. There is a help center and a podcast, and the SEMrush Academy is superb.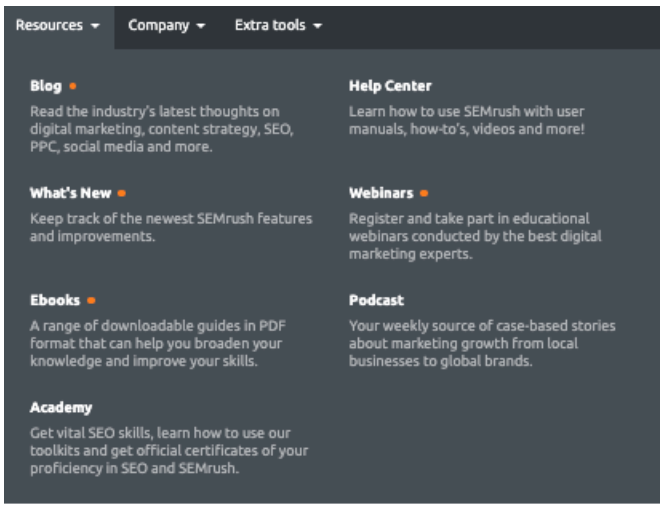 For technical support, SEMrush provides a phone number, as well as email and chat options. These are not as prominent as they could be within the main interface, as most of the support details are contained in the footer. That said, the choice of three options is welcome and compares favorably to many competitors.
---
Benefits of SEMrush
SEMrush has a tool for every aspect of SEO. In fact, it has more than one. Whatever you need to work on, from local SEO listings to creative content campaigns, SEMrush will help you get better results.
---
A comprehensive SEO software suite
SEMrush is a highly impressive set of SEO and digital marketing tools. The dashboard is intuitive, the data sets are vast, and the reporting options are reliable.
As we mentioned in the introduction, it would be impossible to excel in every single area of search marketing technology. SEMrush is great for keyword research, competitor analysis, and link-building, among other things. It's not the market leader when it comes to technical SEO or local SEO, though.
Overall, SEMrush has something to offer to businesses of all sizes. At a reasonable price for so many features, it's easy to see why this SEO tool enjoys such enduring popularity.
View more information: https://www.fool.com/the-blueprint/semrush-review/