Review: Chase Mortgage | The Ascent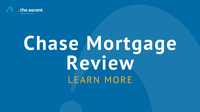 Top perks
Low down payment jumbo loans
Chase Mortgage makes jumbo loans more affordable and they are available in two forms:
Low down payment (no PMI): Borrow up to 85% of the home's value and pay no private mortgage insurance (PMI) for a purchase or refinance with no cash back. The maximum loan amount for a primary or secondary residence is $3 million. The maximum loan amount for an investment property is $1 million. This program is subject to credit score and cash reserve minimums.
Even lower down payment (with PMI): Borrow up to 89.99% of the home's value for the purchase of a primary residence, or on a Chase-to-Chase mortgage refinance with no cash back. This loan has PMI, enhanced credit score requirements, and geographical restrictions.
Low down payment mortgages
Chase offers a good variety of loans with low or very low down payment requirements. (Note that for eligible VA loan borrowers, the down payment requirement on a conforming loan is zero.)
The DreaMaker mortgage: for low- to moderate-income borrowers, requires 3% down, all of which can come from a gift or grant. This loan is for a primary residence only. It has reduced mortgage insurance requirements, compared to other low down payment options, which brings the monthly cost down. Eligible DreaMaker borrowers who complete home buyer education can receive a $500 grant that will be applied to loan costs or the down payment.
The Standard Agency mortgage: Has a 3% down payment requirement, with no income limits.
Chase home buyer $2,500 Grant
DreaMaker, Standard Agency, FHA, and VA borrowers purchasing a primary residence may be eligible for a $2,500 grant from Chase. The funds will be applied to points, closing costs, Chase fees, and non-Chase fees, in that order. DreaMaker and Standard Agency borrowers may also use the grant funds toward the down payment once those other costs are satisfied. Eligible borrowers who complete a home buyer education course can get an additional $500.
Home buyer education
Chase offers comprehensive and easily accessible home buyer education resources on its website. Several two- to five-minute videos help new home buyers get familiar with the process and begin to prepare. Chase also offers a credit score service called Credit Journey that anyone can use to check their VantageScore for free. The score you see may be different from the score your mortgage lender sees, but it will give you an idea of your standing and what you can work on to improve your score.
Housing assistance resources
Chase partners with various agencies and programs nationwide to help consumers get access to loans and grants that can make homeownership more achievable. A list of the Chase eligible housing assistance programs is available online.
Flexible automatic payment options
Borrowers can visit the Chase website to enroll in the payment schedule of their choice, or to choose a new option. You can pay monthly on the day of your choice (12 payments a year), twice a month on the dates of your choice (24 half-payments a year), or every two weeks (26 half-payments a year for faster payoff).
View more information: https://www.fool.com/the-ascent/mortgages/chase-mortgage-review/