Quickbooks POS Review 2021: Features, Pricing & More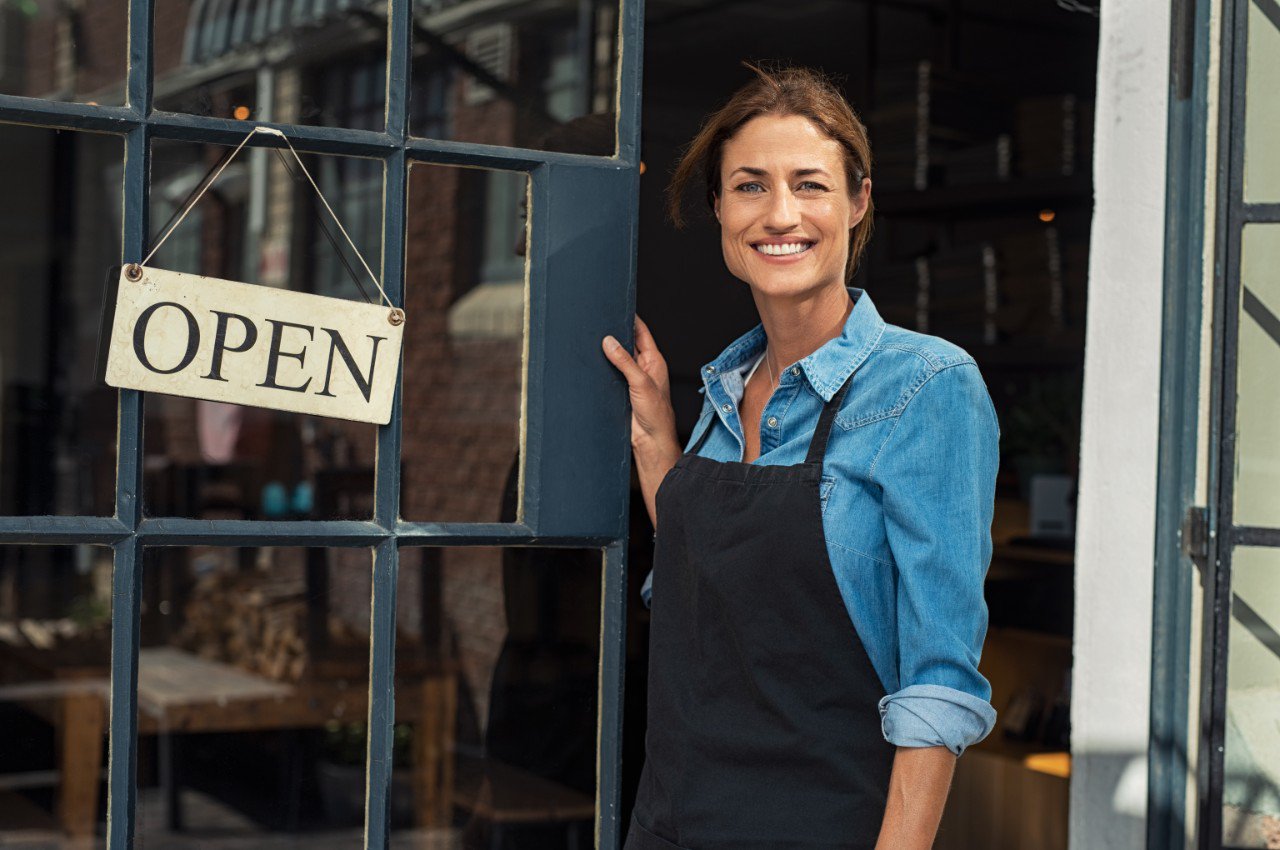 Merchants may be surprised to learn that the industry-leading QuickBooks accounting software offers a full-fledged point-of-sale (POS) system. Intuit has packed their expertise in easy-to-use software into the QuickBooks Point of Sale system.
And expectedly, QuickBooks offers a seamless integration between their POS solution and accounting software.
QuickBooks Point of Sale solution is a locally installed system, which has become increasingly rare in the cloud-driven POS space. There are no advantages of a local-install compared to cloud-based deployment. Still, many people seem to find success with the system.
Continue reading for our full QuickBooks POS review.
---
Who is QuickBooks POS for?
QuickBooks POS is designed for traditional brick-and-mortar retailers. It's simple to use and provides all the features you need to run your store at a moderately fair price.
It could be a fit for a small franchise looking to automate ledger and payments. However, QuickBooks POS local deployment means that you have to pay for a license for every computer/terminal you want to install the system on.
As such, the product can be price prohibitive if you need multiple systems per location. And a lack of marketing capabilities hampers the sales tactics QuickBooks POS supports relative to other offerings.
It's not a good fit for businesses looking to launch an online store due to its local deployment and lack of integrations outside of QuickBooks and Windows products.
---
QuickBooks POS features
QuickBooks POS comes with all the standard features you expect from a POS system. The desktop platform recently announced compatibility with Microsoft Surface Pro tablet, enabling users to take advantage of all the sales management features throughout their store and anywhere with WiFi.
QuickBooks POS iPad support is non-existent at this point.
QuickBooks offers common features such as checkout and payment processing, inventory management, and customer management. And the system offers an abundance of financial reporting capabilities given the seamless integration with QuickBooks.
Here is a deep dive on the full feature set of QuickBooks POS.
Payment processing
QuickBooks POS supports credit and debit card payments via a separate solution, QuickBooks Payments. QuickBooks Payments integrates seamlessly with POS and QuickBooks accounting software to report actual sales, reconcile transactions, and adjust inventory accordingly.
The system touts the security and data protection of their payment processing, providing full EMV chip reading capabilities via hardware offerings. QuickBooks Payments accepts Visa, MasterCard, Discover, American Express, and debit cards.
Ring sales
Ringing up sales and checking out customers is the essence of software-based POS systems. QuickBooks POS does just that, empowering you to stop relying on manual methods and disjointed payment systems.
QuickBooks POS offers an optional barcode scanner to make it especially easy to find the items being sold and complete the sales process. And the recent Microsoft Surface Pro deployment enables you to sell anywhere in the store.
Once all items in the transaction are accounted for, QuickBooks allows you to input relevant customer data for loyalty and rewards. Then simply process the payment, complete the sale, and issue a receipt.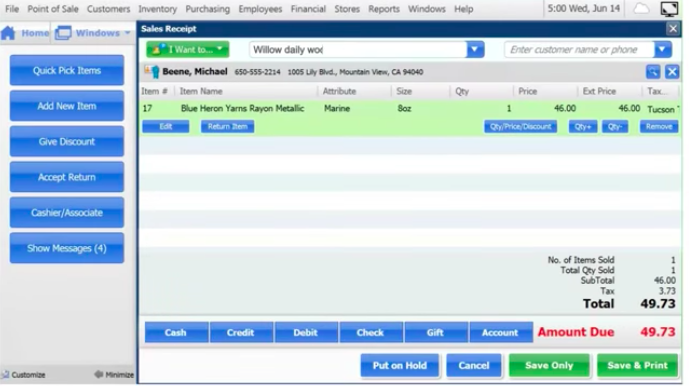 Inventory tracking
QuickBooks POS offers inventory management capabilities that automatically update counts with every sale, purchase order, and customer return. You can get a real-time look at your inventory levels to see where your stock levels are so you know exactly what you need to order and when.
QuickBooks POS offers everything you need for in-depth analysis of what products are selling the most and when, as well as who is purchasing them.
All this combines to provide actionable insight you can employ to optimize inventory from quarter to quarter, adjust your pricing strategy, monitor your product development process, strengthen customer relationships, and boost sales. And this is possible not just per location, but across your entire retail operation.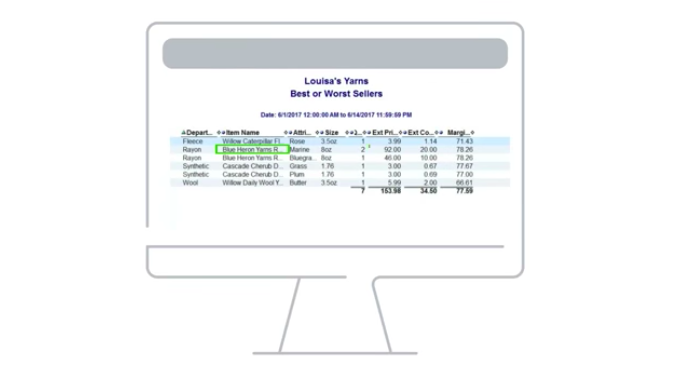 Sales analysis
QuickBooks POS has built-in reporting capabilities that are flexible and easy to use. There's tons of existing filters you can use to splice your data into the exact report you need.
Analyze sales against prices and discounts, date and time, customers and customer segments, and inventory criteria to gain insights that inform decisions and boost sales.
Note when sales peak to determine if certain sales techniques are best for your business, and report findings to your staff to help them become better salesmen.
These built-in tools stand fine on their own, but the reporting capabilities of QuickBooks POS really shines when you add the analysis capabilities of QuickBooks accounting software.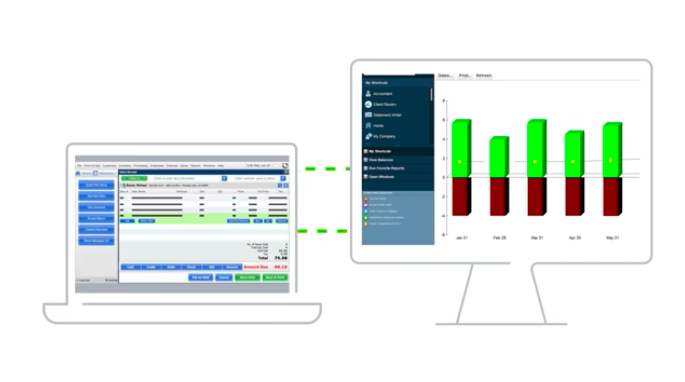 QuickBooks integration
Any QuickBooks POS review requires a deep dive into the essential capabilities of the flagship QuickBooks accounting software. It's worth noting that most cloud-based POS systems offer some degree of integration with QuickBooks but none are more seamless than QuickBooks POS.
The easy transition and shared systems saves you time and effort.
QuickBooks accounting software provides additional power for you to manage, reconcile, and analyze sales, accounting, and inventory and vendor payments. The integration eliminates the need to transfer data from one system to another, reducing human error and putting precious time back in your day.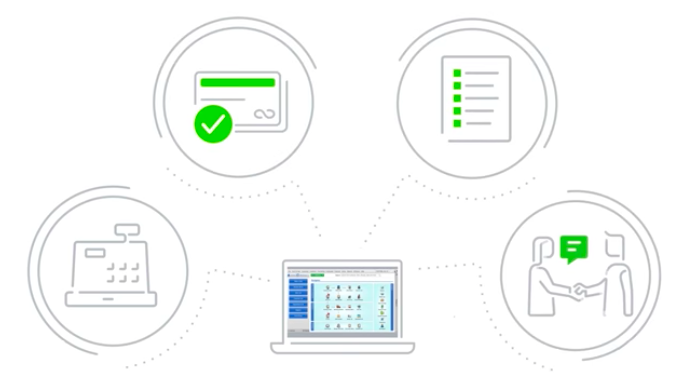 Customer management
Like most leading POS systems, QuickBooks POS has critical customer relationship management (CRM) capabilities baked into it that help you close sales. You can use QuickBooks' CRM tools to keep an organized database of valuable customer contact information and purchase histories.
If your business works off billing or offers credit, you can track and manage those balances as well.
Along with basic CRM functions, QuickBooks POS customer management offers reward programs designed to generate customer loyalty.
You can define parameters around rewards programs such as purchase thresholds, reward amount and expiration, and the time period when purchases must be made to qualify for rewards.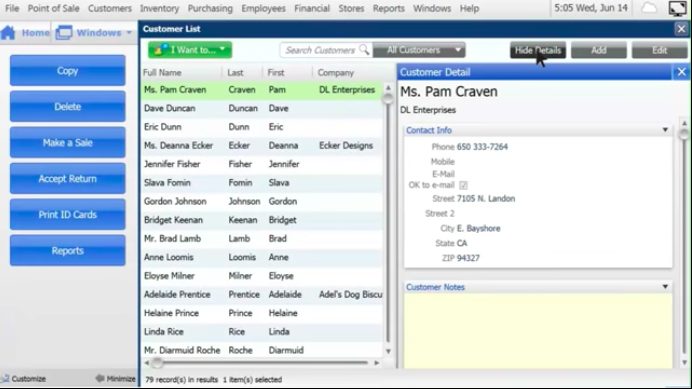 ---
QuickBooks POS' ease of use
Quickbook POS is designed for and delivers an easy user experience. It's a Windows-only product, so it should look pretty familiar from the start. The interface provides a helpful, customizable list on the left for essential tools you use repeatedly throughout the day.
The bulk of the interface is dedicated to the navigator pane that houses all the POS features.
Start a new sale, review customer rewards, or dig into inventory data all with one click on the icon for that feature. QuickBooks offers a helpful guide that walks you through the setup and customization options for your system.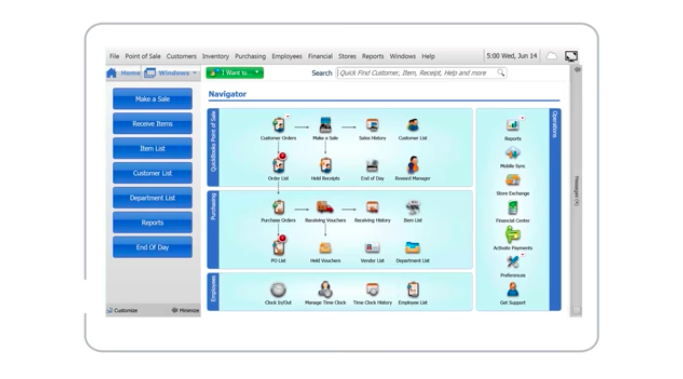 ---
QuickBooks POS' pricing
QuickBooks offers three pricing options with increasing capabilities to match price increases. These prices are for the POS software alone and are exclusive of additional hardware needs such as computers, monitors, tablets, cash drawers, card readers, or barcode scanners.
QuickBooks offers a 30-day free trial to try things out before committing.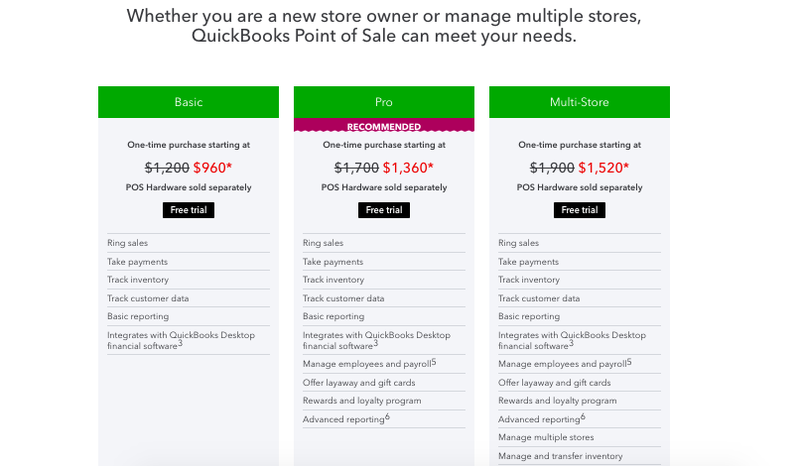 These prices are per license, meaning you'll have to pay these costs for every terminal operating QuickBooks POS system software. All options include integration with QuickBooks accounting software. Prices and features are as follows:
Basic – $1,200/license

This option is limited in its feature set to inventory and customer tracking as well as basic reporting. It's really only suited for small merchants just looking to automate some of their day-to-day operations.

Pro – $1,700/license

This option builds on the Basic option by adding the loyalty and rewards tools discussed above along with layaway, gift cards, and advanced reporting. Pro also provides employee tracking and payroll capabilities via integration with other QuickBooks products. It's a fit for growing businesses that are looking to take it to the next level by optimizing and streamlining processes.

Multi-store – $1,900/license

As expected, the Multi-store option adds integrated management capabilities that tie together sales, customers, and inventory for multiple locations. This is a fit for franchises that need individual location support as well as seamless back-end management.
You may notice prices listed above don't match the prices in the image from the QuickBooks POS webpage. That's because they often offer 20% off their standard prices. Keep that in mind as you're working with your account contact there.
It's also important to consider payment processor fees. You don't have to go with QuickBooks as your processor, but if you do, their fees are in line with industry standards.

---
QuickBooks POS' support
QuickBooks offers many free resources to help you troubleshoot and unlock all the power of your POS. Intuit offers a massive online help center with multiple community forums for peer-to-peer support. There's also an extensive catalog of tutorial videos, webinars, and technical system documentation to help you out.
---
Benefits of QuickBooks POS
The top benefits of QuickBooks POS are its ease of use and seamless integration with the QuickBooks accounting software. You shouldn't overlook the ability to automate data transfers from your POS to your financial software.
And, if you can afford it, the one-time license fee could also be a benefit when compared to the monthly subscription payments of cloud-based, SaaS POS offerings.
---
QuickBooks POS has its place
QuickBooks POS provides all the basic features and easy-to-use functionality you want in your POS system, and the integration with QuickBooks accounting software can't be overlooked. But the software industry as a whole has overwhelmingly moved to cloud-based, SaaS solutions.
These provide more agility in terms of support and product updates on average. QuickBooks POS updates will require additional steps. But the solution has its place and will serve you well if you go with it.
You'll just need to be weary of additional costs you'll incur for additional POS terminals, support across locations, or if you want to integrate online sales.
View more information: https://www.fool.com/the-blueprint/quickbooks-pos-review/