Procore Review 2021: Features, Pricing & More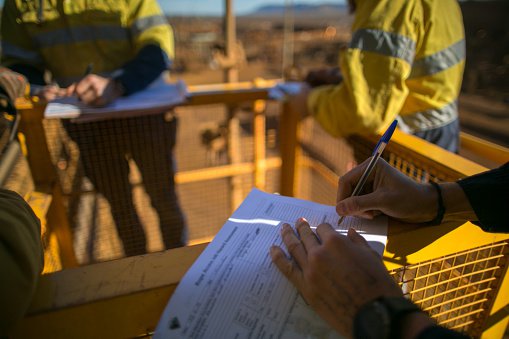 If you're in the construction industry, you've heard of

Procore. As of mid-2020, the company was reportedly worth around $5 billion and on the cusp of going public. It hosts a massive annual construction conference called Groundbreak and dominates the construction management software space.
That can make them a little intimidating if you're a small firm looking for some construction management help — or, if you're a larger firm dealing with complex projects, it can assure you you're dealing with software that can handle your needs.
But what exactly does Procore offer, and does it make sense for your business? In this review, we'll dive into Procore's features and all other aspects of this powerful software.
---
Who is Procore for?
Procore is for construction managers who have a lot on their plates and need more than your typical project management tool.
This feature-rich platform has a learning curve and is definitely geared toward more experienced construction managers with larger teams, but if you're willing to take the time to learn the software (and can afford its price tag), you'll appreciate Procore's powerful tools.
If the standard construction management platform just doesn't cut it anymore, and you need a lot more capability and customization, Procore is a top choice.
---
Procore's features
Procore construction management is packed with every feature a manager will want at their disposal — almost to a daunting extent.
Procore declined to allow us to try out the software, saying they customize demos for an individual customer's needs, so this review is based on their extensive directory of tutorials and videos. General contractors, subcontractors, architects, and more will find a few features particularly interesting.
Custom reports
Procore offers a range of reporting templates, or you can create a custom report from scratch by choosing data points. You simply drag and drop specific data points into the report, and then generate it.
You can also filter the data by certain parameters, and choose assignees to get even more detailed. There's virtually no limit to how specific you can get with these reports and how much you can mix and match different data points, which is a strong selling point for this software.
Document management
Procore gives you unlimited cloud storage, which is a nice benefit considering many other software choices limit storage or force you to pay extra for it.
You can track individual files and folders, and you receive an email whenever they are updated or deleted. And you can navigate this feature easily by going to "items you're tracking" which shows exactly what it says. You may also create private folders that only people with specific permissions can see.
Task management
Procore's task tool assigns tasks to others, or you can create your own to-do list. You fill out a simple form that lays out details such as assignee, due date, description, status, and so on.
You can also attach files and photos, assign it to a specific category, and even change the priority number to ensure tasks are worked on in order of importance.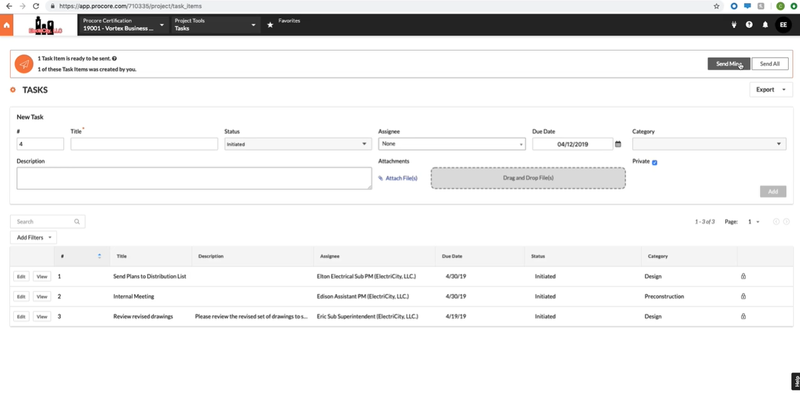 ---
Procore's ease of use
Procore's approach to construction management makes a lot of sense, but you'll face a learning curve, and we highly recommend their extensive tutorial course to get the hang of it. Once you figure it out, you'll have extensive control of your project, with many powerful features at your disposal.
Your Procore experience will vary depending on your role, whether you're a general contractor, a subcontractor, an architect, a superintendent, an engineer, or a student.
The software has two architectural levels: company level and project level.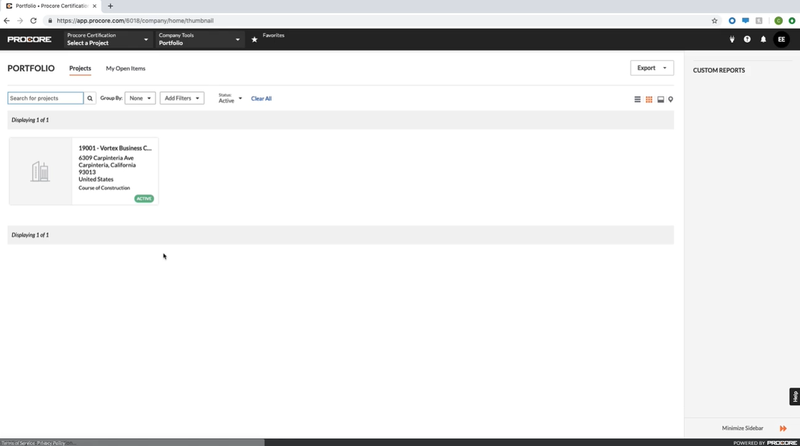 The company level shows only projects you're a member of, instead of all the projects within your company. This allows you to easily navigate between projects on your dashboard.
You click on a project to go to its project level. This takes you to an overview of the project, showing who's on the project team (including contact info), and Procore scheduling shows an overview of important milestones like submittals and inspections and when they're due, or if they're overdue.
This section also lists open items assigned to you, requiring your response (essentially your to-do list). The project address and current weather conditions are shown in a column on the right.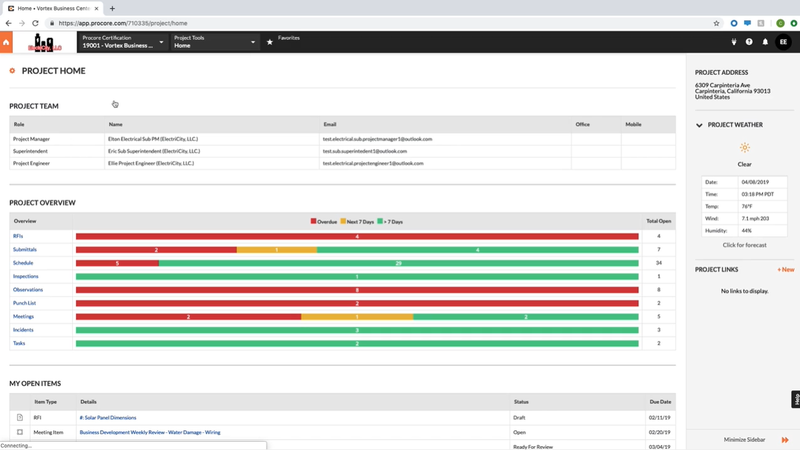 Other drop-down menus help you navigate to recently changed items, today's project schedule, project milestones, and other key information.
Beyond that, it's not the easiest interface to navigate, but you'll figure it out in time. At the top of the dashboard, drop-down menus help you navigate to a specific project and to project tools.
You can manage projects easily through the Project Directory. You can create users and edit their permissions, as well as create new projects.
The Procore app is also impressive, allowing you to easily check on the status of projects and receive photos straight from the job site. It's available on both Android and iOS devices.
---
Procore's pricing
Make no mistake about it, Procore is expensive. If your firm runs $3 million or less in construction volume each year, the cheapest option starts at $375/month — and that's if you sign up for a year.
That's just for the construction project management version of the software. If you want the financial management side as well, it will cost you $549/month (again, on an annual contract).
You can also build a custom bundle that includes resource management and preconstruction for custom Procore pricing.
Fortunately, those prices include unlimited users, unlimited documents, photos, data, and full customer support. Considering plenty of companies charge per user or limit the number of jobs you can have, Procore may end up being the more cost-efficient option depending on your business.
If you want to try the software out before you buy, you must contact a member of Procore's sales team first, so it's not as simple as just filling out a form and logging in. However, this may be preferable for construction managers who want a little hand-holding at the start.
---
Procore's support
Unlike many software options out there, Procore prominently displays their phone number at the top of their website. A call to that number got a member of the customer support team on the line almost immediately.
Additionally, once you sign up for the software, customer support comes with the subscription without an additional cost. That's a big plus, since many developers charge extra or don't offer it at all.
You can visit support.procore.com to get access to a wealth of information on the software, including articles on how to get started. They also offer webinars, the Procore training video library, and the Procore Community so you can ask other users for help.
---
Benefits of Procore
Procore project management is all about function. It's an advanced tool that aims to turn a well-run construction business into a top-tier operation. You will not lack for features with this software, which explains why Procore is arguably the biggest name in construction management software.
And while it may not be for beginners or tech novices, that doesn't mean you can't pick it up. The company offers a library of short but helpful tutorial videos, and customer support comes with the package.
Those packages come with a hefty price tag, of course, but Procore more than earns its right to charge that much with what it offers.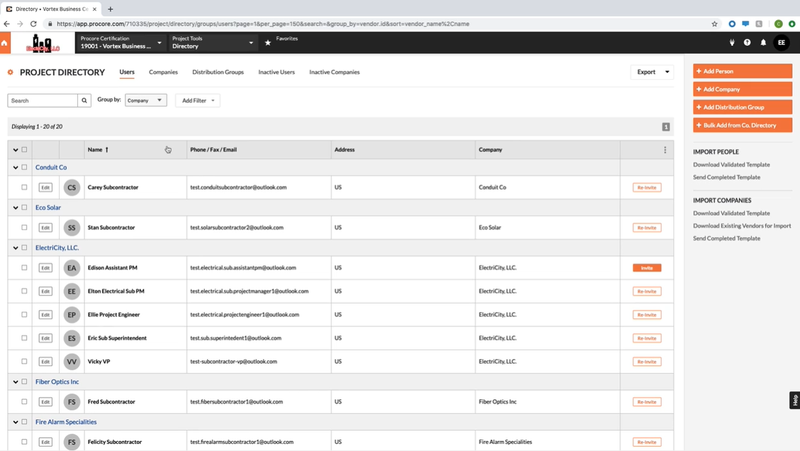 ---
Procore delivers, but it's not right for everyone
The bottom line is it's a bit hard to rate software like Procore. This might be a five-star platform for a construction manager with a big team who needs powerful features to run all of the moving parts of their business.
But for a subcontractor consisting of a father and son who are just looking for a few basic project management features, this tool wouldn't make sense for them due to the high price tag and all of the features they probably won't use.
The best idea if you're unsure is to fill out a form for a demo at Procore's website and let them guide you through the process so you can see if it will be a fit for you.
Then, check out some of the construction software options we've reviewed and try some more demos to see if you can find a better fit. You won't know for sure until you try them.
View more information: https://www.fool.com/the-blueprint/procore-review/