PlanGrid Review 2021: Features, Pricing & More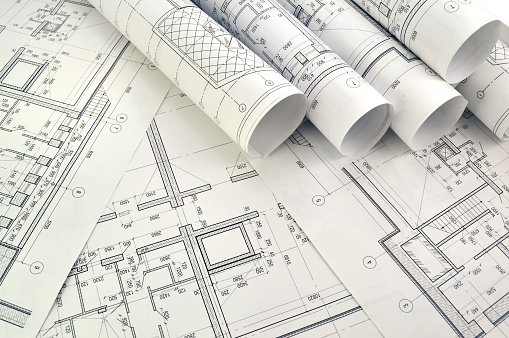 If you spoke to a group of construction managers, a lot of them would probably agree that paperwork is one of the worst parts about the job.
And it's not just because it's a lot of work. Everything gets so disorganized so quickly, and when you have outdated blueprints and drawings floating around, frustration and mistakes inevitably arise.
PlanGrid aims to solve this issue with an app that streamlines construction document management. Here's everything you need to know about the platform's features and whether it's right for your firm.
---
Who is PlanGrid for?
PlanGrid is geared toward construction managers looking for a better way to manage drawings and blueprints. The software automatically renders uploaded drawings and allows the user to mark them up and share them with others.
For construction managers who have to juggle a lot of paperwork and send around documentation, it will save a lot of time.
It doesn't do everything you might find in a more comprehensive construction management platform — such as construction marketing, managing workers, budgeting, and so on — and companies with small budgets and a lot of users may find themselves priced out.
But PlanGrid handles a big part of construction project management — blueprints and documents — very well.
---
PlanGrid's features
PlanGrid specialty is handling documents and drawings, so most of its features will center around that core ability. A few features in particular stand out as critical to this platform.
Document mark-ups
The software allows you to mark up plans with notes and photos right from the job site, and you can place hyperlinks within the blueprints that will take the user to documents such as RFIs or specs.
And they don't have to be major changes — if you just want to pop an arrow in the document to highlight something of importance, you can do that. For any construction manager that has had to email PDFs back and forth, this alone is a godsend.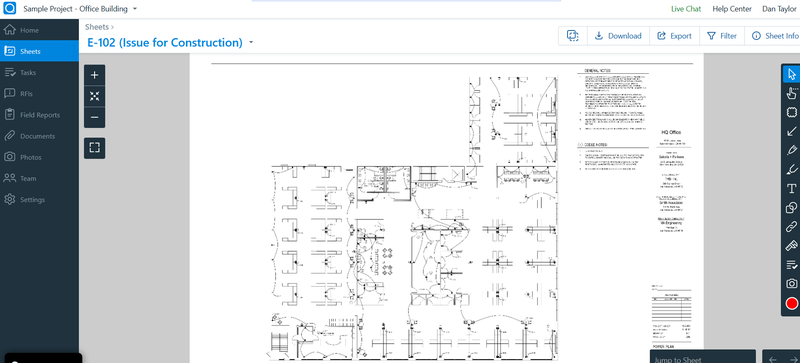 Punch lists
The punch list feature, which identifies issues you must fix before the project can be completed, is totally digitized with this platform. Construction managers are able to tag a specific location with issues such as inspection notes or defects. This makes it easier to monitor issues until they are resolved.
Sheet compare
One problem with editing blueprints is that you eventually may end up with one that is completely different to one that another stakeholder has.
This software allows a construction manager to overlay different blueprints and compare their differences. It's a feature that could prevent a back-breaking conflict that sets the project back by days.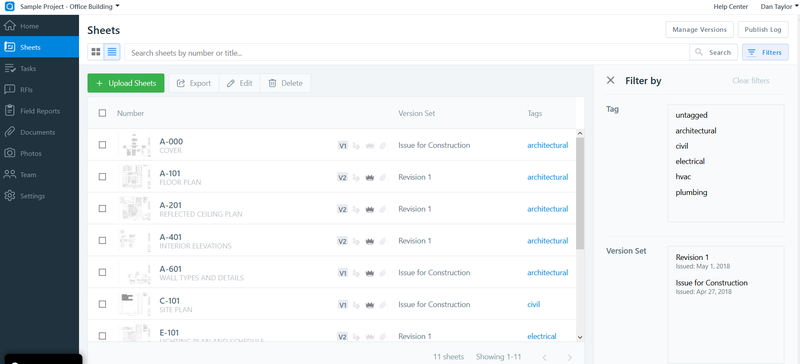 BIM
You're not stuck with just blueprints in PlanGrid. The software provides building information modeling (BIM) functions, which allow you to look up both the 2D and 3D models for a structure.
This is vital for the architectural and engineering part of the project, not just because it makes it easier to visualize the finished project but because it makes it easier to spot potential issues before they arise.
Reports
Safety checklists, site visit reports, and other reporting functions are digitized and automated, saving time on paperwork. PlanGrid can process a PDF form or provide a form you can fill out.
The reports can be stored and shared with stakeholders. Also, the software automatically sends out reports to those authorized to receive them.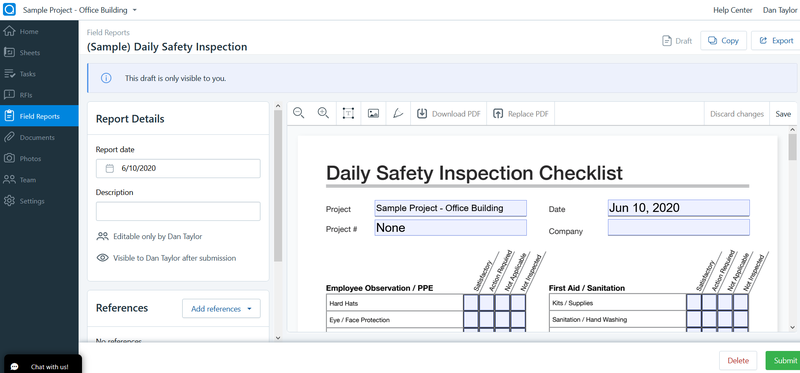 Integrations
PlanGrid offers more than 70 integrations with third-party software, including Basecamp, Dropbox, Gmail, Office 365, Salesforce, and many more.
That certainly puts it ahead of a lot of other companies that offer a handful of integrations but for the most part require that you adjust your processes if you rely on third-party software a lot.
---
PlanGrid's ease of use
PlanGrid does a good job of making the upload and markup of drawings and blueprints easy.
It automates a lot of tasks and eliminates many of the headaches construction managers have to deal with when juggling countless documents that are hard to organize because some are out of date and you must share new versions with the team.
From the project dashboard, creating a new project is as simple as clicking on the "new project" button in the top right. You'll be able to import drawings from your computer or cloud storage.
The software will allow you to verify the drawings before they're published in the software. And the software will render the drawings in great detail, allowing you to zoom in on the smallest items.
You can filter sheets, select a group of them at once, add and edit tags, and take other actions. All collaborators on the project will have access to them, so you won't need to share them via email or a cloud storage drive.
PlanGrid's mobile version is a documents app that is split into two sections: projects on your device and projects in the cloud. Once you get to a Wi-Fi signal, everything will sync and projects on the device will migrate to the cloud.
Through the app, you can download a project you created to your mobile device so you have access to all important documentation in the field.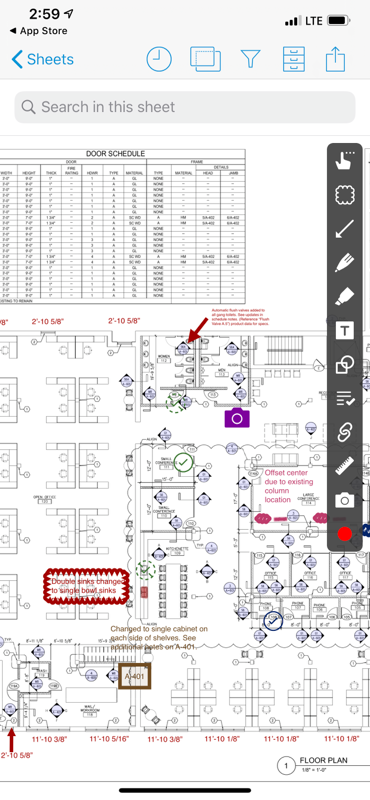 But PlanGrid doesn't just allow you to upload and share documents; you can also mark them up. You can select a portion of the drawing, draw an error to point out details, highlight certain areas, draw in freeform, write text, and more.
You can choose to make this a local annotation, meaning for your eyes only, or you can share it with the team.
---
PlanGrid's pricing
A PlanGrid subscription comes in three tiers, and the main difference between them is how many "sheets" you have access to, referring to blueprint or drawings (not all types of documents).
Pricing starts at $39 per month at the "Nailgun" level, which gives you access to 550 sheets. Dozer ($59 per month) allows 5,000 sheets, and Crane ($119 per month) provides unlimited sheets. All plans include unlimited projects, photos, and documents (other than blueprints).
However, the aforementioned PlanGrid cost applies to those who sign up for an annual subscription. If you want to go month-to-month, the prices are $49, $69, and $139 per month, respectively.
You should also keep in mind that this pricing is classified as "individual." If you're looking to add multiple users, contact PlanGrid to come up with a pricing plan. That means if you have more than a couple people who need access to it, what started as affordable software will get expensive quickly.
Keep in mind that you may have to spring for upgrades as well. Training is considered a premium service that must be purchased separately, for example. So to sign up for software for multiple people that includes all the bells and whistles, you will be paying much more than the above-quoted baseline prices.
If you're looking for a free blueprint maker, the good news is you can sign up for a 21-day free trial with no credit card or consultation required.
---
PlanGrid's support
As stated above, training your team to use this software comes at an additional expense. However, the upside is that it means virtual or on-site PlanGrid support, which is certainly superior to simply having a tech support number to call when things go wrong.
PlanGrid lists a customer support number prominently on the top of its website, so its not difficult to reach if you run into problems.
It offers a weekly demo each Wednesday that provides a basic overview of the software so you can get a sense of how it performs. Plenty of tutorial videos are on the site to assist with learning the software.
A self-help article archive is packed with content on how to use its various features. And it even offers PlanGrid tutorials and ebooks if you really want to get into the nuts and bolts.
---
Benefits of PlanGrid
PlanGrid does an excellent job of handling what can be one of the most complex and frustrating aspects of construction management: the paperwork.
When you have blueprints to mark up and share and update, things pile up very quickly — and that's when mistakes happen. PlanGrid solves that vexing issue and automates a lot of tasks.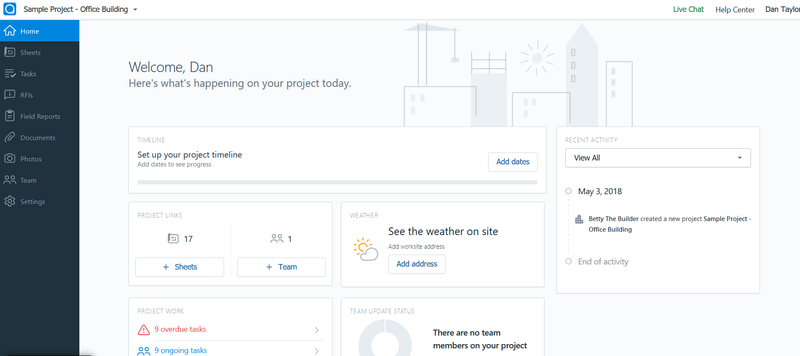 ---
PlanGrid will take care of paperwork, but it's not all-encompassing
At its heart, PlanGrid is blueprint and document management software, so if you're hoping for comprehensive construction management software that can handle all aspects of construction management, look elsewhere.
But it does this job extremely well, and you may regret springing for a broader construction management platform that doesn't have the documentation tools this platform has. Instead, you might supplement PlanGrid with software offered through its many integrations.
View more information: https://www.fool.com/the-blueprint/plangrid-review/