Pardot vs. HubSpot: The Top Marketing Tool for Small Business

Pardot by Salesforce and

HubSpot are two stalwarts in the space, offering all the benefits of marketing automation. Each platform provides valuable capabilities that empower marketers and salespeople to operate with personalized, profitable precision.
Pardot is the Salesforce marketing automation option, whereas the HubSpot free trial is a forever free offering to attract smaller businesses.
Each exhibits differences in core capabilities and subtle nuances that require you take time to research and compare before deciding between the two and building your new automated marketing plan.
---
Pardot vs. HubSpot: An overview
Pardot and HubSpot launch marketing campaigns differently to reach a similar means of marketing efficiency and optimization. Each is better suited for different types of users and share core capabilities but differ around specialized components.
They vary in ease of use and support as well as price, although both Pardot and HubSpot are on the high end for marketing automation prices.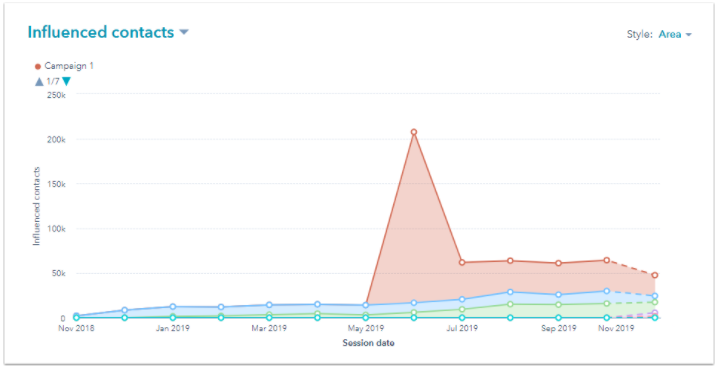 Continue reading for a deep dive into the similarities and key differentiators between these two top-tier marketing automation platforms.
Who is Pardot by Salesforce for?
Pardot is primarily targeted to Salesforce CRM users, but it also works fine as a standalone marketing automation system. It works best for medium- and large-size businesses and B2B enterprises.
It's likely too expensive for smaller companies. Marketers that stand to benefit the most from Pardot are those that work closely with their salespeople, defining roles and responsibilities and transitioning leads to one-on-one sales outreach.
Who is HubSpot Marketing Automation for?
HubSpot is designed to work with small business marketing, enterprise marketing, and every business in between. It's really a fit for anyone looking to implement or strengthen inbound marketing strategies across channels.
HubSpot offers its own CRM baked in with the marketing automation solution, providing centralized benefits to marketing teams just getting started. It also integrates with many CRMs, making it a plus for more mature marketers with existing platforms.
However, it does have a steep pricing curve as you scale contacts, features, etc.
---
Pardot vs. HubSpot: Features
A high-level feature analysis shows Pardot and HubSpot looking quite similar. Each includes lead management with scoring and nurturing, journey building with automated workflows, triggered email automation, and detailed attribution.
It takes a close look at the two platforms to see the subtle differences in feature sets.
What Pardot by Salesforce offers
Pardot's features empower marketing and sales people to populate pipelines, drive conversions, and deliver nurturing, personalized outreach to turn leads into sales.
Compared to HubSpot, Pardot dedicates more resources and space to critical lead management and sales integration capabilities. It lacks the holistic content focus that HubSpot provides.
But Pardot offers powerful artificial intelligence tools with Salesforce's Einstein AI. Users can prioritize leads based on predictive scoring, optimize outreach based on lead behaviors, and tweak campaigns to reach new audience segments.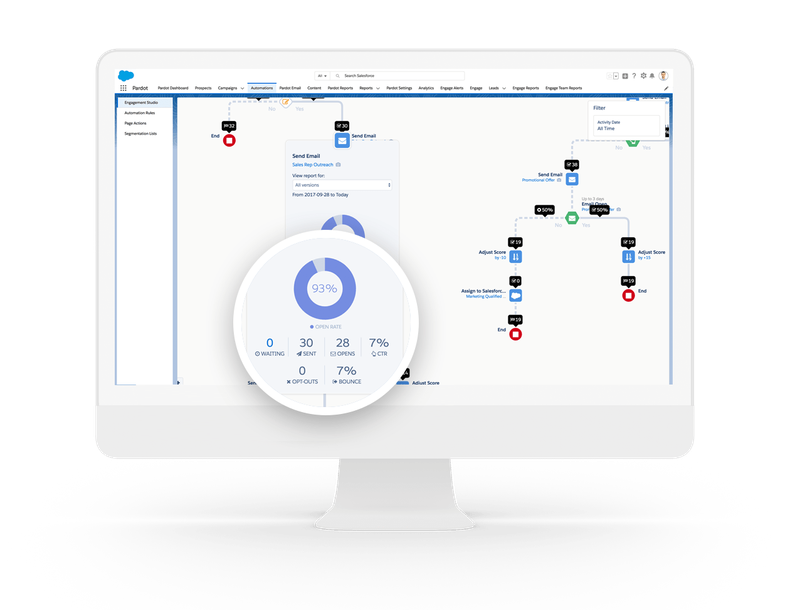 What HubSpot Marketing Hub offers
HubSpot provides a vast sales and marketing feature set. HubSpot sequences are the triggered email automations similar to Pardot's journey builder.
HubSpot doesn't boast the same AI capabilities as Pardot's Einstein, but it more than makes up for it with tremendously richer content marketing capabilities. It supports blogging, social media, and paid ads, and the all-too-common HubSpot landing page. A HubSpot keyword tool tracks SEO performance.
The ability to centralize all these content and promotional tools in your marketing automation platform provides incredible convenience and powerful synergies.
As a slight negative, HubSpot's creative capabilities are built for convenience and don't offer the complete customizations that you would find with other content builders.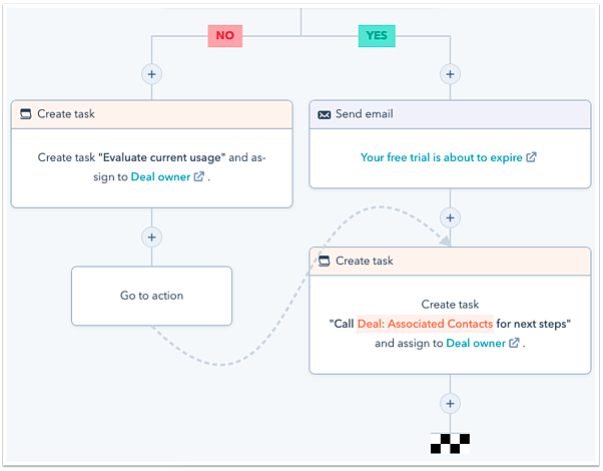 Results
HubSpot gets the nod from a features perspective given the platform's vast content support. It's hard to overlook the convenience of such a centralized platform operating a home base for sales and marketing teams.
However, plenty of marketers would be better served by Pardot's more narrow focus on lead management. This is true for more mature marketers that have existing content management systems and dedicated designers creating custom campaigns.
---
Pardot vs. HubSpot: Support
Support often falls by the wayside as features and price get all the attention. But support is critical when conducting your due diligence. Support is your safety net for onboarding, integrating, and optimizing your new system.
Investing in a potentially pricey platform such as Pardot or HubSpot without any safety net opens you up to a ton of risk. Due diligence won't just uncover whether or not the platform offers support but it will dive into the types of support and any additional costs associated with it.
What Pardot by Salesforce offers
Pardot's primary support is through a paid subscription to their partner network, Premier Success programs. These custom programs come at varying costs to Pardot users depending on the support required.
Services include 24/7 phone and chat support as well as offloading capabilities for custom implementation setup while you focus on your business. Users work with this team to set ideal times for contact, which includes strategy sessions, audits, and tutorials on recently released features.
Users get access to free training and live webinars geared toward users and access to Salesforce's enormous knowledge base. The knowledge base includes tons of content on best practices for getting the most out of Pardot.
What HubSpot Marketing Automation offers
HubSpot's support varies by pricing tier. Free users have support that's limited to the community forum. The first paid tier, the starter package, receives access to the community forum as well as email and live chat support.
The top two paid tiers receive phone support in addition to everything previously listed. All users have access to HubSpot's robust knowledge base and HubSpot Academy, which includes tons of articles, videos, and how-to documentation.
Results
Pardot edges out HubSpot on support, although it comes at an undisclosed price. The ability to get 24/7 chat and phone support as well as paying for a turnkey implementation and integrations is what sets Pardot ahead.
Both vendors offer free support and have such a large user base that the community forum and knowledge base cover close to anything you could need.
---
Pardot vs. HubSpot: Ease of use
Your marketing automation system needs to balance features and capabilities with an ease of use that's appropriate for your team. All the features under the sun won't mean a thing if you have to dedicate months learning how to use them. Let's dig into how these systems stack up on ease of use.
What Pardot by Salesforce offers
Pardot offers great ease of use for setting up core marketing automations with their journey builder, using simple drag-and-drop functions. Outside of that, the sheer amount of capabilities and the overall navigation to reach those capabilities presents a decent learning curve.
It can be overwhelming to get the hang of the system, but built-in instructions and additional support make it easier.
What HubSpot Marketing Automation offers
HubSpot offers clear ease of use because it centralizes CRM and marketing automation into a single seamless platform. You'll find it convenient using a single solution to customize journeys, create blogs, forms, landing pages, and launch promotion.
As a negative, HubSpot's ease of use actually makes it difficult to design customizations across landing pages and email templates.
Similar to Pardot, you'll encounter a very real learning curve with such a vast platform, but the navigation is highly organized and houses features within high-level core functions.
Results
HubSpot is the winner on ease of use. Its aesthetic and design provide a cleaner user experience than Pardot. Its more extensive feature set for content creation, albeit somewhat rigid for customizations, is a big positive for HubSpot. The navigation is another plus that gives it an edge over Pardot.
---
Pardot vs. HubSpot: Pricing
Marketing automation platform pricing can often look like the wild wild west to new users. Prices vary hundreds to even thousands of dollars for different tiers in both platforms. You have to dig into pricing for HubSpot and Pardot to determine where you could get breaks.
What Pardot by Salesforce offers
Pardot pricing comes in three tiers. All three include up to 10,000 contacts. The feature set expands as the price increases at each tier. Pricing starts at $1,250/month with the Growth tier.
This is the lowest priced option, which is reflected in scaled-back features across the board and a complete lack of AI, A/B testing, and multi-touch attribution.
The Plus tier is next at $2,500/month. It offers scaled-back versions of almost all the same features as the final tier, but does not offer AI. The final tier is the Advanced tier.
It's priced at $4,000/month and includes AI as well as a much greater scale of execution on things such as programmable automation rules, trackable domains, file hosting space, and more.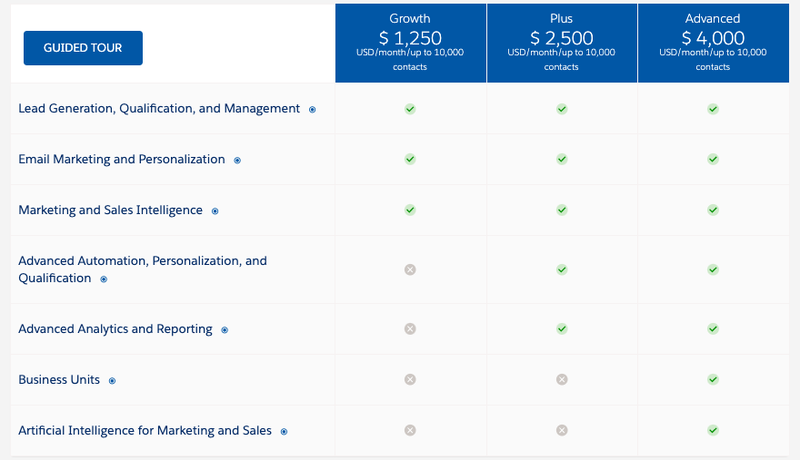 What HubSpot Marketing Automation offers
HubSpot offers three pricing tiers and a free platform that's an amalgamation of HubSpot's CRM, marketing automation, sales automation, and more. The free option is forever free but scaled back and designed for your business to grow out of it and into a paid plan.
The Starter package is the first paid plan. It's $50/month for 1,000 contacts and builds on the free option with more marketing power such as forms and landing pages and email marketing.
It lacks the automation and optimization features that make HubSpot so great. Professional is the second paid option. It has a significant jump up to $800/month. It's still capped at 1,000 contacts, but it features all automation and optimization power the Starter package is missing.
The final tier is the Enterprise tier at $3,200/month for 10,000 contacts. It includes all marketing features in the HubSpot marketing hub universe along with multi-touch revenue attribution and advanced rules and permission for sharing across enterprise teams.

Results
Pardot and HubSpot can both get expensive when you add contacts and capabilities. However, HubSpot is the only option that offers a free plan and a relatively inexpensive price tier for startup and smaller marketing teams.
While it's nice that Pardot offers a consistent 10,000 contacts across all three tiers, the increased accessibility via pricing gives HubSpot the edge over Pardot.
---
Pardot vs. HubSpot: Integration with other software
Integrations are a critical deciding factor when reviewing software offerings. What happens if you go all-in on a particular marketing automation system that isn't compatible with your content marketing system?
Fortunately, Pardot and HubSpot are big enough players that other software providers must orbit their ecosystem.
What Pardot by Salesforce offers
Pardot's most impressive and valuable integration is with Salesforce CRM and its ecosystem. You can run your entire business through Salesforce's suite of cross-functional product offerings. But this would require significant investment outside of Pardot.
And you probably already have software that you like and depend on. That's why it's great that Pardot has access to the massive Salesforce Appexchange, with thousands of well-known and custom built apps that integrate in varying degrees to Pardot.
Pardot also integrates with Zapier, a task-based integration automation platform.
Zapier essentially provides the same workflow capabilities of customer journey builder, but it designs back end workflows that connect your platforms and build a bridge for key tasks that would otherwise be manual or incredibly costly. This of course comes with an additional cost.
What HubSpot Marketing Automation offers
HubSpot offers a similar integration breakdown as Pardot. HubSpot doesn't have the scale of the Salesforce ecosystem, but you can bundle marketing, sales, and services automation all within the HubSpot platform.
HubSpot features a massive app ecosystem of over 200 integrations with more joining every month. The HubSpot app ecosystem includes tools for e-commerce, data analysis, event management, project management, and more.
This Pardot competitor is also serviceable by Zapier, enjoying all the same benefits and functionality as Pardot.
Results
Pardot and HubSpot are almost identical in terms of integrations. Their marketing automation offerings both have an internal ecosystem they can integrate with to boost sales and more.
Their app exchanges are massive, and given the popularity of the two, developers are highly incentivized to be on both. Zapier is a plus for both. We'll give a slight victory to Pardot since the Salesforce platform carries more weight for integrations than HubSpot does, but this one is as close as it gets.
---
How They Compare: Pardot vs. HubSpot
View more information: https://www.fool.com/the-blueprint/pardot-vs-hubspot/