Pardot by Salesforce Review 2021: Features, Pricing & More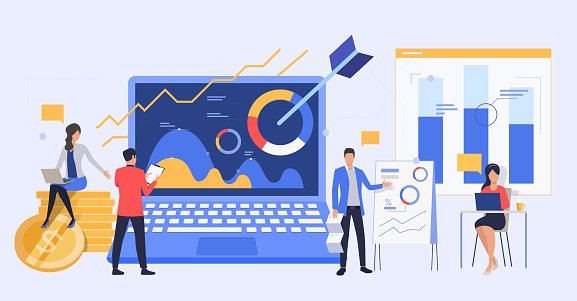 Pardot is a B2B marketing software automation platform offering the expected multitude of critical capabilities. Salesforce Pardot marketing automation has the added bonus of being powered by Salesforce and its level-setting CRM dominance.
It offers a seamless bridge between integral sales and marketing functions.
Pardot compliments Salesforce's Marketing Cloud ecosystem with a robust, marketing-driven lead management feature set.
Its powerful automation and pinpoint personalization capabilities, powered by the larger Marketing Cloud, empower users to deliver optimized communications to leads at the most opportune times to satisfy leading digital marketing tips.
---
Who is Pardot by Salesforce for?
Pardot is a marketing automation platform targeted at Salesforce software users. It's a fit for B2B enterprises and medium-sized businesses, but it may be price-prohibitive for smaller businesses without a large enough marketing budget.
Pardot best serves businesses with traditional sales organizations that work to close each unique deal while simultaneously generating more leads to pitch and nurture.
---
Pardot by Salesforce's features
Pardot is much more than accompaniment to Salesforce. Pardot offers everything you need to generate meaningful connections and boost brand positioning through marketing outreach, drive more leads to build out the sales pipeline, and complete more deals by sending personalized, optimized messaging.
Pardot by Salesforce is one of a few components in the Salesforce Marketing Cloud toolkit.
Email marketing
Pardot's email engagement marketing capabilities help marketers create and execute full email automation campaigns at scale. Salesforce email marketing automation paired with Pardot enables you to monitor critical email marketing metrics, such as deliverability, bounce, open, and click-through rates.
Manage opt-in to ensure compliance with marketing best practices and evolving regulatory requirements. Preview emails and test links before sending to ensure copy, image, and link fidelity. Create custom lists to target with mass emails as well as suppression lists you can use to remove emails from a campaign.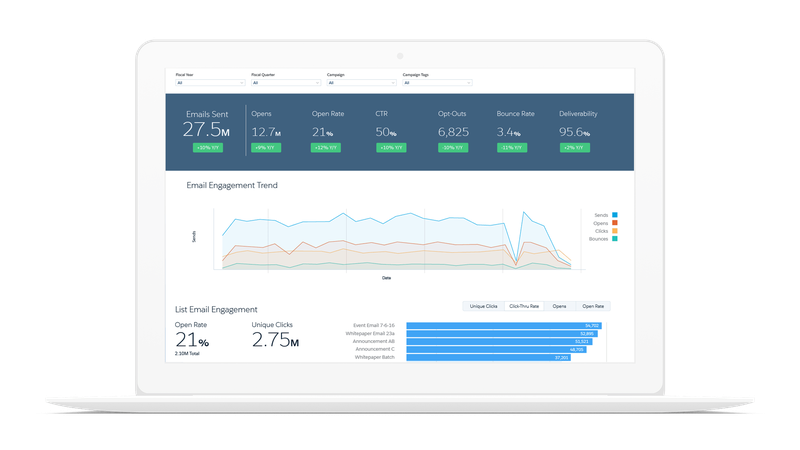 Landing pages and forms
Build aesthetically pleasing pages using Pardot's landing page builder. Work from existing templates, build your own templates for reusing, or create one-off landing pages.
The same goes for forms. Pardot helps marketers customize conversion needs by offering numerous fields for visitors to input information. Progressive forms are an especially helpful feature of Pardot, as they automatically adjust forms to collect only the information that's missing from the lead's profile.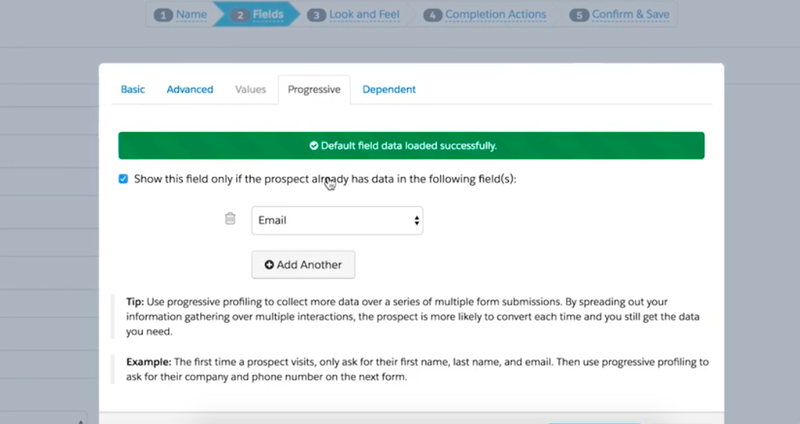 Search tracking and optimization
Pardot integrates search engine marketing attribution measures to help marketers quantify the ROI on general and campaign-specific SEO efforts. Such measures are critical to monitor the health and actual ROI being realized through organic search and inbound marketing efforts.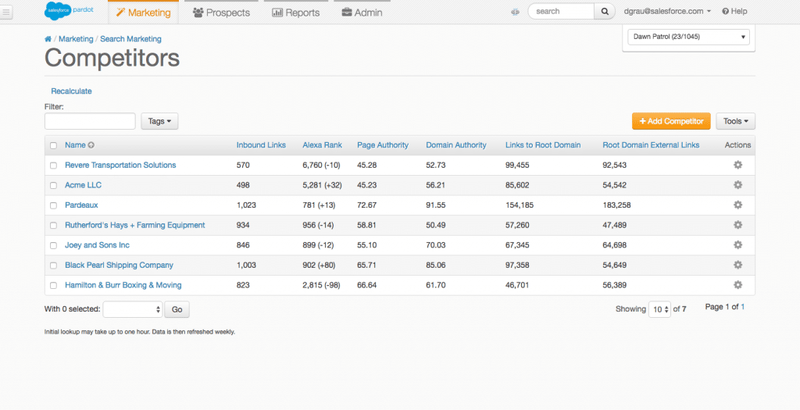 Journey builder
The journey builder really puts the "automation" in Pardot's "marketing automation" capabilities. Build tons of preset journeys that guide your leads down the most optimal digital marketing path to conversion and purchase.
Use branching logic in your journey mapping to keep leads in the pipeline rather than boot them based on their action. Recycle existing content and landing pages to use throughout the experience builder to generate engagement without taxing your content team.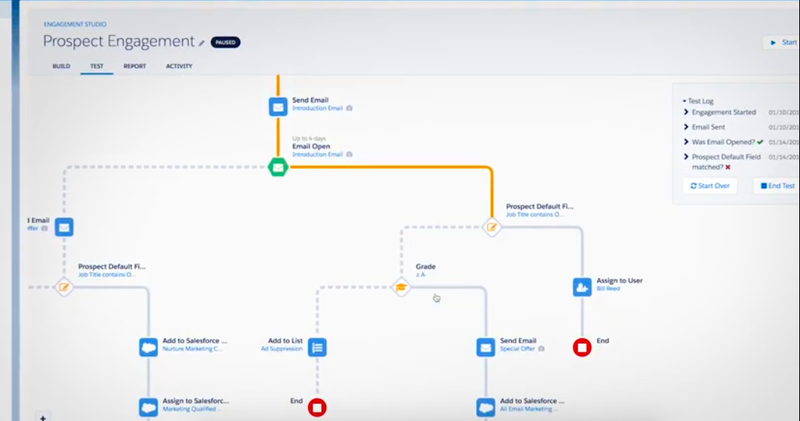 Lead management
Given Pardot is a Salesforce product, it's no surprise that it boasts a robust lead management feature set. Capitalize on lead tracking, scoring, nurturing, personalization, and more. You can build out profiles for individual leads and track any interactions your marketing or sales teams have with individual leads.
Automate lead behaviors and engagements with your site, such as site visits, conversions, downloads, email click-throughs, and more. Use the lead scoring capabilities to prioritize leads and set thresholds for when a lead is ready for more bottom-of-funnel content, if not direct sales outreach.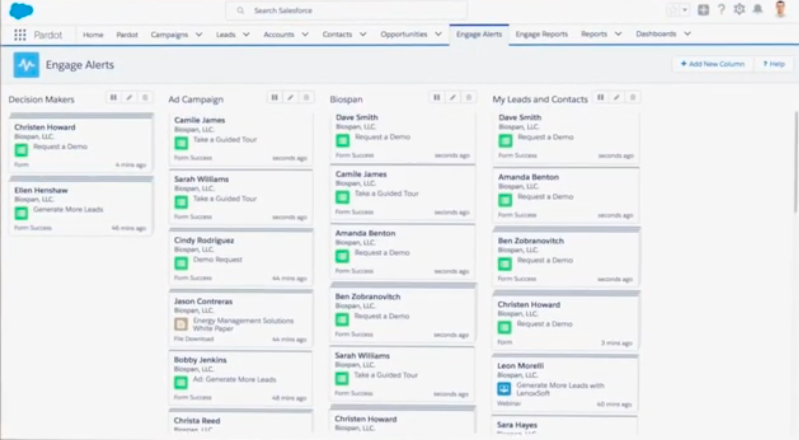 Analytics and attribution
Pardot provides deep and accurate analytics and attribution tools. You can use these attribution tools to tie closed leads to the specific campaign and marketing efforts that brought them in, enabling you to analyze messaging, marketing channels, digital advertising, conversion tactics, and more.
You can build custom dashboard views of your performance data to understand prospect engagement, movement down the funnel to leads, and final efforts to generate conversions and purchases.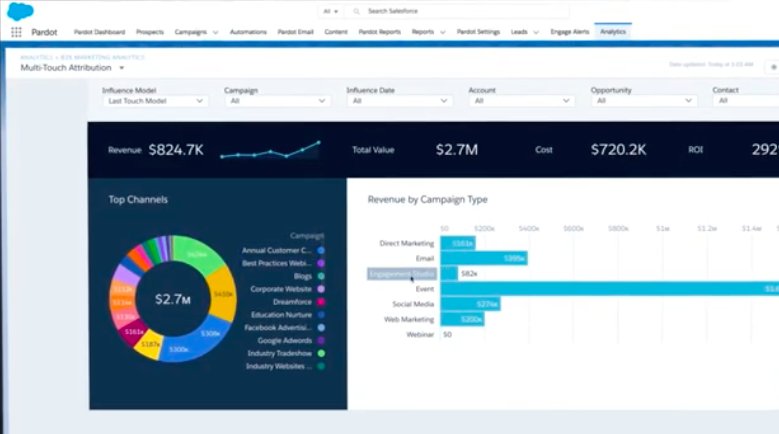 Personalization
All of the information and behavior-gathering as well as the lead-scoring tools unlock critical personalization capabilities.
You can use all of this individualized data and insights to personalize messaging, optimize targeting, and deliver the best possible customer experience from initial site visit, to nurturing, to purchase, to retention, and beyond.
Set alerts and scoring thresholds that trigger automatic but personalized messaging to continue moving leads further down the funnel toward purchase.
Pardot automatically tracks tons of information and also empowers you to input valuable information and knowledge about your interactions and experiences with leads.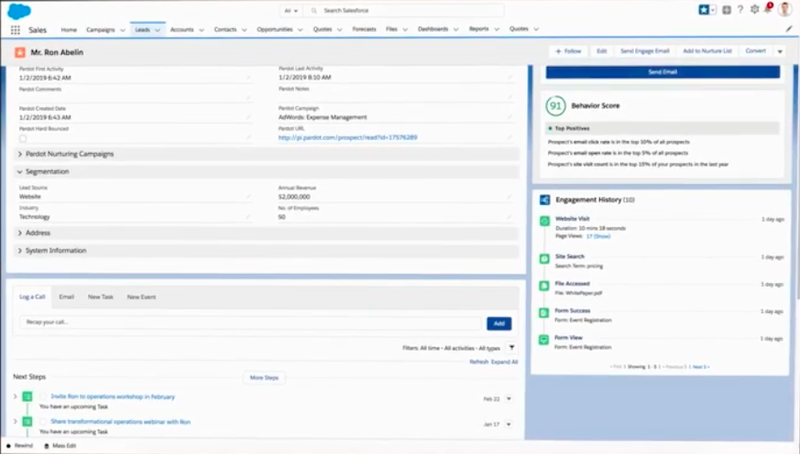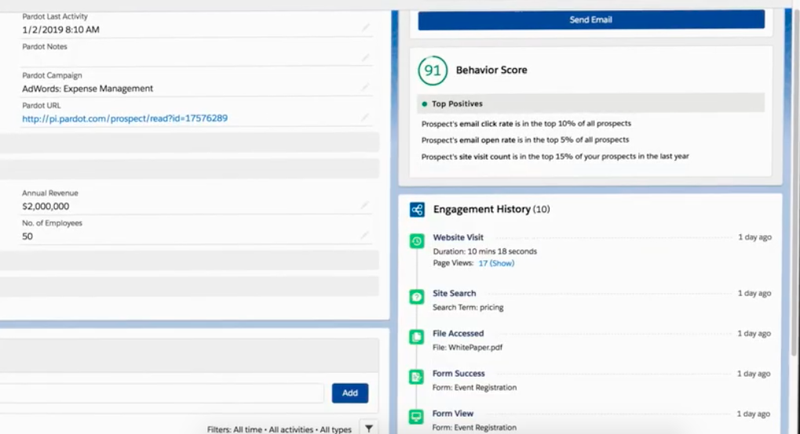 ---
Pardot by Salesforce's ease of use
Pardot is an easy-to-use system when compared to other more complex marketing automation platforms. Automations are easy to set with Pardot's intuitive journey builder. And if you're already a Salesforce user, this is especially true as you can keep your sales and marketing components in the same seamless system.
The overall navigation of the tool can be overwhelming at first given the amount of features at your disposal. There's definitely a learning curve with Pardot, but the system's built-in instructions and knowledge base can streamline your onboarding and help you optimize your setup.
---
Pardot by Salesforce's pricing
Pardot is the B2B component of the Salesforce Marketing Cloud. It's priced at three different tiers that include more features as the price increases. All three tiers support up to 10,000 contacts.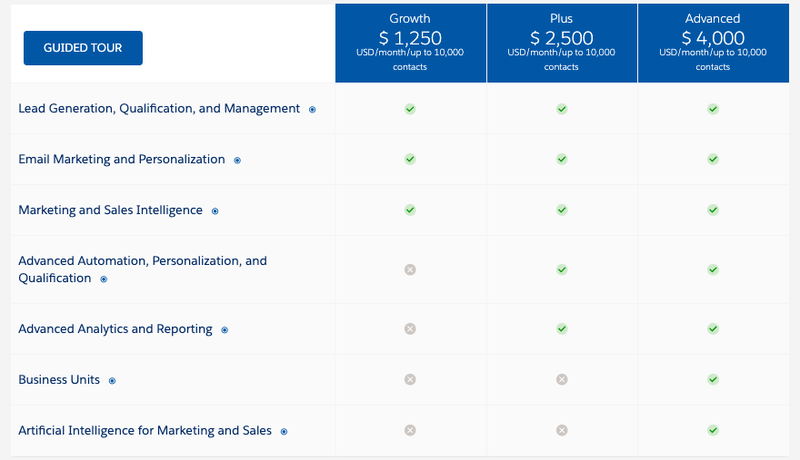 The Growth tier features the lowest cost at $1,250/month. The next leg up is the Plus tier, at $2,500/month. The Plus tier adds advances in automations, personalization, and qualification tools along with advanced reporting and analytics.
The final tier is the Advanced tier at $4,000/month. It builds on the Plus tier by adding business unit segmentation and AI-powered sales and marketing capabilities.
Salesforce also offers two add-on features for Pardot. One is simply for adding additional contacts to your system. This starts at $100/month for an additional 10,000 contacts per month.
The other add-on is Salesforce Engage, which costs $50/month per user and features more robust sales tools for optimizing outreach to improve engagement and boost sales.
---
Pardot by Salesforce's support
Pardot offers full platform support across multiple mediums, all providing advanced expertise and marketing automation best practices.
Pardot provides a quick-start onboarding package that helps users gain experience and knowledge on the platform as well as build a relationship with an account representative.
Pardot offers 60 days to design and customize the platform configurations to your unique system needs. As a part of this package, you also get weekly training (after your 60 days) on current and new Pardot features to optimize your usage of the platform.
Aside from the onboarding package, Salesforce's knowledge base has tons of content on best practices for using Pardot. You can also tap Salesforce's support team Monday through Friday, 24 hours a day.
---
Benefits of Pardot by Salesforce
Pardot provides everything your marketing and sales folks need to accelerate acquisition for your pipeline, drive conversions and purchase, and consistently deliver personalized experiences throughout the customer journey.
Lead management and automation tools empower Pardot users to deliver consistent personalization across the acquisition process, through conversion, and into customer retention.
Gain valuable insights through a seamless Pardot Salesforce integration to boost performance across email, content, and social marketing channels.
Get accurate analysis of campaign-by-campaign and message-by-message performance in general as well as for individual leads. Automate and monitor lead scoring and set thresholds that move leads through the sales funnel, triggering automated or bespoke outreach from sales people.
And attribute all of your sales and marketing plans and efforts to the channel, message, conversion tactic that drove the sale to close the loop and establish campaign best practices.
---
Pardot is pricey, but it packs a punch
Pardot is an incredibly powerful marketing automation tool, especially for Salesforce CRM users.
You need to define a strategy for how you want to organize, segment, engage, and track your prospects and leads before jumping into Pardot. But once your strategy is in place, Pardot can help you execute, analyze, and optimize your marketing efforts.
And the seamless integration with other marketing and sales tools across the Salesforce ecosystem make it easy to add capabilities to support your high-growth marketing operation.
View more information: https://www.fool.com/the-blueprint/pardot-review/