PandaDoc Review 2021: Features, Pricing & More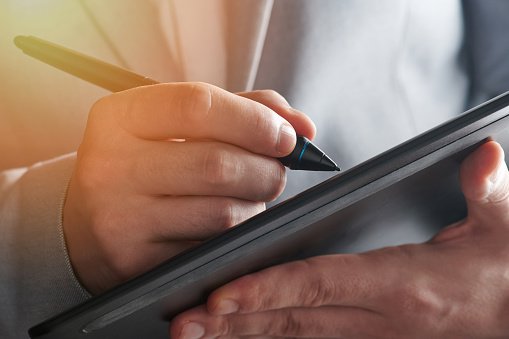 Signing documents digitally streamlines operations for organizations that frequent collect signatures. E-signature software makes the onerous wet signature process efficient and simple. PandaDoc expands on this concept by tackling the entire document workflow from creation to collecting client payments.
Rival electronic signature software address some document management aspects, but

PandaDoc attempts to do it all, specifically focusing its positioning toward sales teams.
This target audience makes sense — PandaDoc's strength lies in its ability to create beautiful, interactive documents with digital signature abilities, and sales teams often require professional-looking documents to present to their clients.
Does this mean PandaDoc is strictly a sales tool? Not necessarily. Read on to determine if PandaDoc makes sense for your business.
---
Who is PandaDoc for?
PandaDoc pitches its platform to sales organizations and others involved in the sales process, such as business development managers, but its capabilities apply to any size company seeking software to streamline document management processes.
Building proposals and sales quotes, securing contracts and renewals, and invoicing are some of the ways PandaDoc e-signature software can be used.
Businesses across many industries and geographies are served by PandaDoc's platform. Animation studios, HR organizations, and hotels are among PandaDoc's more than 16,000 customers.
PandaDoc allows you to build visually stunning, interactive documents through features such as the ability to insert multimedia content. These functions are impressive; you can elevate a staid proposal or a new-hire handbook into an engaging experience for document recipients.
While PandaDoc's extensive features are beneficial, the platform is overkill for organizations that want a simple means to capture signatures electronically.
This is where PandaDoc's free version becomes a compelling option. Since it's free, you won't get the document management capabilities, but it handles unlimited e-signatures.
---
PandaDoc's features
PandaDoc delivers a feature set so vast, you can easily get lost in the details. We'll review the key capabilities, and highlight functionality that makes PandaDoc a powerful platform.
Document setup
Enabling your documents to collect e-signatures is a critical feature. To that end, when you first log into the app, you start on the PandaDoc templates page. (Unless you opt for the free version, which excludes templates.)
Templates are documents you use frequently, such as a sales proposal or invoice. You set up a document as a template, and this allows your organization to repeatedly use that doc to collect signatures and other required information.
Templates save time in the long run, but setting up a document in the first place can prove time consuming. PandaDoc addresses this with functionality to streamline the setup process.
First, you'll need to upload a document or build one from scratch. PandaDoc uses a feature called variables to automatically fill in the same information required in different places throughout a document, such as a client name.
You can set up a content library for commonly used document elements. Examples include customer testimonials or a cover sheet.
PandaDoc lets you customize any field, from the font size to the background color. This customization extends to the entire document. Insert images, videos, and other content, including a pricing table where you can list purchase items, designate a currency, and add discounts.
Digital signing
The digital signing process is as feature-filled as document setup. When your document is ready, choose to send it via email or by providing recipients a link. You can require signers to sign in a specific order, and restrict whether they can forward documents.
Signers can download the document or print it. They can change the language used for the signing instructions and the font color of their signature.
For documents requiring a time limit, such as a contract, set up reminders so signers are prompted to sign before the due date. You can also add a reminder when a contract's renewal date approaches.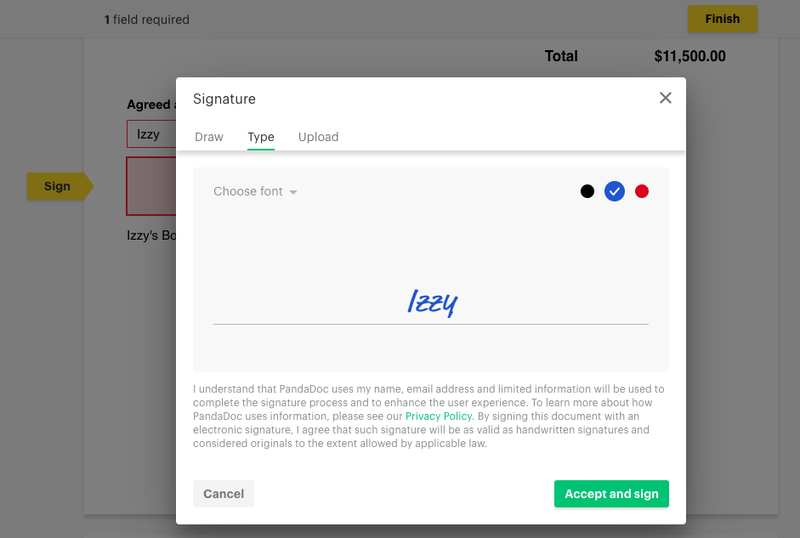 Tracking
Good e-signature software provides the ability to track the status of documents sent for signing. Like other areas in the platform, PandaDoc delivers a slew of capabilities to track documents at a detailed level.
A dashboard summarizes documents by status. See which were viewed, which were signed, and even those that are awaiting payment. Click on a status to drill down to a list of the documents in that category.
Choose a document to view and track a recipient's progress within that document, including an audit trail of when the form was sent, viewed, and signed.
PandaDoc's document analytics are detailed, breaking down activity for each recipient, including how much time they spent on each page. This information is useful in assessing where recipients spend their time, allowing you to optimize proposals and quotes to improve your sales win rate.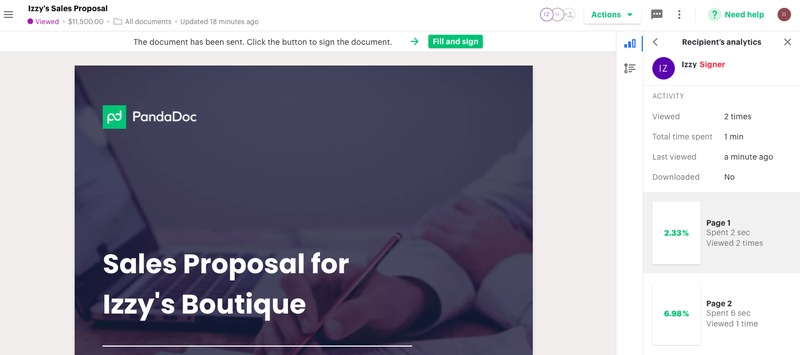 Mobile app
For a platform filled with features, PandaDoc's mobile app is surprisingly limited. The company released a new version of its document editing software, and consequently, its mobile functionality was reduced to little more than document tracking.
The mobile app lets you view a dashboard of documents sent or received and the status of each. A timeline shows activities performed on your documents, such as when a form is signed and by whom.
Setting up documents for e-signatures isn't possible in the mobile app, but you can sign documents sent to you so long as these have been imported into PandaDoc through its desktop version. Importing documents through the mobile app isn't available.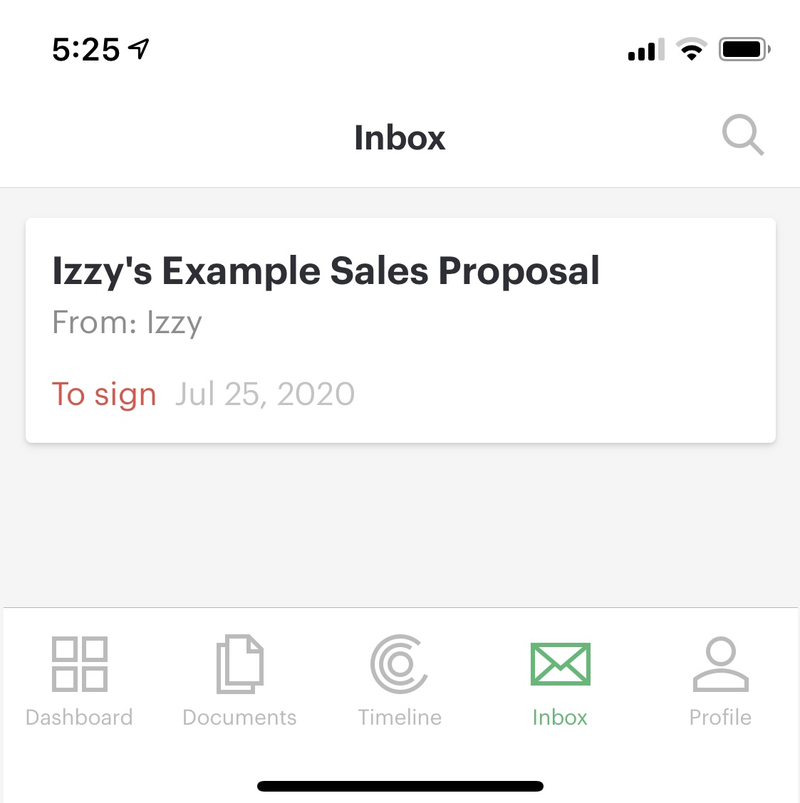 Integrations
Integrating with third-party business apps is a common feature among e-signature solutions, and in this arena, PandaDoc integrations deliver a robust offering. Connect to payment platforms such as Square and to document storage providers including Dropbox.
Sales teams frequently use CRM software, and PandaDoc allows you to connect popular CRM providers to streamline document workflows. For example, import contacts from your CRM to quickly choose them as document signers.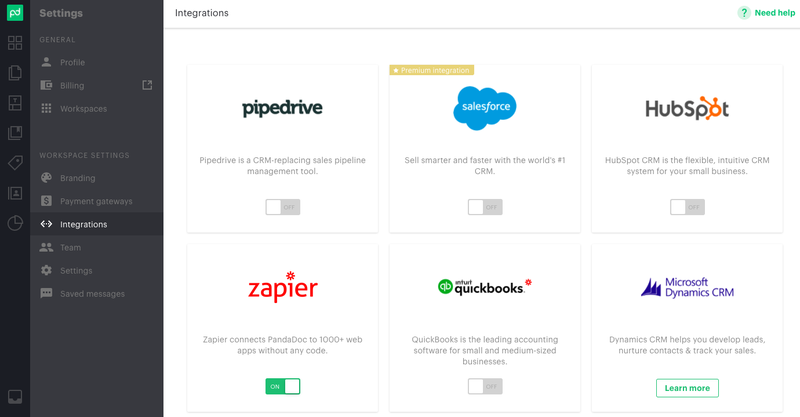 ---
PandaDoc's ease of use
PandaDoc's interface is clean and intuitive, making it easy to navigate around the platform and execute basic e-signature tasks. It's very good about guiding signers through the document signing process.
The software calls out how many fields you need to sign or fill in with other items, such as your initials, and takes you to those locations within a document.
The challenge is PandaDoc's depth of functionality. The platform's vast options create a significant learning curve. It takes time to master PandaDoc's many abilities.
Its numerous features mean you can easily get lost or fail to find what you're looking for. For example, you can introduce an approval step in the document signing workflow but you must first enable it in the templates area.
Another challenge is PandaDoc terminology. You must decipher jargon such as variables and roles and learn the difference between a catalog and a content library, adding to the learning curve.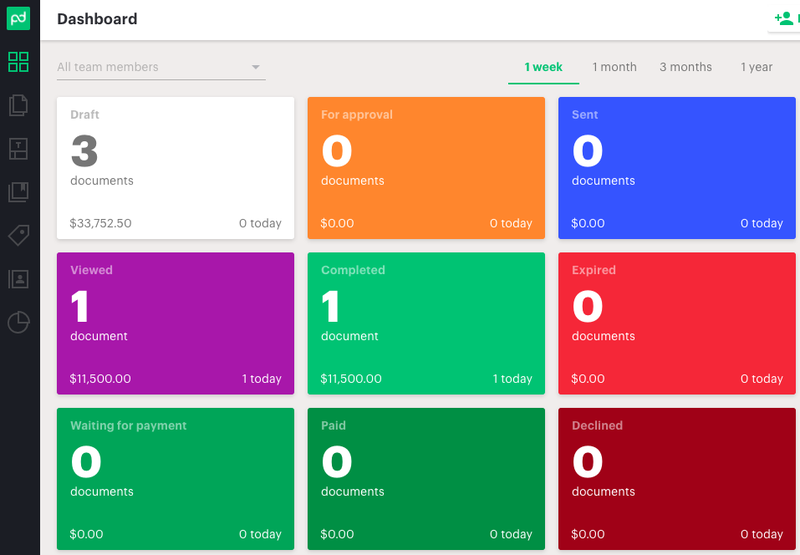 ---
PandaDoc's pricing
PandaDoc pricing starts at an unbeatable offer: free. Usually, competitors cap the number of e-signatures allowed under free versions. PandaDoc bucks this trend by providing unlimited document signing, making its free offering one of the best on the market.
The paid plans start at $19 per month for each PandaDoc user when billed annually. The next tier up is $49/month per user when paying annually, and covers the features commonly used by sales teams.
The Enterprise option offers custom capabilities, access to PandaDoc's API (application programming interface) to integrate PandaDoc into your website, and other advanced functionality. PandaDoc isn't the cheapest e-signature option, but it delivers many features for the price.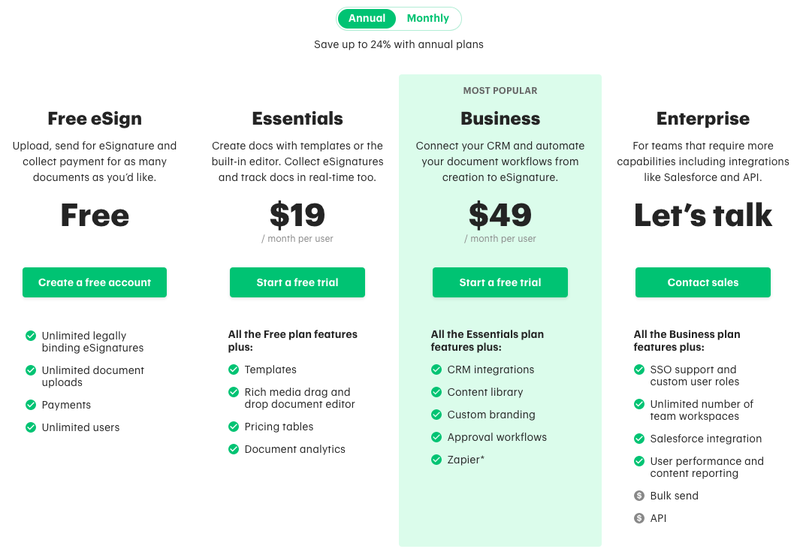 ---
PandaDoc's support
Like other e-signature vendors, PandaDoc support consists of chat and an online self-serve knowledge center. Articles, video tutorials, and an IT ticketing system comprise the self-serve help options. The company doesn't offer phone support.
Complicating your search for self-serve help is PandaDoc's transition to a new version of its document editing software. Some capabilities are only available on the new version while others only accessible on the old, referred to in support documentation as the classic editor.
You have to sort through these differences as you learn what's possible in the platform.
---
Benefits of PandaDoc
PandaDoc's e-signature abilities are solid, and its features extend beyond digital signatures to help you build compelling documents. These features are a clear benefit for sales teams, and are useful for any company interested in elevating client-facing materials.
The desktop version is excellent at managing document workflows, and its integrations with popular third-party software providers extends that capability. It's so well-rounded that the e-signature functionality almost takes a back seat to PandaDoc's document management toolset.
---
Software beyond e-signatures
PandaDoc's approach as a holistic document management platform differentiates it in the e-signature market. Its desktop version is a powerful tool, but it's overkill if your business needs a simple e-signature solution. Its mobile app is the opposite, providing limited functionality, particularly for teams on the go.
Whether PandaDoc is the right solution for your business depends on what you want out of your e-signature software. Sales teams require documents that help them stand out, and that's why PandaDoc is ideal for this market.
However, companies without a sales team can find value in PandaDoc, too. Use its free version to get a sense of how well it can meet your needs before upgrading to a paid plan.
View more information: https://www.fool.com/the-blueprint/pandadoc-review/