OnPay vs. QuickBooks Payroll: Which Wins on Customer Support?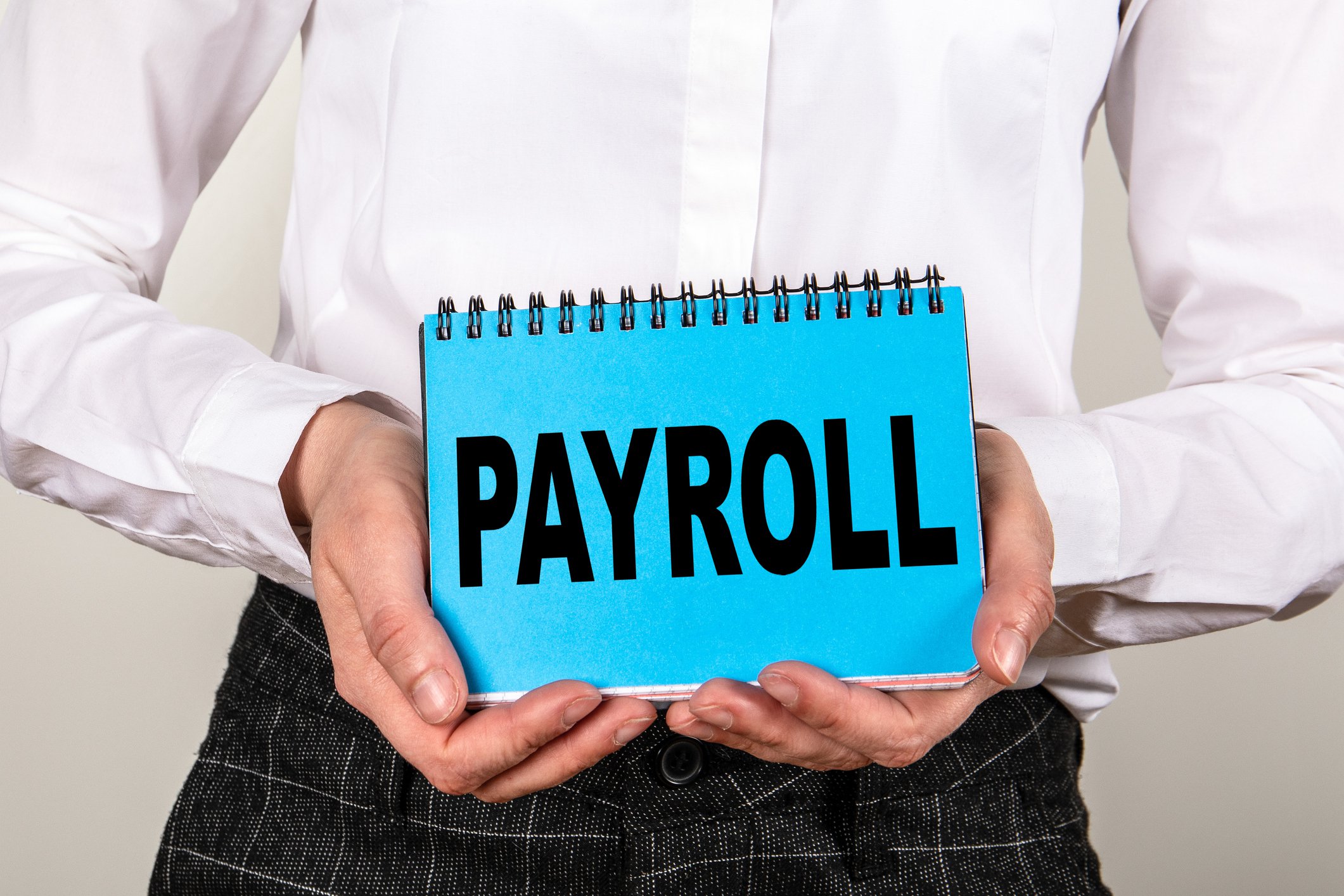 At best, running payroll takes no more than a few clicks. At worst, it's a nightmare that has you calling accountants out of the phonebook to avoid paying your employees late.
The ideal payroll software's customer support helps you set up payroll with ease and answers your call when things go awry in the eleventh hour. Let's see how two popular payroll software providers,

OnPay and

Intuit QuickBooks Online Payroll, compare on customer support.
---
Setup support
As a new business owner with no prior payroll experience, it can be nerve-wracking to set up your payroll software on your own. Seasoned business owners looking to switch payroll software might not know how to begin moving employee records to a new platform. OnPay and QuickBooks Online Payroll customer support professionals can step in to help you get everything set up correctly.
Payroll software setup looks different for new and existing businesses. The new business to-do list is considerably longer; you need to establish payroll tax accounts with the IRS and states where your company operates, not to mention onboarding your employees. Existing businesses have the unenviable task of transferring years of payroll data to a new system.
Both OnPay and QuickBooks Online Payroll offer "white-glove setup," though at pretty different price points. The service takes care of migrating employee data from your previous payroll software and getting you operational before the next payroll run. Customer support professionals take the lead in the setup process, giving you more assurance that you're not mucking up your employees' paychecks.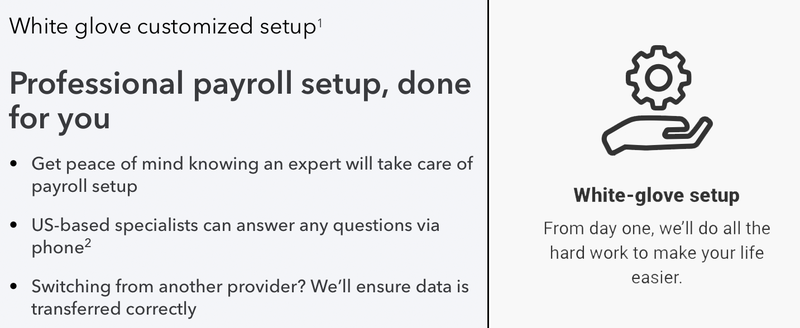 Full-service payroll setup is included in OnPay's monthly fee: $36 plus $4 per employee. QuickBooks Online Payroll has three tiers, with white-glove service available only with its top-tier plan, coming at a monthly rate of $125 plus $10 per employee. You can usually score a deal for the first three months, bringing down the base fee as low as $37.50 per month for the Elite package. Both payroll software packages provide 30-day free trials.
The middle-tier QuickBooks Online Payroll option comes with an expert setup review, where a payroll professional checks your work. The Premium plan's monthly fee is $75 plus $8 per employee. You'll have to be more hands-on in the setup process, but it should help you sleep at night knowing a payroll expert can vouch that your payroll software is ready to go.
Winner: OnPay. You're getting the same personalized setup support for less than Quickbooks Online Payroll's basic plan.
---
Phone support
Phone support is crucial for complicated payroll questions that would otherwise require a novel-length email to customer support. Your payroll software's customer support hotline should be the first place you go when you find discrepancies during a payroll reconciliation or technical issues when running payroll.
As an accountant, payroll software phone support has helped me uncover features I hadn't previously known existed, saving me a search-and-rescue mission for information that a report can easily compile in seconds.
OnPay and QuickBooks Online Payroll offer live phone support. OnPay customer service will pick up your call on weekdays from 9 a.m. to 8 p.m. EST.
QuickBooks Online Payroll phone support is available from 9 a.m. to 9 p.m. EST on weekdays and from 9 a.m. to 6 p.m. EST on Saturdays. You can unlock 24/7 product support when you enroll in the top-tier Elite plan. To avoid waiting on hold, you can request a call back when the next customer service representative is available to help.
Winner: QuickBooks Online Payroll, by a small margin. Both payroll software vendors offer adequate phone support during regular business hours. QuickBooks has the leg up for providing phone support on Saturdays for all plans.
---
Live chat and email support
You're not alone if you dread getting on the phone; most of my friends feel the same. No matter your aversion or lack thereof for a phone call, online chats with humans or even bots are sometimes the best way to get quick answers to your questions.
Use live chat support when you need to be pointed in the right direction, not to answer in-depth payroll questions. Perhaps you don't remember how to onboard a new employee using your payroll software, or you can't find an automatically generated Form W-3 to send over to your accountant. Live chat, whether a human or a bot, can help you get where you need to go.
OnPay and QuickBooks Online Payroll offer live chat with humans during the same hours they provide phone support. What differentiates the two is what happens when you need help outside of office hours.
QuickBooks Online Payroll has a somewhat useless bot to help you outside office hours. It can answer quick questions about payroll within the chatbox, but more often, it points you to the QuickBooks Support portal with more than 500,000 articles. You're better off searching the question in Google and letting it take you to the QuickBooks Support page.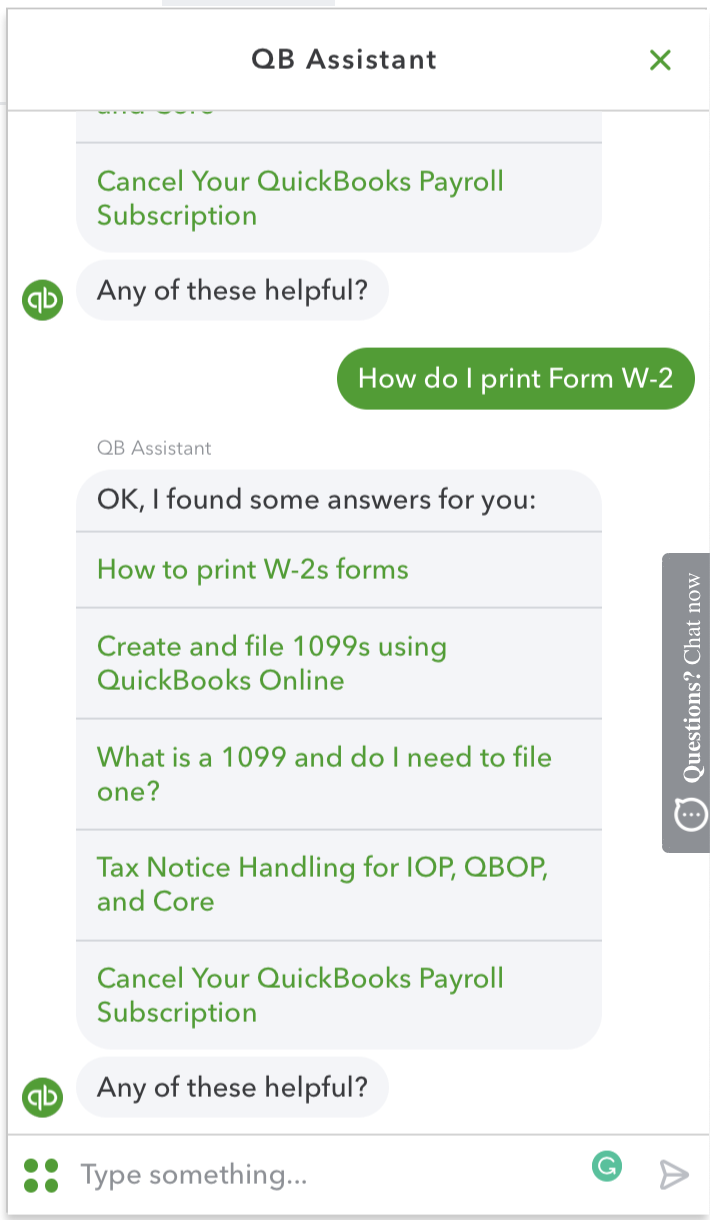 OnPay doesn't have a chat robot. Instead, when you try to initiate a chat during outside working hours, the site prompts you to submit a request to their support team. You can expect an email response when customer support is back online.
It's worth noting that OnPay's email hours start at 7 a.m. EST on weekdays, and email emergency support is available on weekends.
Winner: OnPay. Both software packages sport similar live chat options with fast response times. OnPay's early morning email support edges out QuickBooks Online Payroll by a smidge.
---
Support content
Most payroll software products have libraries filled with software-specific, step-by-step guides for setting up and running payroll. Both OnPay and QuickBooks Online Payroll have support centers on their websites that feature a plethora of articles that could reach Mars if individually stacked.
Both sites provide quality, payroll-specific support content. For carrying out basic payroll functions, both do a fine job breaking down the steps and showing you which buttons to push. However, it might take you a few minutes to find the right guide to answer your question if you're using QuickBooks.
OnPay makes it easy to sift through its payroll software support content, especially U.S. state-specific, payroll tax information. There's an interactive U.S. map at the bottom of the support page that navigates you to OnPay-specific guides for finding and entering local tax information in your OnPay account.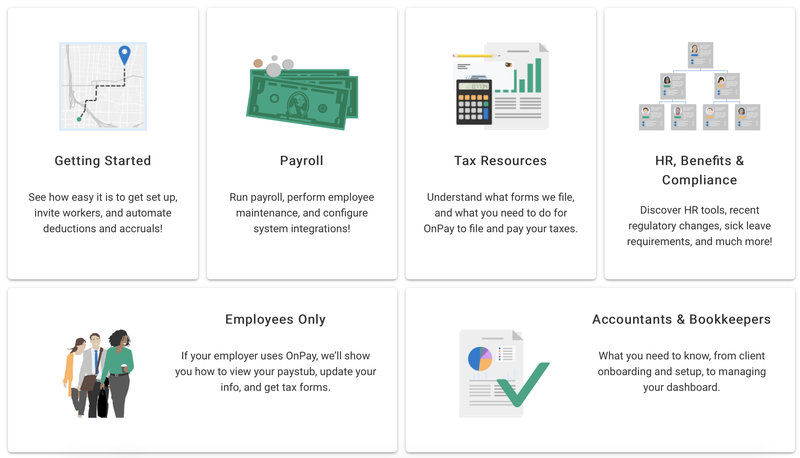 OnPay doesn't have the volume of content that QuickBooks wields, but quality is more important than quantity here. A limited support content library means there's less junk to look through, getting you to answers faster.
Though the QuickBooks support portal doesn't scream organization like OnPay's, QuickBooks Online Payroll contains considerably more software-specific support content. QuickBooks has a community forum where customers ask questions that QuickBooks customer support and other customers answer. I wouldn't rely on fellow customer answers, but they can be helpful in some rare cases.
Further, QuickBooks Online Payroll has a host of video tutorials to walk you through basic payroll functions, something OnPay also doesn't offer.
Both software companies run live webinars that show users how to use their services. OnPay hosts weekly live webinars to show users how to set up and navigate the software. QuickBooks webinars most often focus on showing off new features in its accounting software products, though there's plenty of payroll support webinars in the archive.
Winner: OnPay. Both software vendors offer ample asynchronous content that can help you run payroll with minimal prior experience. Though OnPay lacks video tutorials, the software is pretty intuitive. OnPay wins this round for its clutter-free support content.
---
And the winner is…
OnPay. OnPay payroll software puts customer support at the center. Wherever you turn on the website, you're invited to pick up the phone or send an email to get in touch with customer support.
The competition is close. QuickBooks Online Payroll also offers excellent support options for its customers, but it takes considerably more money to get top-notch customer support.
View more information: https://www.fool.com/the-blueprint/payroll/customer-support-onpay-payroll-vs-quickbooks-payroll/