Namely Review 2021: Features, Pricing, & More
Sometimes, when you try to be all things to all people, you end up making a bad job of everything. Or you can be a good all-rounder. Or a jack of all trades, but master of none.
Namely is an example of a good all-rounder. It offers a broad range of features, but none so complicated that you need a degree in HR processes to understand.
Find out whether Namely hits the HR sweet spot for your business.
---
Who is Namely for?
The Namely app is suitable for both HR professionals and managers who aren't familiar with all the functions of human resource management as it prioritizes ease of use and provides an intuitive user interface.
Its employee portal is similarly easy to use. As the Namely HRIS borrows from the user experience approach taken by social media companies, it provides a familiar look and feel for all users.
---
Namely's features
Namely provides a broad and far-reaching set of features, including recruiting, onboarding, performance management, time and attendance, and benefits administration.
Onboarding
Namely's onboarding functionality stands out because it provides templates that you can use for different types of employees, whether they're contractors, full-time employees, executives, or international hires.
It handles all your compliance needs too, as it makes sure the employee has filled out the relevant documents you need to ensure you are meeting local regulatory requirements.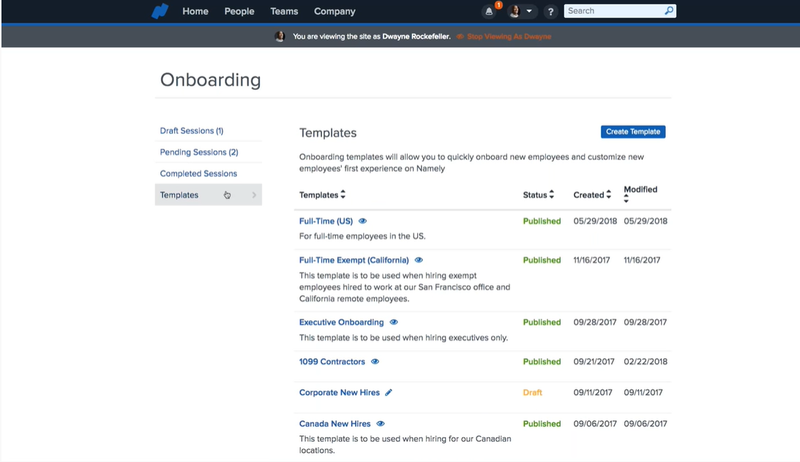 The onboarding process works in a similar way to other human resources software. You send the new hire an email, they create an account with the software, and then they can fill in forms and supply the necessary paperwork to meet regulatory requirements.
E-signature functionality ensures the process is paperless. The idea is to provide a smoother onboarding process that negates the need to spend ages filling in paperwork on a new hire's first day.
All the fields and steps are tailored to the template that you're using. For example, if you are hiring a contractor, there won't be a step for benefits administration and the employee handbook won't be included, since they're irrelevant to contractors.
Namely is also quite hot on role-based permissions. In this case, that means limiting what a new hire can see before they complete their first day with your company.
Time and attendance
Namely has a robust time and attendance module, with particularly good reporting functionality, but it lacks features that you see in HR software such as Zenefits, including the ability to set different rules for different employees and manage contractors.
With the Namely time and attendance module, employees can clock in and out both with physical timecards and with the Namely mobile app, as well as request time off.
They can view the different types of time off still available to them, such as vacation, work from home days, and training allocation. Being able to see this view is useful both for employees and for managers who want to keep on top of their workforce planning.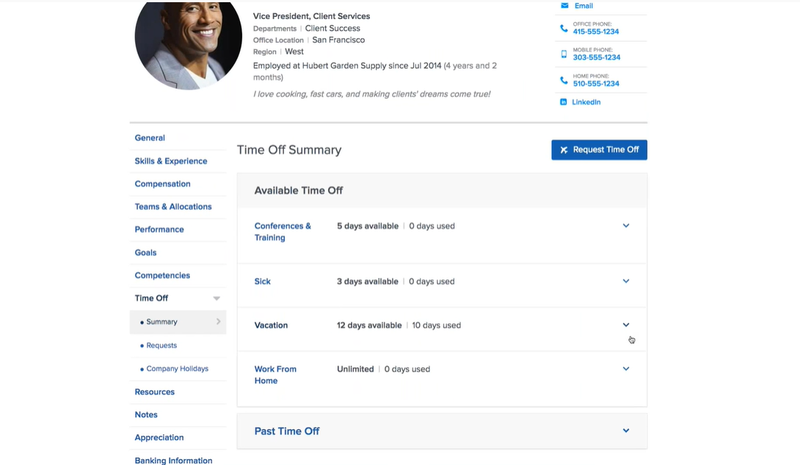 .
The admin dashboard includes details such as employees who are approaching overtime, overtime by department, time-off requests, and reminders to take action on items, such as approving requests.
This information can help you better plan shifts, which you can do from within the same module, and feed into staffing plans, as you get insight into how many people you need to effectively run your business.
Performance management
Namely's performance management module allows you to set and track goals at an individual, team, and company level, and align all goals so employees can see the impact of what they're doing on the business as a whole.
Namely allows employees to take control of their own performance management, so they can go in and check off any tasks they've completed or view their progress themselves.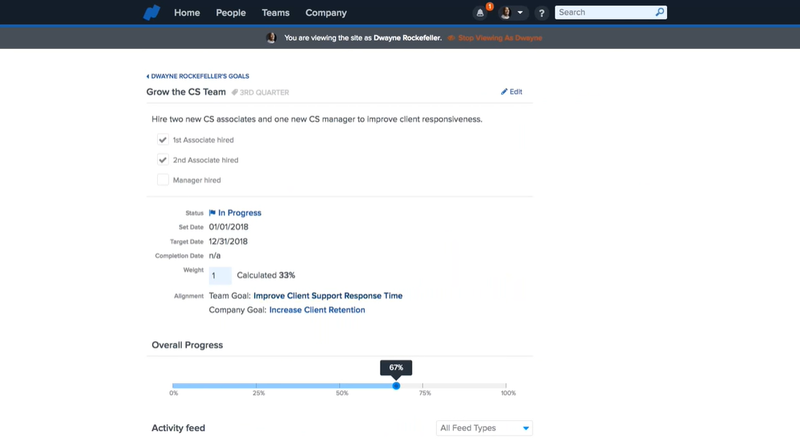 Continuous feedback is an important part of employee management, and Namely makes that easy. It has a section in the employee portal where managers can leave feedback as often as they like.
You can pull in all of this data and create reports, which you can then use as the basis for periodic performance reviews, and to feed into your learning management system so you can set up training plans.
Namely has broad performance and people management functionality, but it doesn't let you base reviews on the ratings of multiple people and tie employee salary to performance. You can find this functionality in other HR software such as Zoho People.
Benefits administration
Namely provides a step-by-step benefits enrollment process. Employees can not only enroll without input from an HR professional through the Namely benefits self-service portal, they can also adjust and update their benefits when their circumstances change.
The instructions and detail are fully customizable. For example, you can add in options such as pet insurance, or tailor plans for the type of employee and contract.
Employees can always see how much they are contributing and how much the employee is contributing, and add and remove items from their shopping cart style basket.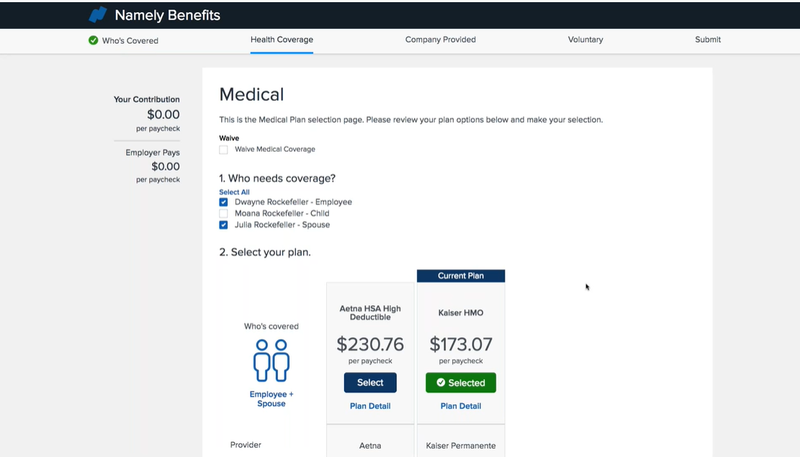 One particularly useful part of Namely's benefits administration portal is that it integrates with its payroll functionality, so you can pull the insurance deductions information straight through to an employee's compensation information.
This data also feeds into Namely's reporting functionality, so you can track key HR metrics to see how much you are spending on benefits contributions and adjust and optimize as necessary.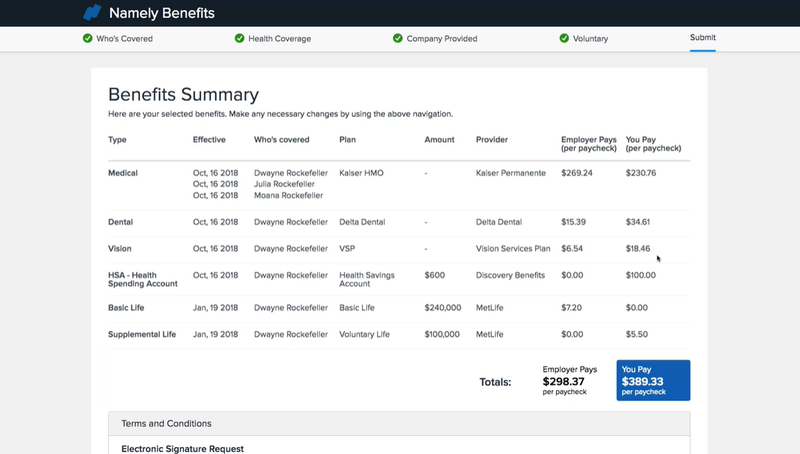 Recruiting add-on
Namely offers an add-on through an integration with Jazz HR solution that can help you streamline your small business recruiting and talent acquisition efforts. You can carry out the usual recruitment tasks:
Creating job ads and application forms
Posting ads to job boards
Creating custom candidate pipelines
Carrying out interviews, assessments, and background checks
Recruitment isn't Namely's main selling point, as it lacks the functionality of applicant tracking systems such as Workable and Breezy HR which include features such as employee branding, recruitment marketing, and advanced AI-powered candidate sourcing.
Namely's more suitable if you want an all-in-one HR solution that can also carry out basic recruiting tasks.
---
Namely's ease of use
Namely borrows from social media apps such as Facebook to create a modern dashboard for both HR professionals and employees. The dashboard, much like the software itself, is clean, uncluttered, and draws your attention to the most important information.
The news feed is an easy way to make everyone aware of company announcements, and you can quickly access different HR functions from the left-hand menu. It's easy to navigate your way around the software and carry out different tasks.
---
Namely's pricing
Namely is secretive about its pricing. It doesn't even have a pricing page on its website to provide any sort of guidance on how much the solution costs. Rather, it asks you to schedule a demo and then sells you from there. Alternatively, you can email or live chat with the company to get a quote for your business.
Industry sources suggest that Namely pricing is between $15-$30/month per employee depending on your needs, with a one-time implementation fee of $50-$80 per employee.
---
Namely's support
Namely provides every type of support you can imagine. It has live chat where you can chat with real humans with real names. There is also phone and email support. Namely provides these details both within the app and on its contact pages.
Namely also has an active community where you can not only get help with using the software, but also tips on using the app to its fullest, and ways you can improve your HR processes and practices.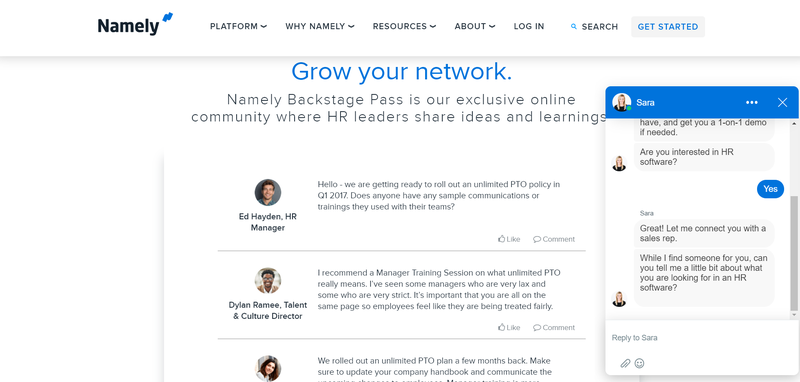 ---
Benefits of Namely
Namely helps you streamline and automate the onboarding process, making sure that you provide a good first impression of your company and that you're compliant with all the relevant legislation.
Its reporting functionality helps you keep an eye on the performance of different HR functions, and its workforce management features mean you can save time, cut costs, and keep employees happy.
---
An excellent all-rounder
Namely is an excellent all-in-one HR solution. There is almost nothing it can't do. Whether it's recruiting, onboarding, managing performance, streamlining benefits administration, managing time and attendance, or helping you run your payroll.
There are a few areas where Namely's functionality falls down compared to other HR software in the market, but overall, its features, combined with its ease of use, make it a great option for all business sizes.

View more information: https://www.fool.com/the-blueprint/namely-review/