Microsoft Dynamics 365 Review 2021: Features, Pricing & More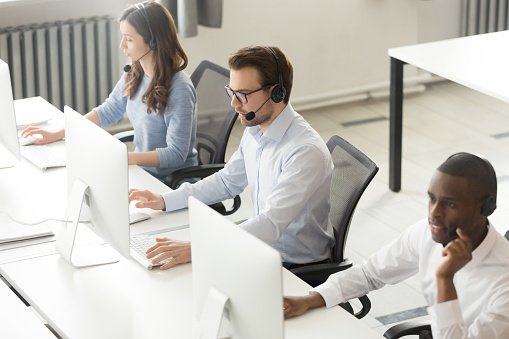 If you were looking for information about Microsoft Parature, you've come to the right place: Support for that tool fell off in 2018, and all the features were moved over to Microsoft Dynamics 365.
The "365" refers to the new direction Microsoft has taken in the past few years to move all of its software products to the SaaS (software as a service) model. This allows for cloud-based functionality, including live updates, cloud storage, and better team collaboration.
So, this is a review of

Microsoft Dynamics 365 Customer Service, a product line of enterprise resource planning and customer relationship management applications, and more specifically, the customer support features it offers.
---
Who is Microsoft Dynamics 365 for?
Like most Microsoft products, Dynamics 365 works well on its own but thrives when connected with the rest of the Microsoft ecosystem. This software infrastructure is expensive in and of itself, but Dynamics 365 is particularly expensive with plans starting at $50/month, per user.
While the price tag is high, the benefits of Dynamics 365 are numerous, including the long features list, streamlined functionality, and relatively shallow learning curve.
This tool is best suited for enterprise users rather than small businesses since the latter won't be able to use Dynamics 365 to its full potential.
---
Microsoft Dynamics 365's features
Issue tracking
Issue management: Dynamics 365 gives you the ability to view, search, update, and interact with issue task cards.
Email to ticket: Dynamics 365 converts issue and request email submissions into support tickets.
Service desk
Self-service portal: Allows end users to access their support tickets to track solutions progress and check for outages and other updates.
Live website chat: Dynamics 365 will manage all live chats with end users so you can provide quick solutions without relying on the formal ticket submission system.
Call management: Make and track your service calls (voice or video) within the Dynamics 365 platform.
Content management
Knowledge base management: Manage all support articles and release notes through Dynamics 365.
Monitoring
Reporting and analytics: Track and measure support success through the many reporting and analytics tools offered by Dynamics 365.
Dashboards: Track service desk activity in real-time using Dynamics 365 detailed dashboards.
Additional features
Ticket auto-assign: Dynamics 365 automatically assigns tickets to available technicians using your own preferred routing method.
Custom email request templates: Use standard request templates, or create your own custom form to deal with any need or issue.
---
Microsoft Dynamics 365's ease of use
Wow, what a step up from some of the Microsoft products I've used over the years. Microsoft occasionally coasts on its early success; it often either buys up successful software companies or creates overly complicated competitor clones in the market, leading to a disappointing user experience. This is not the case with Dynamics 365.
Microsoft Dynamics 365 offers a clean and smooth operating interface that reflects what a multibillion-dollar company is capable of creating. The navigation is simple, the features are numerous, and the experience is pleasant.
Admittedly, I am more of an Apple fanboy, but I do appreciate the clean and minimalistic aesthetic Microsoft has embraced over the last few years.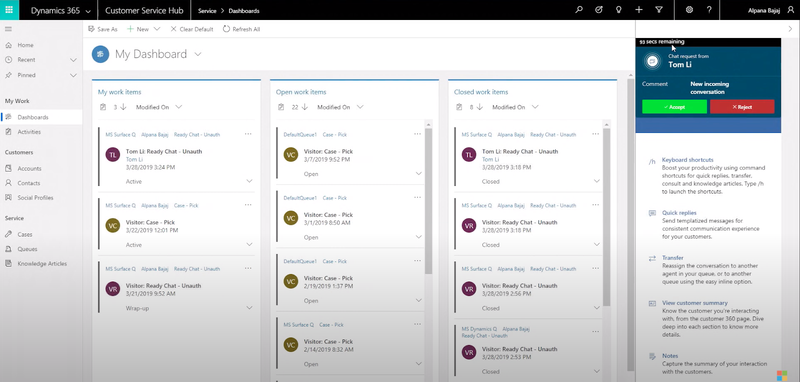 Dynamics 365 is a prime example of Microsoft doing something right. However, the functionality in this tool isn't original. Many design cues are lifted from prominent software platforms, but that means you shouldn't have any issues learning how to use this tool.
Chat requests come in via your live chat portal, and agents can accept or reject the customer conversation.
Once you accept the conversation, the chat window leads to a chat screen and a conversation details page that displays all known information about the customer, including pre-chat survey details, past interactions with this customer, contact information, and the ability to create a new case.
Once you've created a new case for a customer, it's immediately searchable by other users as part of the service workflow. What's more impressive is the tabs system, which allows you to manage and hold multiple customer conversations at once.
I've seen this feature implemented more frequently recently, and I love how convenient it is in systems like this.

Depending on your customer's issues, you have several avenues at your disposal. First, if you understand the issue and know the solution, you can communicate that and record your interaction as another successful case.
Second, if you don't know the answer, you can consult your knowledge base directly within the case file by using the Knowledge Base Search function in the Related section of the dashboard.
Furthermore, you can make Internet of Things (IoT) connections through Dynamics 365 and Microsoft Azure that'll alert you to any technical issues your customer is experiencing. This will allow you to confirm any issues they're facing and document the problem.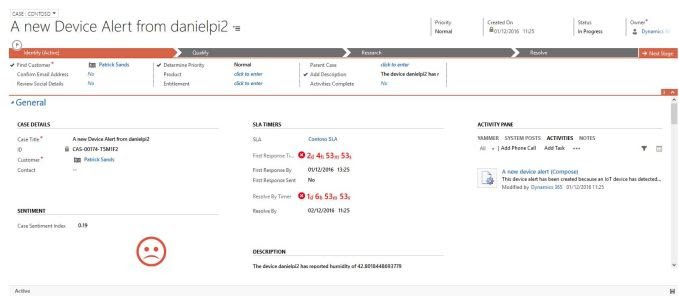 This is the beauty of Microsoft 365 products. They talk to each other, and if you get deep enough in the Microsoft ecosystem, you can build an elegant network of powerful tools. Features like these are more complicated to set up and fall outside the immediate purview of using Dynamics 365 for customer service and support.
Dynamics 365 is a very user-friendly, powerful platform that'll do just about anything you need it to.
---
Microsoft Dynamics 365's pricing
Microsoft Dynamics 365 offers two pricing tiers: Professional and Enterprise, with additional features available with slight price increases.
Unfortunately, certain add-on features are only available for the pricier Enterprise version and not the Professional, such as SMS messaging and live chat support. I love everything about Dynamics, but why do I have to choose the more expensive pricing tier to get the pleasure of spending even more money on add-ons? Seems strange to me.
Professional — $50/month, per user: Unlimited named users, case management, knowledge management, mobile application, Microsoft Office 365 integrations, customer service insights integrations, Microsoft Forms integration
Enterprise — $95/month, per user: All previous features, unified service desk, embedded intelligence, service gamification, custom applications, workflow automation, digital messaging (SMS, chatbots, etc.), and live chat add-on
This pricing is better suited to larger businesses. Considering the lack of a free option, I can't see many smaller businesses justifying the cost with so many other affordable options out there.
---
Microsoft Dynamics 365's support
Like all Microsoft products, Dynamics 365 offers plenty of support options, including product guides, user forums, FAQs, product update videos, troubleshooting, and email and phone support. If there is one thing Microsoft is good at, it's customer support.
---
Benefits of Microsoft Dynamics 365
The major benefit of Dynamics 365 is the massive Microsoft ecosystem to back it up. This tool works just fine without it, but to supercharge your customer service experience, there are a host of Microsoft integrations available to you.
You could run your entire business using only Microsoft products, which is one way to ensure a streamlined operation on all fronts.
The second major benefit of Dynamics 365: This tool doesn't need the ecosystem to function properly or powerfully. My biggest complaint about Microsoft Project was the lack of capability without the ecosystem, which kneecapped its viability as a standalone product. Dynamics doesn't have this problem.
---
Verdict: I'm glad Microsoft can still surprise me
I'm not sure why Microsoft called it quits on Parature. I never got to use or see the platform, but I'm glad to see it was replaced with a quality product. Dynamics 365 is expensive, but it's a powerful and convenient customer service tool for enterprise-level businesses.
View more information: https://www.fool.com/the-blueprint/microsoft-dynamics-365-customer-service-review/