Meeting New Customer Expectations (4 Things Customers Want)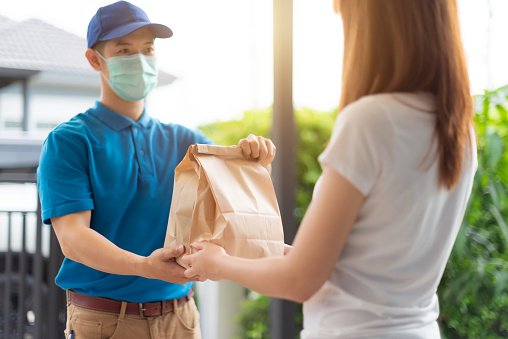 Earlier this summer, McKinsey surveyed consumers worldwide to gauge their changing spending habits in light of the pandemic. The report found that consumers were spending carefully, with an eye on cost and value. When they do spend money, much of what they spend beyond essentials goes for home-based entertainment and goods to make their living space more comfortable.
The survey also noted consumers' increasing desire to purchase from companies that demonstrate care and concern for consumer well-being and the world at large. More importantly, McKinsey found that consumers are more willing to shift their loyalty to a new brand if it offers products, services, and delivery methods that better meet these standards.
Because of COVID, customer expectations have changed with an eye toward frictionless interactions, health and safety, and do-good intentions. The good news is that small businesses may be best positioned to fulfill those requirements.
As people stay closer to home, they want to invest in neighborhood shops rather than faceless warehouses. Small business owners who listen to what consumers want now and respond with thoughtful offerings can win new customers and recover that much quicker.
---
Transforming transactions into relationships
As a result of ongoing isolation, customers prefer to work with businesses that offer a personal touch because they believe loyalty is a two-way street. They don't want to order takeout from your restaurant once; they want to order every Friday night and be greeted warmly when they call.
"Something that seems to have changed is the way [customers] expect us to respond," says Carla Diaz, co-founder of Broadband Search, a service that helps consumers find the best internet provider in their area. "Prior to the pandemic, we would receive general questions related to ISPs in a customer's area and our website, and once answered, the customer would say thank you and move on.
"Lately, it seems our customers expect to have much more in-depth discussions, such as the state of the internet in their area, why some providers might be considered better, and more," she adds. "It's as if the pandemic has allowed us to break through a surface-level relationship and connect on a much deeper level. I'm hoping we'll continue to grow our relationship with many more of our customers."
The concept of "customer experience" isn't new, but it's taken on new depth in the post-COVID era. Consumers want a long-term relationship with the brands and businesses they patronize, and it's up to every role in a company to deliver on it. Rather than selling one widget, successful businesses need to slow down, reach out, and map a customer journey to make every customer touchpoint meaningful.
Improving your overall customer experience might mean hosting special events — like a virtual wine tasting or guided meditation — for your best customers. You might make personal phone calls to customers you haven't heard from in a while. Why not email a special coupon code for your online shop to your mailing list?
For something less sales-oriented, try making and posting video messages from your staff members or creating a weekly email recommending the books you've been reading or the podcasts you're bingeing on. Personal outreach makes customers feel that they're part of a family, building trust that will keep them coming back for more.
---
More content and communication to stay informed
Many reports issued from April through June found that content consumption has skyrocketed during the pandemic. Time spent on Facebook jumped 27% in the last week of March, 80% of consumers say they now watch funny videos on YouTube, and traffic on The New York Times and Washington Post websites grew by 50% in the month of April.
Recognizing that consumers were tuned in and attentive, many brands took advantage of a rapt audience by developing content addressing the travails of being stuck at home.
Doubletree by Hilton revealed the secret recipe for its legendary chocolate chip cookies as a means of self-soothing, while Nike offered free streaming workouts and training programs to help consumers stay in shape during quarantine. But big-name brands weren't the only ones generating informative and entertaining content.
"We've always communicated with our customers regularly, but we recognized early on [in the pandemic] that we needed to keep our customers well-informed on any new developments," says Alex Azoury, founder of Home Grounds, a passionate coffee community that helps home brewers make the very best coffee at home.
"We sent email updates on the actions we were taking, what our suppliers were doing, and how the pandemic would affect deliveries. Those updates were one of the most important things we did. No one wanted to run out of coffee in a crisis. They wanted honest feedback and updates to allay their anticipated fears," he says.
Additionally, customers were turning to websites, Instagram, and Twitter to find out if their favorite restaurant or shop was offering takeout or delivery, and then to see if they'd reopened as recovery efforts took shape.
As uncertainty about COVID continues, this need to know won't cease anytime soon. All businesses, no matter how small or transactional, should plan on offering informative, helpful, and entertaining content that is easy to access and consume.
This can be done via email marketing campaigns, newsletters, active blogging, and videos on social media platforms. Keeping customers informed of business hours, new inventory, online classes and demos, tips and tricks for product use, and industry news offers a valuable service that customers will appreciate.
"Our 'how-to' articles and videos were well-viewed because people were brewing more coffee at home," Azoury notes. "They had time to learn and wanted variety in the types of coffee they consumed, especially while their favorite cafe was closed. We'll continue to create video and helpful content to answer our customer's questions and [show them how] to make great coffee."
---
More self-service, please
There was a time when "self-service" seemed to be the opposite of "great customer service," but today it is just one segment of a sales strategy that promises an enduring customer experience. Given the COVID pandemic, self-service often is a necessary and preferred method of doing business. In fact, 70% of customers expect a website to provide a self-service option.
"One of the biggest changes we've had to make has been in the way we operate. We had to revamp our website and add new information because we were getting flooded with customers and questions," says Sean Nguyen, director of Internet Advisor.
"Our customer service staff would not have been able to sustain the new requests," he continues. "So, we integrated live chat on our website to give customers a more efficient platform rather than wait forever on the phone. We never imagined we'd have to integrate artificial intelligence, but we're currently working on chatbots so that we can streamline the process even more."
Nguyen adds that while his company didn't expect requests to grow during the pandemic, he's happy with the changes being made to accommodate them, and that Internet Advisor is "foreseeing even bigger growth in the future."
Self-service means more than a self-checkout line in your brick-and-mortar location or a shopping cart on your website. It can mean:
Posting how-to videos on your website demonstrating how to use your product.
Publishing research on emerging trends to inform customers on topics that impact your business and their purchasing decisions.
Making your online shop mobile-friendly so customers can order from their phones.
Posting a list of frequently asked questions (FAQs) and responses for customers with queries outside business hours.
Employing a 24/7 chatbot to assist them.
---
Make 'em laugh
Finally, many brands have found success by smiling, nodding, and telling a joke or two. Finding the humor in Zoom fatigue and toddler-wrangling while working has helped companies relate better to customers by sharing facets of the human condition.
Laughter also makes it easier to get through the day. Many small business owners plan to face the challenges still to come with a sense of humor.
Ty Stewart, CEO of Simple Life Insure, recommends a witty message on a website landing page or at the checkout point of your online store. Humor can also work well in social media posts, email marketing, digital content headlines, your contact form, cart abandonment messages — and even in traditional TV, print or radio ads if that's part of your promotional mix.
"There are so many benefits to sprinkling humor into your sales messages at a time like this," Stewart says.
"Humor is self-aware and wonderfully human, something we all crave and enjoy. Jokes release dopamine and endorphins in your brain, making people feel lighter, which they will in turn associate with your brand. Plus it will make your marketing stand out from the sea of usually serious ads at a time when folks could use a little levity."
View more information: https://www.fool.com/the-blueprint/4-ways-win-new-customers-challenging-times/