Lawmakers Tell Biden Recurring Stimulus Checks Should Go Out Until Coronavirus Crisis Is Over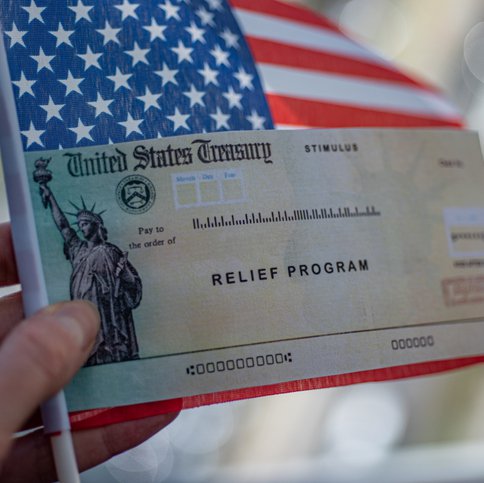 If all goes according to plan, Americans could see more stimulus cash hit their bank accounts as early as mid-March. The reason? Lawmakers are fast-tracking a $1.9 trillion coronavirus relief bill. A vote is expected to take place in the Senate soon, and lawmakers are hoping to have the bill signed into law by March 14. The reason for that deadline is that it's when enhanced unemployment benefits will run out for millions of workers who are currently out of a job.
Of course, a $1,400 stimulus check could go a long way for struggling Americans — especially those who are out of work or have grappled with income loss since the start of the coronavirus outbreak. But now, some lawmakers are saying that a single $1,400 stimulus payment isn't enough. Rather, they're calling on President Joe Biden to send out recurring stimulus checks until the pandemic is over.
One email a day could help you save thousands
Tips and tricks from the experts delivered straight to your inbox that could help you save thousands of dollars. Sign up now for free access to our Personal Finance Boot Camp.
By submitting your email address, you consent to us sending you money tips along with products and services that we think might interest you. You can unsubscribe at any time.
Please read our Privacy Statement and Terms & Conditions.
Could Americans be in line for ongoing relief?
The $1,400 stimulus checks that are part of the new relief bill are the most generous ones to date. The first round of checks, which went out under the CARES Act, was worth $1,200, while the second round put $600 into Americans' pockets.
But a group of Democratic lawmakers is now urging the president to implement a system where recurring stimulus checks are sent out until the coronavirus crisis is behind us rather than send out one-off payments that need to be voted on each time. The goal of sending recurring payments would be to provide additional coronavirus resources for struggling households, all the while continuously pumping money into the economy to speed up its broad recovery.
This isn't the first time lawmakers have proposed the idea of recurring stimulus payments. Back in January, more than 50 House members asked the Biden administration to support a proposal for $2,000 monthly stimulus checks until the pandemic comes to an end. This time around, the lawmakers didn't specify how much the recurring stimulus checks should be worth. Rather, they emphasized the importance of providing those in need with consistent payments.
Of course, on the other end of the spectrum, there are lawmakers who feel that the upcoming $1,400 stimulus round is too generous. And many have voiced their concerns that the upcoming payments aren't targeted enough toward the nation's neediest.
As it stands, individuals earning up to $75,000 and married couples earning up to $150,000 will be eligible for a full $1,400 stimulus. However, those payments will have a hard cutoff once earnings reach $100,000 for individuals and $200,000 for couples. In previous stimulus rounds, these cutoffs were higher, so implementing these thresholds is actually a compromise of sorts. But given the number of lawmakers who already opposed the upcoming stimulus round, recurring stimulus checks could end up being a hard sell.
Will there be a fourth stimulus check?
At this point, a third stimulus check technically isn't official. So it's a little soon to be wondering about a fourth stimulus round. And also, it's way too soon to know whether we can expect one. Much will depend on how things progress with the economy in the coming months, and that will largely hinge on how quickly coronavirus vaccines are rolled out. There's a good chance the upcoming $1,400 stimulus round will be the final one associated with the pandemic, but if that happens, it's not necessarily a bad thing, as it could be the result of a swifter economic recovery than expected.
View more information: https://www.fool.com/the-ascent/personal-finance/articles/lawmakers-tell-biden-recurring-stimulus-checks-should-go-out-until-coronavirus-crisis-is-over/