KORONA POS Review 2021: Features, Pricing & More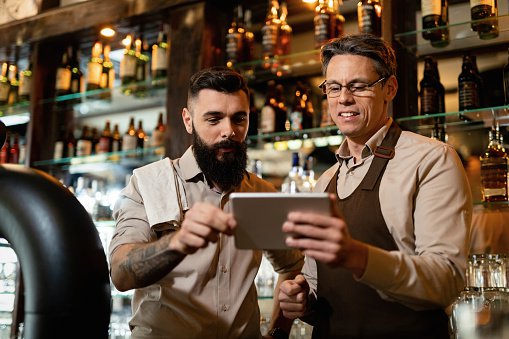 KORONA POS is a well-rounded point-of-sale (POS) solution that supports a wide range of industries and business types.
It's a highly customizable platform with affordable pricing and customer support options, and it's worth a look for businesses looking for a reliable retail software tool to support their single location, multi location, or franchise business.
In this review, we will focus on KORONA POS' retail POS system capabilities to help you decide if it's the right option for your business.
---
Who is KORONA POS for?
KORONA POS is suitable for small to medium-size businesses in a range of industries, including bakeries, wineries, bookstores, hardware stores, cafes, and liquor stores.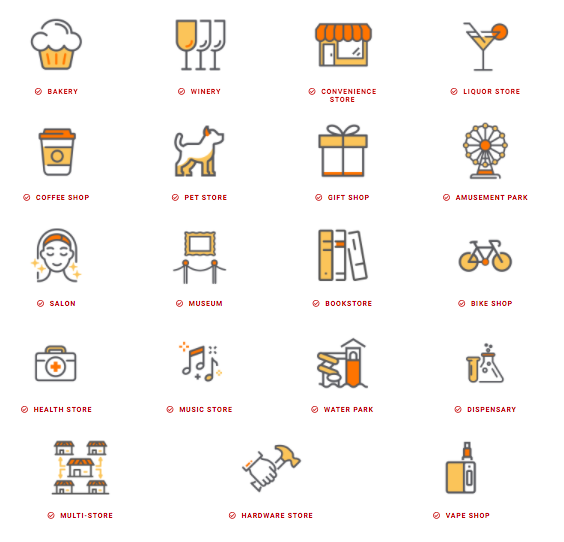 ---
KORONA POS features
The standard KORONA POS plan offers basic POS features, inventory management, reporting and metrics, multiple payment options, and customer management tools.
Instead of offering several pricing bands, KORONA POS lets users build on their standard plan by adding distinct modules that suit their business (though we will focus on its retail features in this review).
Let's take a look at some of KORONA POS's most useful retail POS features.
Inventory management
KORONA POS offers several good inventory management and inventory control features:
Auto ordering (set automated order placements based on stock levels)
ABC inventory grading
Employee permissions for loss and theft prevention
Vendor management
Shipment tracking
Label and price tag printing
Product analysis
Import product databases
Centralized product database
Scan inventory via barcodes
Receiving items through the back office, POS, or via the mobile app
However, the system lacks some inventory management functionality that likely excludes retailers selling clothing or similar items. For example, the system doesn't include functionality for listing products by variables such as size, color, etc.
Payment methods
KORONA POS offers several payment methods:
It's also possible to use more than one currency when using KORONA POS. However, the system does not appear to offer a virtual terminal to manually process card-not-present payments.
Back office
Effective retail POS systems require a powerful back office to match. KORONA POS offers a number of solid back-office features to help support efficient business operations:
Employee management functionality grants users different permissions and provides a report of POS activity.
POS reporting provides daily, weekly, and monthly reports, and staff reports.
Customer management tools.
Loyalty management features such as coupons and gift cards.
Receipt customization.
Reporting
KORONA POS offers solid real-time reporting functionality. Here's what included within the system's reporting and metrics feature:
ABC product analysis technology that gives every product its own specific grade and report.
Report generation for single employee shifts, annual overall sales, average customer spend, product return rates, conversion rates, and other granular KPIs.
Volume reporting shows sales quantities and revenue data.
Warehouse reporting provides data on reorder levels, maximum levels, total ordered goods, and total goods in stock.
Tax reporting shows the generated sales tax per economic zone.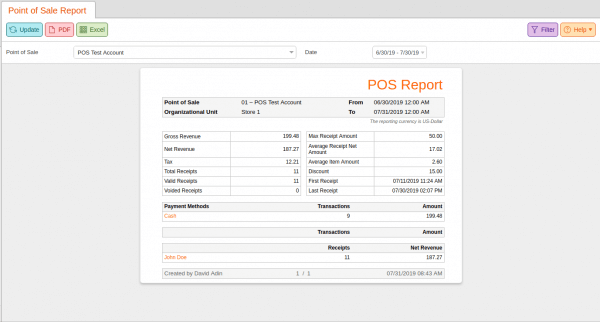 Customer management
KORONA POS offers an integrated CRM system that supports SMS messaging, email, and branded apps to help run promotions and targeted marketing campaigns. All customer information and purchase history is stored in a single database.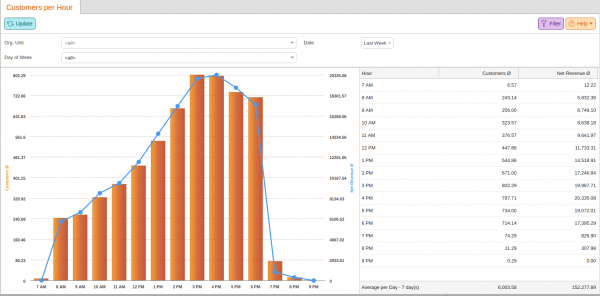 The solution also comes with a point-based loyalty program for every customer and the ability to create both plastic and digital gift cards.
---
KORONA POS ease of use
KORONA POS offers an unlimited free trial, so potential users can get used to using the software and its many features.
KORONA POS has a simple yet dated user interface, though its back office might take a little while to get the hang of if you don't have experience with POS systems.
The main POS dashboard screen can be customized to each business's needs, and users can choose the features they want to appear in the main sidebar and assign shortcuts to most-used functions.
KORONA integrates with Quickbooks Online, but for most additional integration needs, users need to take care of this themselves with a REST API.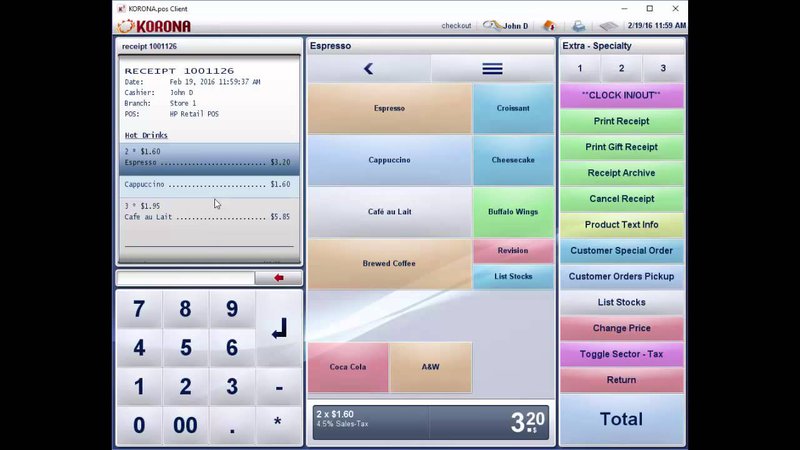 Overall, KORONA POS doesn't overcomplicate its retail POS software, and users can expect to get to grips with the system within a short time, helped by the many video tutorials and its extensive user manual.
---
KORONA POS' pricing
It always frustrates me when a vendor claims to have straightforward pricing, only to then make a potential customer dig for simple pricing information.
Instead of your standard table that lists pricing, features, and term pricing band conditions, KORONA POS offers a YouTube video that goes through their pricing options. Here's what I could glean from the video:
KORONA POS offers a monthly subscription pricing model, which includes full training, automated system updates, and 24/7 customer support.
Pricing starts at $49/month for each POS terminal in use, and users can activate and deactivate POS terminals at any time.
For advanced inventory management features, prices start at $59/month per POS terminal.
For businesses that operate turnstyle/ticketing-based businesses, prices start at $99/month per POS terminal.
However, KORONA POS redeems itself with a very generous offer of an "unlimited free trial", no credit card required. Additionally, they have no cancellation costs if you change your mind about the software, and even offer a money-back guarantee within 60 days if you're not satisfied with KORONA POS.
Users can add extra modules to their plan, which are priced between $10 – $50/month, and include a restaurant module, a franchise module, and a retail module.
---
KORONA POS support
KORONA POS customer service is almost second to none. All customers, no matter their pricing plan, can access some level of 24/7 support.
Here's a breakdown of KORONA POS customer support options:
Phone support: Though it's not stated in as many words, KORONA POS appears to offer 24/7 phone support. The website says that customers should, "Reach out during business hours if you need help troubleshooting or navigating a certain feature. For emergencies, call us 24/7/365."
Email support: Again, this support option appears to be a 24/7 offer. The website says, "Call, chat, or shoot us an email anytime. We'll get back to you swiftly no matter the time of day or night."
In-depth user manual: KORONA POS' online user manual contains detailed instructions and videos to help users learn how to use all features.
Besides these options, KORONA POS also offers a live chat option, a support form on the website, and numerous YouTube tutorial videos.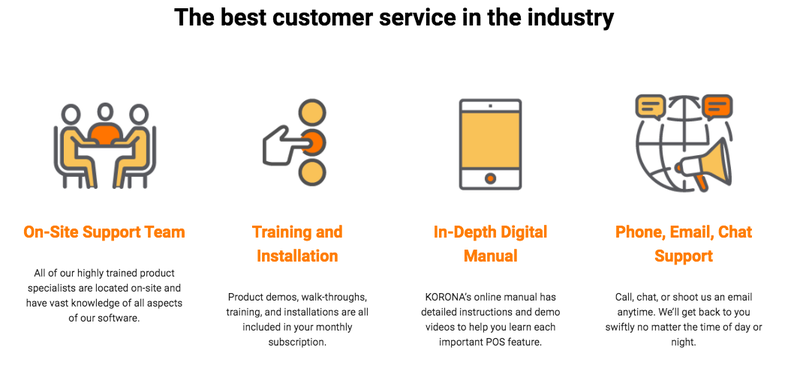 ---
Benefits of KORONA POS
KORONA POS offers businesses a customizable product, which is a bonus for those who find out-of-the-box solutions too broad to meet their needs. Users also have the flexibility to choose their own payment processing platform and are offered flexible and reasonable pricing options.
Its unlimited free trial is almost unheard of, a huge benefit for businesses who want to trial a platform without committing to a contract. For those who subscribe monthly, there's also a 60-day money-back guarantee for users who aren't satisfied with the product.
KORONA POS's customer support options are also excellent, which gives businesses peace of mind they can solve issues quickly without disrupting business.
---
KORONA POS is a simple and affordable system for a multitude of retailers
If you're looking for a highly customizable retail POS solution with a low price point, KORONA POS is worth a look.
What I liked most about the software is the ability to build out the package with its array of feature modules to suit your business and expand the software's functionality. I was also impressed with its commitment to improving its offering, with its automatic system updates that occur overnight without interrupting business.
However, it does lack inventory functionality that might exclude retailers selling items that need to be categorized by product variables. There's also a lack of system integrations, which is a drawback for businesses who want to synchronize their tech stack.
View more information: https://www.fool.com/the-blueprint/korona-pos-review/