Kayako Review 2021: Features, Pricing & More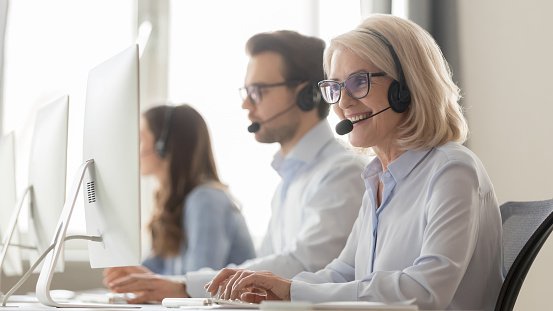 Today's customer service operations contain multiple elements: help agents who interact with customers via email, live chat, and social media as well as knowledge bases, self-service portals, and more. If you're adding dedicated customer support to your small business, implementing all of this at once can be overwhelming.
Kayako is here to do the heavy lifting for you. This popular web-based customer service software expands your support capabilities and makes them more efficient. We'll examine Kayako's strengths, weaknesses, and pricing below so you can decide if it's the best choice for your small business.
---
Who is Kayako for?
Kayako is a web-based customer support platform that uses omnichannel communications, shared agent inboxes, and automated workflows to streamline operations. Increased efficiency lets agents spend more one-on-one time with customers who have questions or problems requiring human intervention.
Kayako is a scalable customer service solution with enough functionality in its lowest-level plan to work for small businesses but whose enterprise plan is suitable for large corporations. Kayako has more than 141,000 users, including Disney, Sega, and T-Mobile.
Kayako does not include the service management features necessary to align with Information Technology Infrastructure Library (ITIL) protocols. ITIL uses holistic service practices to integrate IT activities with overall business processes and objectives. If you must have ITIL compliance, look at some Kayako alternatives.
Kayako is distinct from Kayako Classic, which is on-site, server-based service desk software. Kayako Classic provides IT support capabilities and uses ticketed workflows.
---
Kayako's features
Kayako allows help agents to communicate with customers via email, live chat, and social media channels such as Twitter and Facebook. Kayako also supports customer self-service help centers that use knowledge bases.
Other features include the ability to see customer journeys, including their sequential actions and page visits on your website, and hundreds of third-party software integrations.
We'll begin with Kayako's core features:
Help desk
Self-service portal
Analytics and reporting
Help desk
Kayako ticketing uses a help desk built around shared inboxes to facilitate increased collaboration. Agents have a bird's eye view of current customer conversations and can:
Assign conversations: Route conversations to the best agents for various topics.
Write private notes: Ask other agents for help, or answer others' questions.
Use tags: Categorize conversations for faster handling, future reference, and analytics insights.
Kayako also includes collision detection, which prevents multiple agents from responding to the same customer conversations and causing confusion.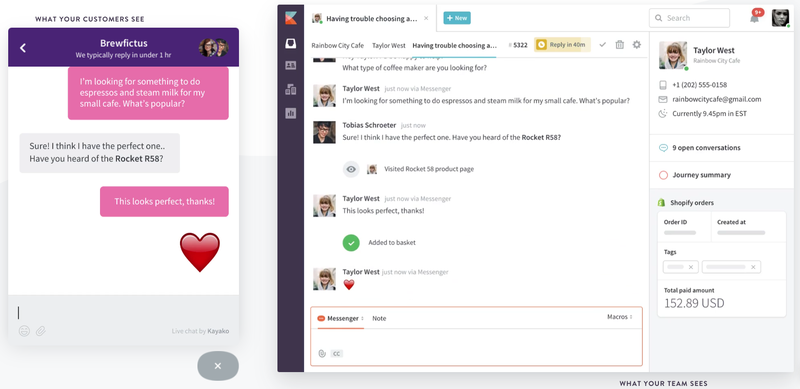 Kayako's upper-tier plans include 5-10 free collaborators, who can view and work on customer conversations, such as leaving internal notes to help agents answer questions, but they can't send outbound communications.
This input from collaborators saves agents time and allows them to have more one-on-one customer conversations without requiring you to pay for additional Kayako user accounts.
Self-service portal
Kayako's self-service portal allows customers to look for answers to their questions and other information 24/7 without requiring an agent for every query. You can build out your knowledge base and its articles with the following features:
Content localization: Present articles in multiple languages based on customer location.
Comments: Allow customer comments, and have your agents respond to them.
Rich media: Embed photos, gifs, and videos.
Attachments: Upload and attach files — such as diagrams, instructions, or checklists — to articles for customers to download.
Kayko provides increasingly refined, proactive article suggestions as customers type their questions.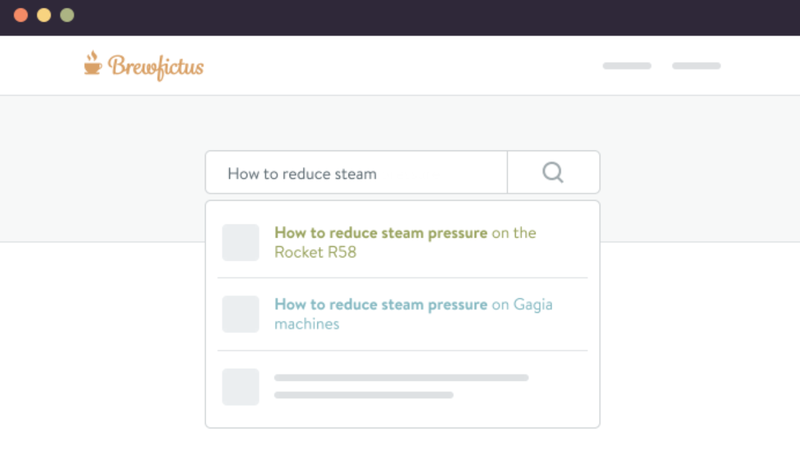 Self-help portals aren't only for customers; you can create an internal one for your agents to use for their own routine questions and to aid the onboarding process.
Performance analytics
Your customer service managers require granular performance data and analytics for actionable insights. Kayako provides the critical information they need:
Conversations created
Conversations completed
Average first response time
Average resolution time
Customer satisfaction (CSAT) scores
Managers can also track team and individual agent metrics as well as service-level agreement (SLA) performance. Delimit reports by varying time frames, and compare current data to the previous period with a combination of easy-to-read area and line graphs.

Kayako's reporting tracks help center performance through the identification of the most popular articles and searches. It also tracks failed searches, or search terms that produced no matching results. This failed search info helps identify and prioritize future articles to write.
---
Kayako's ease of use
Kayako's shared inboxes for multichannel customer communications have an uncluttered interface agents will find easy to use. The ability to tag conversations and insert private notes is similar to other customer support software such as Help Scout.
The integrations with Twitter and Facebook expand your agents' reach, and unifying omnichannel conversations into a single thread streamlines current conversations and ongoing conversation histories.
Kayako's ability to unify multiple data streams and provide insights based on them also requires an extensive, detail-oriented setup to ensure everything works correctly.
The same is true for Kayako's software integrations: Most of them are offered via Zapier, a third-party connector application that requires one-by-one configuration.
Zapier integrations communicate in one direction, so if you require two-way communication between Kayako and another application, you'll need to set up two separate workflows.
Multiple users have commented on the dearth of online resources. More — and more easily accessible — video tutorials would be useful, and it's sometimes hard to distinguish between Kayako and Kayako Classic documentation when searching the knowledge base. For some reason, Kayako's support page does not link to its user forums, which are a valuable resource.
At its heart, Kayako is more of a customer service than an IT support system. Depending on the kind of products and services you sell, though, a built-in remote desktop feature would be handy and eliminate the necessity for a third-party application.
---
Kayako's pricing
Kayako has four pricing plans:
Inbox: $120/year per agent — Includes live chat and email, basic help center, mobile software development kit (SDK), 600+ integrations with Zapier, assignment rules, insights, collision prevention, and reply-only macros.
Growth: $360/year per agent — Adds up to five collaborators; automation rules; custom views, fields, and forms; custom reporting; multibrand and language capabilities; advanced help center customization; and organization profiles.
Scale: $720/year per agent — Adds up to 10 collaborators, advanced workflow customization, internal help center, shared organizations, custom security policies, custom roles and permissions, and Salesforce integration.
Enterprise: $1,200/year per agent — Contact Kayako to learn about the features included.
Each Kayako plan has a 14-day free trial. While each agent requires a separate account, the Growth and Scale plans allow a limited number of free collaborators, who can view and work on customer conversations and leave internal notes but can't send outbound communications.
---
Kayako's support
All plans include 24/7 Kayako live chat and email customer service but no telephone support. The other readily available online resource is Kayako's knowledge base, which is divided into four categories:
Components
User guide
News
Frequently asked questions (FAQ)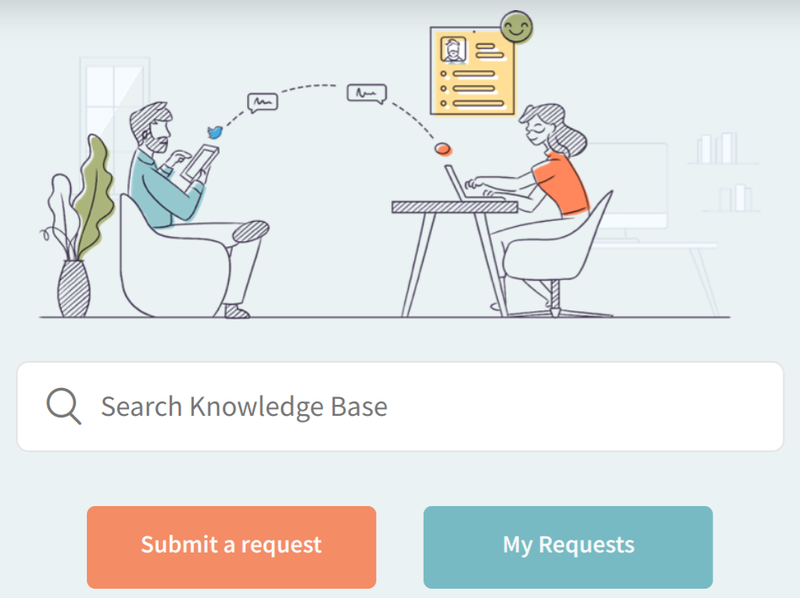 Other online information includes Kayako's blog, which has posts about customer service skills and related topics such as "How to Bring More Humanity into Customer Communication."
Kayako also has on-demand webinars on topics such as "Tearing down the Walls Between Development and Support" in addition to online community forums.
The support page does not include a link to the webinars, and you must do a web search to find the community forums because there does not appear to be a link to them on Kayako's website.
---
Benefits of Kayako
Kayako includes additional benefits that enhance the customer service experience, ranging from social media integration and mobile apps to software integrations.
Social customer service
Using social media channels is an integral part of the full-service customer support experience. Not convinced? Take a look at these stats:
Create genuine social media interactions, and 75% of people are likely to post something positive about your products or brand.
Provide a positive social media customer service experience, and 71% of your consumers are likely to recommend your products and brand.
Engage and respond to customers through social media, and they will spend 20% to 40% more on purchases.
Kayako uses custom search terms to monitor Twitter and import relevant tweets to your dashboard. Or, track Facebook posts and conversations so you can jump in when appropriate.

Kayako's social customer service benefits include:
Unified conversations: Combine conversations with customers across Twitter, Facebook, chat, and email into single threads.
Talking cross-platform: Use a single dashboard to reply to customers across multiple channels.
Leveraging online interactions: Display your superior customer service performance to other online users.
According to Kayako, customer service teams can resolve up to eight times more customer queries per week through social media channels than by phone.
Mobile apps
Today's customer service environment demands that your agents provide support on the go. The Kayako apps for Android and iOS devices give them that ability:
View the status of each conversation — new, pending, or completed — in your conversation list. Tap on a conversation to open it.
Update, reply to, and delete conversations.
View a conversation's history, post a private note, or update any of its properties from the sidebar.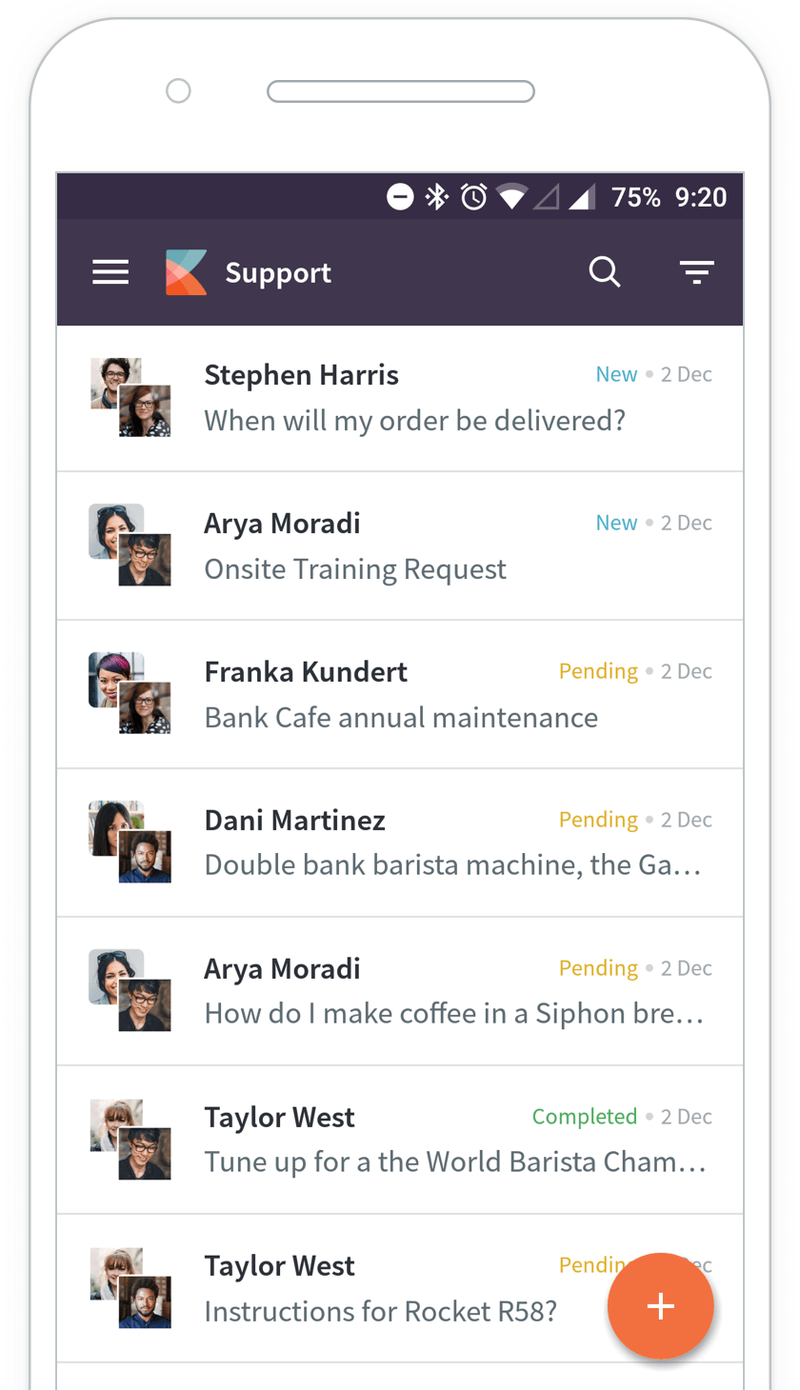 The Android and iOS apps have a few of their own unique features. The Android app allows you to download conversations so you can work on them without a wireless connection. The iOS app lets you view attachments and send photos as a reply or note.
Integrations
Every piece of software you purchase should have the ability to communicate with your existing applications; otherwise, its effectiveness will be diminished no matter how powerful it might be on its own.
Kayako has more than 600 software integrations, most of which are facilitated by Zapier, which serves as a connector between two or more pieces of software.
Zapier uses simple if-then logic to create automated workflows: A triggering event in one application creates a new, related record in the linked application. The three examples below are one-step "zaps," as Zapier calls them, but you can create multistep zaps that utilize three or more applications.

If Kayako and Zapier don't provide an integration you require, use custom webhooks, or create your own applications using the Kayako API. The scale plan also includes direct Kayako integration with Salesforce, so you aren't required to use Zapier or another third-party connector.
---
Your one-stop solution for customer service
Live chat. Email. Social media. Knowledge bases. Self-service portals. Effective customer service is more complicated than ever. Kayako has the features to make it simple for you and your help agents to provide the best customer support possible.
View more information: https://www.fool.com/the-blueprint/kayako-review/