Jobber Review 2021: Features, Pricing & More


Jobber is one of the big players in the field service management software field, and it shows. Their desktop offering is comprehensive enough to satisfy managers, and the jobber app streamlined enough to help field technicians.
That may sound counter-intuitive, but it's actually the mark of vision on behalf of Jobber's product design. It suggests that Jobber is able to distinguish between the needs of different people doing different things with their software.
---
Who is Jobber for?
Jobber is for field service businesses: landscapers, electricians, traveling locksmiths, HVAC repair and installers, plumbers, and similar companies.
If you have employees who spend most of their time in the field, but receive orders from a central office, then Jobber software can help you stay organized and efficient.
Jobber's good for a range of business sizes, but really shines for small business users. Since the base pricing for 30 users or less is only $199/month, most smaller companies should be able to easily afford Jobber.
It's also a good option for green new businesses, since it even offers a 1-user option for $29/month. According to employment-related search engine Indeed, the average hourly pay for a field service technician is about $20. Ninety minutes of billable work, and even a one-person shop can afford Jobber.
---
Jobber's features
Jobber designed its program to help field service business managers keep track of management's messy details.
Overseeing which invoices have been paid or which technician is best suited to fix a certain type of asset, can be unnecessarily time intensive. Jobber's features make those details easy to handle.
That said, Jobber is also useful for field technicians. Where Jobber's desktop program provides an occasionally overwhelming amount of information, the app gives field staff a streamlined version of that.
Technicians are still able to get important information on the app, but the product's user interface (UI) is designed more with action in mind.
Billing and Invoicing
Jobber's desktop program's billing and invoicing are solid features that offer a lot of depth, but may be off putting to people who are easily overwhelmed by a lot of bells and whistles.
Once you get past the Invoice screen's busy visuals, however, the level of detail is highly useful.
For one, the Search Invoices box at the top of the screen, with the option to search/sort by due date, type of invoice, and even whether it's been paid, is a great idea.
For instance, the ability to sort your invoices by "Awaiting Payment-Past Due" is far easier than searching a messy desk for a stack of three-month-old invoices.
While the search function is great, the way jobs are displayed on the screen leaves something to be desired.
You can see on the image that the words "Awaiting Payment" and "Draft" are color-coded, but the jobs that appear beneath them, aren't. As a result, it's hard to distinguish between things at a glance.
Admittedly, the search feature means this isn't a huge problem, but it would be nice if this part of Jobber's visual UI was as sharp as other features.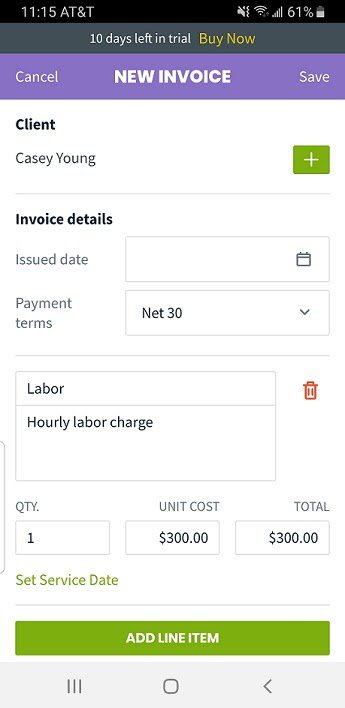 Billing and invoicing are even easier on the app. Jobber's UI makes finding a job, and billing for it, an intuitive process. Once you complete any job, you'll be prompted to invoice now, or later.
Creating an invoice is relatively easy. Once you've created an invoice, you'll be prompted with a choice of "send text message" or "more options." The former lets you send the invoice in a text message, while the latter allows you to email the invoice.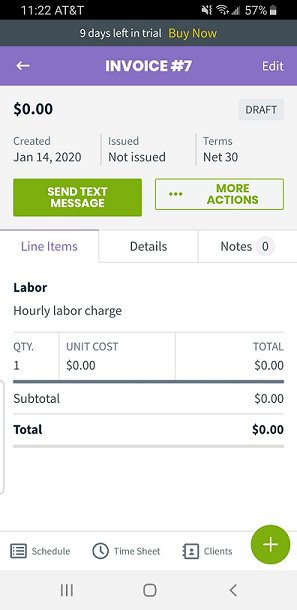 Customer Database
Jobber actually puts customers under the overall heading of Clients. That Clients tab is split up into people and properties. If you have a lot of customers with multiple properties, this can save you a lot of time. It's also useful if you assign different technicians to the same customer's different properties.
The customer list in Jobber is nothing particularly fancy, but that can, again, be a strength for people who are overwhelmed. Clients are displayed in simple rows that display their name, phone, number of properties, and perhaps most useful, their latest status. The status lets you see when you last did work for the client.
Checking on an individual customer will give you a view of standard information, like name, address, and last time you visited the client. Helpfully, you can also add tags like "HVAC" or "plumbing" to clients, so you can tell the basics about them at a glance.
The app's list of customers is a little simpler, in keeping with the business-first design of the app. There's always a Clients tab at the bottom of the screen, wherever you are in the app.
Instead of a list of customers, clicking Customers will show you which clients you're visiting that day. A search bar at the top also gives you the option to search the whole client list.
Mobile App
The Jobber mobile app is available for both Android and iOS devices. The UI is mostly painless, and will likely satisfy even tech-phobic employees.
That's because Jobber's app is designed to focus users on what's in front of them. For instance, clicking on Clients shows you which clients you're scheduled to help that day. Clicking on Time Sheet shows you a button that lets you clock in and out of a job.
This kind of prompting makes it easy for technicians who would otherwise forget. Clicking on Schedule shows you your daily schedule. While this may seem obvious, not all field service software apps are designed with this kind of action-first orientation.
For an employee who moves in and out of multiple sites, fast, in the course of a day, this makes the administrative details easier to handle.
Work Order Management
In the desktop version, Jobber goes for the same bird's eye view of the situation you get in other features. At the top of the screen, you get a view of which jobs are currently active, which require invoicing, and which ones require you to take further action.
The main Work screen also displays the status of invoices and quotes. It's a good, broad way to check on how the overall situation looks.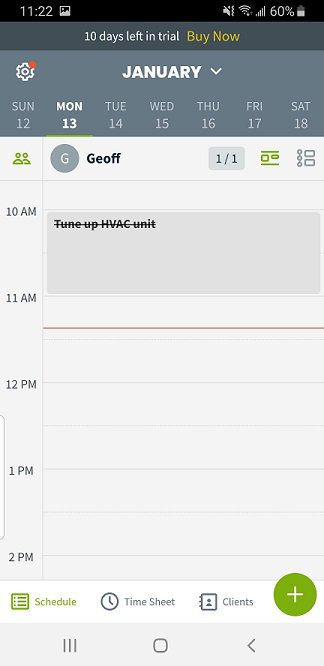 In place of a standard work order feature for the Jobber app, technicians will see a calendar view of what's on their docket for the day. Clicking on a specific task will show more information. The options to mark complete and start timer are prominently displayed, making the process pain free.
Routing
Routing is easy with Jobber. Since the program is integrated with Google Maps, all a technician using the app needs to do is click on the pin-drop icon in the job screen and his route is laid out.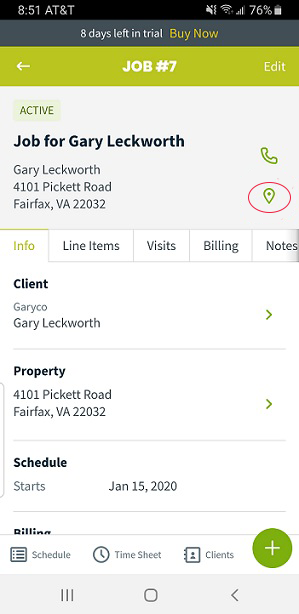 Scheduling and Dispatching
It's easy to clock in and out with Jobber. On the mobile app your field technicians will use, one of the three buttons at the bottom, Time Sheet, does just this. Click on it, and you're prompted to Clock In by a green button at the bottom of the screen.
This is another example of Jobber's rock-solid UI. Even for someone who gets overwhelmed by a screen full of visuals (*raises hand sheepishly*), this is an accessible interface.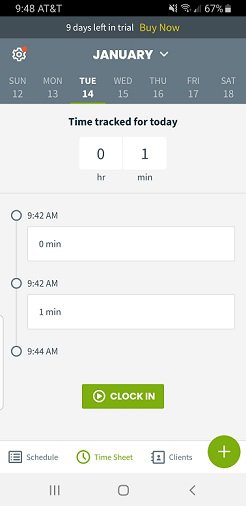 ---
Jobber's ease of use
Jobber's app stands out for its ease of use. Its desktop program is also intuitive, but the Jobber app is especially easy to use. Not only that, but it's designed to not get in the way.
For instance, instead of a big visual menu cluttering up the page, the app keeps essential functions under a plus sign at the bottom of the page. If this seems simple, that's proof of the intuitive design.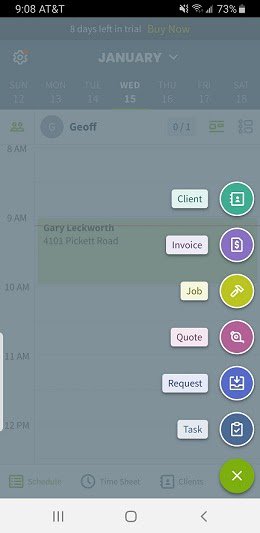 Jobber could have put a visual menu like the above on the screen at all times, but instead they wisely opted to go with an unobtrusive visual menu that will encourage technicians to use it.
---
Jobber's pricing
Jobber offers three pricing plans:
Core: $29/month for one user.
Connect: $99/month, up to seven users.
Grow: $199/month, up to thirty users.
The pricing is ideal for a small business, which may have trouble breaking even in the early startup stages. The Core pricing, especially, can be a godsend to the micropreneur who got into their line of work not to wrestle with paperwork and administrivia, but to fix assets and help people.
---
Working with Jobber support
When I called Jobber support, they were helpful. Even better, they did something I've never seen a software company do: offer to call less. Normally, finding your way into a company's sales funnel means an unending, horror movie-esque series of sales calls from a frontline business development employee with the merciless resolve of a slasher villain.
When I called Jobber, however, the support representative I connected with, asked me if I wanted fewer calls from the sales team. I was also satisfied with the rest of the experience. My call was only eight minutes in total, and the support representative had a ready answer for my question, too.
---
Benefits of Jobber
Jobber's major selling points are the accessible pricing structure and the thoughtful design. Jobber's design is consciously different for the administrators who use the desktop version and the field technicians who use the app.
Service business software is meant to streamline a business's operations. Making sure that your software adapts to the different needs of different employees is a great way to do that.
---
Satisfy back office and field workers alike with Jobber
It's tough for anyone to satisfy both management and labor, but
Jobber does a pretty good job of it. On one hand, the detailed and feature-rich desktop program helps you wrangle all the information you need to keep customers happy.
On the other, the Jobber mobile app gets to the point with its action-oriented UI. In both cases, while the visuals may occasionally be bewildering, the overall experience is worth your consideration.
View more information: https://www.fool.com/the-blueprint/jobber-review/