Jira Service Desk Review 2021: Features, Pricing & More
This isn't the first Atlassian product I've reviewed here at The Blueprint. First, I reviewed the main Jira project management platform which was a little run of the mill but is still a very capable tool.
The second was Trello which Atlassian acquired in 2017. Trello's always been a favorite of mine for managing professional and personal projects.
I have to say, my impressions of

Jira Service Desk are not as positive as they were for the first two. The Jira help desk platform is fragmented, uninspired, and even a little difficult to learn at times.
Unlike SysAid and ServiceDesk Plus, which are both intuitive and comprehensive IT service desk platforms, it seems Atlassian tried so hard to be unique. They alienated me from the moment I started using this software.
---
Who is Jira Service Desk for?
The ideal Jira Service Desk user is a startup company looking for a service management toolset to handle all their incoming IT issues and request tickets at an affordable price.
If you don't need a robust knowledge management or asset management system then using Jira as a ticketing tool will do just fine.
But if you're looking for those two functions, Jira can deliver as long as you purchase a subscription to Atlassian Confluence (knowledge base management) and a third party application from their marketplace to handle asset management.
---
Jira Service Desk's features
Issue tracking
Issue management: Jira Service Desk lets you view, search, update, and interact with issue task cards.
Request management: Like issue management, you can create, view, search, update, and interact with IT request task cards.
Asset management
Jira Service Desk does not offer any asset management features that are native to this platform. You'll have to select an outside tool from their marketplace or list of other integrations.
Service desk
Self-service portal: End users can access their own support tickets to track solution progress and check for outages and other updates.
Live chat: Manage all live chats with end users so you can provide quick solutions without relying on the formal ticket submission system.
Content management
If you want to create articles for your knowledge base using Jira, you will have to purchase their separate program, Confluence Knowledge Base.
Monitoring
Reporting and analytics: Track and measure support success through the many reporting and analytics tools offered by Jira Service Desk.
Inventory reports: Build status reports on all assets.
Survey reports: Develop end-user survey reports.
Dashboards: Use SysAid dashboards to track help desk activity in real time.
Additional features
Automation: Use automation functions to streamline your processes and eliminate the human element for mundane and repetitive tasks.
---
Jira Service Desk's ease of use
Jira Service Desk does offer many of the basic functions any IT service desk should offer, such as issue management and self-service portals but Atlassian leaves out other key features that are only offered a la carte. The two biggest omissions are knowledge base management and asset management.
If you're looking to create and push articles to your knowledge base then purchasing Jira Service Desk won't cut it. You'll have to subscribe to their Confluence tool, which is their own content management and creation system.
While the pricing for Confluence isn't necessarily pricey (starting at $5/month per user for the standard tier), it's irritating to have to purchase a second software subscription when most other IT help desk programs have knowledge desk management features integrated as a package.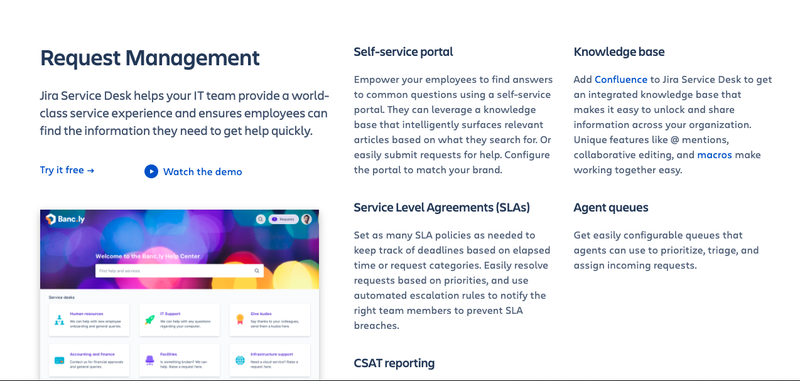 As for asset management, I was taken aback when Atlassian listed "asset management" as a feature of Jira Service Desk in the pricing but clarifies that it is only available with the inclusion of "your choice" of an outside app from their marketplace (most of which you'll have to pay for).
These are features that any IT help desk platform should offer as a given with their platform as a package, not some puzzle their customers have to piece together, one subscription at a time.

I'm including this in my "ease-of-use" section of this review because this only adds to the complexity of managing your help desk system. More moving parts introduce more room for error.
I was perplexed while using Jira Service Desk when I couldn't find these features only to discover that I just didn't have the additional subscriptions to do everything I needed to.
If I sound frustrated, it's because I felt like I was wasting my time trying to figure this platform out. I have a rule when reviewing software: I take thirty minutes to try to learn all of the basic functions without the help of guides to understand how intuitive a tool truly is.
Unfortunately, Jira Service Desk is the first IT help desk platform to fall short in this test.
As for other basic features, issues and requests creation and tracking are simple enough. Atlassian makes this easy through their prominent navigation menus at the top and left side of the window.

Creating new issues and requests is also straightforward, thanks to the prominent Create button at the top of the window, which opens up a new issue window.
Here you can select the project and issue type, write up a summary, attach any relevant files, add a due date, describe the issue, add labels, and assign it to whoever is available.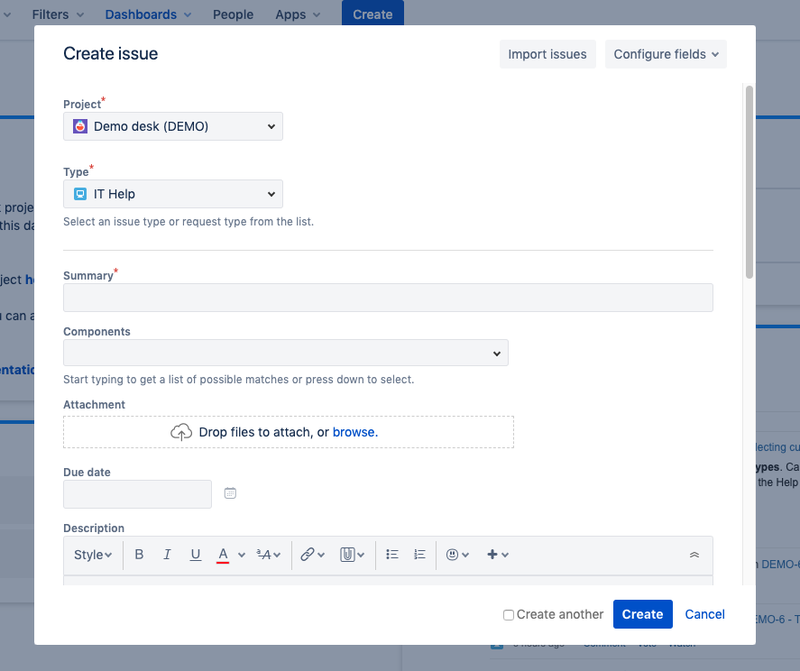 Finally, for reporting, Jira Service Desk is actually very user friendly and informative. The reports, ranging from workload to success rates, are generated within the software with the option to export to a CSV file.
If the rest of the software were as user centric as the issue tracking and reporting features Atlassian offers, I wouldn't be as disappointed as I am due to the omitted functions.
---
Jira Service Desk's pricing
If you were considering Jira Service Desk and all you checked was the pricing, I would forgive you for thinking this platform is reasonably priced considering everything you get. Atlassian even offers a free option with most of the core features for up to three agents, which is pretty generous.
Free: Up to 3 agents – Unlimited customers, service request management, incident management, change management, custom workflows, self-service portal, queues, email support, reporting and analytics, automation (100 executions per month), integrations, 2GB file storage limit, community support
Standard: $20/month per agent – Up to 5,000 agents, all previous features, automation (500 total executions/month), audit logs, 250GB file storage limit, local business hours support
Premium: $40/month per agent – Up to 5,000 agents, all previous features, automation (1,000 executions/month per user), admin insights, sandbox, unlimited storage, 24/7 premium support
Unfortunately, some of the necessary features you would expect from an IT help desk platform aren't included in the package, such as knowledge base management and asset management, mentioned earlier. These functions are part of an a la carte structure that'll only add to the price of your platform.
What starts off as $20/month per agent for the Standard tier grows once you add on these tools separately. This is just not what I was expecting with Jira pricing.
The price you see is not the price you pay for Jira Service Desk. That's disappointing in my book. However, if you're just looking for a system to manage your IT requests, the Jira ticketing system will do just fine for you without any add-ons.
---
Jira Service Desk's support
As always with Atlassian products, Jira Service Desk comes with a heap of support options including support articles, community forums, training courses, certifications, email support, and phone support depending on the pricing tier you go with.
If you're looking for phone support, you'll have to select one of the paid tiers. The Standard tier offers you phone support during standard business hours while the premium option gives you 24/7 access to their phone support lines.
---
Benefits of Jira Service Desk
Price is Jira Service Desk's biggest benefit. As IT help desk software goes, Atlassian has created a relatively affordable solution that starts at $20/month per agent. This is a great starting price for smaller startups with limited IT and tech support teams.
The second benefit is the design and setup similarity with other Jira products. If you've ever used their project management solution or Jira Core, you'll notice many similarities in the user interface and navigation.
---
I'm a little disappointed with Jira Service Desk
My feelings about Atlassian products typically range from decent to incredible, but with Jira Service Desk, I was sorely disappointed with the feature omissions.
You need many components to run a successful help desk and when these features are segmented out to different tools, I believe it splinters the entire experience and opens the door to unnecessary problems.
The more parts you add to something, the more points of failure you introduce into your system. I think Atlassian is dropping the ball by breaking up this experience into a multi-tool deal.

View more information: https://www.fool.com/the-blueprint/jira-service-desk-review/