Is a Click and Mortar Business Model Right for You?
You're missing out on massive sales potential if you're solely a brick-and-mortar setup. By integrating online retail into your current status quo, you could open up untold opportunities for your business.
According to Nasdaq, about 95% of purchases will be done through e-commerce by 2040. If you don't join the bandwagon now, you'll bite the dust once your competitors turn into e-commerce giants and win over your customers.
Instead of that dreadful scenario, why not combine your offline and online retail efforts by adopting the click-and-mortar business model? By doing so, you provide more options for your buyers, expand your reach, and gain more profit. You also create a unified retail approach for a seamless customer experience — both on your offline and online sales channels.
---
Overview: What is click and mortar?
The click-and-mortar business model combines operations of the online shop or e-commerce sales channel (clicks) and physical retail location (mortar) to form a single retail strategy.
Sometimes referred to as brick and click, or clicks and bricks, this business model allows you to marry your online and offline sales channels to provide a more seamless shopping experience for your customers.
For instance, customers can look around your website or e-commerce platform for certain products but choose to purchase at your local physical store in person. This allows them to shop with ease using their preferred channels.
---
How click-and-mortar businesses work
Whether you run a physical store and build an e-commerce website from scratch for online store marketing and selling, or the other way around, how you apply the click-and-mortar model will depend on your business dynamics.
Regardless of your implementation method, the business model generally functions on these common principles:
Unified shopping experience. Make sure your online and physical stores provide a unified and seamless shopping experience for your customers. Syncing your inventory across channels lets customers check a specific item on your website to know if it's available in your local physical store before buying it.
Flexibility of operations. A click-and-mortar retailing strategy lets your customers easily buy your products through their preferred channel. It also gives them the option to have their purchases delivered directly to their home or to your store for pick up.
Improved customer experience. Cater to wider customer preferences with online and offline channels that work together to give your consumers more shopping options. One retail strategy is letting customers return items purchased from your online shop to your closest physical store, letting them save on shipping costs, and giving them a better experience with your business.
---
Three benefits of integrating click and mortar into your business
Combine your e-commerce strategies with the traditional physical store sales approach to enjoy these benefits.
Reduced operating costs
Minimize the need to maintain additional staff for your brick-and-mortar store by integrating online retail strategies. This allows you to automate several customer service functions and, in turn, reduce labor costs.
Additionally, the click-and-mortar business model helps you lower your inventory costs. Integrating the dropshipping model, for instance, means your supplier manages stocks and ships products directly to your customers, reducing your inventory expenses.
Enhanced customer service
The click-and-mortar retail business model puts you in a better position to help your customers. Because you are more visible — and, therefore, more accessible — your customers can easily reach out to you. You can address their concerns face to face if they visit your physical store or through your 24/7 chat and call support when they virtually reach out to you.
Wider market access
Unify your physical store and online retailing strategies so you are present where your consumers are, widening your access to new and more customers. Use your online presence to drive foot traffic to your brick-and-mortar store while giving your customers the option to buy products online even outside your physical store hours.
This gives your customers purchasing flexibility and allows you to cater to more buyer preferences and broaden your reach.
---
How to implement a click-and-mortar strategy within your small business
Expand your physical retail shop to an e-commerce business with these click-and-mortar strategies.
1. Use omnichannel marketing techniques
Implement an omnichannel marketing strategy to align your content and customer service delivery across your online and offline sales channels. Build an omnichannel presence and marketing approach that helps provide seamless, consistent customer experiences throughout the buyer's journey.
Tips on creating your omnichannel marketing approach:
Know your customers' frequently used channels. Be where your customers are by focusing your marketing efforts on channels your target audiences use. Let's say customers often visit your Facebook page to check your business hours. Use the Facebook messenger chatbot to answer their most frequently asked questions or even instantly book appointments. Sephora's chatbot is a great example.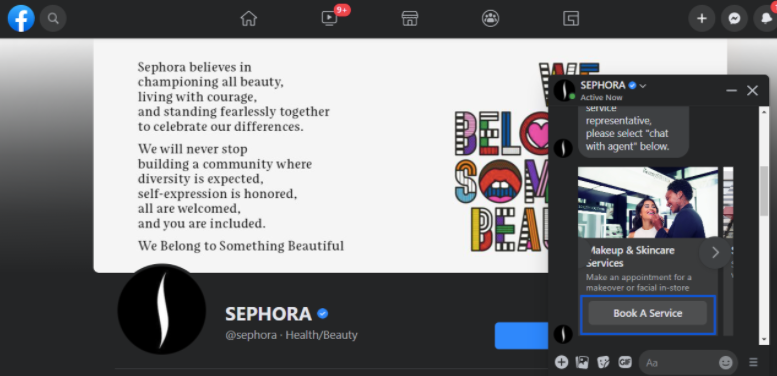 Use content types relevant to the marketing channel. Make sure your content resonates within the ecosystem of the marketing channel you're using. For example, use videos and photos to engage audiences better on social platforms such as Instagram and Facebook. Use text-based content for forums and Q&A sites.
2. Ensure inventory consistency
Deliver seamless customer experience by keeping your inventory consistent throughout your online and offline marketing channels. Invest in a robust inventory management system that provides customers with real-time information and updates of available products both in your physical and online stores.
3. Use a reliable point-of-sale system
Before starting an online store, look for a point-of-sale (POS) system that easily integrates with your e-commerce website to help you seamlessly manage your physical and online shops.
Use an all-in-one POS system, including other B2B e-commerce products and services, that lets you integrate essential parts of your click-and-mortar operations. These include inventory, payment processing, team management, and more.
POS systems such as Lightspeed have features that allow you to manage your inventory and purchase orders and accept all payment types, among other useful functionalities.

This tool organizes your purchase orders using color coding; plus it filters orders by date, adds new orders with complete details, and offers additional elements that allow for easy and efficient online and physical store operations.
4. Offer easy shipping and returns
Provide flexible returns and shipping options for both in-person and online purchases for hassle-free transactions.
Tips to make shipping and returns easy for your customers:
Create a shipping and returns policy from the get-go and communicate it to your customers. Doing so sets their expectations and puts both parties on the same page when it comes to understanding your return policy.
Choose a reliable provider to help make your shipping and returns process straightforward for your online and offline channels.
5. Leverage analytics
Joining your physical storefront and your e-commerce website allows you to obtain more data about your business' overall performance. That's why you need to choose an e-commerce platform with extensive built-in analytics tools.
With the data and analytics you obtain about your business, you can measure and monitor the performance of your click-and-mortar sales and marketing efforts such as your retailer promotions, storefront advertising, and more.
---
Develop your click-and-mortar business
Use the tips in this guide to decide if using the click-and-mortar business model is right for you.
Then create an implementation plan, focus on key online and offline sales areas, and follow omnichannel marketing best practices to expand your physical store to a digital shop. In time, you'll expand your customer base, sales, and ultimately, your business.

View more information: https://www.fool.com/the-blueprint/click-and-mortar/